The rise of social media marketing gave business people a useful tool for growing their businesses. Having pages or channels on different social media platforms effectively helps increase brand visibility. Therefore, you shouldn't undervalue these tools for generating leads and maximizing sales. One of the powerful platforms you should utilize for your business is Snapchat. Snapchat takes a large volume of users which can be a good platform to market your products. According to statistics, it has more than 173 million daily active users who watch about 10 billion videos every day. With that huge audience, advertisers see its potential to drive traffic and increase brand awareness. If you haven't got the idea on how to craft your own, you can pick an awesome and useful Snapchat mockup to make your story or ad more engaging.
Brands looking for ways to interact with their customers and want to build brand loyalty should use the Snapchat platform. Snapchat ads are twice as effective at driving customer interest through video content than Facebook. So, you see how it can help you improve your reach? This is where Snapchat mockups are an ultimate help. To help you build your brand using this tool, you can look for ready-to-use templates to lighten your burdens in making your own.
Whether you want to create geofilters, stories, and text, your posts can be powerful in creating your brand and take attention across social media with Snapchat. So, make the most of the platform using these Snapchat mockups. Find the best Snapchat mockup that will suit your needs in this list that we've handpicked.
Snapchat Geofilter Template for a Wedding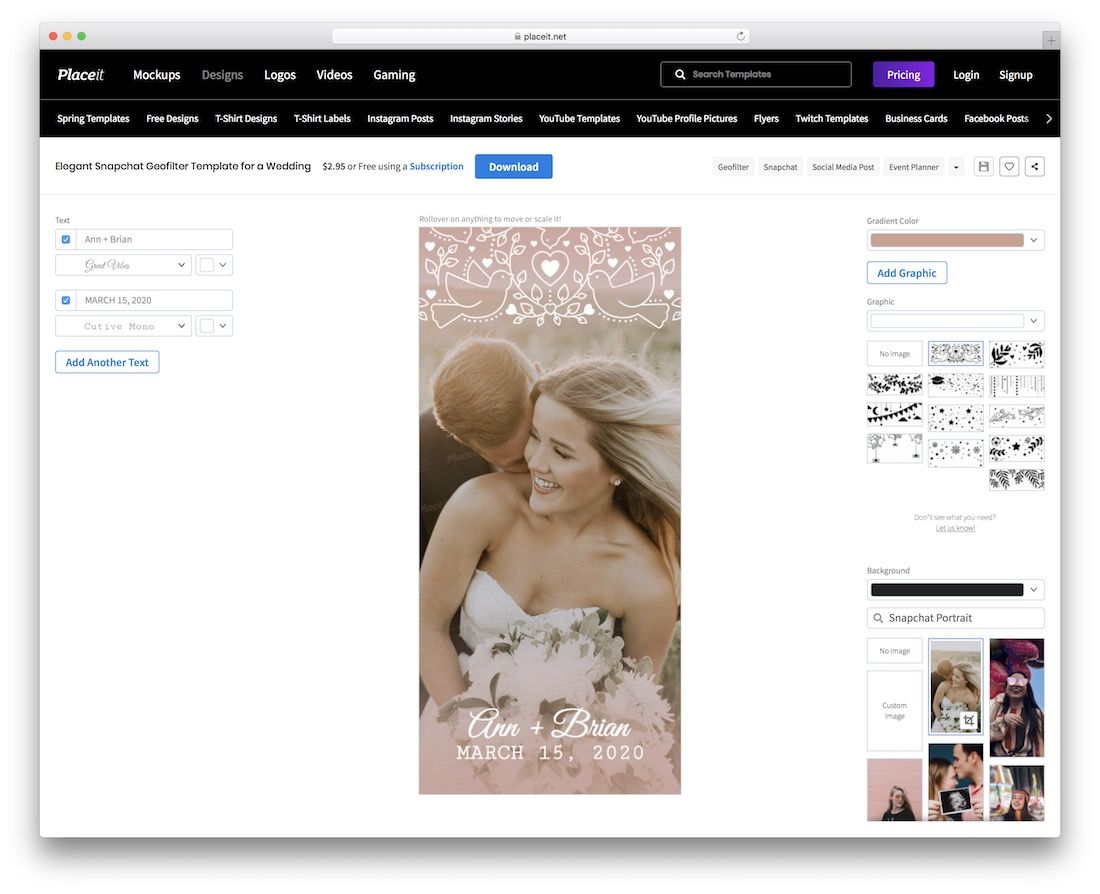 You can now create a stunning Snapchat geofilter for a wedding, pushing the D day to an entirely new degree. Instead of coming up with the design all on your own, Placeit has you sorted out with a nifty template that you can fully style and customize accordingly. While there is already a ton of stuff to choose from, you can also upload your images and personalize the experience. What's best, you do not need to be a designer to make things happen. All it takes is some clicking, adding text, and other whatnot, and you are ready to rock and roll.
More info / Download
Snapchat Geofilter Maker Featuring Lightning Clipart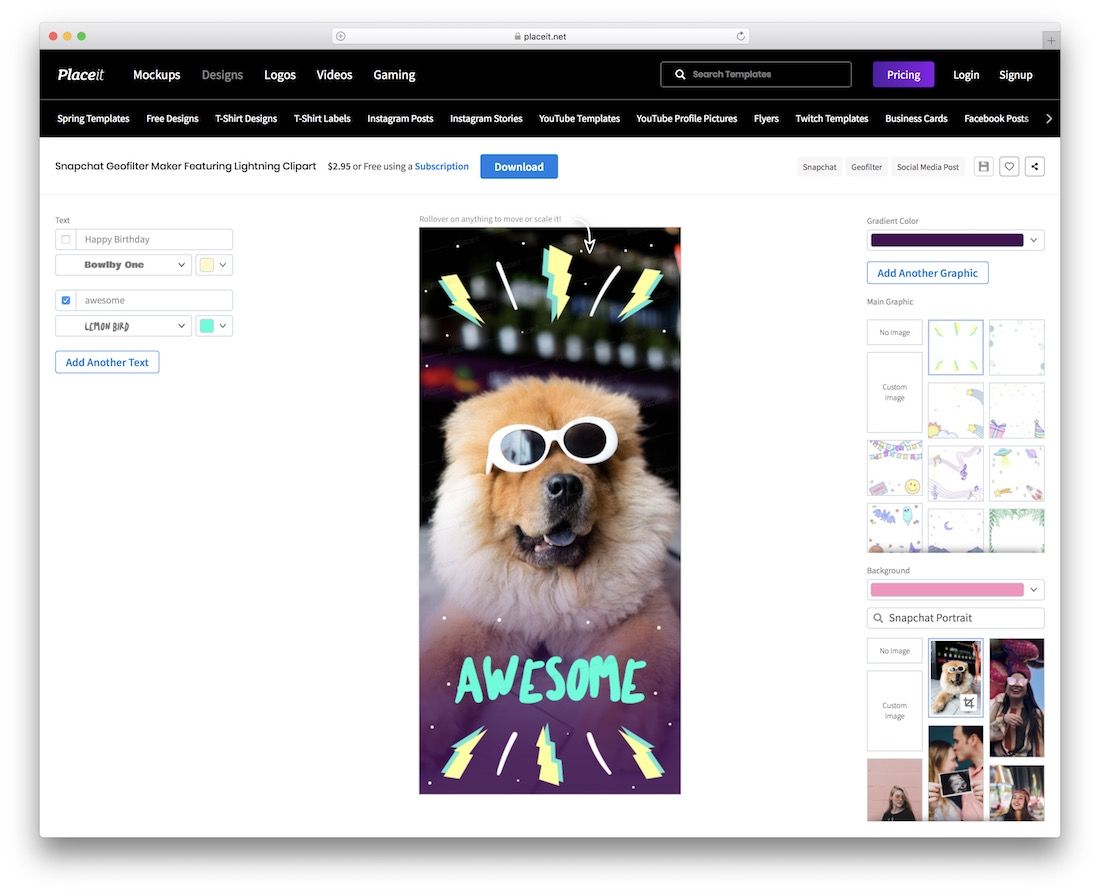 If you want to capture everyone's attention on Snapchat, create a custom geofilter now. Yes, now. It will take you just a few minutes, and you can already have the end product ready to go. Not always do you need to invest a ton of time in the design part, when you can benefit from the ready-made solutions that Placeit has in store. You can use this template for pretty much any event you want, whether it's a birthday, a party, a social gathering, you name it. The customization functions also go over and beyond, allowing you to tailor the layout so it meets your style precisely.
More info / Download
Snapchat Geofilter Maker for a Special Event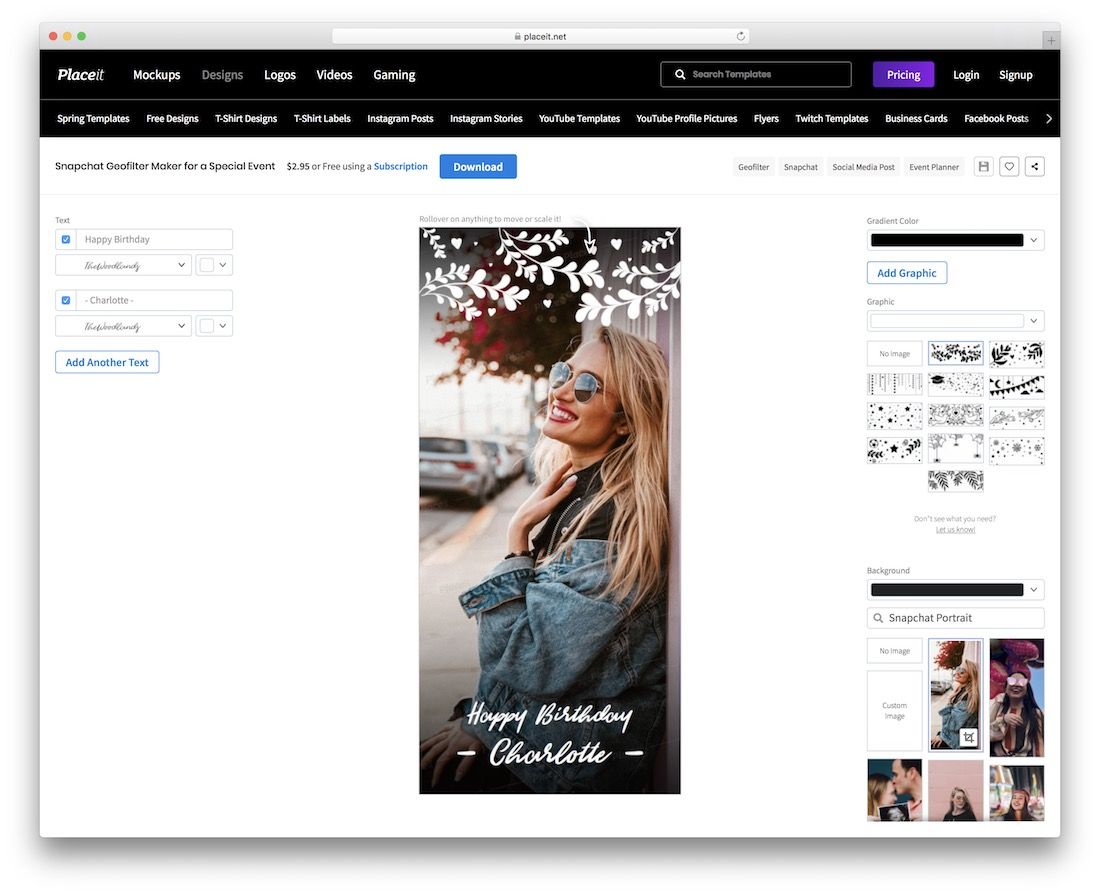 Once you approach this Snapchat geofilter maker with an open mind, you unlock yourself a ton of possibilities, tailoring it to your specific need with ease. As there is no experience necessary with design and whatnot, anyone can greatly profit from the template. Thanks to Placeit, they simplified the process of creating all sorts of designs and creations that will spice things up over on your social media. You can add a gradient effect, custom graphics, upload an image, change text, and get the gist of it. Quick and simple work for a remarkably impressive result. Now it's your turn.
More info / Download
Snapchat Filters – 10 Club Filters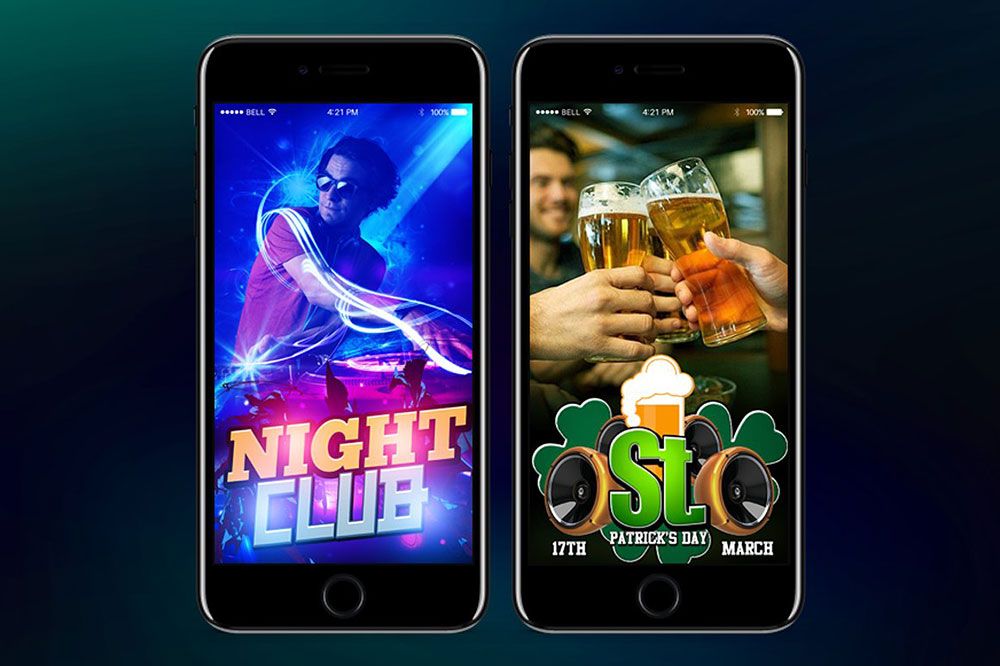 If you want to build a larger number of audience, you can utilize Snapchat for your business. Basically, your snaps can be shared with other social media accounts. Giving you a more versatile post that's beneficial for your brand exposure. Moreover, your photos or videos can be edited easily with effects, text, stickers, and filters for a more engaging post. It can also promote real-time happenings with the right snaps for certain events. Hence, it's a good tool for a brand awareness campaign on social media. Here's a Snapchat Filters – 10 Club Filters that you can use for nightclub events or party. It comes with 10 Nightlife Snapchat Geofilters that you can easily customize in Photoshop. Having this set will help you easily promote the event to potential customers.
More info / Download
Oriental Snapchat Geofilter Kit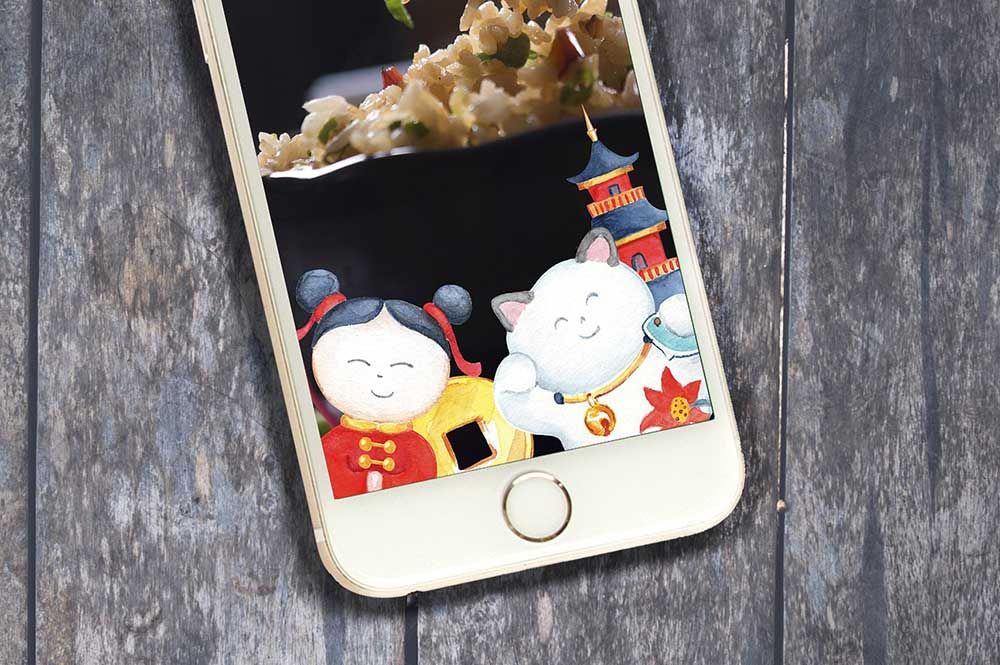 Want to find ways to make your brand stand out? Do you wish to make them feel excited with what you're currently doing? If you do, then use Snapchat to give them a sneak peek of your new products, behind the scenes, or discount codes. If you want it to look outstanding, you should grab this Oriental Snapchat Geofilter Kit. This pack contains six separate layers in PSD files. You can use them for different occasions as long it fits on it. In this pack, you can see sky lanterns, colorful Chinese paper lanterns upper banner, eastern characters, oriental fans, a red and gold banner for your text, and red watercolor texture.
More info / Download
Wine Tasting Party Snapchat Filter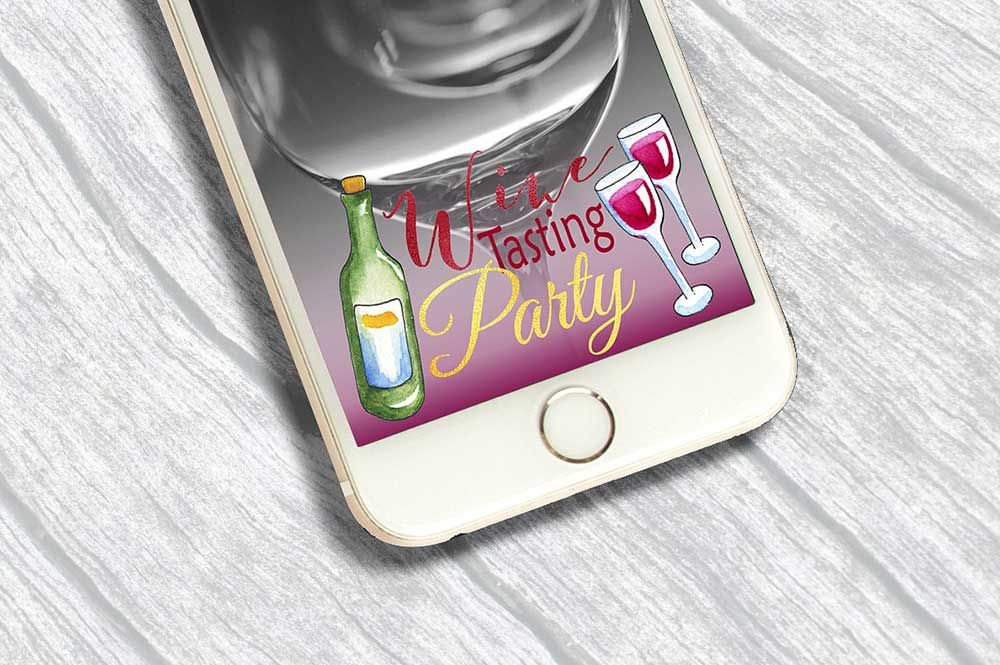 Statistics reveal that Snapchat users open the app 25 times each day. Hence, it's a great way to market your business wherein you can share a picture or video of your brand on a maximum of 10 seconds. If you're in the wine industry, having this Wine Tasting Party Snapchat Filter will benefit your posts. This geofilter pack contains layered PSD where you can organize the objects and modify them as you wish and a PNG with a transparent background. Featuring a beautifully drawn watercolor wine bottle and glasses, this tool can make your posts look unique and extra special.
More info / Download
Social Media Template Bundle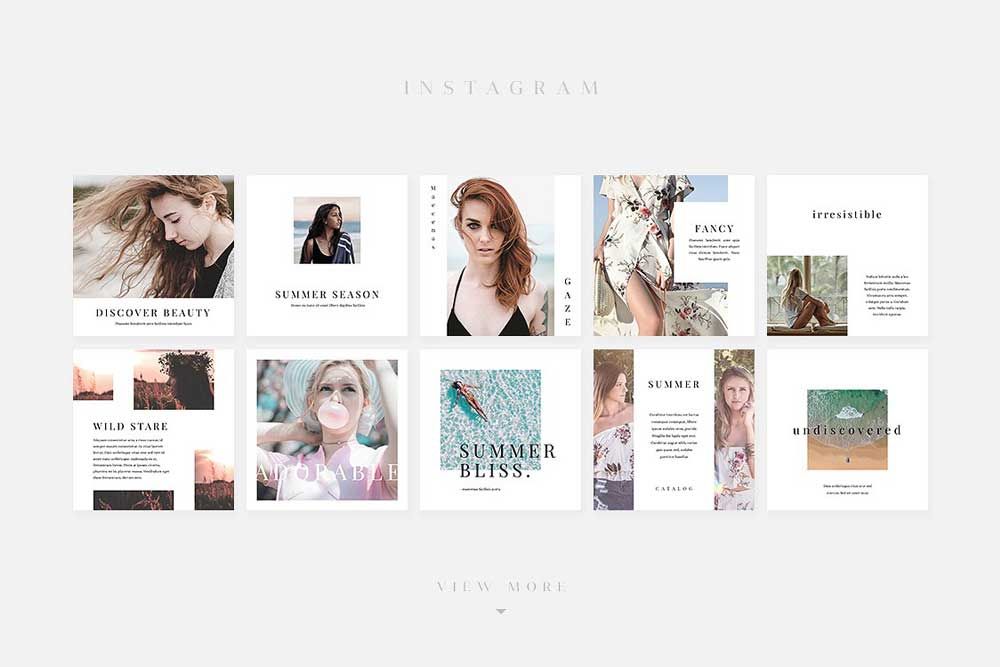 Whatever products or services you want to promote, social media is never a waste of time and energy. If you want to share sneak peek of how awesome your next product would be, you can always do so and share photos or videos with captions. This is where Snapchat mockup is valuable. Whether you want to give a behind-the-scenes video, advertise your new product, feature effective testimonials or any engaging video you want to share, Snapchat can be a hero! Here's a Social Media Template Bundle that will give you an excellent resource for making a perfect page or channel. It includes over 1600 templates for businesses, with over 20 versatile themes. Specifically, it comes with 200 Snapchat stories for your creativity.
More info / Download
Ultimate Black Friday Social Media – Snapchat Mockup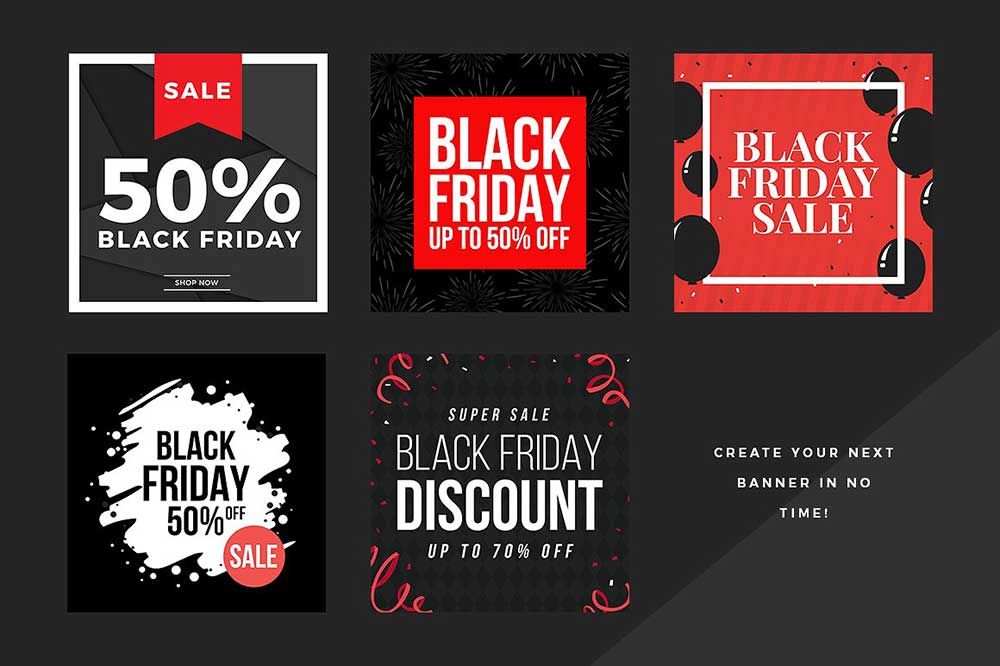 Black Friday is one of the ever billion shopping pound in different countries. Hence, it's an event that most people should be taking advantage of. To have a wonderful set of images with adorable captions and filter, you can create a snap and stories for your products. To help you achieve that goal, you should have this Ultimate Black Friday Social Media – Snapchat Mockup. This pack is useful for sharing stories and posts with style and elegance. With this set, creating your banners for social media has never been easy and creative. It comes with 360+ PSD files, smart objects for easy image insertion and many other awesome elements.
More info / Download
Flower Wedding Snapchat Geofilter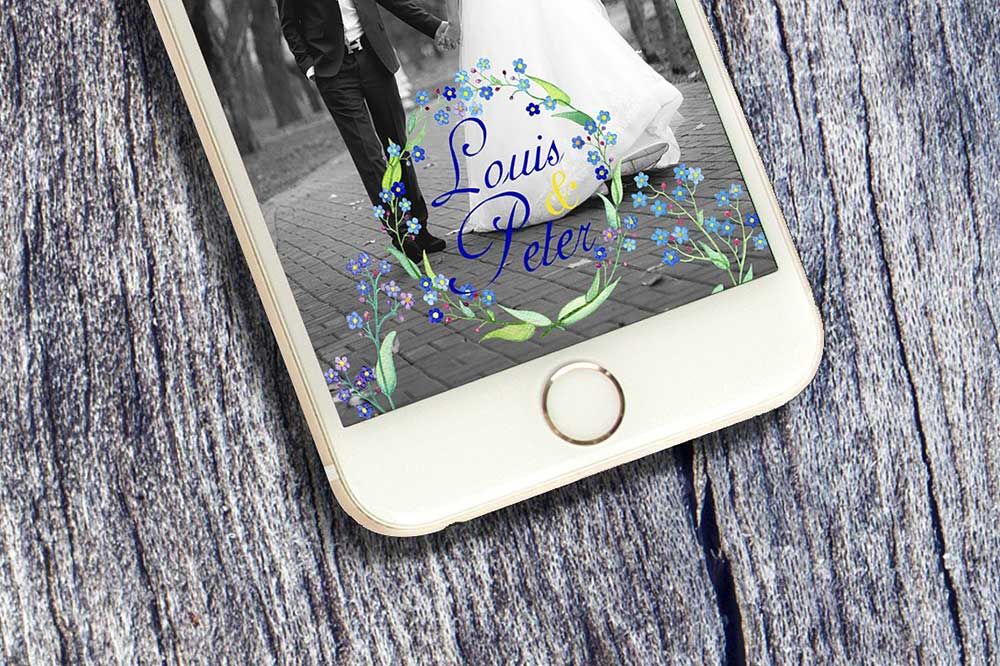 Make your wedding day extra special as you share moments with your loved ones afar off using Snapchat. Snapchat makes your images and videos even more engaging as you add filters, creative borders and inserting text on it. Thus, people would be delighted to see how grandeur and joyful your wedding is. Here's a Flower Wedding Snapchat Geofilter to enhance your posts and stories. This pack comes with a PSD file that you can easily edit with Photoshop. This is ideal for a pretty wedding anniversary, bridal shower or valentine's day geofilter!
More info / Download
Beach Party Snapchat Geofilter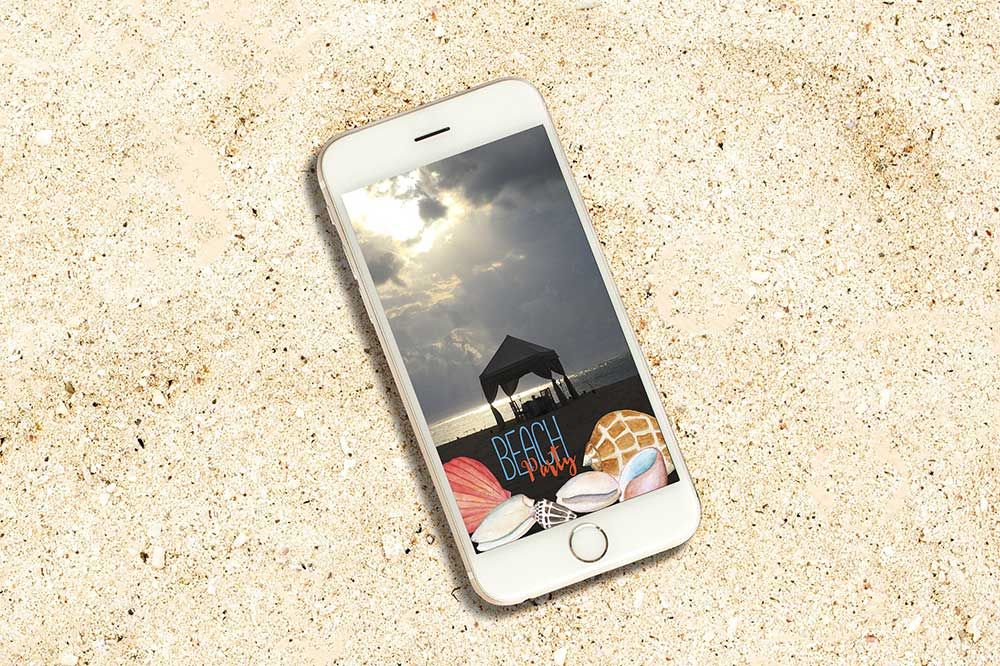 Snapchat users love learning quick tips from other users. So, make sure your posts are incredibly useful, effective and innovative. If you're trying to promote a beach party venue, you should try to make the best snap to chat with your friends. Here's a Beach Party Snapchat Geofilter to help you build a beautiful and elegant photo for your post. You can add captions that can make your posts captivating and interesting. By doing so, you'll get people hooked with what you're trying to promote to them. Specifically, you can customize the text and other elements in this Snapchat mockup.
More info / Download
Heart Balloon Snapchat Geofilter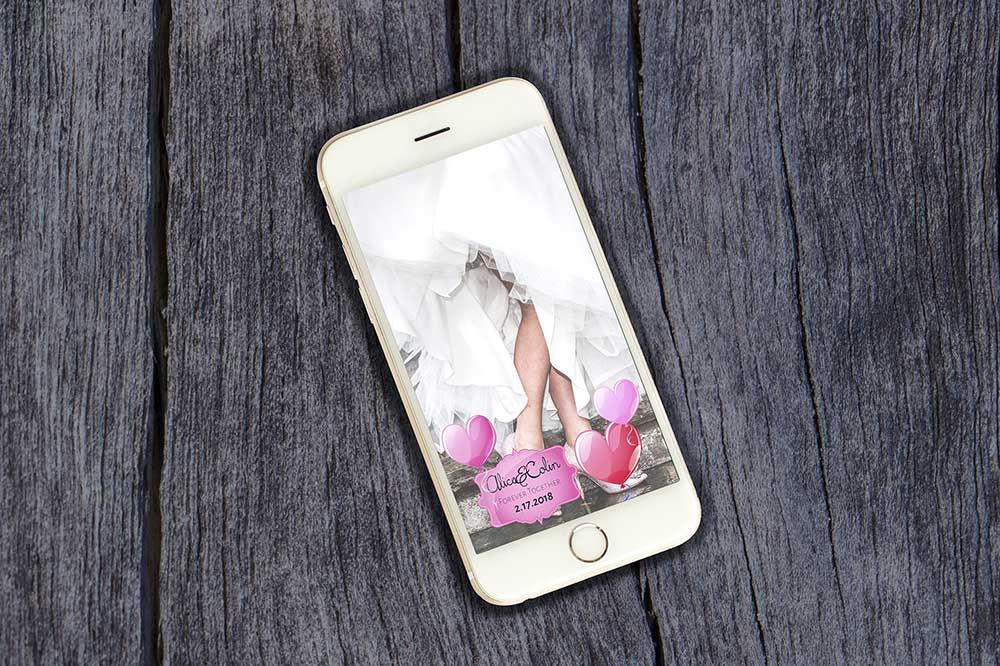 Heading toward a party or wedding ceremony? Why not tease your friends to attend as you use Snapchat for a sneak peek? If you want to make your photos more appealing you should be downloading this Heart Balloon Snapchat Geofilter. Now you can impress your guests, friends and families with pink and red air balloons as elements in your snaps. It's perfect for wedding, valentines, engagement party and just an ordinary date at a beautiful restaurant. It's available in PSD file and is editable using Photoshop.
More info / Download
Summer Snapchat Geofilters
Summer is a season where people love to stay on the beach or other places where they can have a cool, relaxing ambiance. Of course, this is also a season where businesses can offer summer promos in apparel products. So, check out this Summer Snapchat Geofilters for your upcoming summer events and summer discounts. This is ideal to use for weddings, nightclub events, birthdays, corporate events, political events, fundraisers, bar/bat mitzvahs, golf outings, conferences, festivals, cafes, restaurants, bars, party events. Moreover, it's perfect for product launches, inductions, ribbon cuttings, seminars, awards ceremonies, fundraisers, and more.
More info / Download
Halloween Snapchat Geofilters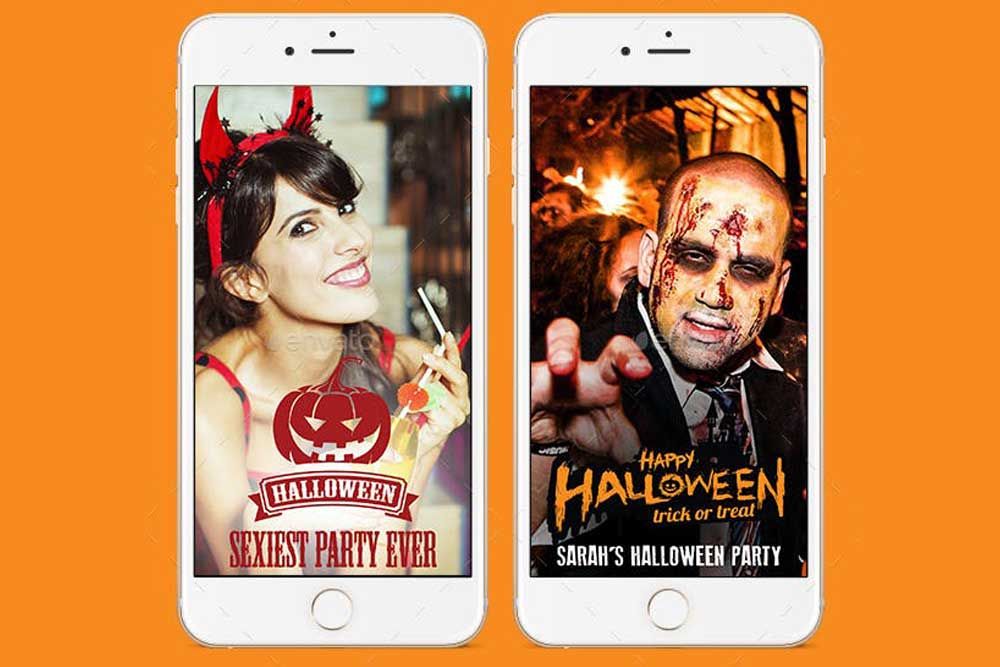 Here's another fabulous Snapchat mockup that's best to add in your social media marketing tools. If you're trying to promote a movie, product or service for Halloween, you can opt for this Halloween Snapchat Geofilters. With this mockup, you can make your posts even more alluring and creative. You can easily edit the text on banners and other elements. Particularly, it's great for your Halloween party, nightclub event, bar, festival, cafes, restaurants, Halloween party events and much more. Just replace the elements in this template and you can make it more persoanlized without so much hassle.
More info / Download
Christmas Snapchat Geofilters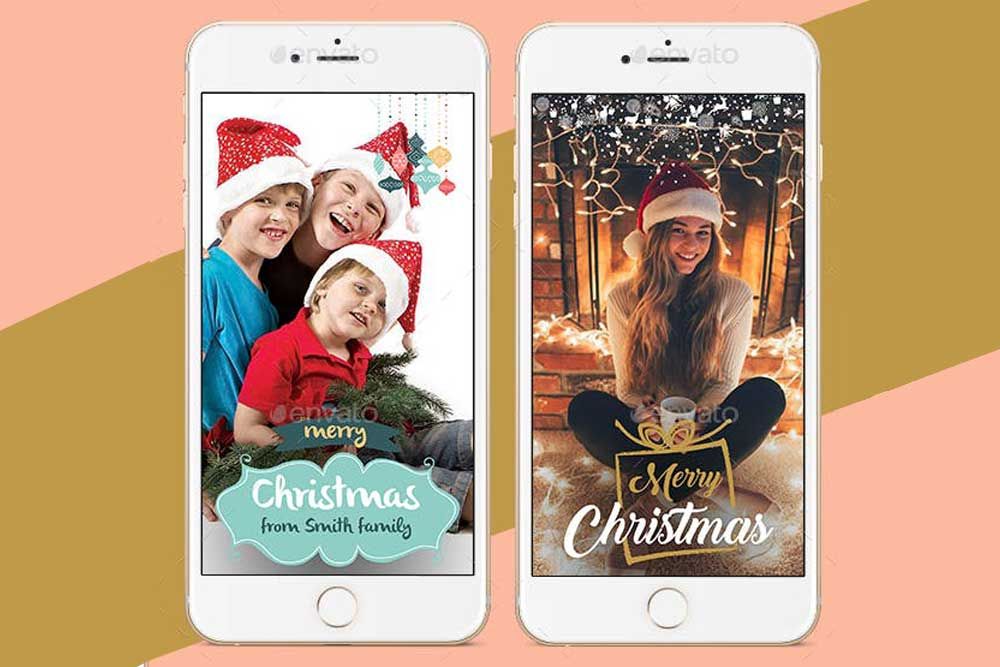 If you have upcoming plans for your business promos in the Yuletide seasons, you better grab the tools you need to share it effectively. Regardless of what product or service you want to showcase to your followers on different social media, you should make it the best. With this Christmas Snapchat Geofilters you can make your posts more adorable and personalized. Having a unique and creative post will entice viewers to enjoy and know more of your posts. It comes with 6 Snapchat geofilters for Christmas theme. You can easily change colors or whatever elements you want to edit. This is great for your Christmas party, nightclub event, bar, festival, cafes, restaurants, New Year party events, etc.
More info / Download
Snapchat Mockup Geofilters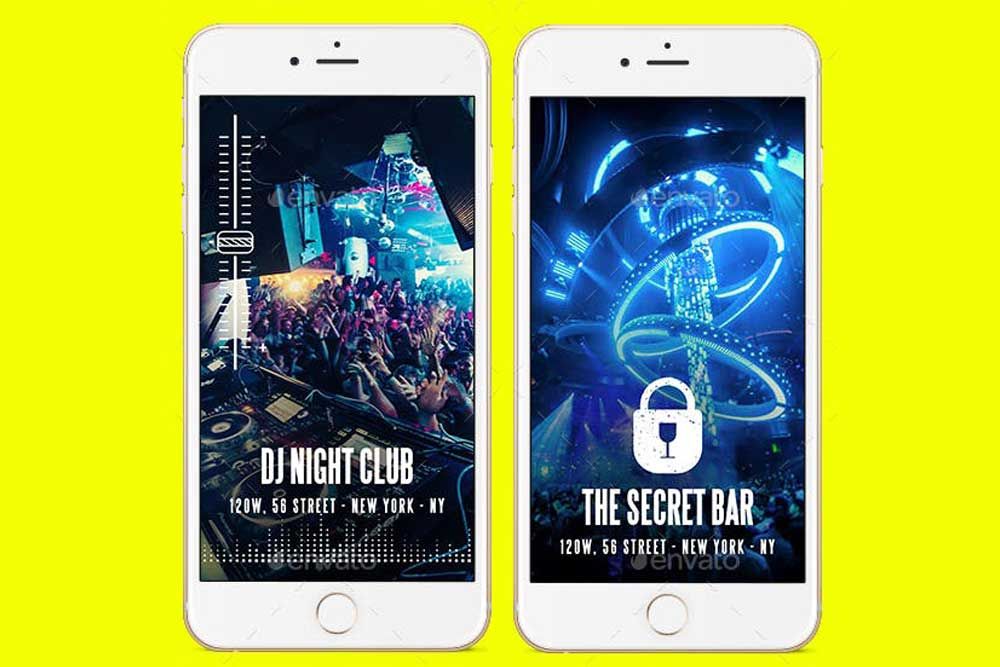 SnapChat is a great way to generate a hit of sales in a short period of time by offering a discount until your story expires. So, spread awareness of your newest products through this tool. It is ideal for product launches, ribbon cuttings, seminars, awards ceremonies, fundraisers, and more. If you need a template for your posts, you can use this Snapchat Mockup Geofilters. It features 10 fantastic Snapchat geofilters that most businesses can take advantage of. So, increase brand exposure with this Snapchat mockup.
More info / Download
10 Modern Snapchat Geofilters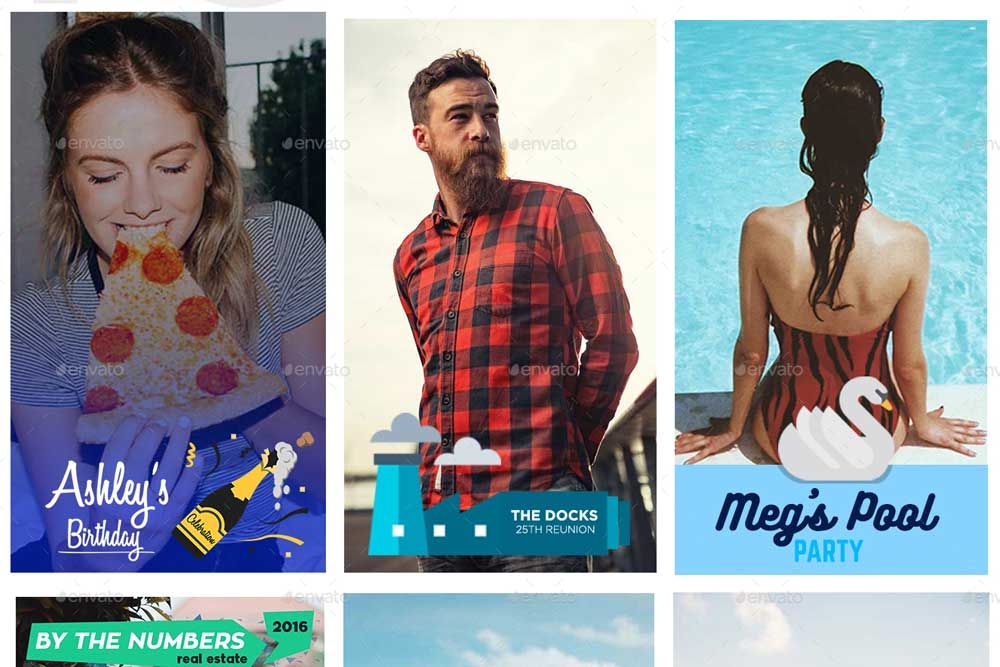 If you need to boost your business through effective marketing, you should not miss utilizing Snapchat as your tool. Through Snapchat, your posts will look attractive, eye-catching and personalized. Thus, your followers can tell that you truly mean with what you post. Moreover, using Snapchat, your posts will look modern and elegant when you use this 10 Modern Snapchat Geofilters. This pack contains 10 modern Snapchat geofilters In PSD files. Specifically, you can easily change colors, fonts, and text. You just have to locate the layer so you easily edit the element you want to tweak.
More info / Download
Voyager Social Media Pack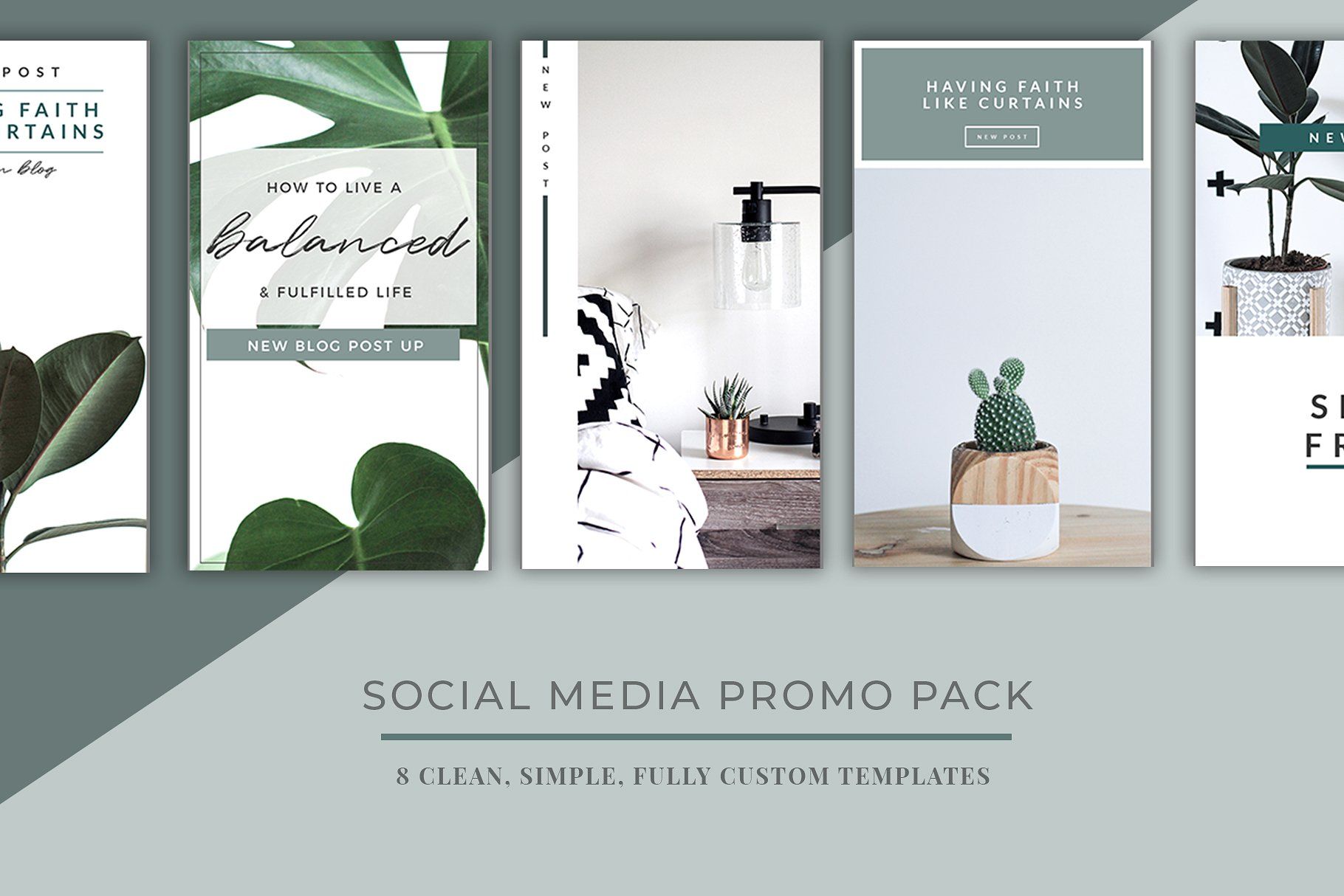 To build many audiences, you can use social media platforms as your tool for promoting your brand. There are various useful platforms that you can choose to utilize for your business. One of these is the Snapchat platform. It's best for any product, event or brand you want to promote. Here's a Voyager Social Media Pack that you can use for personal or business purposes. It contains 8 modern Photoshop files with easy to replace images. It's a great solution for the entrepreneur, shop owners, small business, startup, blogger, creator & artist. Likewise, it is built for all the major social media websites like Instagram, Snapchat, Facebook, Pinterest.
More info / Download