Save your precious time by enjoying any of the Bootstrap Angular templates here for you.
These offer you to kick-start your web application and help you build a powerful and practical admin dashboard.
These tools are versatile enough to cater to different intentions with ease. Why complicate things and go with the entire establishment process from the ground up? After all, most of them are multi-purpose anyway, yet again, those point to a specific industry.
However, all the Angular templates> are fully adjustable, so you can create the exact admin panel you are after. Still, for the most part, the included contents and different predefined color skins will do the trick for the majority. All the elements, components, and plugins cooperate very well out of the box.
Also, you will find every web design to work on all modern devices and web browsers like a dream. In short, the performance will always be flawless, no matter where the user comes from.
For the creation of a user-friendly and easily manageable admin, you win the game with Bootstrap Angular templates. Every alternative is a unique pack of useful material covering anything from design to practicality.
Most Powerful Bootstrap Angular Templates
Shreyu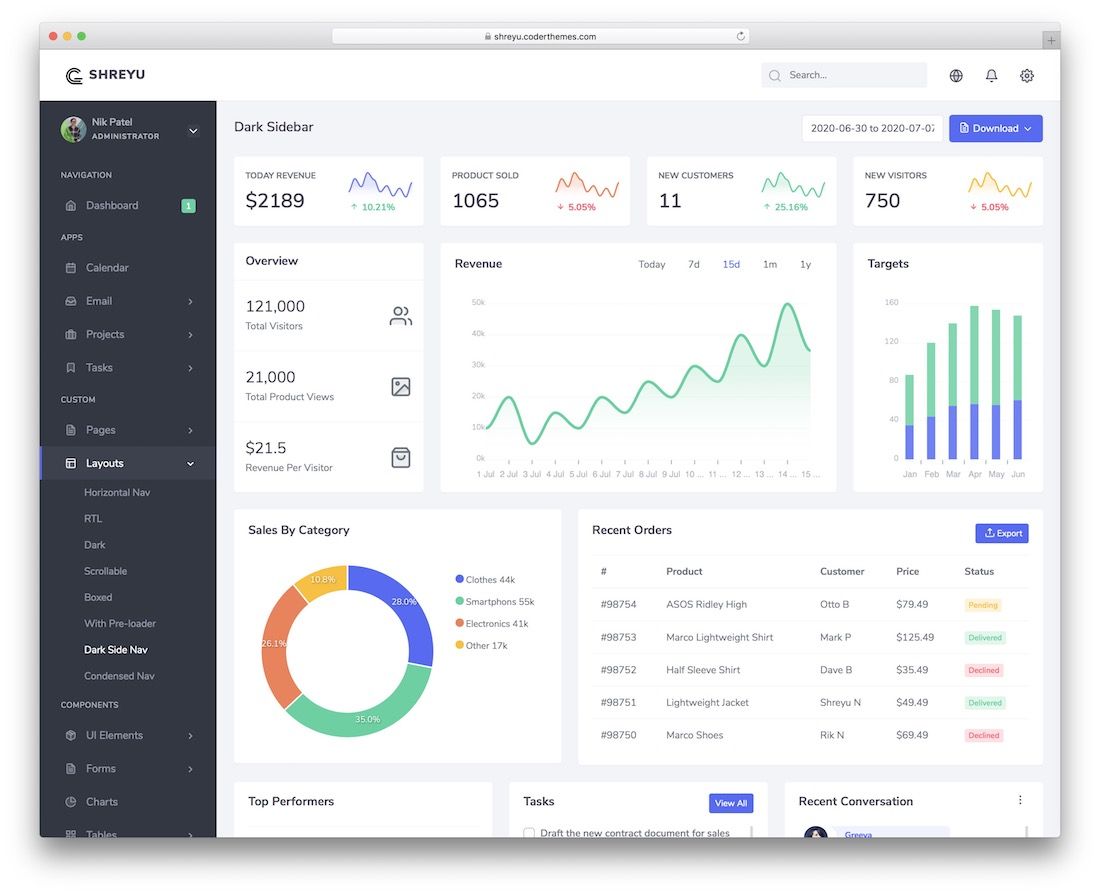 Shreyu is a top-notch Angular template based on the well-liked Bootstrap Framework. If you are on the hunt to build a powerful and practical admin for your web application, let Shreyu do the trick. With its many layouts, components, and elements, you will quickly establish the ideal dashboard for your project. Shreyu works flawlessly on all modern devices and web browsers, ensuring the experience is always of the highest degree.
Some of the features that Shreyu treats you too are toast notifications, form wizards, icons, data tables, date and time pickers, and the list goes on and on. As for the pages, you get an invoice, profile, pricing, login/register, recovery password, error layouts, and more. With the clean and distraction-free design, everything will come into view stunningly with Shreyu.
More info / Download
Demo
Skote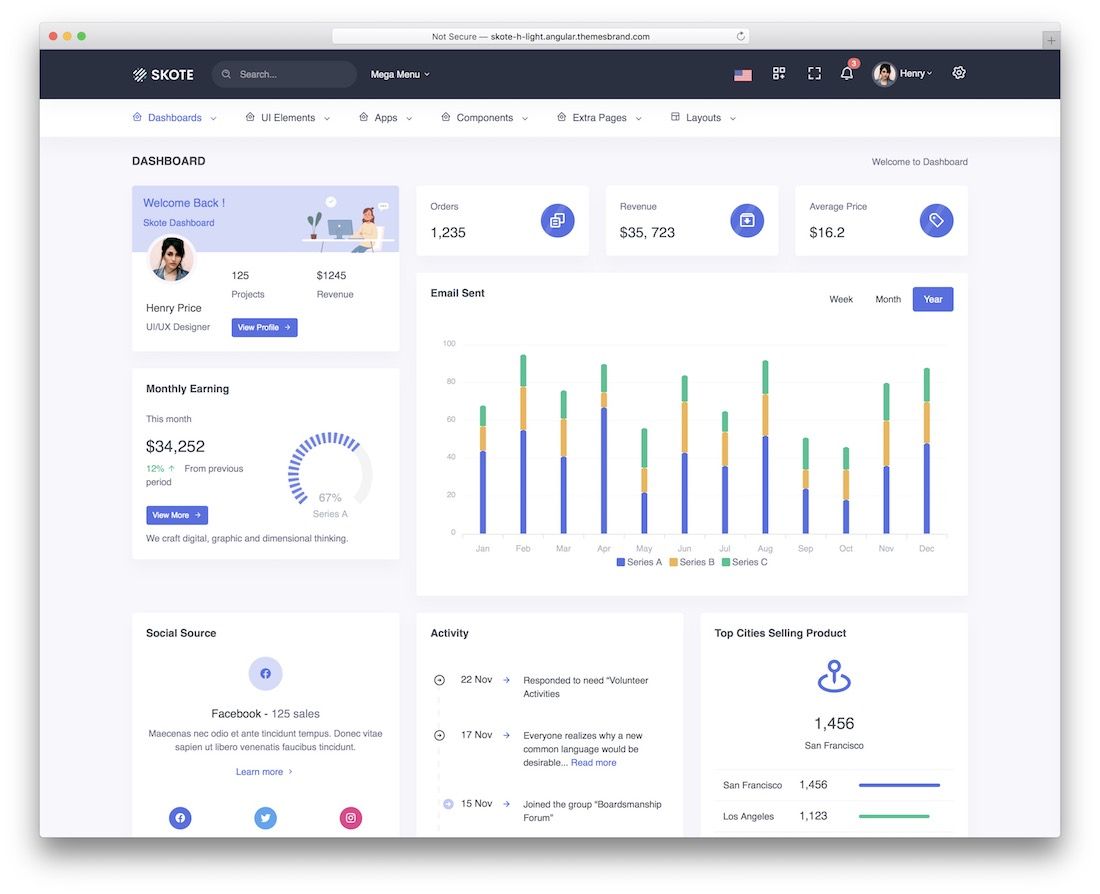 You might have heard of Skote before since it comes available in various frameworks, including Angular version. This Bootstrap Framework-based admin template comes as a pack of amazingness for building swift applications — without the need to start from scratch, of course. Right away, you get to choose from different light and dark samples and eight different layout types. Many different combinations will get you started right from the get-go. Skote is fully RTL compatible, too.
The code of Skote is well-structured so that every developer will benefit from it greatly. Meaning, any customization you would like to perform will roll out flawlessly. Skote saves you a ton of time, energy, and money, as you do not need to start with a blank sheet of paper. Enjoy the performance and all the great assets that Skote has in store.
More info / Download
Demo
Modern Admin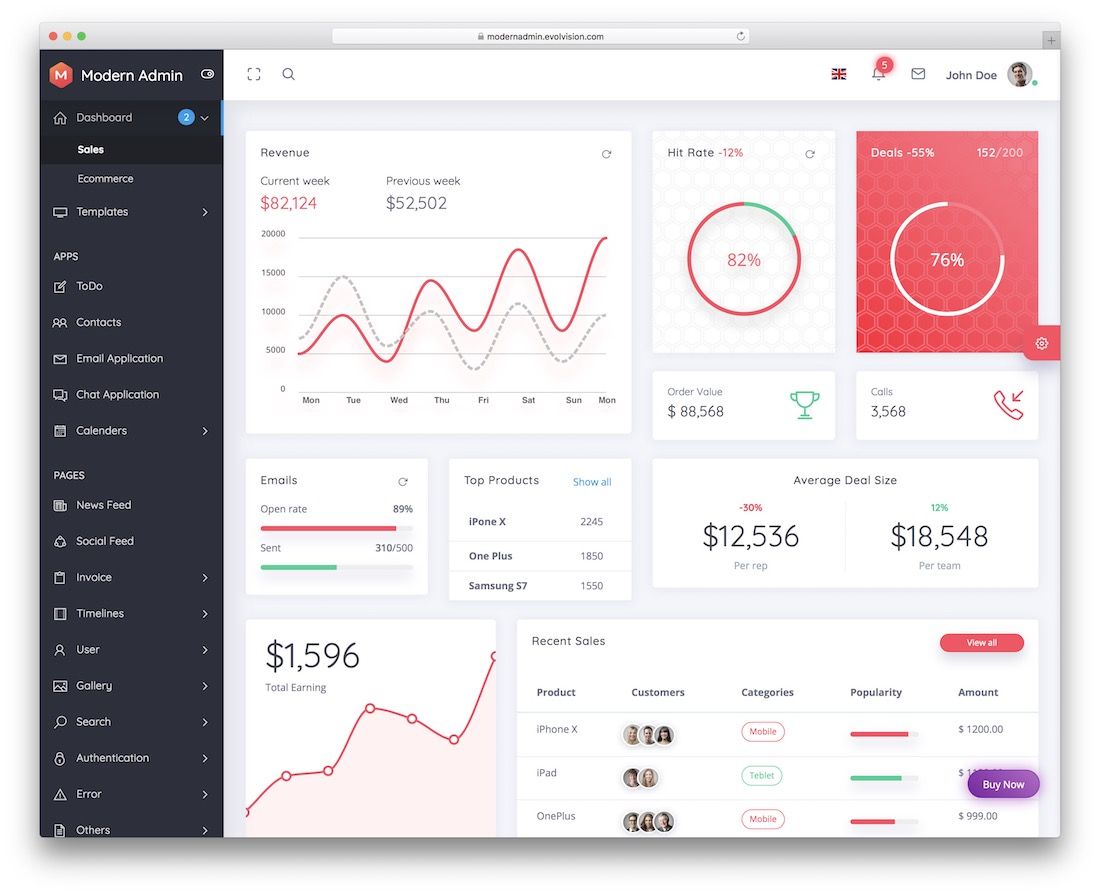 What's there to expect from a Modern Admin template? A striking and sophisticated Bootstrap Angular dashboard starter will get you moving in the right direction within the snap of a finger. You can get the ball rolling either with a vertical or a horizontal structure. There is also an option to go with boxed, static, and light layouts, as they are available. Of course, if you would like to modify the tool, that's something you can do, too, without a sweat.
More info / Download
Demo
NobleUI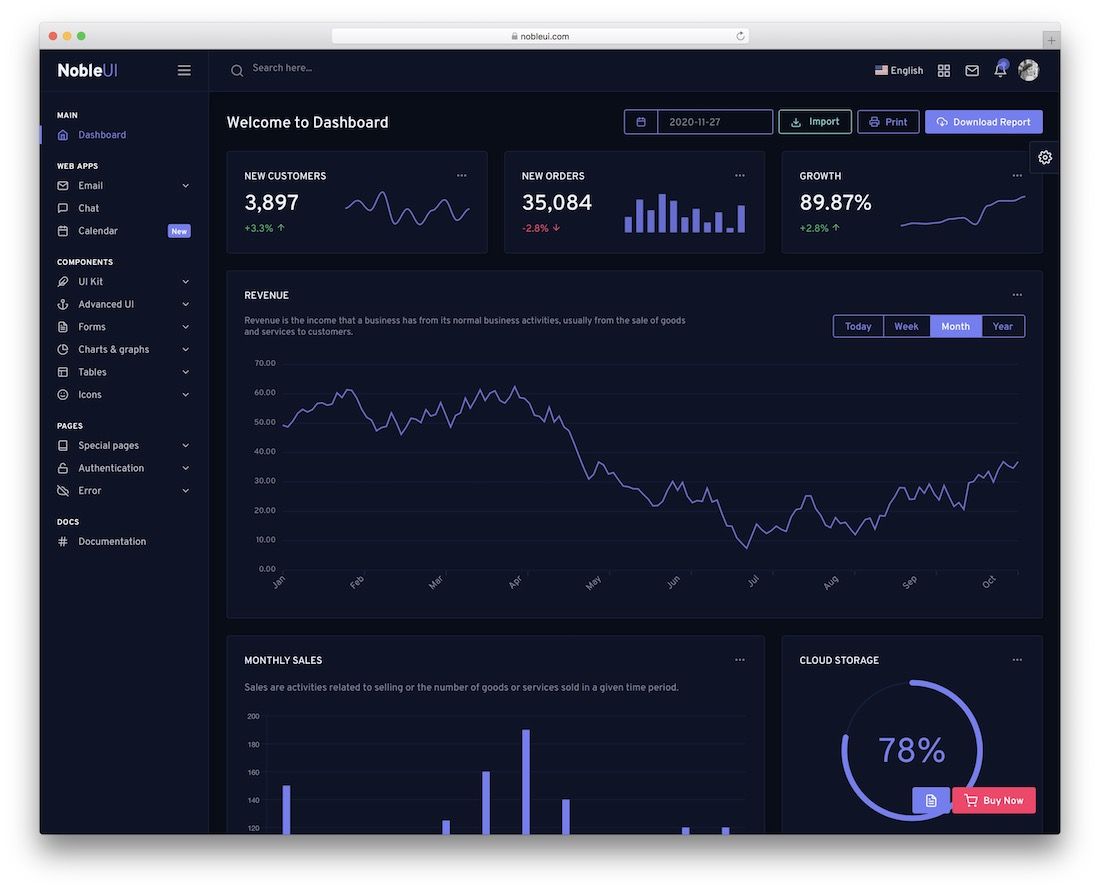 NobleUI is a powerful Angular template for resourceful admins with multiple demos, dark mode, and RTL layout. You can start working on your dashboard comfortably with its very clean structure. Even though NobleUI supports customizations and improvements, you are welcome to employ it as is.
NobleUI delivers all the necessary to kick-start your project with style in the kit. NobleUI makes sure everyone gets the most out of it without a sweat, using predefined apps, form validation, event calendar, multiple charts, and tons of pages. The code is also easy to understand, perfect for beginners and professionals.
More info / Download
Demo
Arctic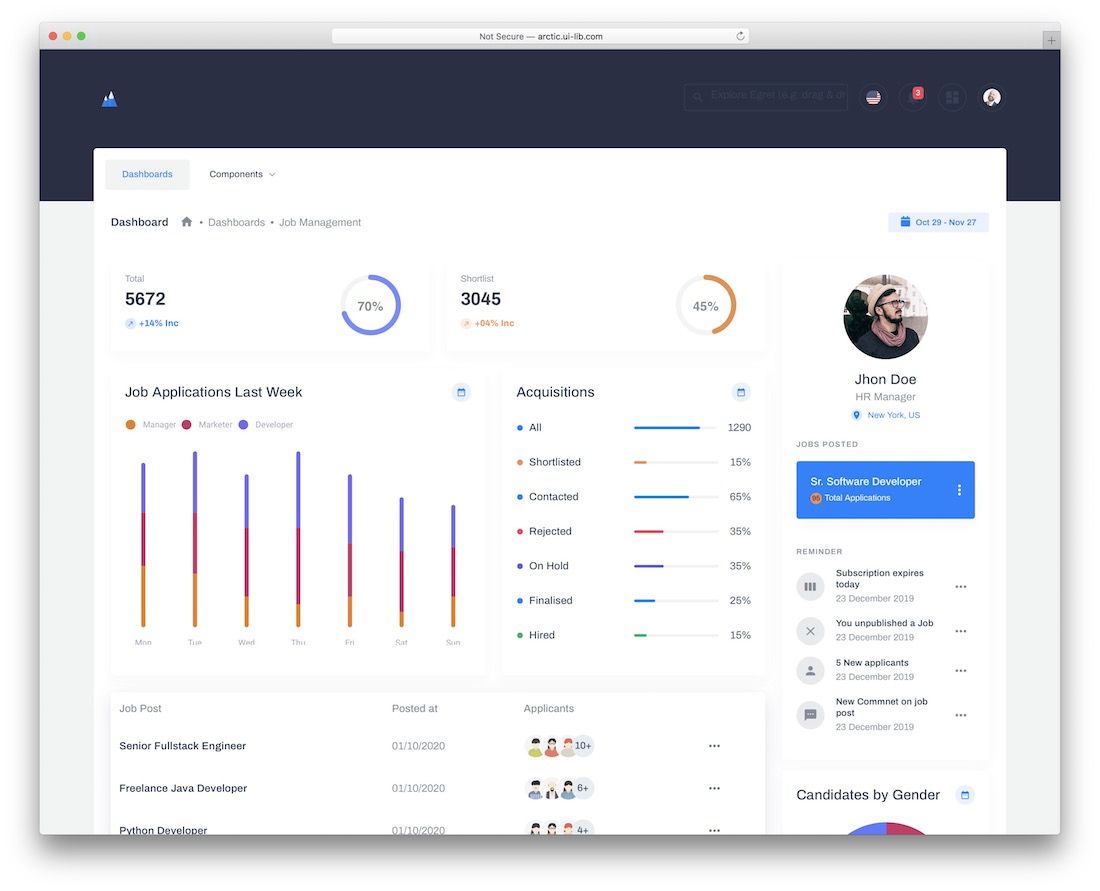 Arctic is an all-around admin template that comes in different styles. Arctic covers a broad range of users, apps, and projects out of the box. But you can easily take things to the extremes with customization tweaks. Arctic is powerful enough to fit any idea you have, no matter how challenging it is.
Arctic ensures an always pleasing experience with a great choice of colors, typography, and overall beautiful design. Other features are RTL layout, dark mode, grid system, inner pages, and multiple reusable components. You can also get in touch with the friendly support team, and they will be happy to assist you.
More info / Download
Demo
Compost

Compost is a Bootstrap Angular template that will boost your workflow to the extremes. Let's face it, with all the material predefined and ready to go, you can have an outcome all set sooner than later. With the great combination of simplicity and creativity, you will also enjoy using Compost's default design configuration. But you can go against the norm, too.
You get five dashboards in the kit, more than forty customizer options, functional applications, and Firebase integration. You do not need to be a rocket scientist to work with Compost; basic knowledge will help to experience smooth task execution.
More info / Download
Demo
Plab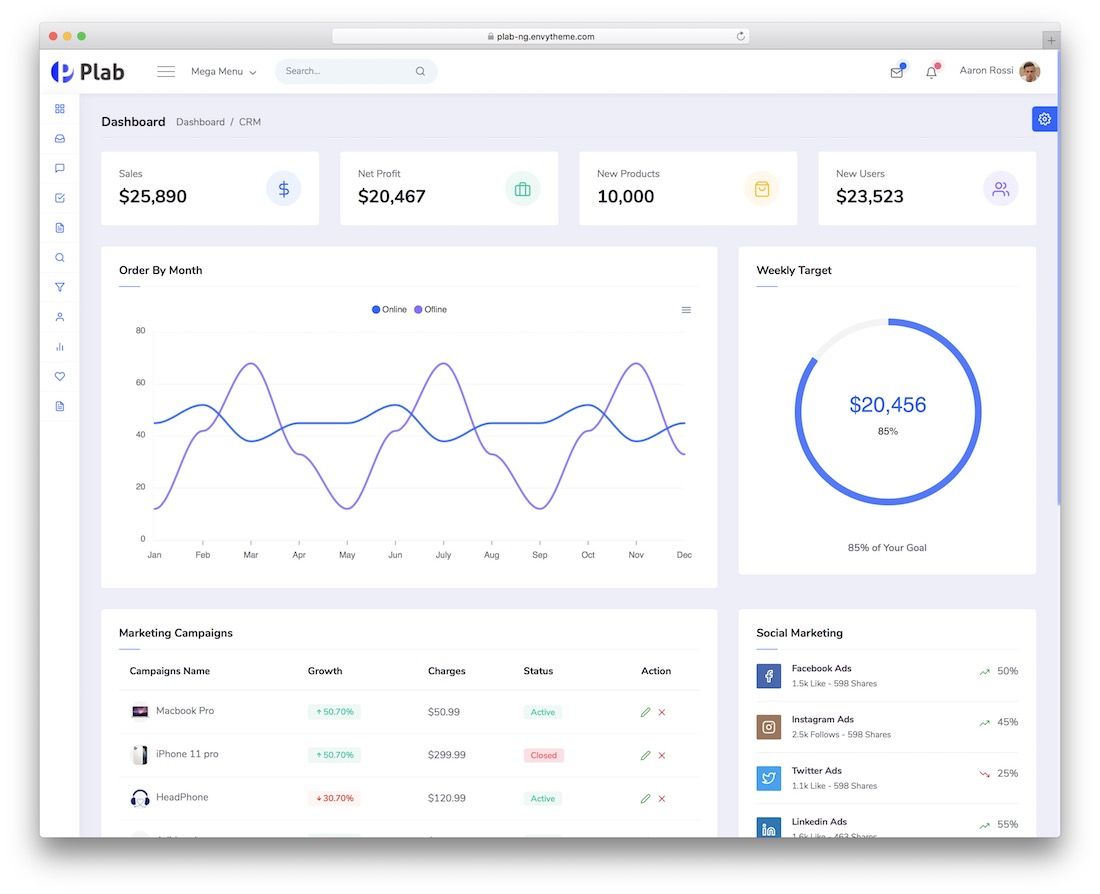 Plab is an all-around admin template in multiple PHP framework versions. Of course, you will find an Angular one, too. Plab also rocks five different dashboards for the bundle's sales, eCommerce, CRM, projects, and analytics.
As you would expect, Plab gives you access to many features and functions for a quick start to something new and impressive. The UI components include smooth animations, retina-readiness, amazing documentation, great support, and lifetime updates. The appearance is also clean and simple, ensuring that all the data comes into view neatly. Make a back-end that will help you manage and maintain your project comfortably.
More info / Download
Demo
Cliniva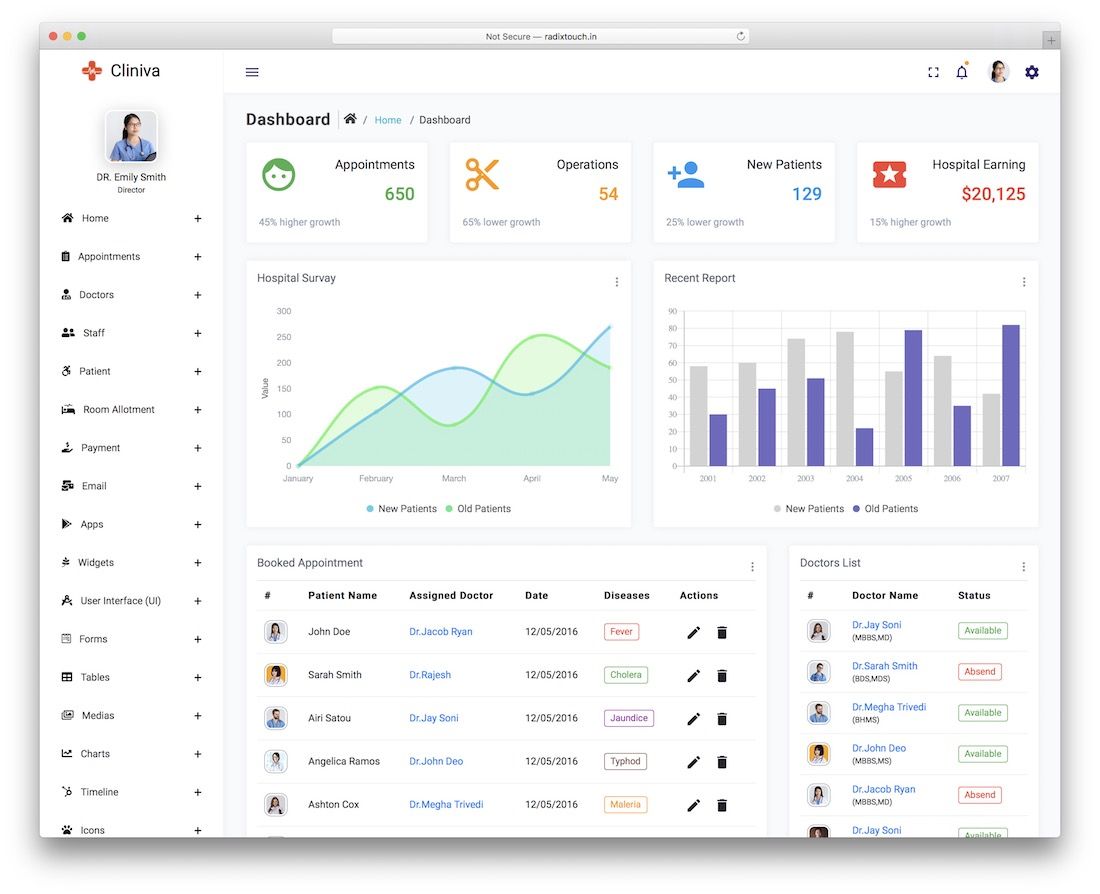 That's exactly what you can expect from Cliniva — a tool full of goodies that will work for your project like a dream. While, for the most part, the Bootstrap Angular templates that we have here are multi-purpose, Cliniva is industry-specific.
Light and dark modes, RTL support, Material Design, calendar, chat, and task apps, seven color schemes, and two different dashboard styles are just some of the specialties that Cliniva has in store for you. Additionally, Cliniva has various modules for appointments, doctors, patients, staff, and rooms. Make an admin for any hospital or other medical institution with Cliniva now.
More info / Download
Demo
Next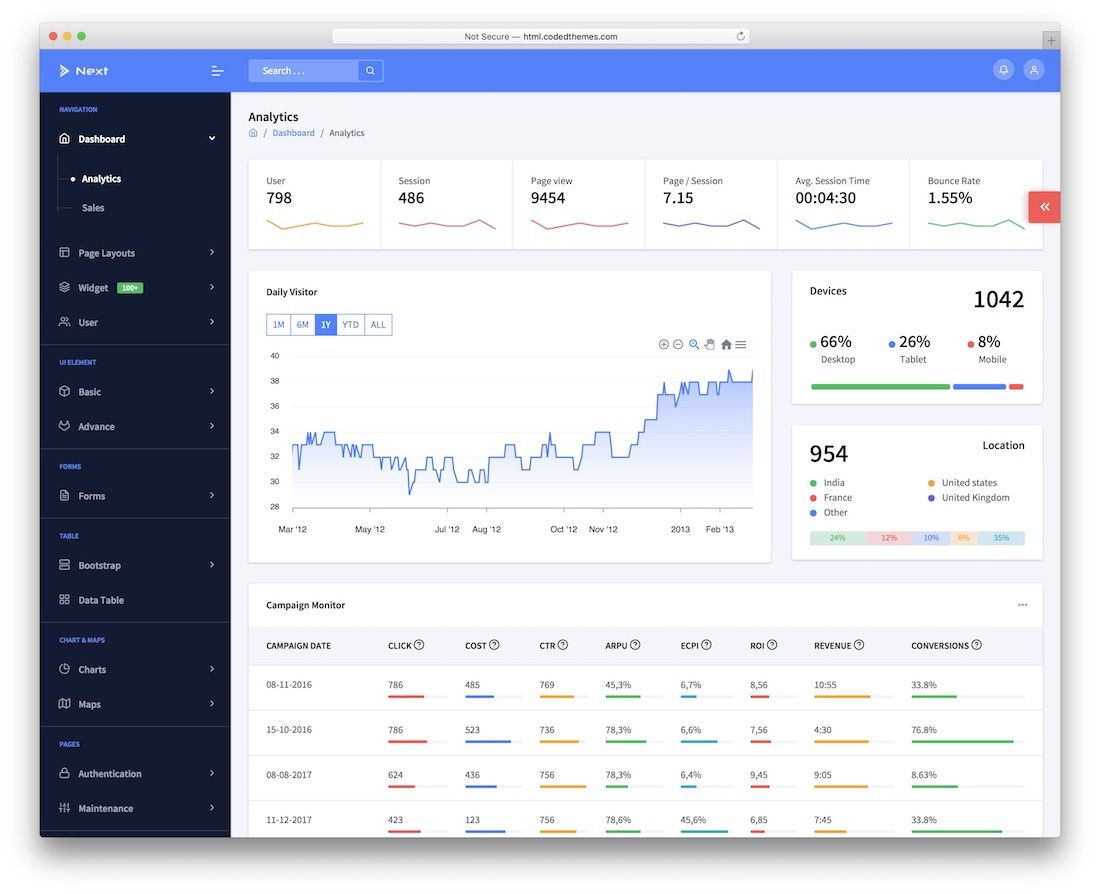 Next is a premium template that uses both Bootstrap Framework and Angular 8. Whether you need to build a simple admin or such with heaps of features and functions, Next is the solution that will help you out. Designed and coded with every user in mind, Next makes sure newbies and skilled professionals get the most out of it. Not to mention, it is flexible enough to work with an array of different projects.
The collection of features is vast, covering all the necessities and then some. Page layouts, appealing color choices, charts, Google Maps, smart menu, dark mode, ratings, and validation forms are just a small segment of all the goodies that come with Next. The performance of Next is also on point all the time, as it is always improving.
More info / Download
Demo
Fiva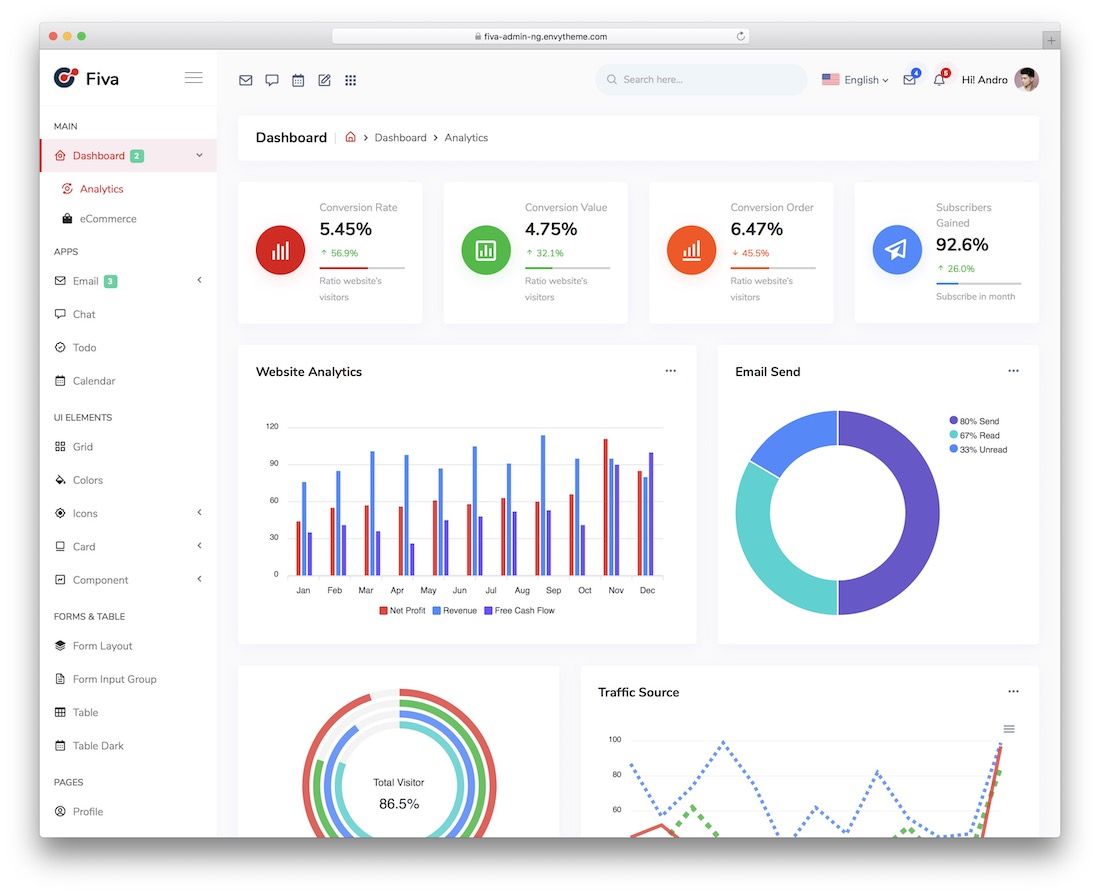 When bringing into being an admin panel that will help you track everything and optimize your application accordingly, all you need is a ready-to-use template, like Fiva. There is no need to undergo all the heavy lifting yourself. With a Bootstrap Angular template, you can finish the process with less work than otherwise. Also, Fiva only goes for a small investment, yet it unlocks tons of options and possibilities for different projects.
Fiva comes with documentation and friendly support to keep the building process as comfortable as possible, so you will never feel alone. It also follows all the technicalities to ensure the electrifying performance that everyone strives for. More highlights contain smooth animations and transition effects, multiple UI components, two dashboards, and four integrated applications. Quickly setting things up is inevitable once you have full access to Fiva.
More info / Download
Demo
Smart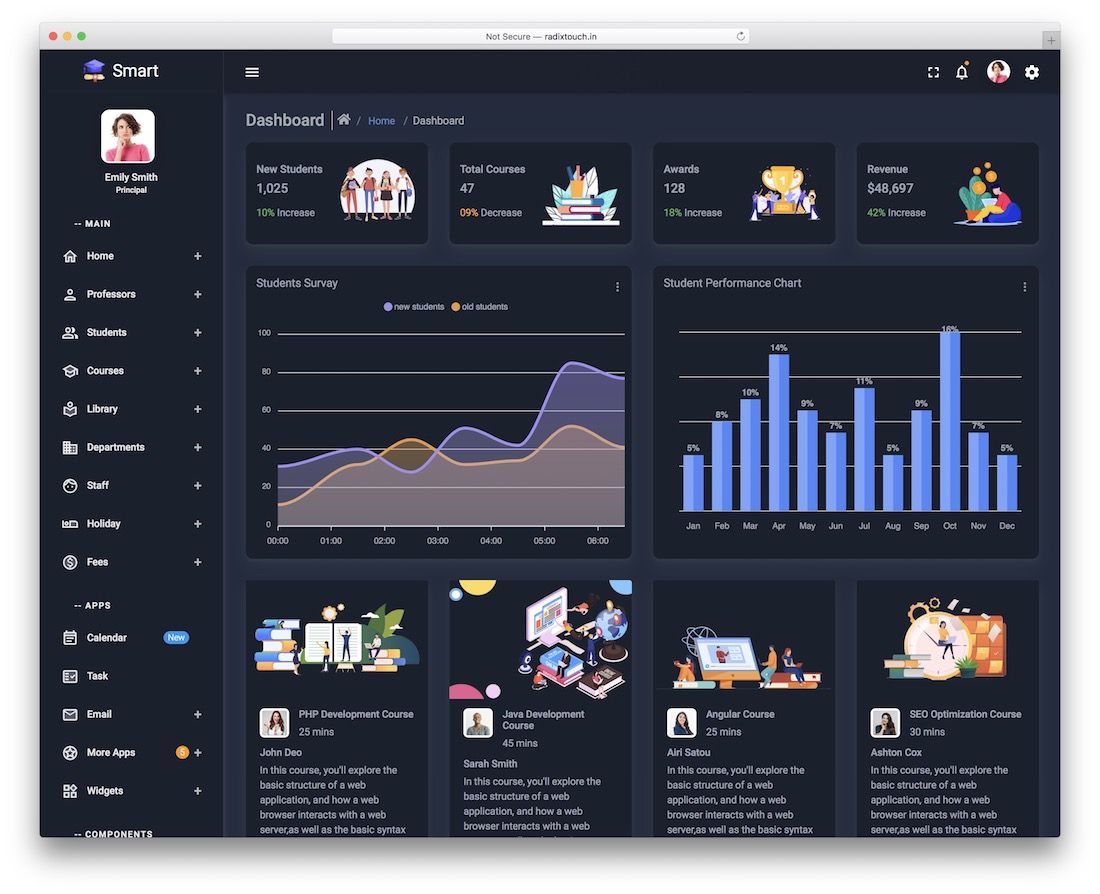 If you are working on an educational project or application, Smart is the dedicated admin template to go with. Schools, universities, colleges, you name it, Smart is the tool that will move mountains. It comes with many components to experience a speedy and spectacular end product.
Smart includes pages for students, courses, staff, library, professors, and other necessary departments and fields. There is also an option to choose between dark and light looks and create a full-blown RTL solution. The package includes two dashboards, seven color skins, functional calendar and task apps, range slider, and Google fonts. Simplify the process and enhance your workflow with Smart.
More info / Download
Demo
Pangong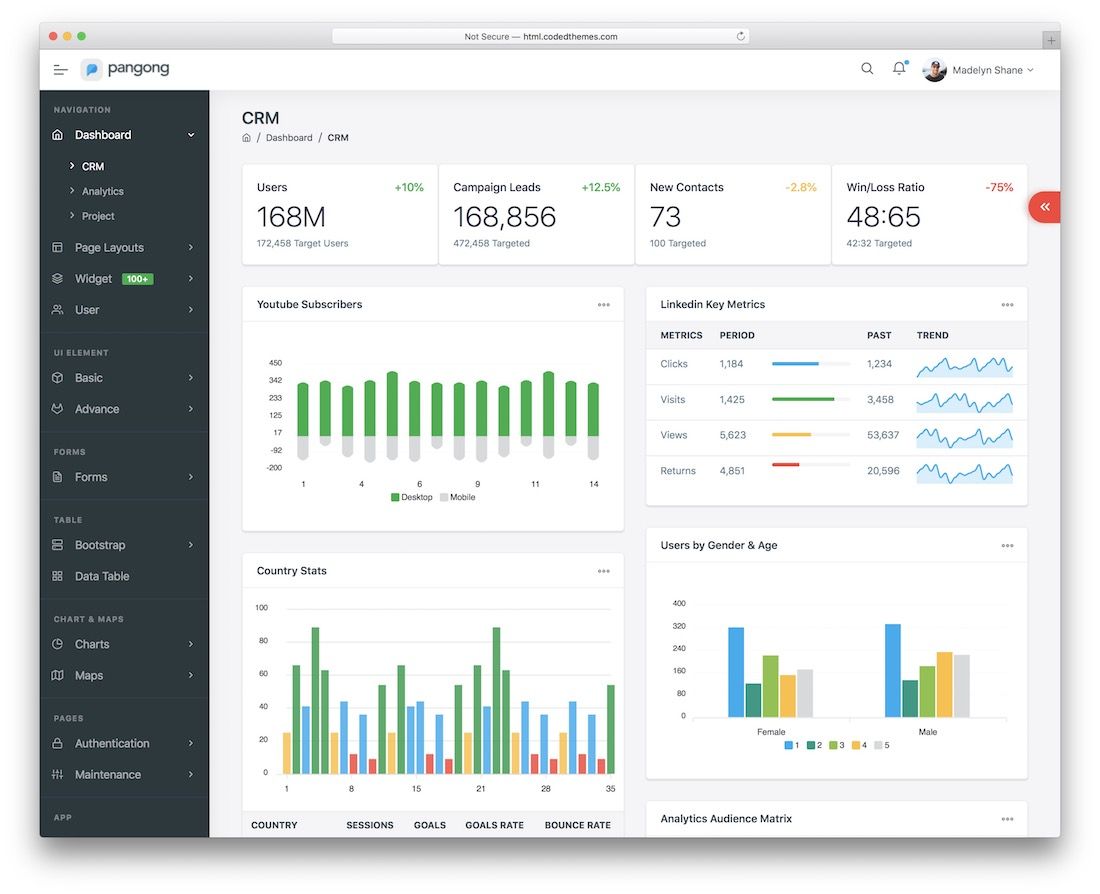 You are in for a sweet treat when it comes to Pangong. The need to build an admin from ground zero is a thing of the past. If you are on the hunt for a versatile Angular admin dashboard based on Bootstrap, Pangong is the one tool to consider. It is modern and appealing to the eye, compatible with all devices, web browsers, and retina screens. The code is easily-digestive, ensuring all levels of web developers get the most out of Pangong.
With a library of more than one thousand UI components, you know you will find all that you need readily available to put into play. Different working apps, authentication pages, practical inner layouts, data table plugin, and free updates for life are a bunch of specialties that Pangong promises.
More info / Download
Demo
I hope that you managed to find the best Bootstrap angular template for your project. If you are not a fan of Bootstrap framework, you might want to check these angular admin templates.