No matter your profession, a great website can effectively promote your brand and help build a strong web presence. If you're a chiropractor who needs the inspiration to develop a strong online presence, these chiropractic websites are totally impressive and useful.
Chiropractic treatment is known to be safe and effective. Accordingly, it is proven to alleviate pain, depression and anxiety. In like manner, it also relieves muscle tightness, enhances blood flow, and even improves mobility. With the benefits that chiropractic treatment offers to the body I see why this type of healthcare professional is a demand worldwide. Statistics reveal that chiropractors treat more than 35 million Americans (adults and children) annually in the United States alone. So, if you're in this profession, building a website that will help you boost your career is lucrative. Having a website that will reveal your expertise as a trained and registered chiropractor and at the same time exhibit your amazing, practical chiropractic services is beyond measure.
We've handpicked these chiropractic websites to motivate experts in this treatment field. Here, you can find simple and comprehensive designs, creative and outstanding designs, a clean layout, better typography, and excellent web design features. Scroll through the list and grab the best concept you'd like to apply for your next chiropractic website projects.
Best Chiropractic Website Designs
The Joint Chiropractic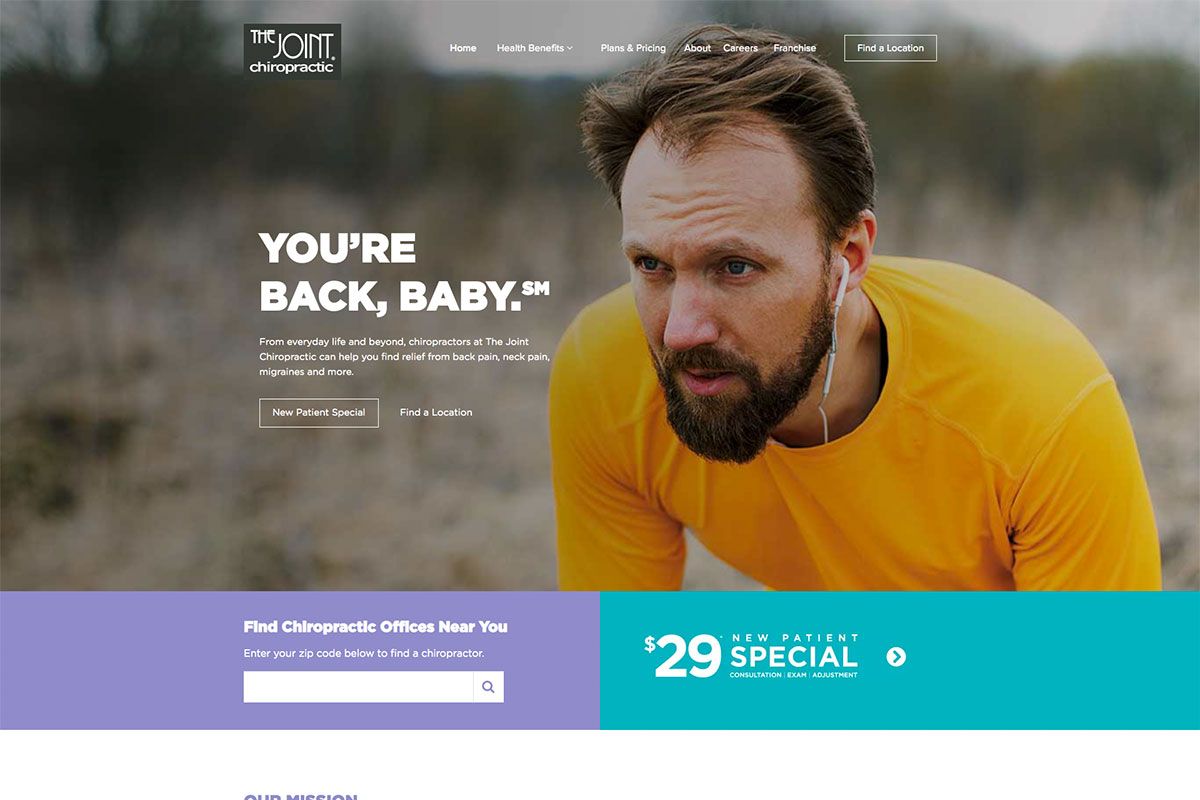 Chiropractic treatment is one of the best remedies for back pain, migraines, chronic pain, sciatica and other related diseases. It typically brings healing without surgery or medication. Hence, many people are now considering it for their health. Here's The Joint Chiropractic that is ready to make its brand prominent worldwide with its amazing chiropractic website. It can kindle the interest of fellow chiropractors to build their websites with professionalism and classiness. The hero header welcomes visitors with a nice tagline, fullwidth image background and clear CTAs. Meanwhile, the special offers section is pretty attractive with the use of vibrant colors. Furthermore, it also comes with cool features such as video integration for the brand's introduction. Check out how awesome and inspiring this website is.
International Chiropractic Association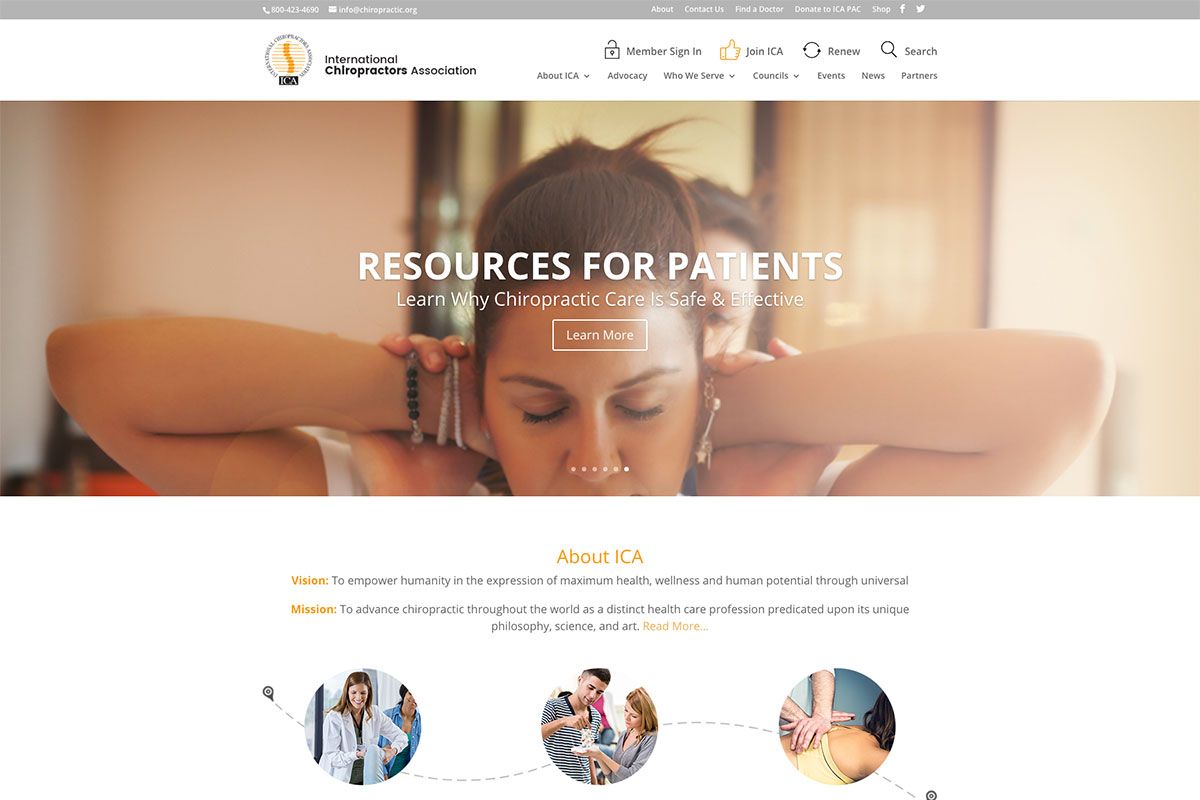 Chiropractors need a superb website to advertise their practical services online. It is easier for patients to know more about their business. Check out these chiropractic websites to stimulate and build a strong web presence. International Chiropractic Association has a nice and minimalist website design. Specifically, it highlights various images on the hero scene via a slider. While the elements are well organized, integrating the white space simply implies sophistication. In particular, the testimonials section also looks stylish with another smooth slider. For the navigation, this website utilizes the sticky header along with a drop-down menu so it's easier for a visitor to access other contents.
Australian Chiropractors Association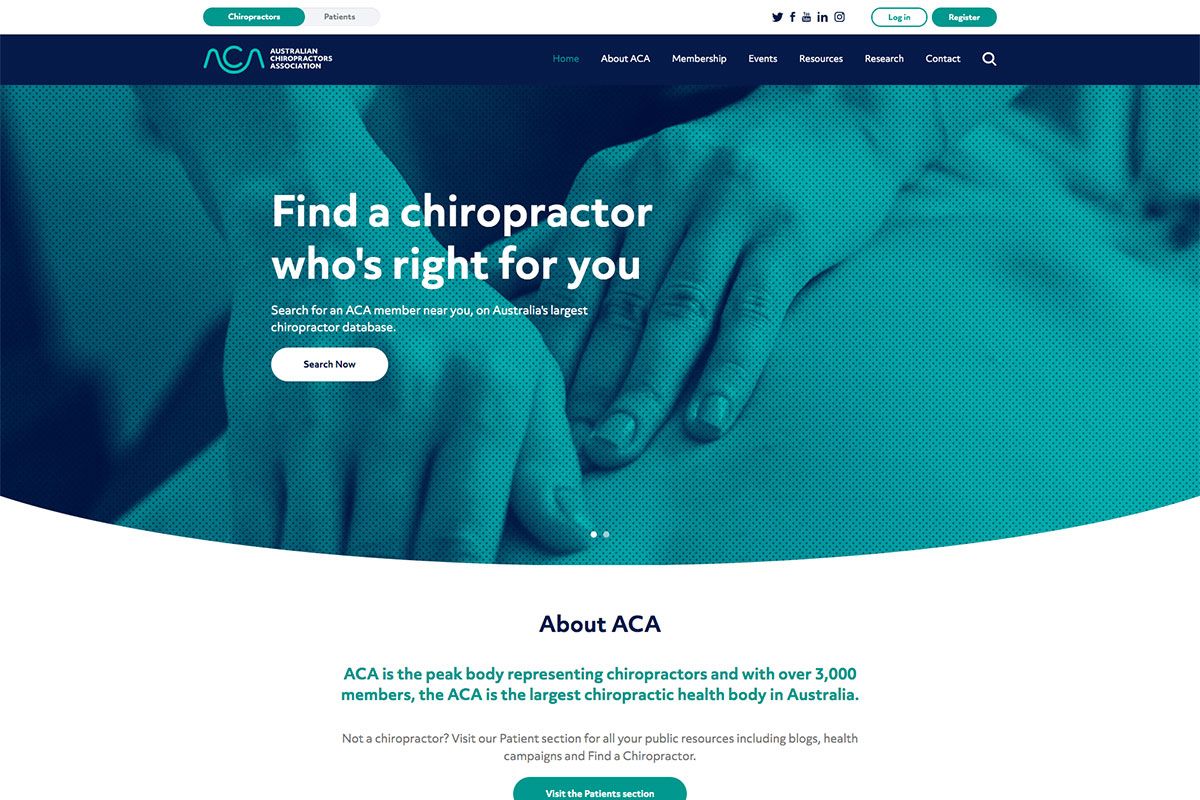 A website is an important digital marketing strategy that allows one to grow one's business or profession. Here's a list of chiropractic websites to help you build a nice and creative concept for your online presence. Australian Chiropractors Association is a magnificent manifestation of the brand's expertise in chiropractic. Notably, the hero header has essential elements to boost conversions like the primary CTA, filtered images, and headlines. Meanwhile, the website also utilizes consistent web elements such as rounded buttons, good typography, and color schemes. Those features truly improve the website's appeal, and the white space, even more, makes it look seamless.
MVP Chiro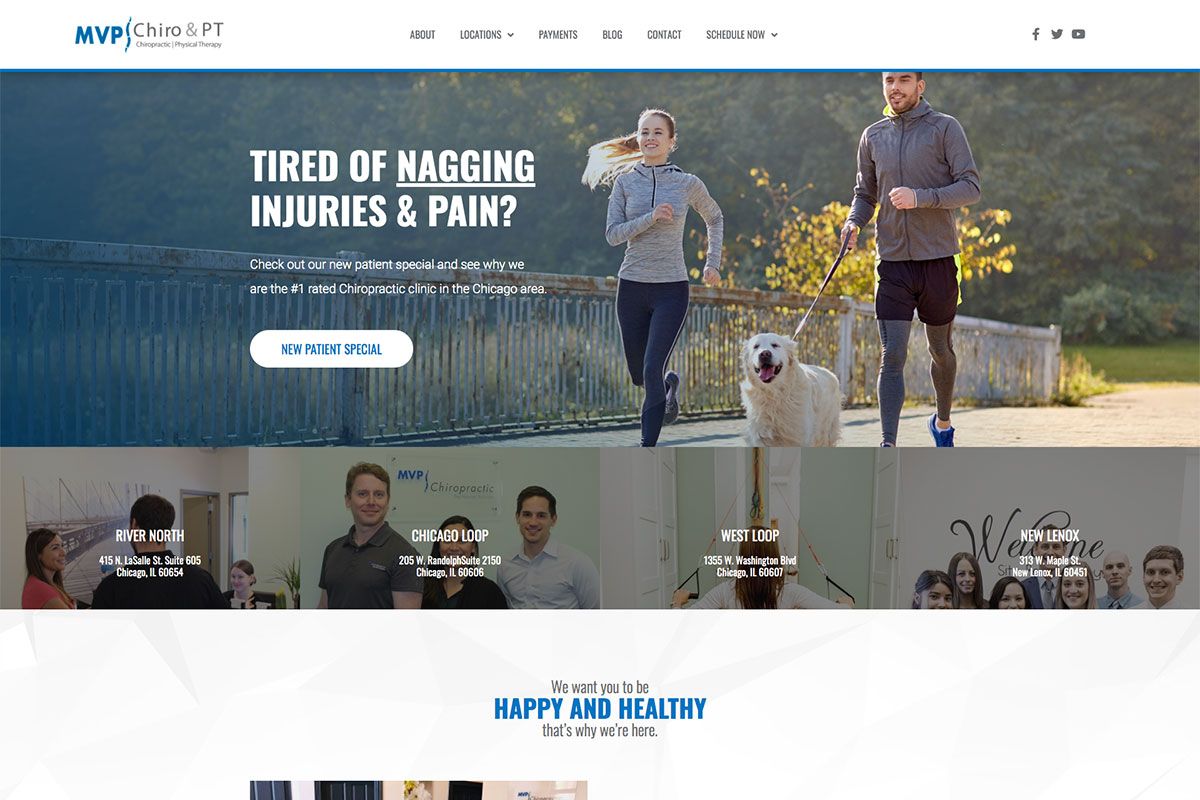 Chiropractic has been practiced in different places. And as a chiropractor, a good website should promote its awesome services worldwide. Here's MVP Chiro, one of the clean and resourceful chiropractic websites to check upon finishing your chiro web design project. Its website welcomes visitors with a captivating headline and primary CTA on the hero header. Of course, the content would always look better if the website utilizes clear and quality images. That feature is well observed in the hero header, presentation of the different branches, testimonials, and others with this website. Furthermore, it also embraces the sticky header where the logo plays its vital role, menu, and social media icons.
Chiropractor's Association of Saskatchewan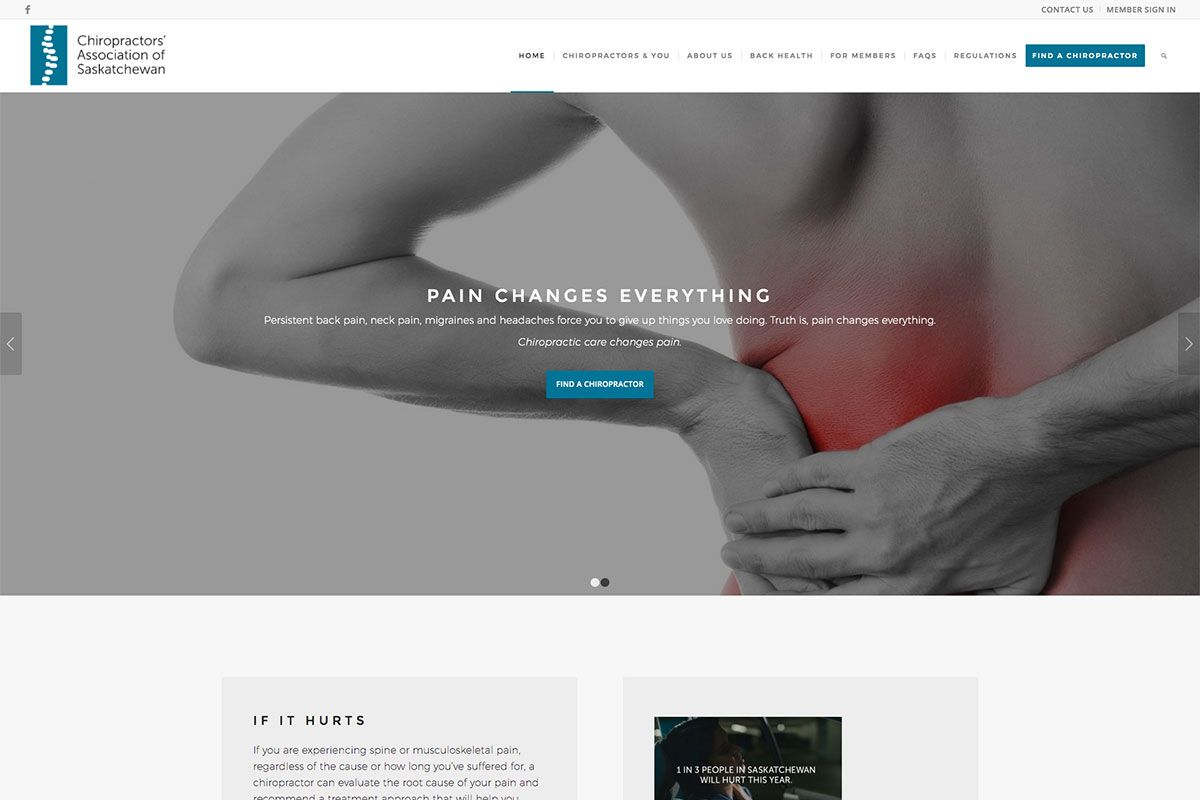 Back pains are a burden and needs to be cured. Thanks to the chiropractic treatment that can help relieve such pains and other diseases. These chiropractic websites will provide ideas and design inspiration if you're in this profession. This website elevates its brand as it utilizes a clean and minimalist layout. A better showcase of the images, taglines and CTAs is made possible with the slider in the hero scene. Moreover, this website also offers an easy way to find a chiropractor near the patient's location and is stunningly presented using boxes. Since the CTAs are a must for a website, this brand never misses adding those CTAs on different spots. Additionally, the articles also look stunning with its simple layout.
Atlant Health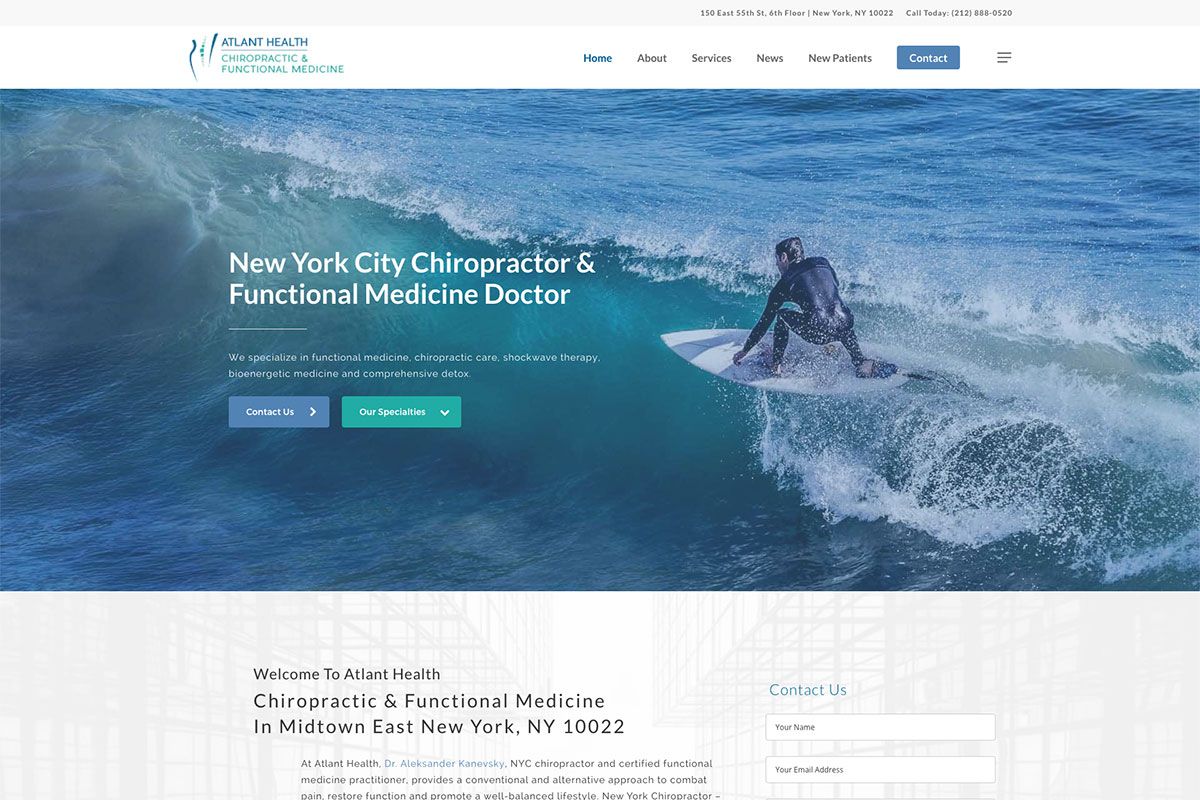 Specializing in functional medicine, Atlant Health is ready to provide the best chiropractic services and functional medicine to their patients. Its impressive website, website elements, and features make the overall design visually appealing. The hero header is ready to impress the visitors from the captivating image, clear call-to-action buttons, and headlines. A clean and minimalist design is also used for the firm's introduction, including an adequately labeled contact form. As services look more interesting and appealing with thumbnails added, Atlant Health never fails to add such attractive images. Other services also look clean and neat with ample white space and grids.
Thrive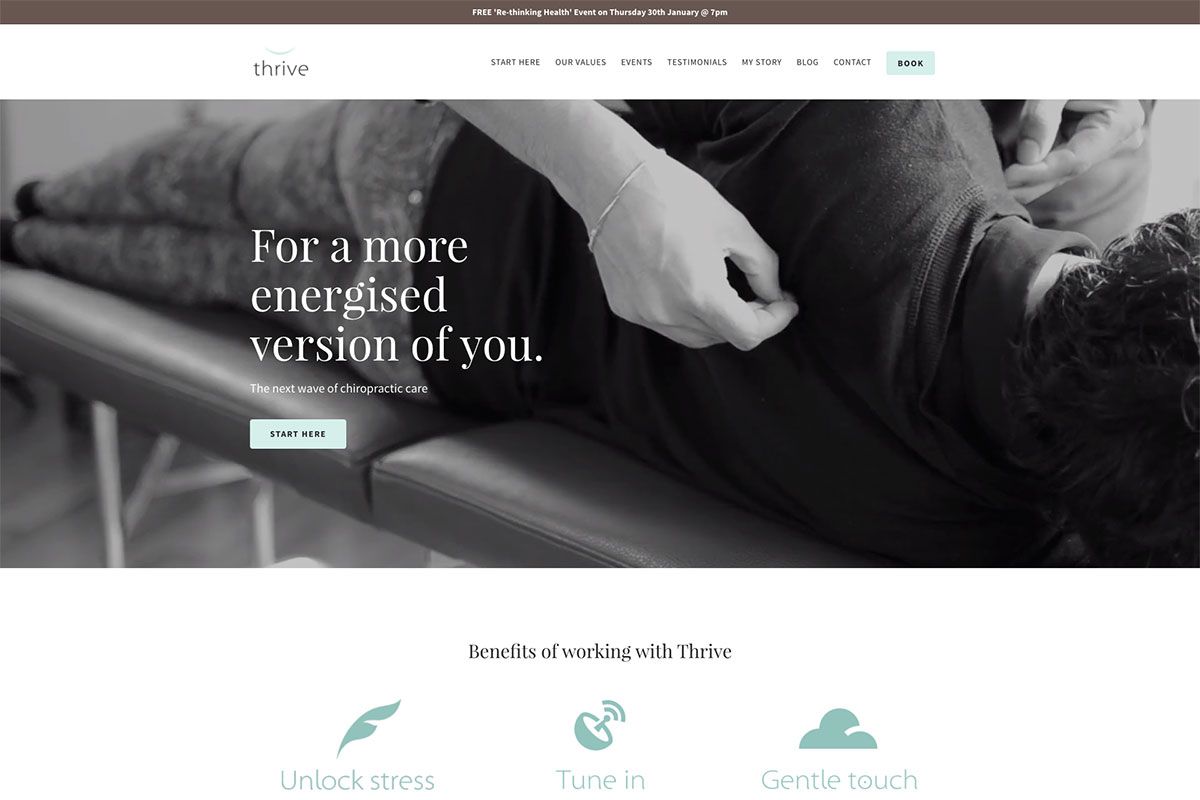 Videos are one of the most powerful and effective tools of visual communications. Likewise, when used properly, video backgrounds are an effective strategy to capture visitors' attention. Thrive, being a part of these chiropractic websites inspiration has an impressive, monochrome video background on the hero scene. Your website must convey the message you wish to deliver to your audience. Thrive indicates its awesome benefits with a clean and neat layout. Using flat and simple icons and little descriptions makes such benefits look clear and appealing. Adding more videos makes content even more compelling, and this website exhibits such useful videos abundantly. To make the testimonials section stand out, this websites showcases it with simplicity using large, black fonts.
ABC Chiropractic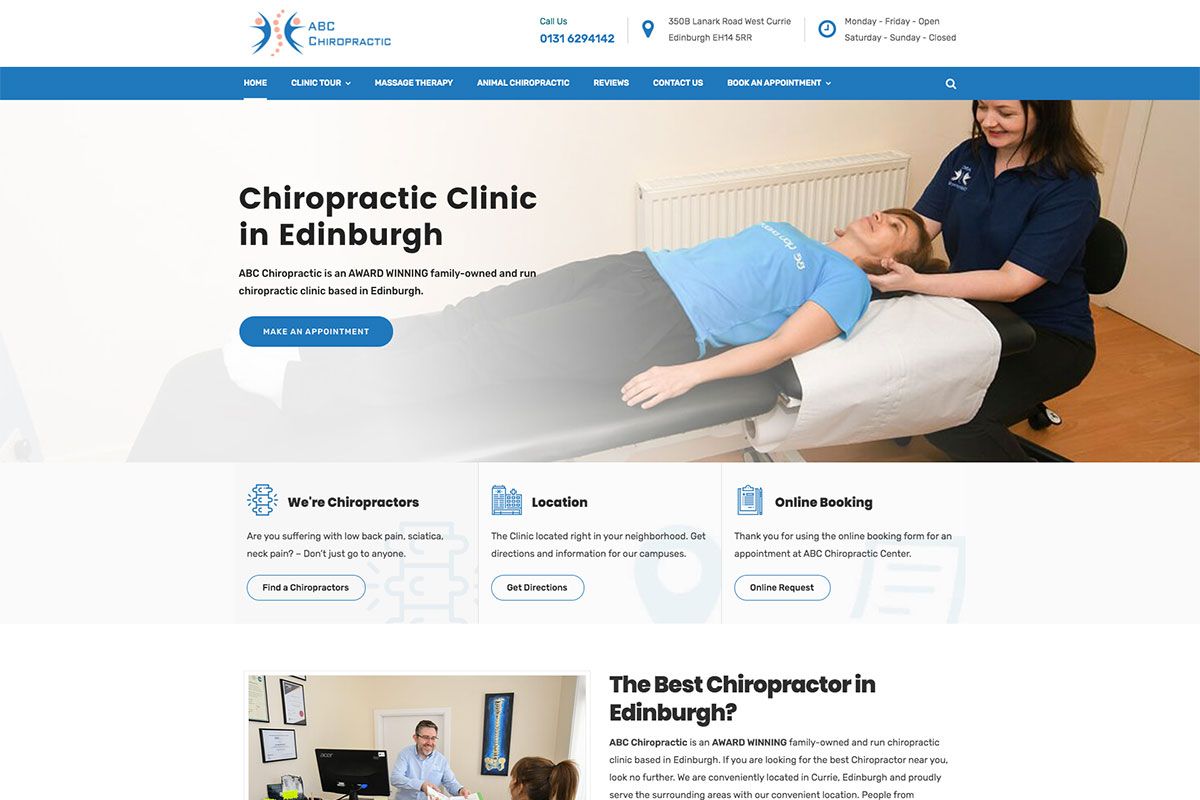 Websites may vary depending on the business or profession a brand tries to promote. But regardless of the product or service the brand offers, it must be well-designed and functional. For chiropractors, these websites are truly amazing to look into. ABC Chiropractic introduces its wonderful services with a professional and comprehensive website. Having blue as the site's primary color coupled with white space makes the design perfectly pleasing. Meanwhile, the website also utilizes the visual hierarchy wherein elements are presented and perceived according to importance. The design will look more lively with images on it, this website integrates quality images on different sections. Moreover, the header and the footer also comes with the essential website elements added to them.
Peace Haven Chiropractic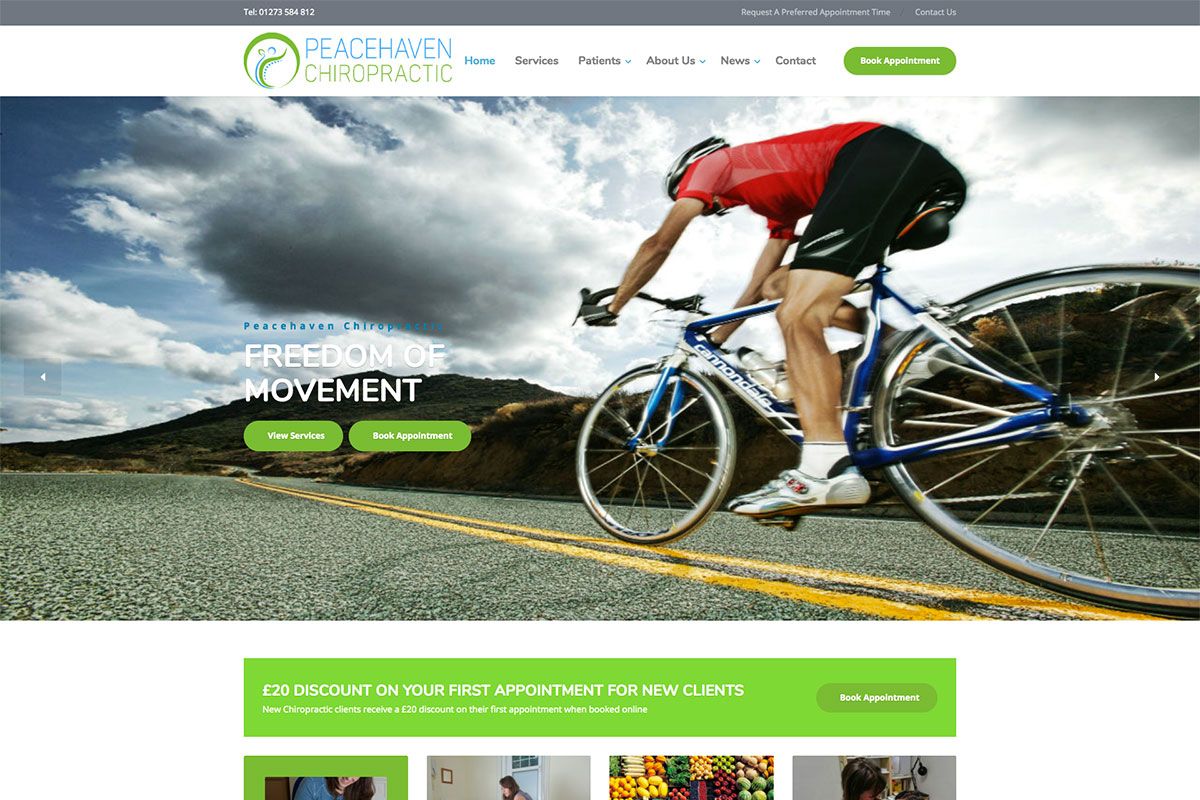 Do you offer timeless chiropractic services to those who need it most? If you do then you ought to spread your expertise worldwide. If you lack the stimulation, perhaps these chiropractic websites we've handpicked will never fail to impress you. Here's Peace Haven Chiropractic website that stylishly presents its brand. Specifically, the hero header looks cool and refreshing with the beautiful images and taglines and corresponding call-to-action buttons highlighted using a smooth slider. As special offers are interesting to the audience, this website presents a vibrant section of that feature where a call-to-action is added. Moreover, the services section also looks neat and clean with visual hierarchy. What's more? The latest news also look seamless with an amazing card design too.
Healing Hands Chiropractic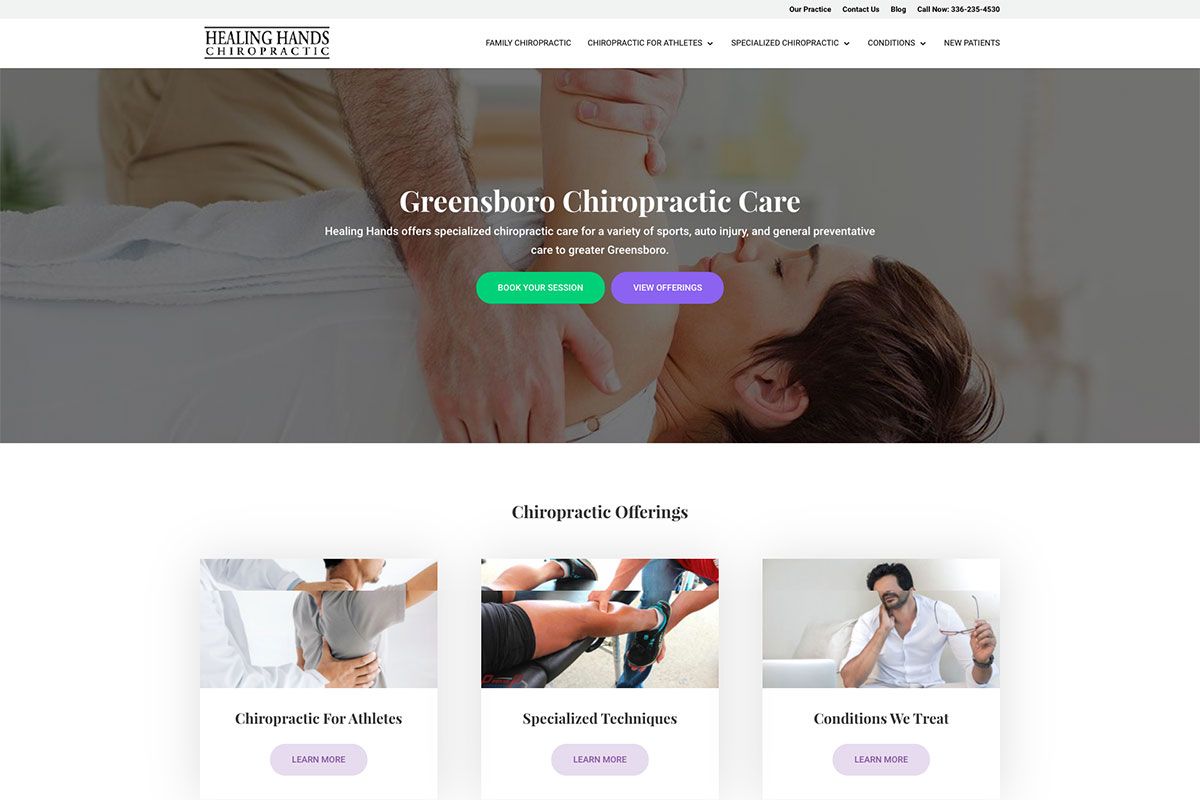 Chiropractic when employed skillfully is safe and effective. It can bring relief from chronic diseases and improve wellness. Hence, this profession needs a good website to improve career opportunities. Check out these chiropractic websites that we've collected to help you finalize your designs. Healing Hands Chiropractic has a clean and resourceful website that promotes its services with sophistication. Specifically, the hero header is a magnificent display of a quality image, eye-catching CTAs, and captivating headlines. Moreover, the presentation of the services section also looks awesome as it uses card design. To drive more patients into this treatment, this website includes more practical CTAs in different sections.
Chirolouie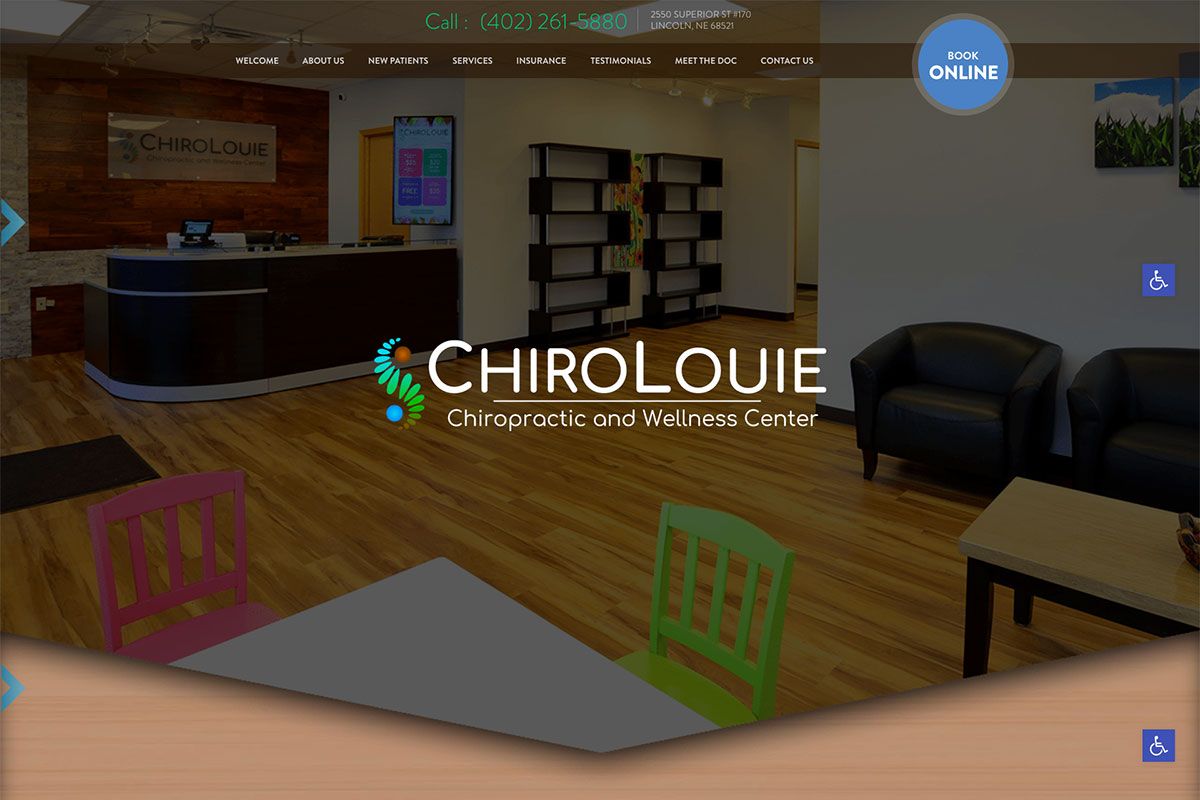 Draw more patients to your chiropractic treatment center with spectacular websites to showcase your services properly and clearly. Chirolouie is a gorgeous website example for fellow chiropractors worldwide. It welcomes the audience with a fullwidth image on the hero header and its brand name. Moreover, the primary CTA on the header is ready to encourage the audience to book online. With its splendid design, such CTA button is ready to convert a visitor into a new lead. While that element is effective with the hover effect, the fixed image background makes the design more appealing. The reviews section also improves the brand's credibility and highlights them through the smooth slider.
Ozark Clinic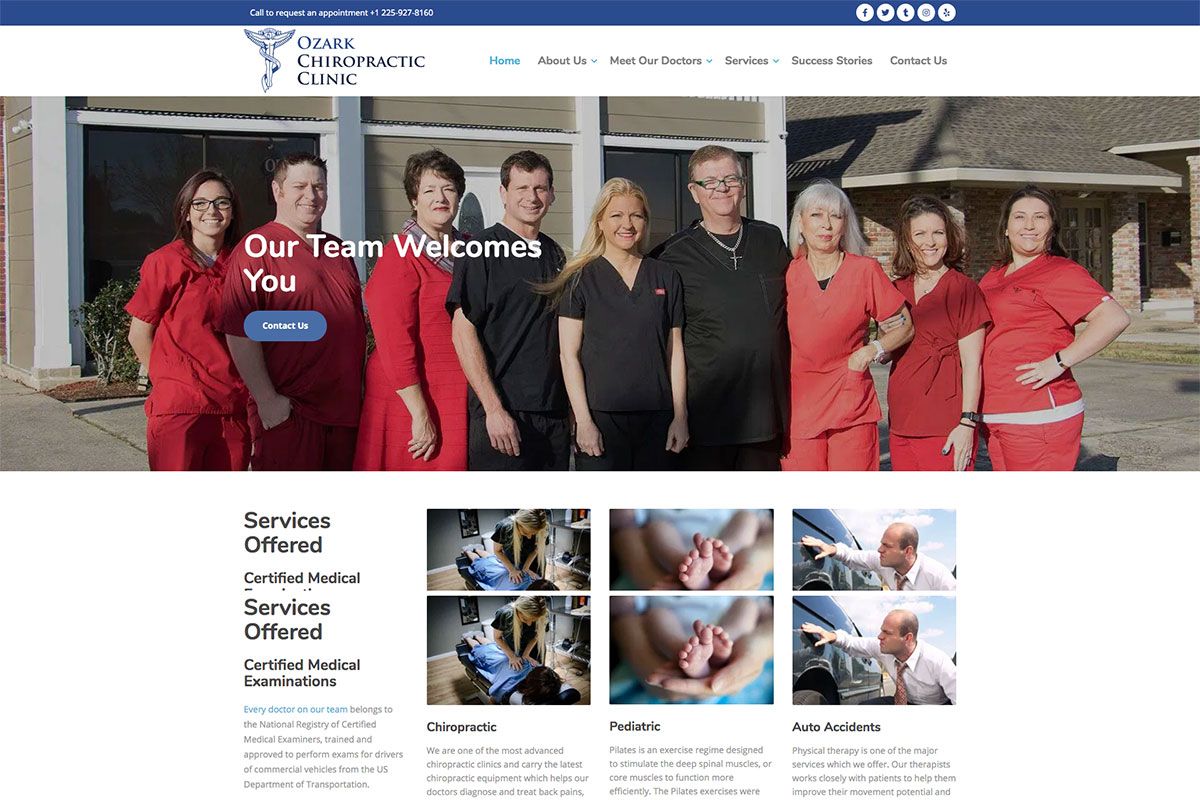 Modern and functional websites can boost the brand's credibility online. Ozark Clinic comes with a superb chiropractic website. It has a nice and simple hero header with the necessary elements to introduce its brand well across the web. Notably, the homepage comes with useful website elements combined to drive more patients effortlessly. The hero header looks welcoming with the team's photograph as a background image with CTA. The services section is neat and organized with the card design layout. The clean and properly labeled contact form makes this website more professional. That's not all, the team section adds elegance and sophistication to the design with another set of card design elements. Other notable features include parallax effect for another CTA, slider for the testimonials, google map, social media icons, and accessibility.
Greystone Chiropractic
The website color scheme is one of the most effective tools that brands must not ignore as it can create a good audience impression. Therefore, picking the right color scheme is a must for all brands. Greystone Chiropractic uses blue as the site's primary color that often denotes stability. Of course, the white space complements to that color scheme and helps deliver a clear and direct message to the audience. Trying to exhibit the best of their services, this website utilizes boxes to represent each chiropractic service that overlaps the hero image. It also comes with a super neat icons for the major insurances they accept in grayscale. Other useful features are the slider for testimonials, parallax effect, video integration, and practical CTAs.
Denver Chiropractic and Laser Therapy Center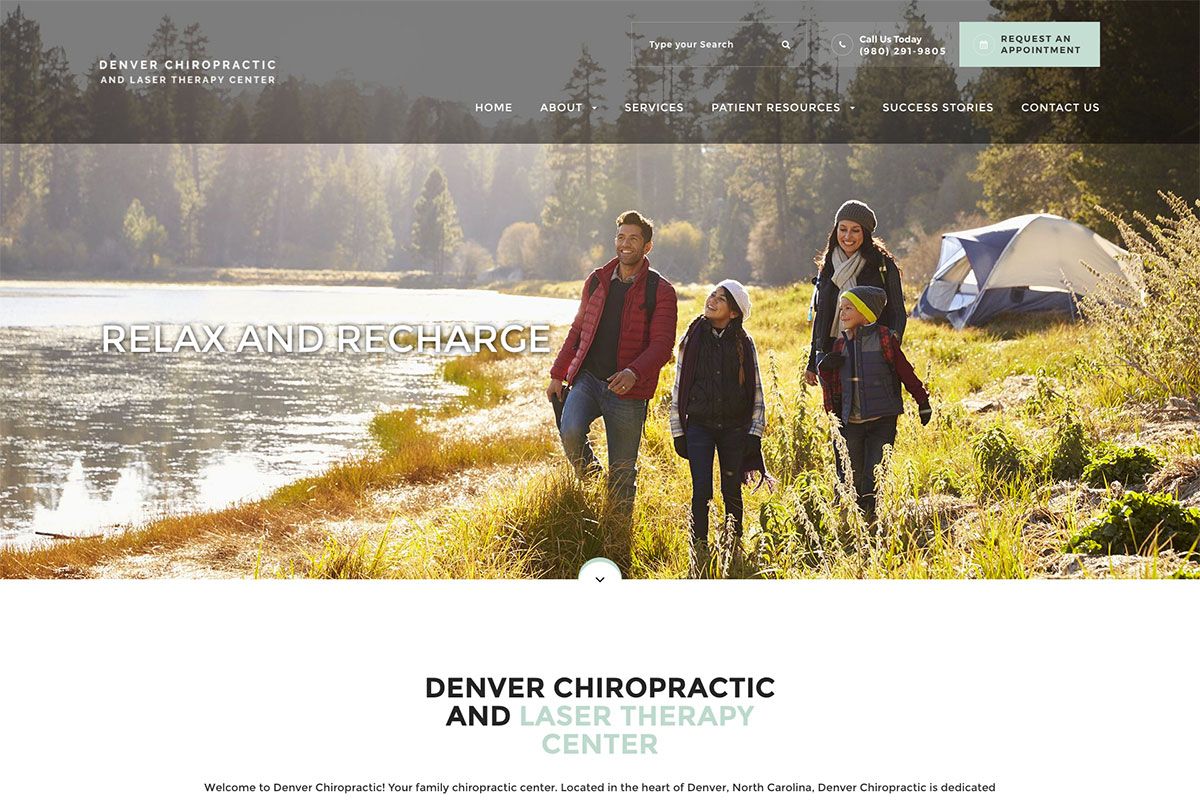 Skilled chiropractors need to have a seamless website to advertise their services and uncover their expertise. If you're looking for a better inspiration for your upcoming project, you can have a glimpse of these chiropractic websites we've handpicked. Denver Chiropractic is a modern and sleek website that makes a better showcase of its amazing services when it comes with chiropractic treatments. The hero header welcomes every visitor with a delightful image that relatively denotes a free family from illnesses. This website has a great and unique display of its services through masonry layout. The about section also adds classiness to the design with a split-screen design. Check out other features of this website.
General Chiropractic Council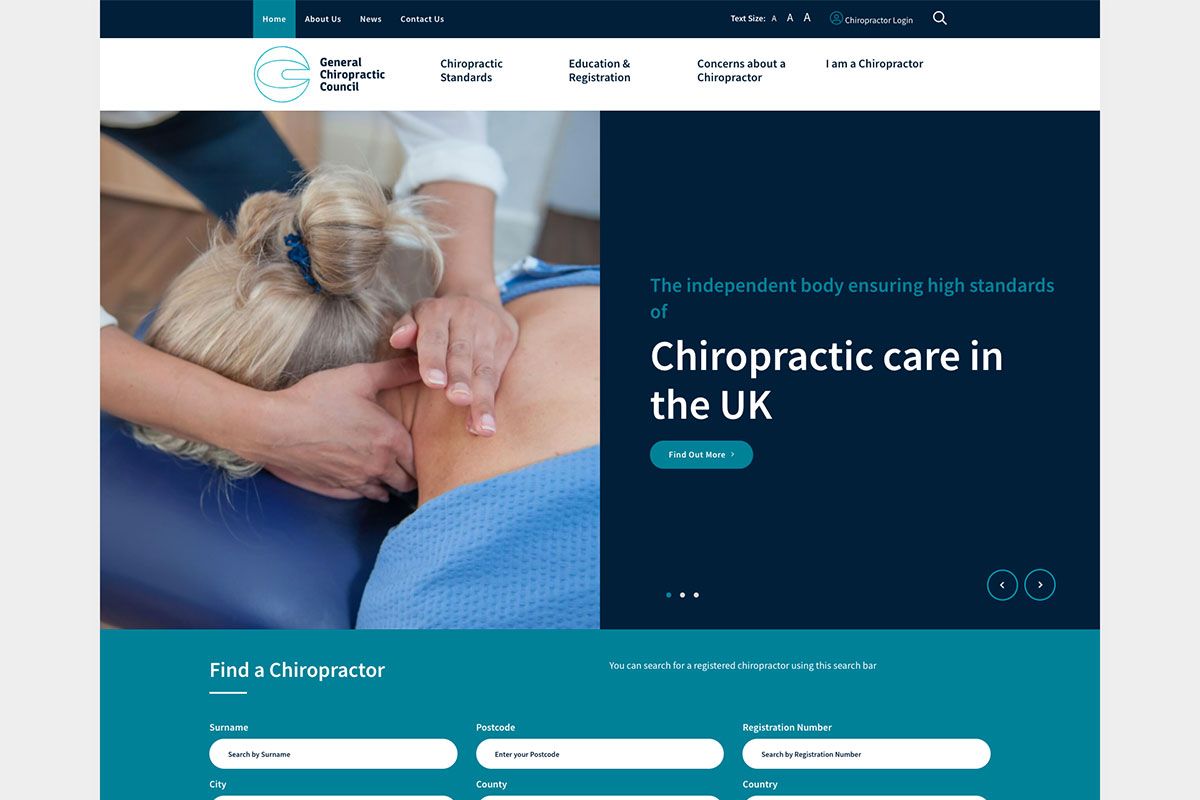 Upon building your chiropractic website, the design and functionality must be seamless. This way, it can well represent the brand across the market. General Chiropractic Council has a straightforward but comprehensive design. In the hero header, the smooth slider complements the split-screen layout. Having quality images and engaging headlines highlighted on that section coupled with CTAs, this website can convert visitors into patients. Furthermore, the website also has a nice and well-labeled form to provide ease in finding registered chiropractors. What's more? The quality images with corresponding call-to-action buttons are perfectly arrayed in alternate positions. For the latest news, the articles also look interesting with car design layout.
Chiromatrix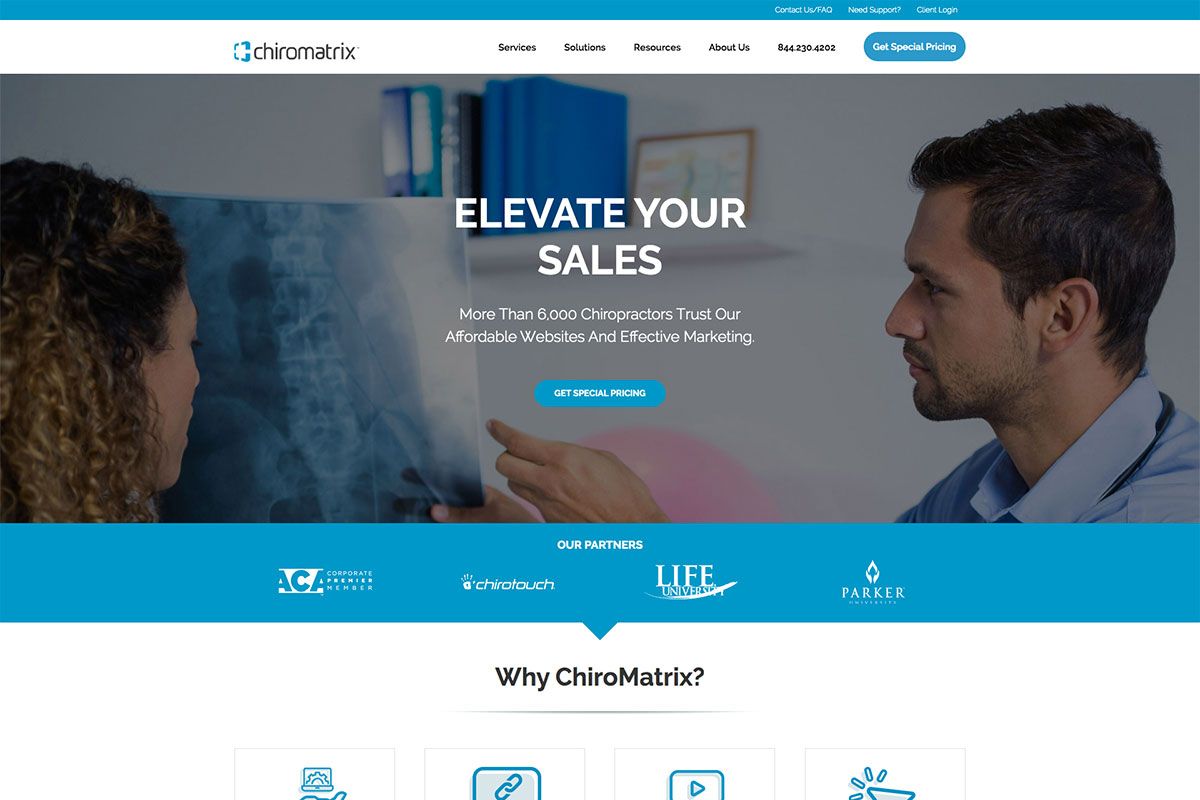 Typically, the digital agency offers various services for different businesses. Chiromatrix provides the best online marketing solution to every chiropractic health center. With almost 6000 chiropractors trusting this firm for their marketing, the website is ready to show off its expertise. The homepage and other pages of the website have the important elements and features needed to deliver the content. Specifically, the header uses a simple animation to display the website's taglines along with clear CTA and subheadlines. Moreover, the features of Chiromatrix also looks superb with a neat and clean design and cool hover effect. Undeniably, testimonials serve as an effective way to boost the brand's credibility hence this website ensures that such feature is never missed.
Chirotouch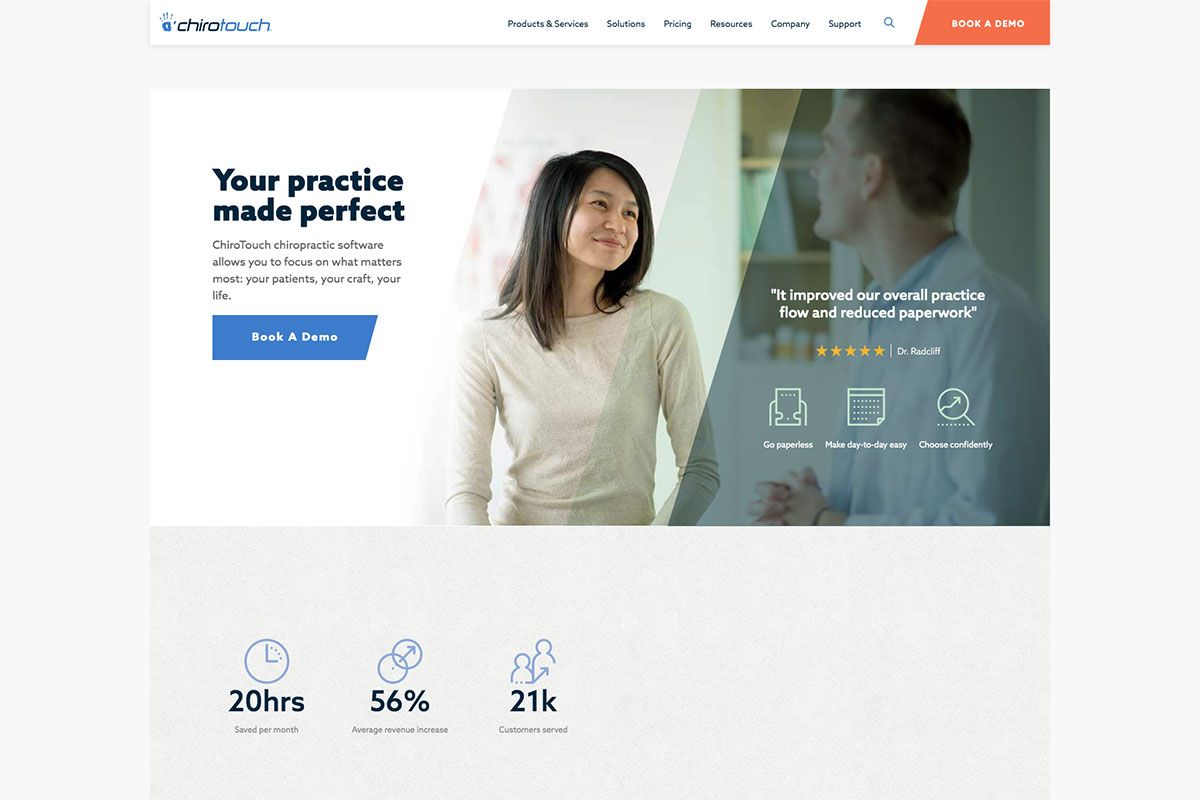 "Serve the profession, enable better outcomes". With such a guiding principle, Chirotouch is committed to serving the chiropractic profession with an excellent software. Its homepage is jampacked with modern and useful elements that make the message clear and professional-looking. Mainly, the call-to-action buttons are necessary for audience conversion, this website comes with ample CTAs on prominent spots. Displaying the features with style and amazing hover effect, this chiropractic software stands out and makes a good impression. It also includes the testimonials that will effectively improve the brand's reputation online. Moreover, the animation upon scrolling also adds elegance to the overall design.
Calchiro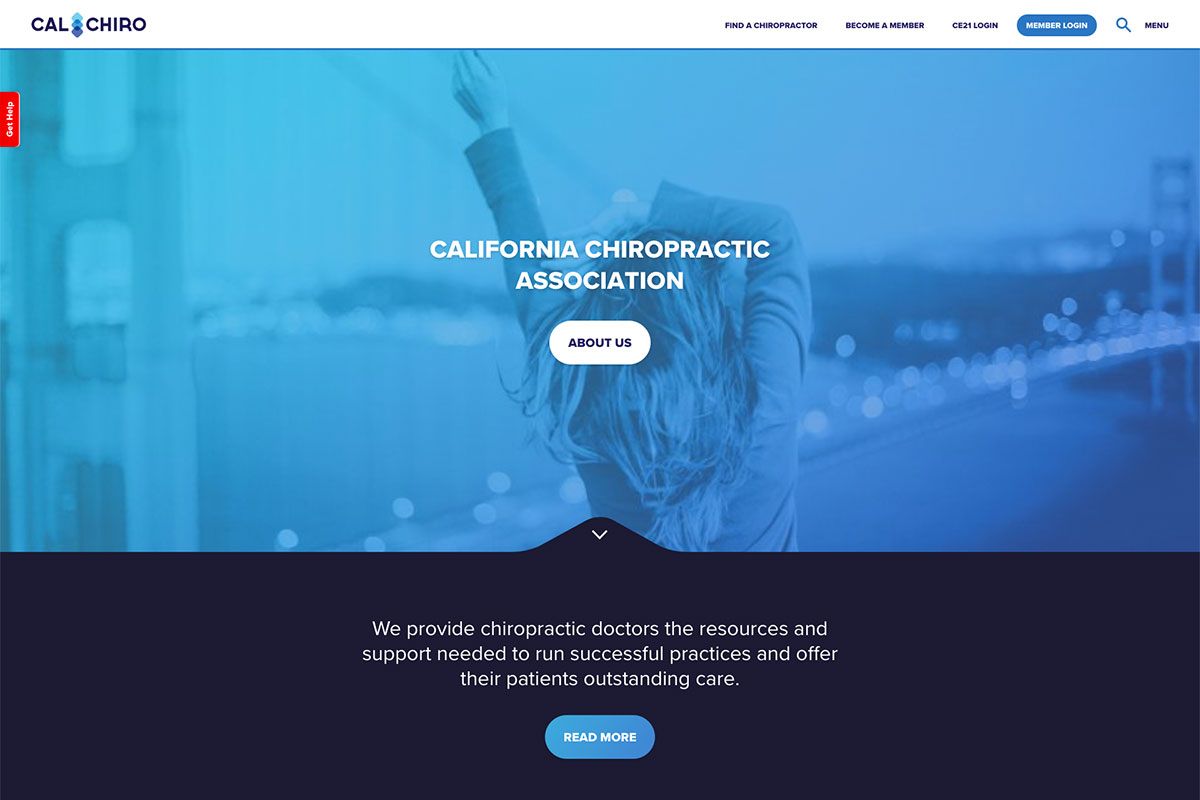 A good website is a demand to stay in the competition, especially in this modern era. With these chiropractic websites, skilled chiropractors will have ideas on how to improve their website design and generate more leads. Calchiro is a minimalist and elegant website dedicated to chiropractic treatment. It makes use of the sticky header to provide ease in the navigation. The logo, menu, and search function is visible on the hero header. It also comes with minimal content on the homepage organized in various website sections. Furthermore, this website also uses the card design to showcase upcoming events professionally.