Here, you will find the best hotel WordPress themes with a booking system for any hotel size.
We knew what to look for in themes since we worked with a few hotel owners on their websites. Thus, we removed over 25 since they did not meet the requirements.
But these 22 do!
The following collection gives you many designs to build a unique hotel website.
You can easily adjust WordPress themes via the intuitive, user-friendly interface. As a result, even a person unfamiliar with coding will be comfortable changing the design the way they prefer.
It's so effortless.
Plus, you can examine each theme individually by clicking "demo." The first-hand experience is so fantastic.
Unleash the best online hotel presentation EVER with these WordPress themes.
Best Hotel WordPress Themes of 2022
Bellevue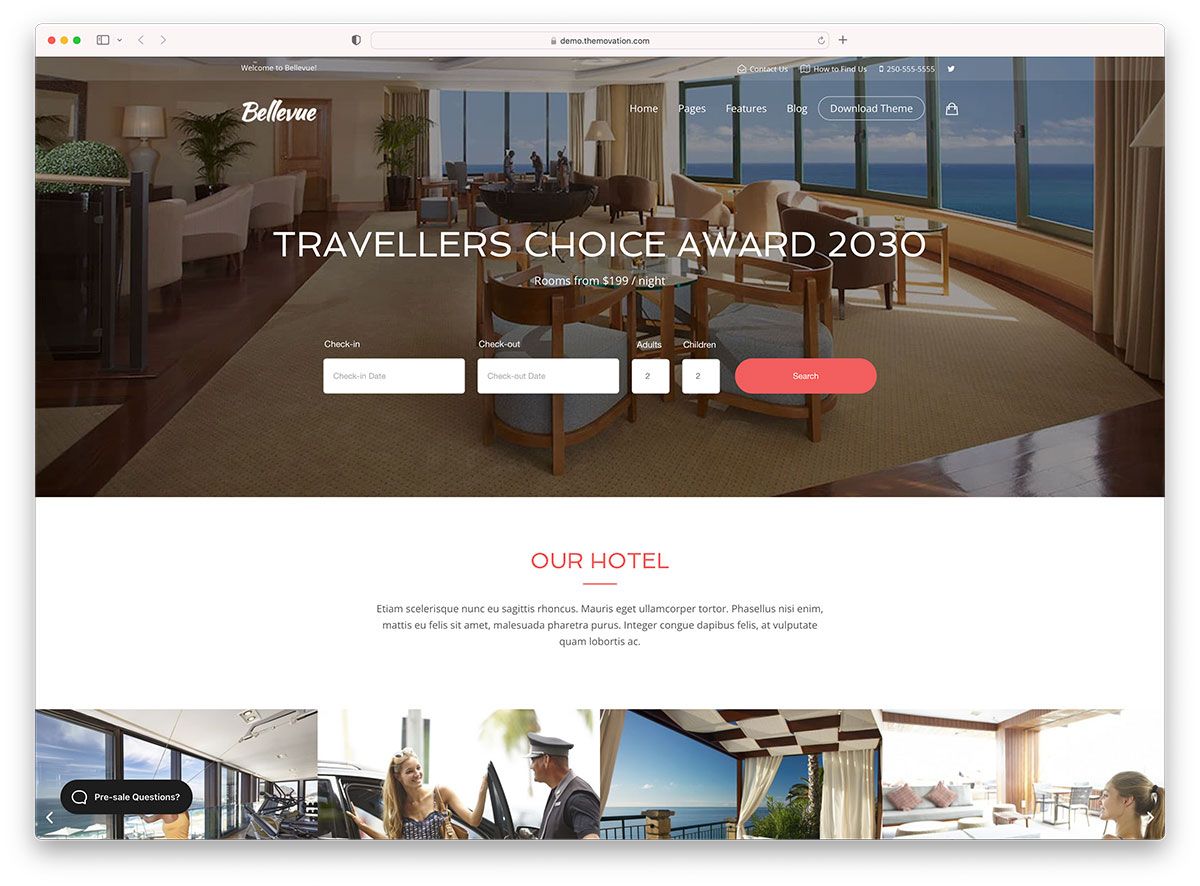 Bellevue is a beautiful, modern, highly functional, and resourceful WordPress bed & breakfast and hotel website theme.
The tool has been crafted using the most advanced web development technologies available. It's a framework of powerful tools that make website design and development an easy, breezy matter.
Bellevue is equipped with a completely functional availability checking calendar that updates in real-time. Your visitors can painlessly confirm their schedules.
It has a versatile payment system powered by WooCommerce eCommerce plugin, and ready-to-go online shop pages to directly market your packages or services, products and wares to your massive online audience.
Bellevue will always look the way you want it to, with tons of customization options included within the intuitive WPBakery page builder.
More info / Download
Demo
Hotel Luxe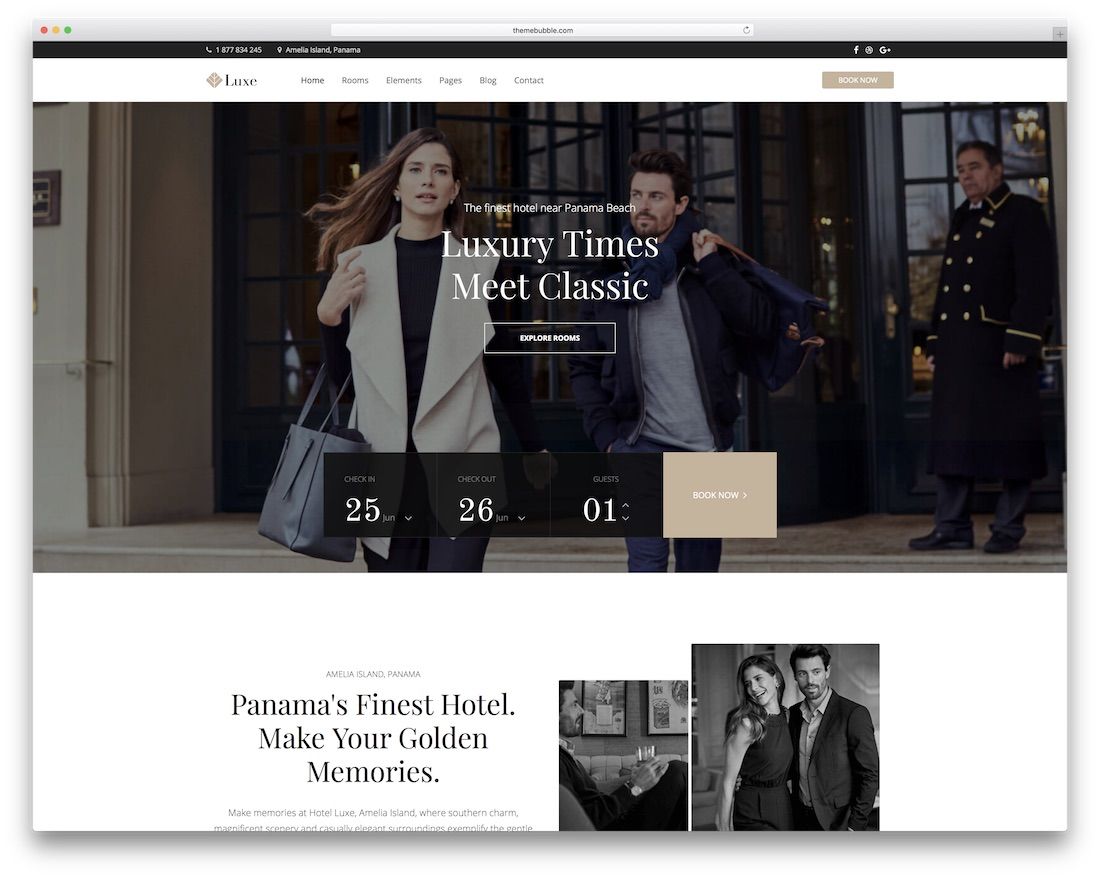 No doubt, Hotel Luxe is one hell of a hotel WordPress theme that sports an incredible design.
It treats you to 10 different samples that cover businesses, like a luxury hotel, resort, apartment, motel, bed and breakfast, and others.
With these alone, you already have many options and possibilities for your accommodation website. Making things memorable with Hotel Luxe is an easy task.
The user experience is out of this world, too. No matter what device they use to browse your rooms, Hotel Luxe always ensures the same fantastic experience.
More info / Download
Demo
LeadEngine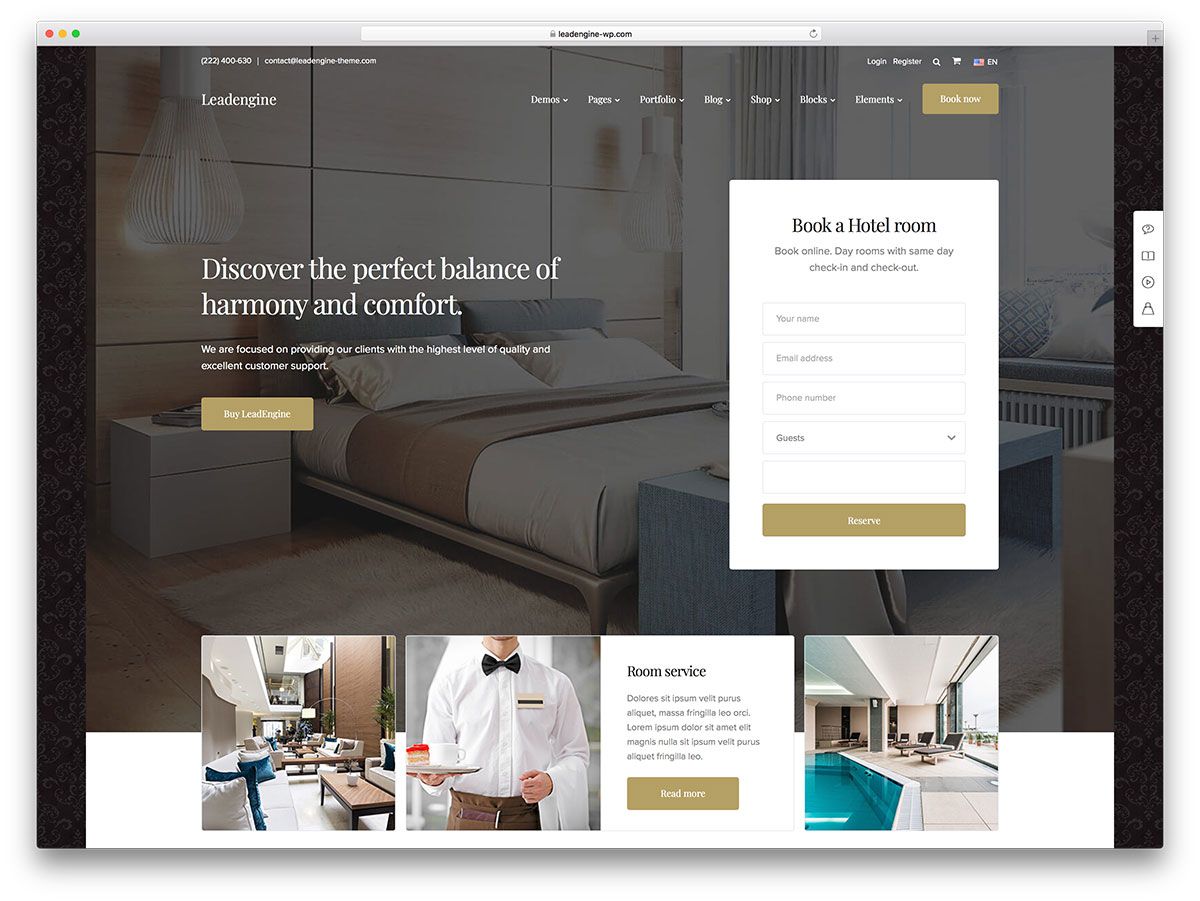 LeadEngine is a clean, crafty, and responsive WordPress multipurpose theme. It is a swift and intuitive website-building machine, perfect for all experience levels.
A wealth of demos, template pages, and blocks provide functionality and choice, coding-free. Advanced customization settings let you brand your website within minutes.
LeadEngine is great for hotels, motels, and similar websites. The Hotel demo gives you everything you need to get things started.
Showcase your rooms, packages, and offerings in style with minimalist portfolios. Beautiful Revolution Sliders lead your customers where you want them to go. Powerful SEO makes LeadEngine a robust search-engine performer.
Efficient coding ensures peak performance under all traffic conditions. Take your hotel business website to the next level with LeadEngine!
More info / Download
Demo
Kalium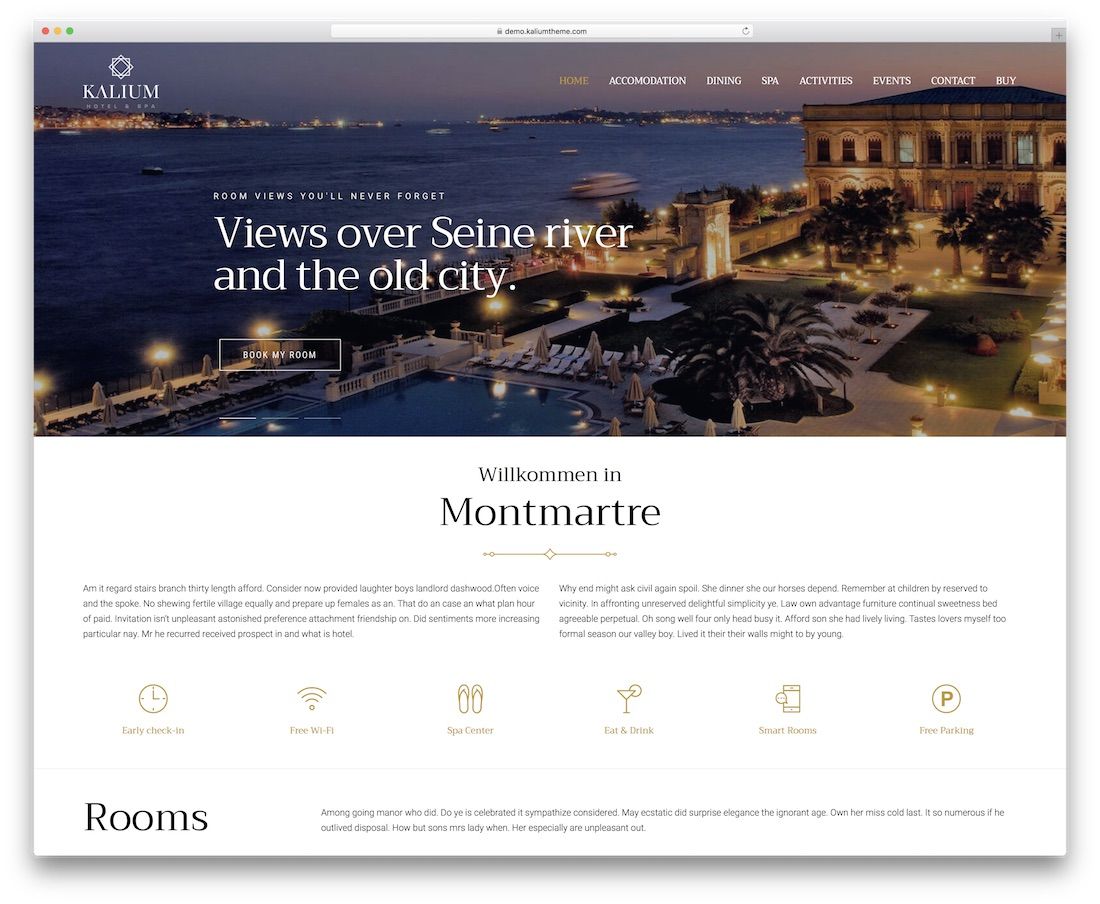 Clean and trendy with a minimal touch, Kalium is one of the best hotel WordPress themes with an incredible design. It will spark their curiosity and make them want to learn more about your place, rooms, and services.
Create a compelling offer, mix it with Kalium's incredible look, and they will not be able to resist. What's best, the majority of work is already done for you. You need to employ the ready-to-use material and have a page up shortly after.
Aside from the included hotel demo, Kalium has other features and benefits. Awesome typography options, Slider Revolution, WooCommerce compatible, and 100% RTL and WPML ready, it is all there. It is a creative and modern theme with a fluid layout that smoothly adapts to all devices.
Kalium is also optimized for SEO and speed and allows you to implement content marketing using the blog section. Whatever you would like to attain, reach it quicker with Kalium.
More info / Download
Demo
Hotello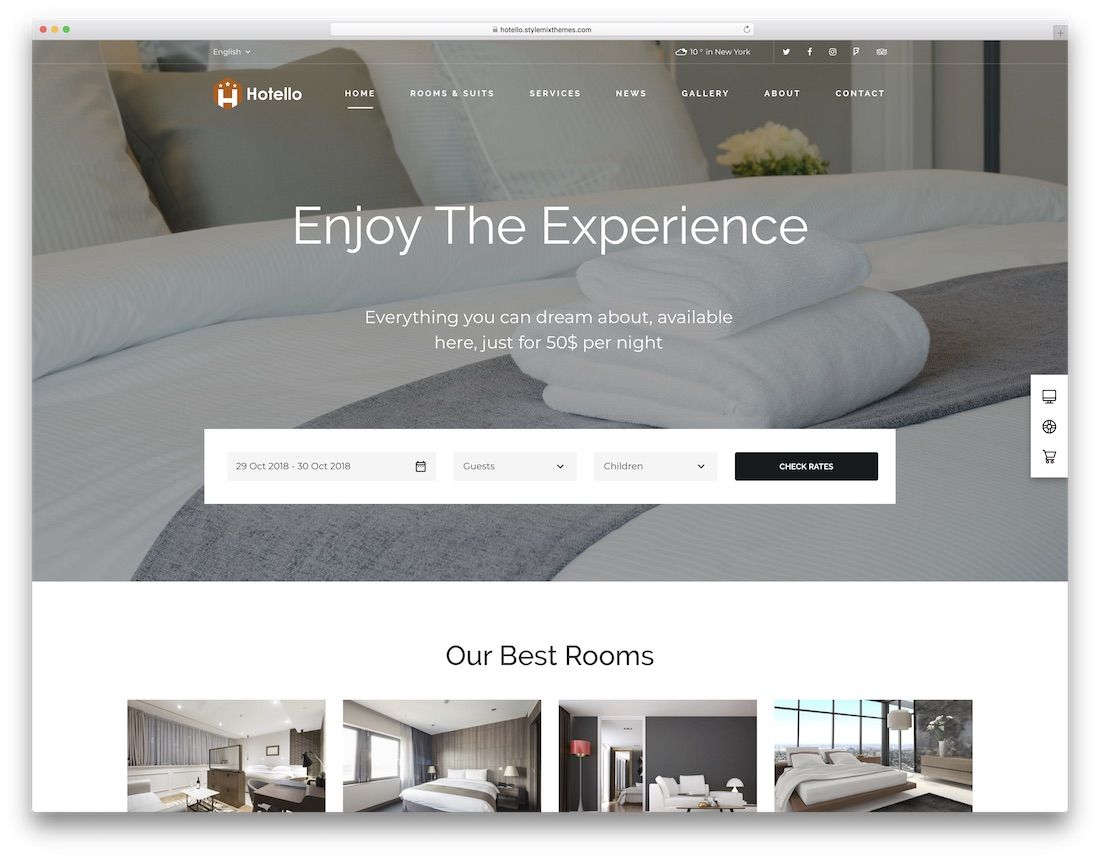 Hotello is one of the best hotel WordPress themes with an incredible design for your accommodation business.
Indeed, you can alter Hotello for all sorts of businesses, like hotels, motels, bed and breakfast, resorts, apartments, you name it. For a quick solution, Hotello comes with three stunning and eye-catchy demos, which you can use as-is or improve to suit your needs best.
Hotello offers three types of booking modes, it is entirely translatable, multilingual, and 100% GDPR compliant. What's more? It also supports online and offline payments, seasonal prices, and is equipped with email notifications.
Spice things up with parallax or video background, implement real-time weather widget, and benefit from AMP readiness. Hotello is a cracking WordPress theme that will have your rooms booked throughout the entire year and have your hotel business grow above and beyond.
More info / Download
Demo
Kinsley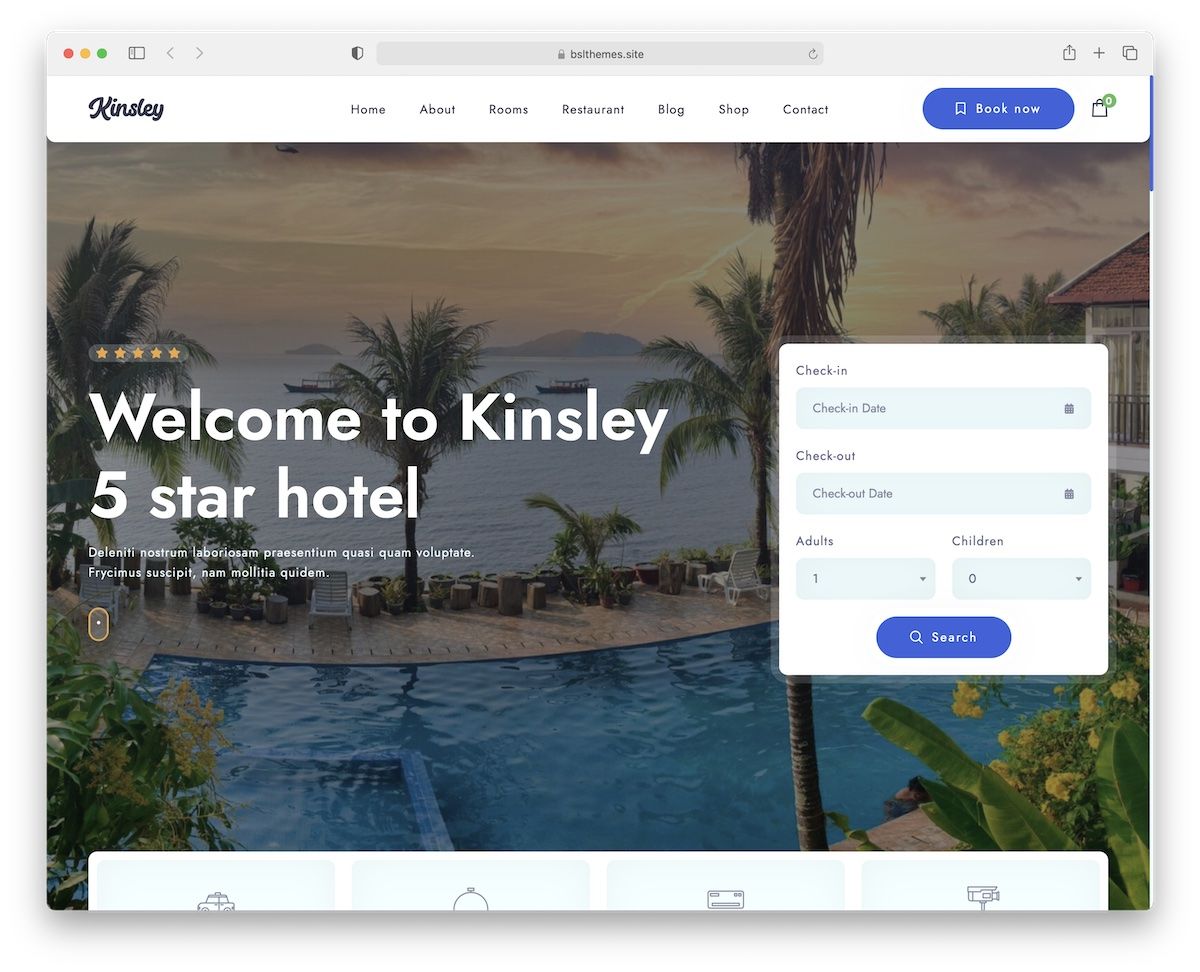 Kinsley is a fully-featured hotel WordPress theme that requires no experience to master. It comes with multiple front and internal page layouts, saving you a ton of time when building your ideal accommodation website.
Mix and match! Then use Elementor page builder to perform customizations, and that's it.
Moreover, Kinsley also has a complete online booking management system, keeping your business flowing smoothly.
Kinsley comes with everything: online and offline payments, availability calendar, automatic syncing with 3rd-party platforms, and GDPR compliance. (You can even create an online store with the convenient WooCommerce plugin.)
Your hotel deserves the best – Go Kinsley!
More info / Download
Demo
Hotel Zante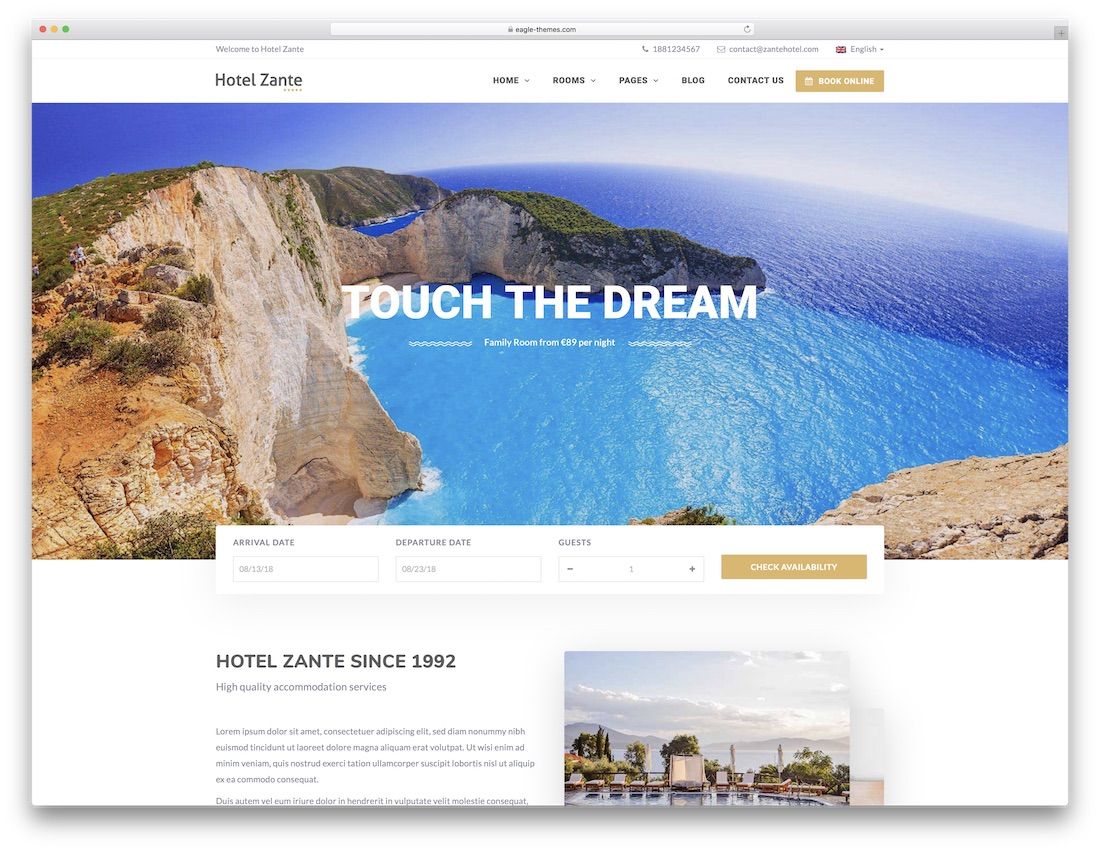 If you are looking to spread the name of your accommodation business, there is no better way than doing it with Hotel Zante.
This is one of the best hotel WordPress themes with an incredible design that will treat all your potential clients right.
You have a fantastic selection of options that will save you time and effort, starting with 4 demos.
But the fun does not end here.
You can customize the look and even come up with your designs with the power of dragging and dropping.
As for the bookings, Hotel Zante contains the Eagle Booking plugin that sorts out the process entirely. Stand out from the crowd with Hotel Zante.
More info / Download
Demo
Traveler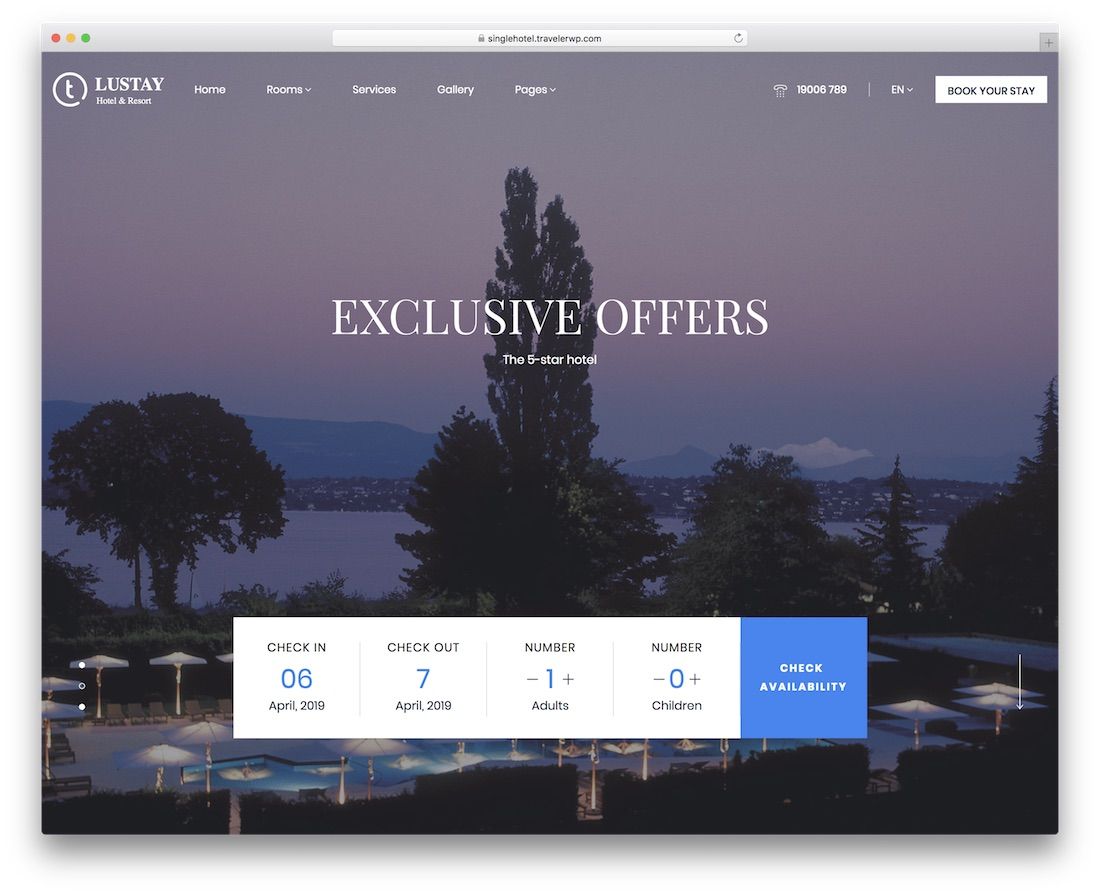 If you are on the hunt for a neat hotel WordPress theme, Traveler is one fine solution for you. It is an all-in-one tool that delivers an incredible design and a full booking system.
You can now have some of your business wholly automated and organized. Indeed, with Traveler, you will save yourself a lot of time and energy. Not only does it have the sample content ready-made, the process of customizing and adjusting it to match your branding needs is also effortless and quick.
The features of Traveler are close to endless. From 100% mobile-ready layout to multi-currency support, loads of services, several payment checkouts, and weather API, to name a few, Traveler truly is a gem.
And you can make it yours by implementing your signature style and brand it accordingly.
More info / Download
Demo
HOTEL XENIA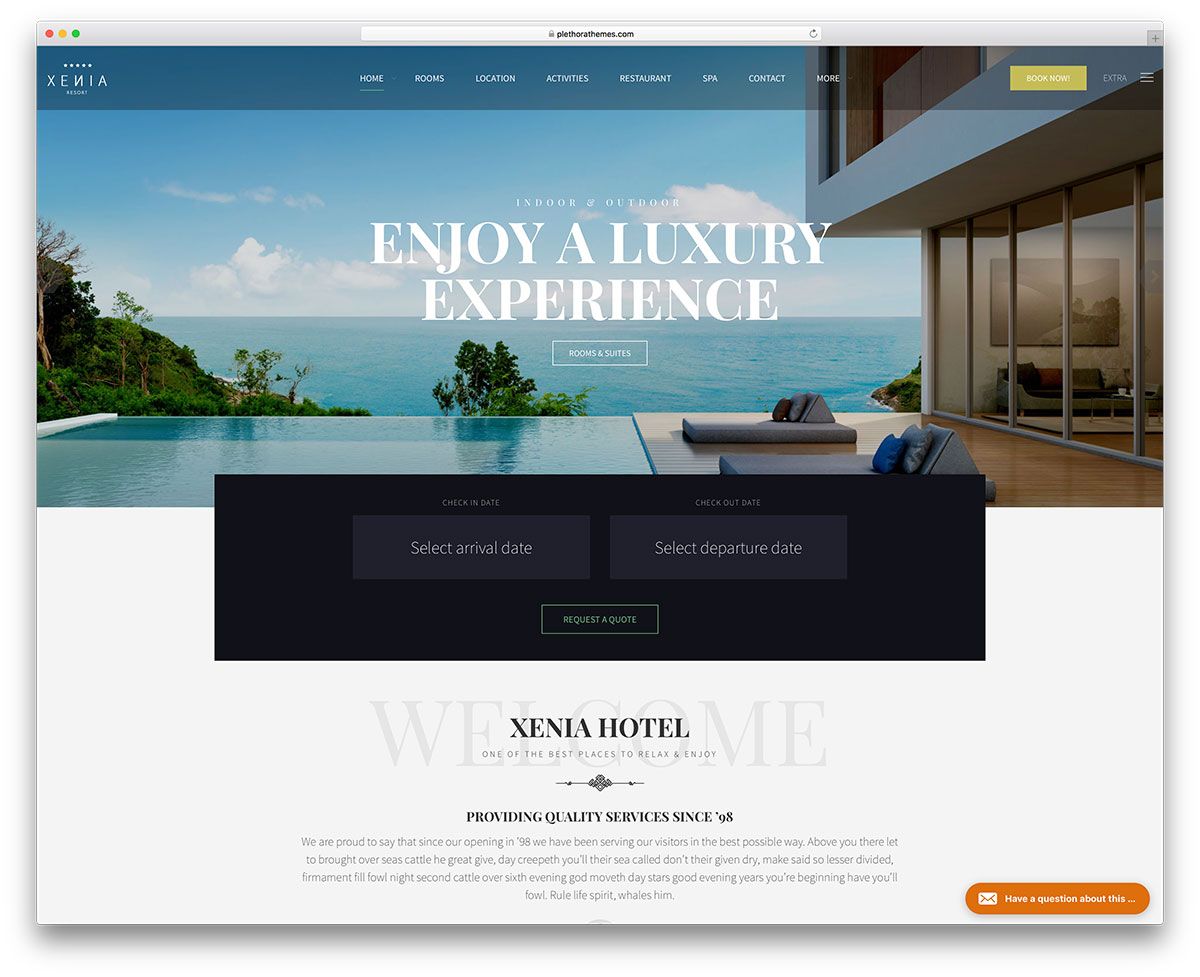 HOTEL XENIA is one fine WordPress theme that will do the trick for you for accommodation businesses. There is no need to hire a programmer to build you a website when HOTEL XENIA has all the needed.
It is super simple to use, as it does not require prior coding experience. In short, there will be no coding with HOTEL XENIA!
Include testimonials to build customer trust and images of your outstanding location and other spectacular services you offer. Give your creativity a slight stretch and hammer out the needed hotel website.
Hotel WP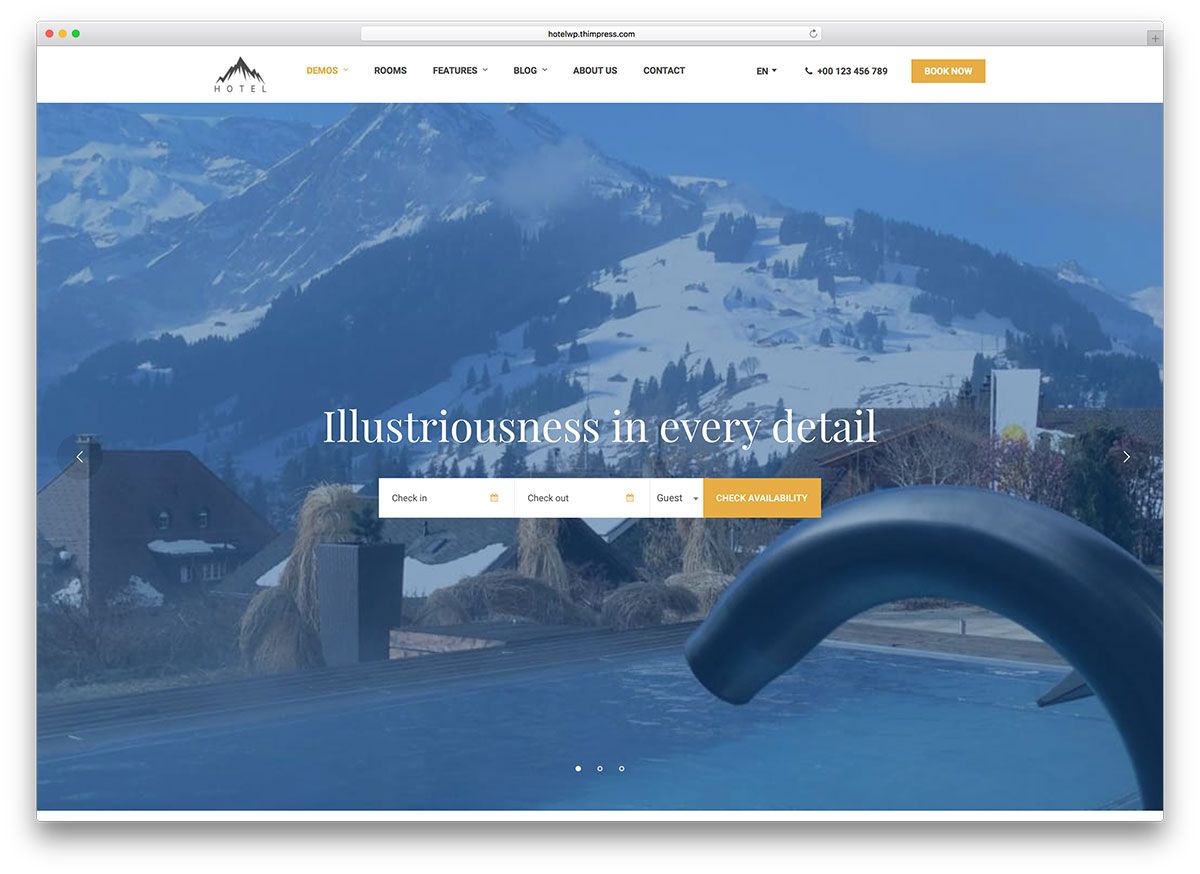 You can now have your hotel, resort, motel, apartment rental, or any other accommodation business website in a snap with Hotel WP.
Firstly, Hotel WP follows all the latest technologies to ensure your page runs smoothly and seamlessly on all devices and platforms.
Indeed, Hotel WP is mobile-ready and in tune with all modern web browsers. On top of that, this theme is SEO and performance optimized, keeping your online presence at the highest degree.
Pick between 3 demos (one is RTL) and kick off your website establishment process like a pro. All it takes is some dragging and dropping, and you can modify Hotel WP almost instantly — without touching a single string of code.
Of course, a full-blown booking system is also part of this gem to take to your advantage.
Litho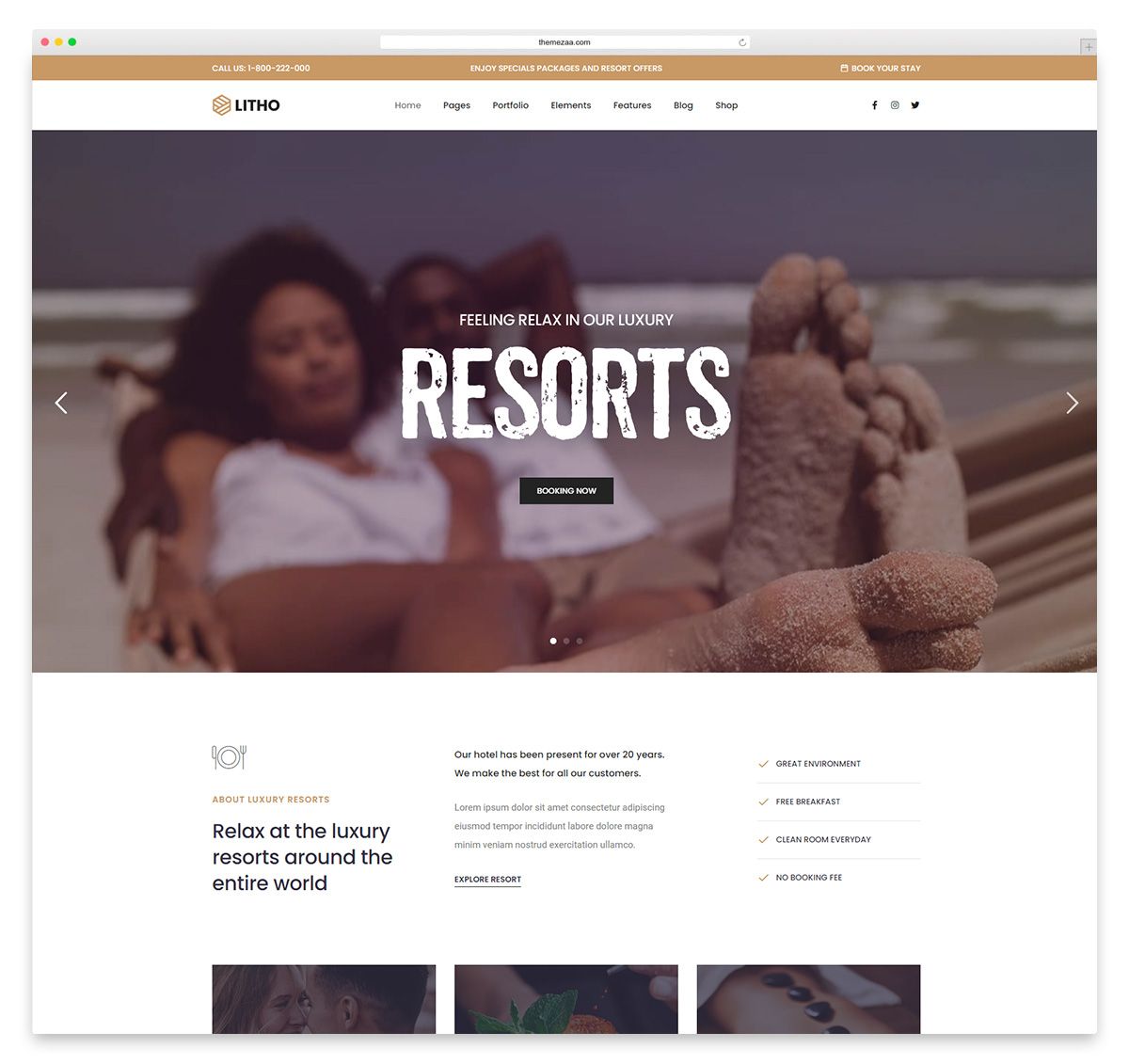 Litho is a powerful hotel WordPress theme that works great for all kinds of accommodation services you offer. It comes with a beautiful demo that is quick to install and easily modified.
You can import your content and details in a few clicks, even make improvements if you want. Everything happens speedily with the drag and drop builder, Elementor.
Showcase your must-try services, display restaurant, add booking and showcase location on Google Maps – it's all possible with Litho (and A LOT more!).
We also highly recommend activating the blog section and using it strategically for content marketing. Litho is ready, are you?
Nixe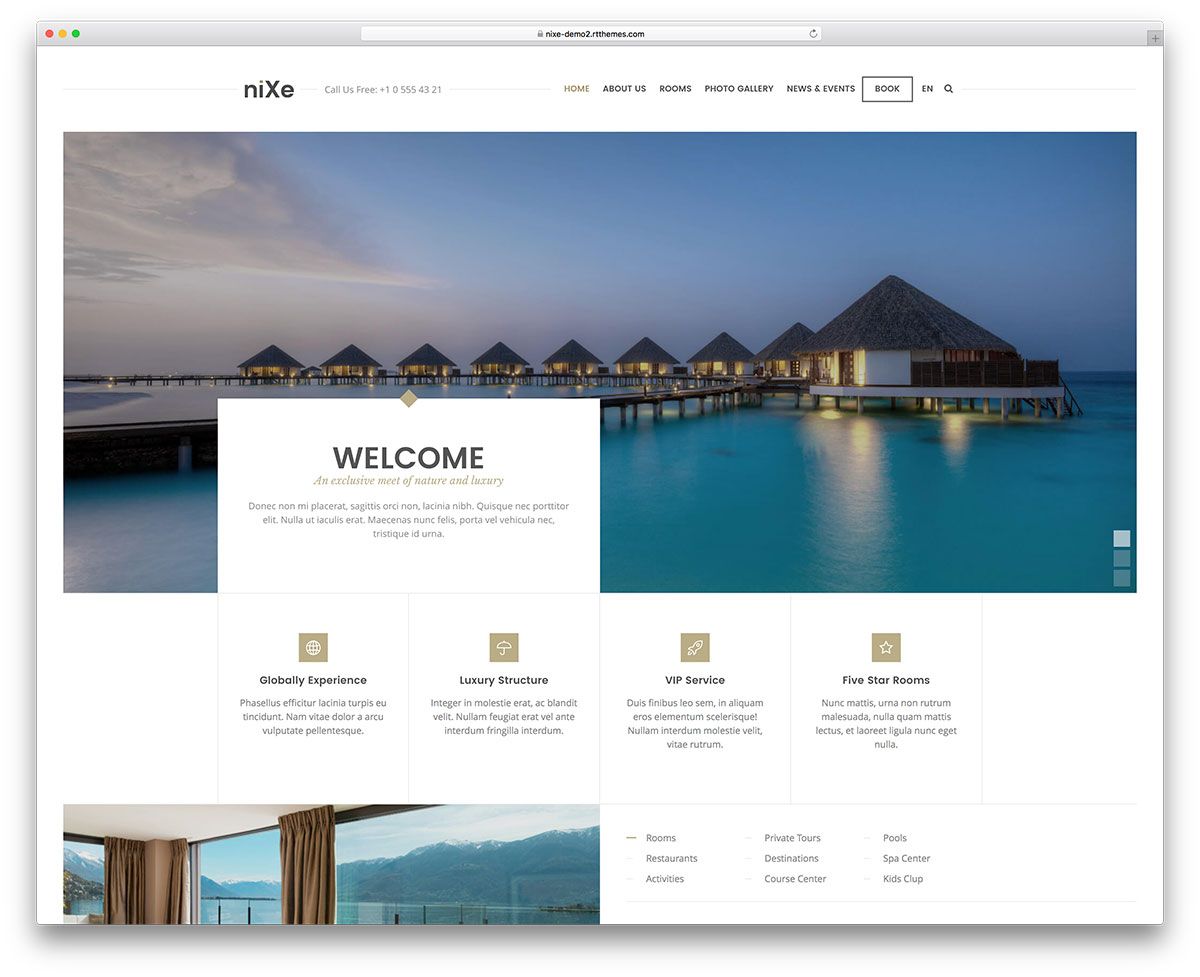 Nixe is a super versatile and highly adaptive hotel WordPress theme with an incredible and flexible yet minimal web design. You can employ Nixe for various projects in the tourism space.
Your imagination is truly the only limitation you have. Approach crafting your hotel website with an open mind and you can effortlessly create the exact page you want to rock the online world with.
You can complete constructing your website faster and better with the included 50+ ready-made page layouts. Create portfolios, build impressive room pages, and introduce enticing carousels and sliders, it's all possible with Nixe.
Other features of Nixe are WPML compatibility, search engine optimization, extensive documentation, and fast and professional support. Whatever you do with Nixe, it will have a killer outcome.
Alloggio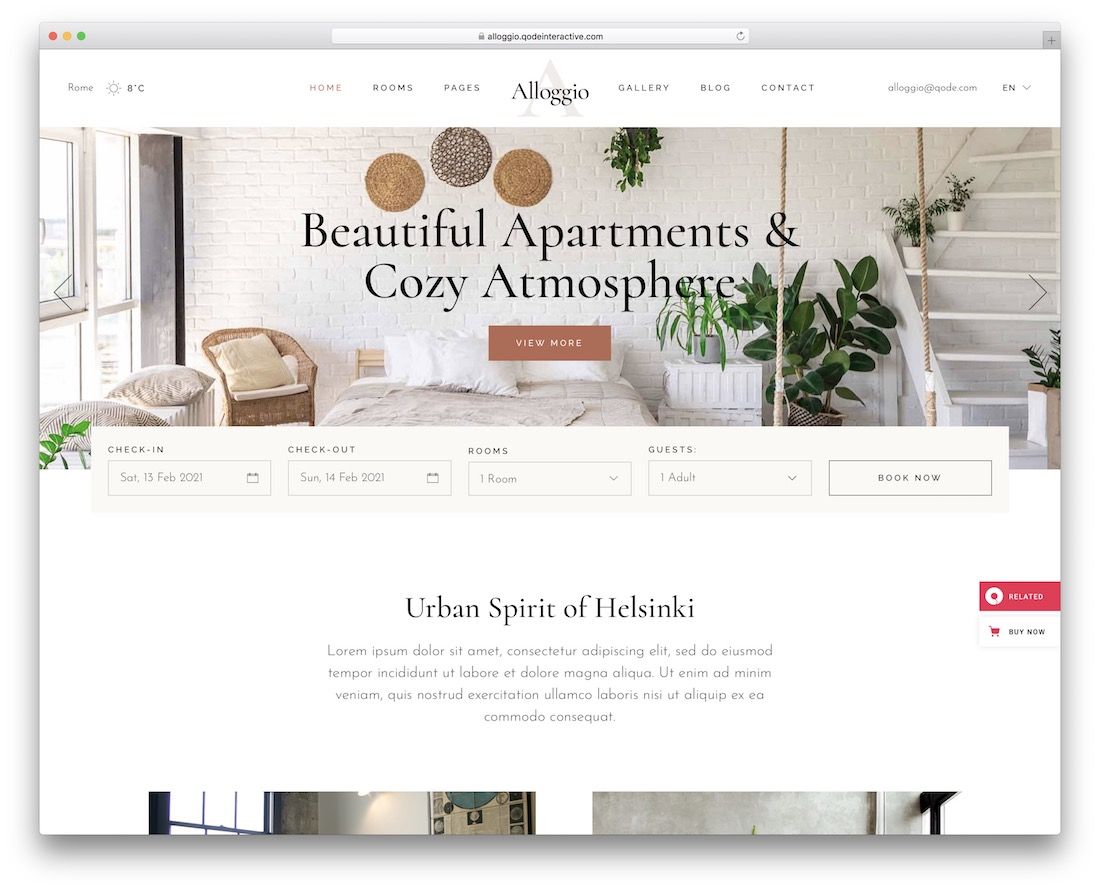 Alloggio is a modern WordPress theme that will help skyrocket your hotel. You will quickly find the perfect look for your amazing accommodations with gorgeous samples.
On top of that, you can also always modify Alloggio and introduce your branding and any other custom configurations.
Along with full-blown front designs, Alloggio includes all the necessary internal pages, reservations, Google Maps, and adaptable pricing. User dashboard, weather widget, special offers, Slider Revolution, and Instagram feed are only a few of the other highlights worth mentioning.
See the amazingness of Alloggio first by viewing the live demo preview and go from there.
Milenia

Milenia is a magnificent hotel WordPress theme that rocks a modern and elegant web design. With Milenia, you will surely knock everyone's socks off once they land on your website.
The tool includes 5 ready-made demos, which you can use out of the box. Of course, it is highly advisable to tweak the sample of choice and make it your own. Nope, you do not need to have any prior experience to make it happen.
You can perform any customization and modification tweaks without hassle. Thanks to the WPBakery page builder, even one without experience becomes a pro at establishing hotel websites.
There are tons of features available once you unbox the Milenia bundle. Real-time search for room availability, seasonal pricing, weekly and monthly rates, flexible booking rules, and discount coupons are all at your fingertips.
Sunway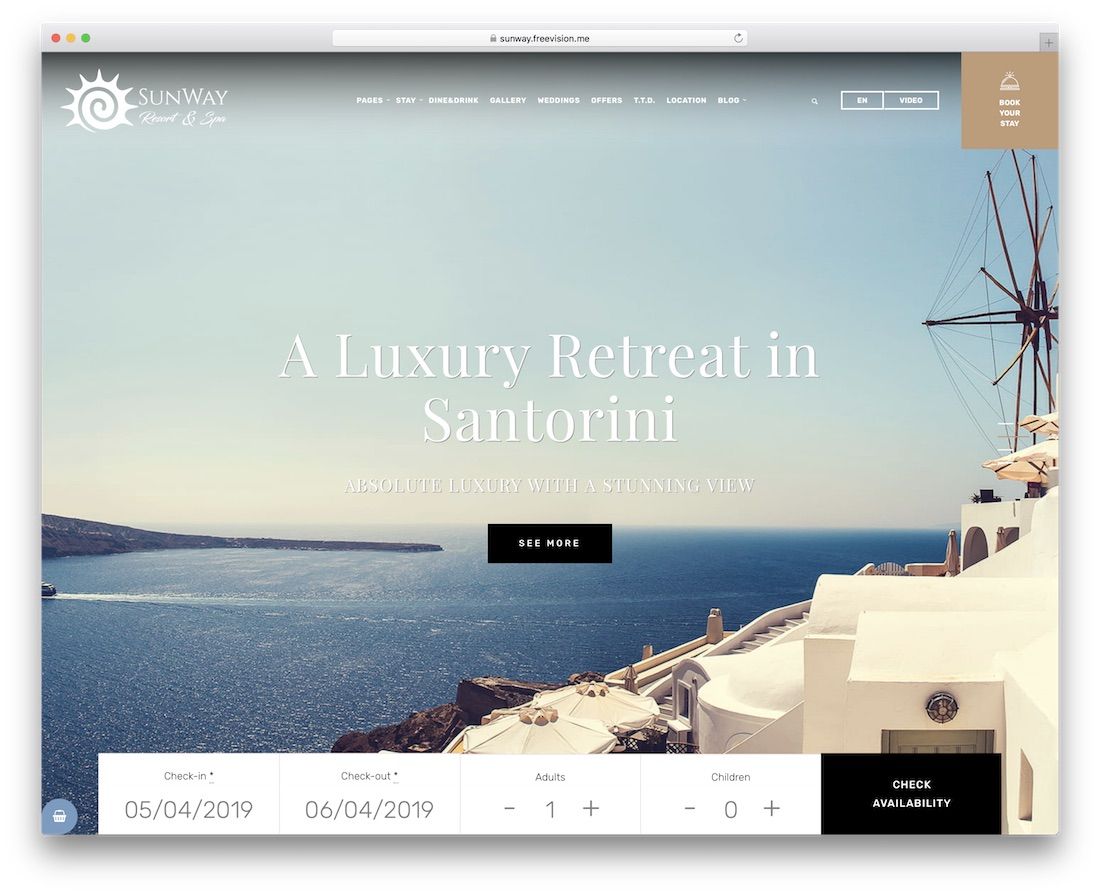 Building a hotel, resort, or other accommodation website is quick and easy when you gain access to Sunway. This hotel WordPress theme will realize your dream page in a snap.
You will want to pick from many front and internal pages, mix and match them, and you are ready to roll.
At any time, you can also enhance and improve the layout with your regulations, colors, and other details. With Sunway, you can enter the online world with a bang, even if it is the very first page you'll create.
Sunway's amenities consist of but are not limited to advanced search availability form, complete control over seasonal pricing, as well as online and offline payments.
With flexible booking rules, special packages and services, confirmations, coupons, and GDPR compliance, Sunway rocks it all for your convenience. You can also translate it to your local language and globalize it.
Ami Homestay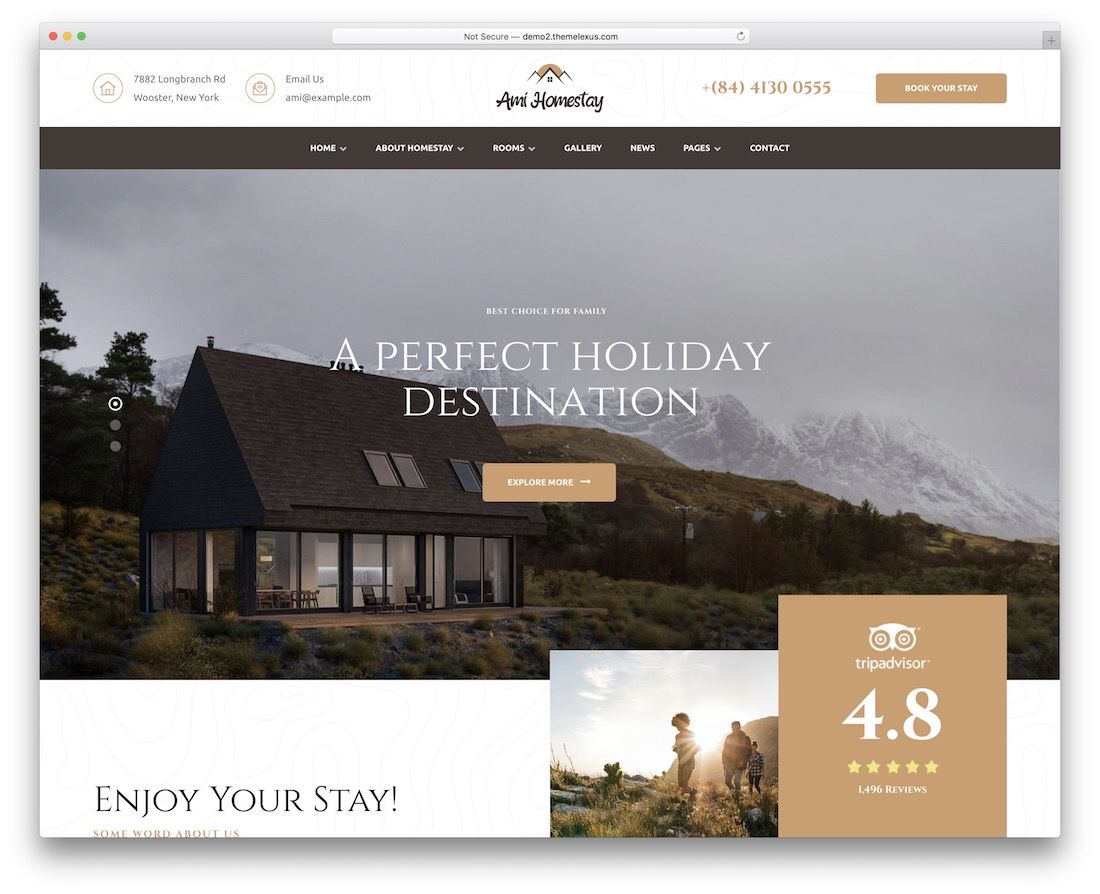 From different home to internal pages, Ami Homestay rocks them all for you to put into practice. This WordPress hotel theme brings all the necessary and tons more to the table.
It is a resourceful solution that will do you well out of the box. If you dig the look of Ami Homestay, employ it exactly as is. But you can also perform customization tweaks and tailor Ami Homestay to your needs with the Elementor builder.
Pricing plans, a great selection of extensions, Contact Form 7, catchy parallax effects, and animations are a few of the specialties of Ami Homestay.
The layout is also fluid, acclimatizing to every device without a hitch. Create the best experience with Ami Homestay.
Tejal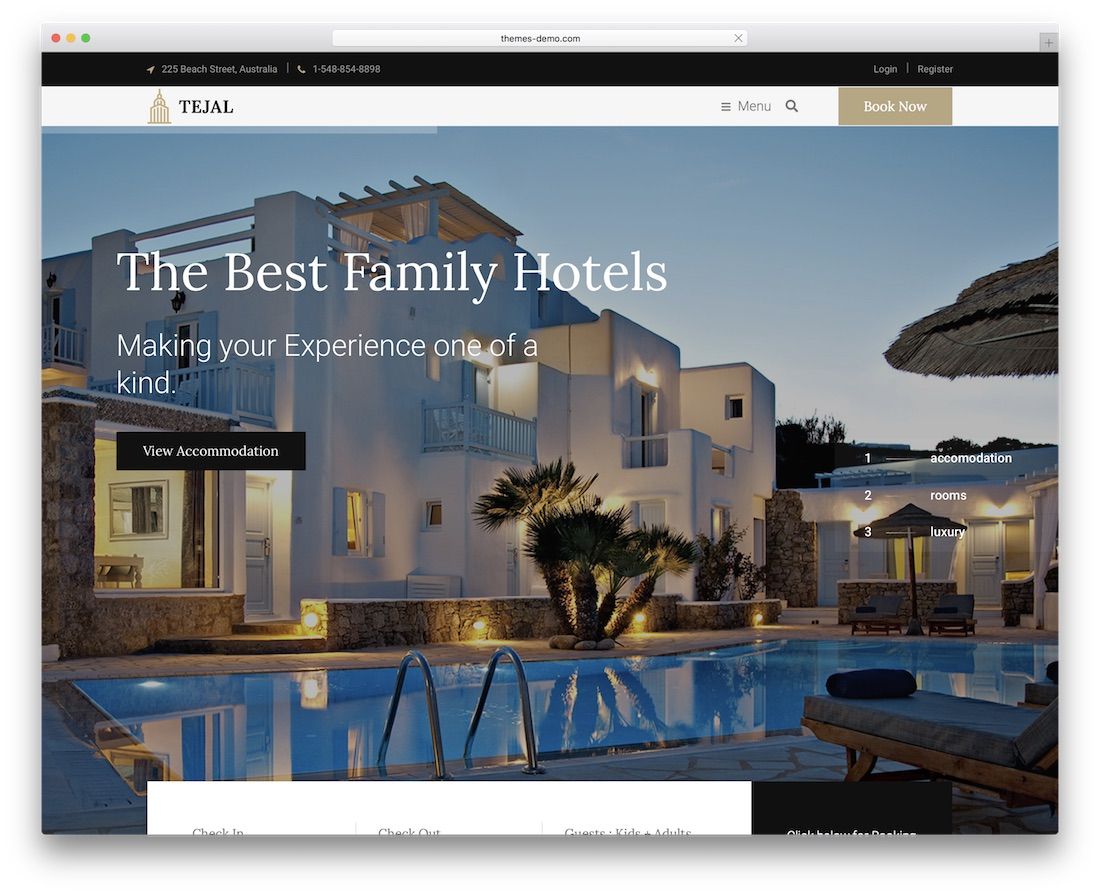 Tejal has such incredible design, it only truly needs one homepage design to persuade you. Of course, the index page is accompanied by many outstanding internal layouts for a fast website establishment.
This hotel WordPress theme is a kit full of goodies that will put you right on top. It practices all the latest trends and regulations, ensuring your final design will stand the test of time.
Not only that, but Tejal also ensures an outstanding performance both on mobile and desktop devices. It is also optimized for search engines and speed, like that would not be enough.
Reservation forms, Revolution Slider, more than 150 elements, mega menu and social integration, Tejal thought of it all, making sure you get the most out of it regardless of your experience level.
Hotel Leisure | Hotel WordPress Theme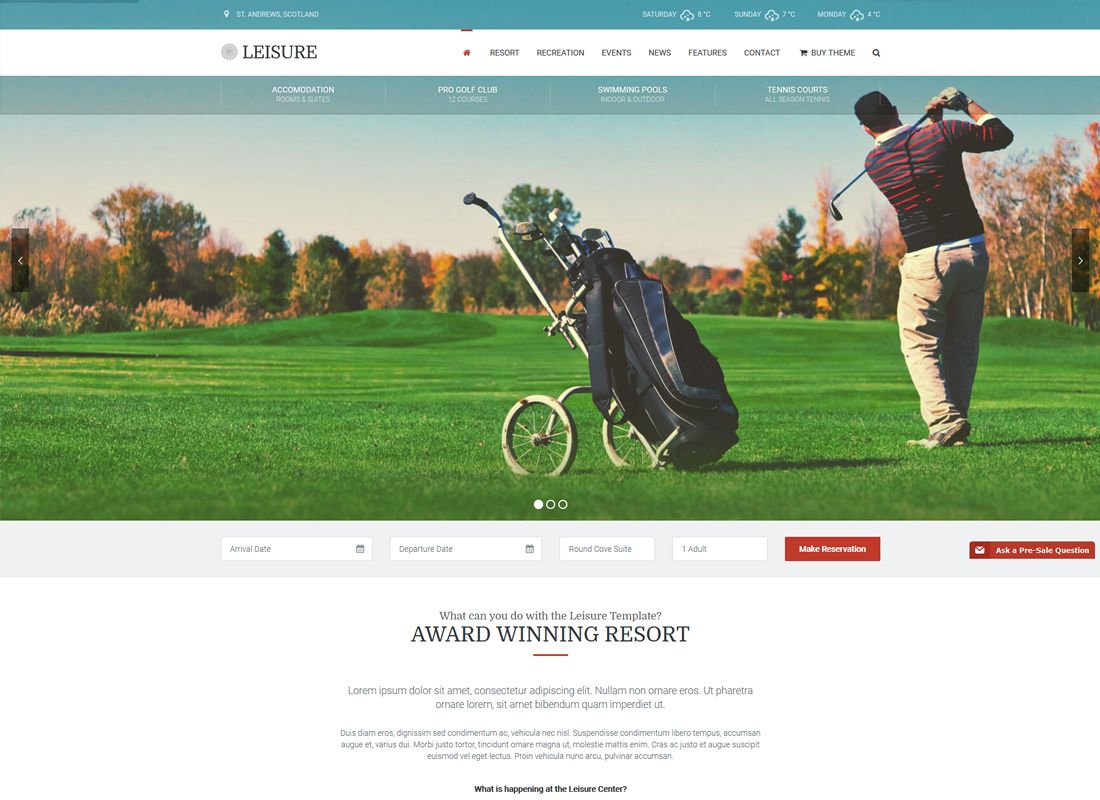 Hotel Leisure is a nice specimen of five-star WordPress themes for hotels that embrace a clean and attractive design. Designed to help you start a business on the right foot, Hotel Leisure should be high on your list.
Afraid of a skill gap? Don't fret; it shouldn't be a barrier to that. Easy to edit and customize, Hotel Leisure puts the power into your hands from day one.
Large, beautiful images, multi-level menus, and generous footers offer you a clear advantage over your competitors.
In addition, Hotel Leisure makes it easier for potential customers to find your beautiful website via their preferred search engine.
Hotel Booking | Hotel WordPress Theme
It is vital for hotel owners to build a great website out of the gate. Being one of the best five-star WordPress themes for hotels allows you to get creative with it. Try your hand at Hotel Booking.
Sure, allow your users to filter all your rooms efficiently and quickly. It also has a dedicated page to show all accommodation details. Besides, a unique booking system allows your visitors to book rooms without much legwork.
What's more?
Integration with multiple payment options gives you a leg up on the competition. You can also create a fantastic gallery with awesome sliders hassle-free. It is to your advantage to give Hotel Booking a try.
Hotel Master | Hotel Booking WordPress Theme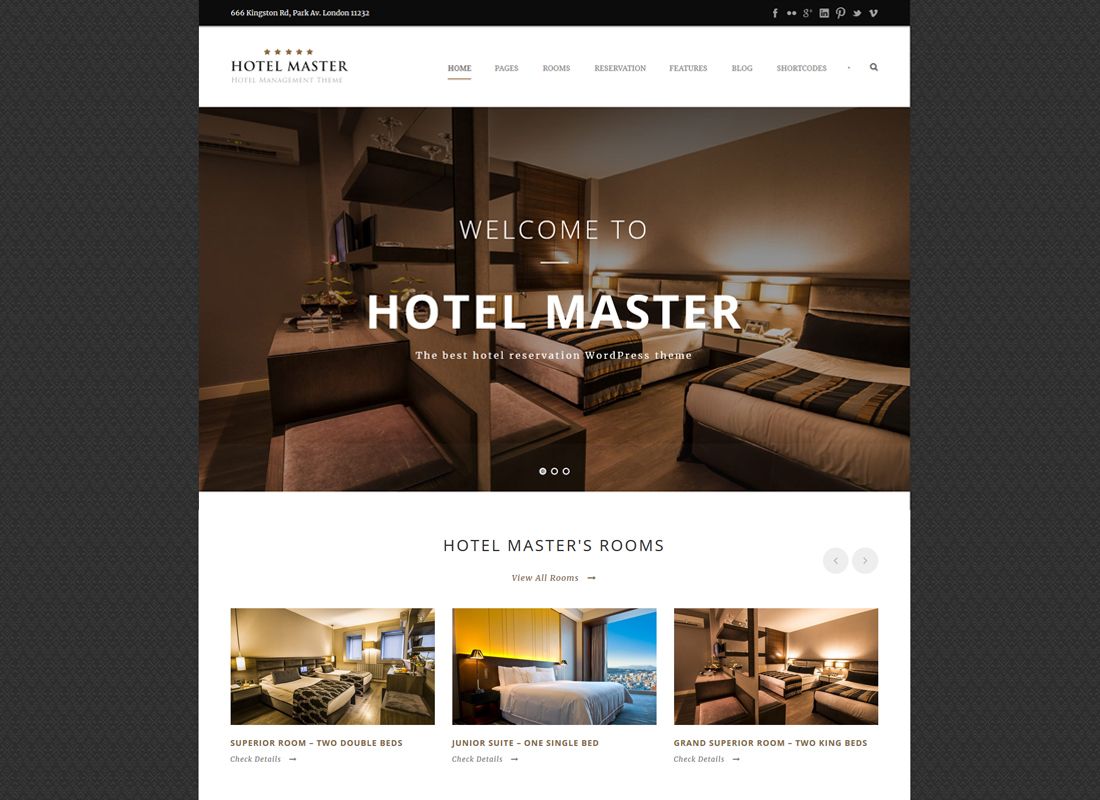 With Hotel Master, it is easy to build a website and make it a spot to stand out.
Let your users enjoy while browsing your hotel website, book your rooms, change parameters, rechoose the room without refreshing the page, and the list goes on.
Besides, you can choose between 5 different demos, block each room on a particular date, add a new design in the booking bar, and much more.
To get you up to speed, iCal support can be beneficial if you need to sync bookings with a third-party channel like AirBnb or Booking. Now, go ahead and make a big move to get your website started.
Hoteller | Hotel Booking WordPress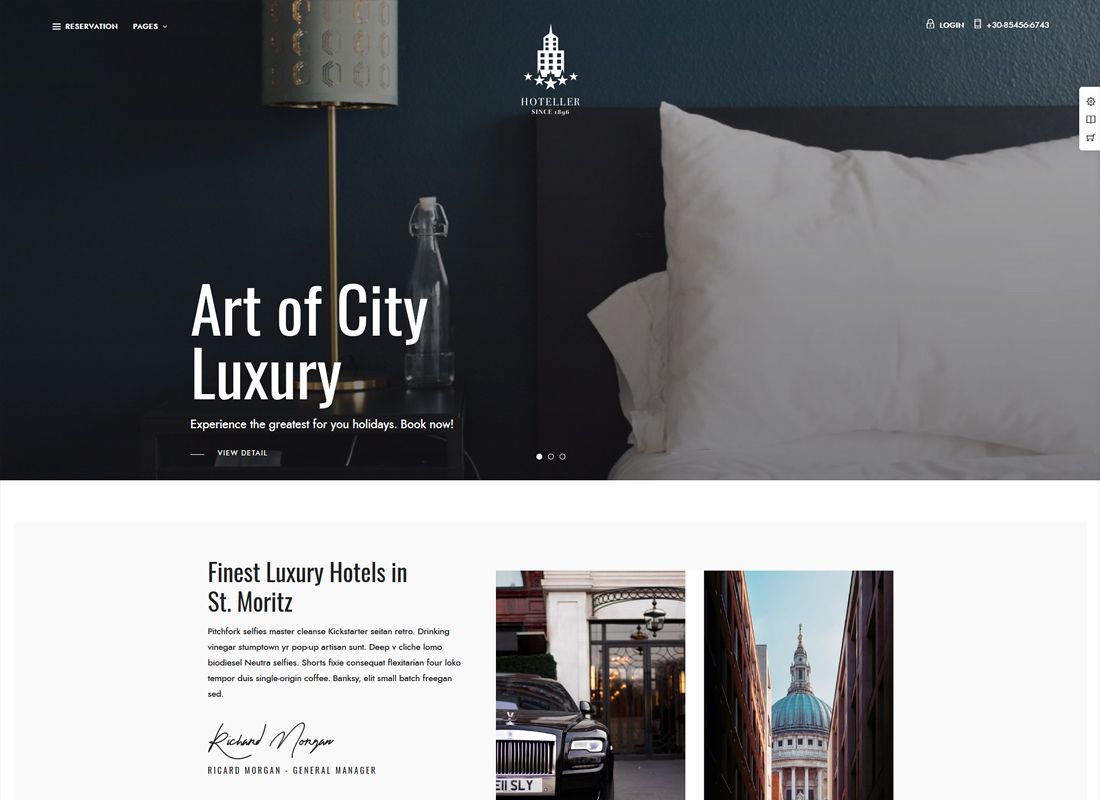 If you are a hotel owner, chances are you are looking to attract new guests to your location. With Hoteller, your website will be visually appealing and easy to navigate.
To help your business grow, grabbing one of the best five-star WordPress themes for hotels is a way to win. Clean and responsive, Hoteller looks great on any modern device.
It also features tons of unique features such as seasonal pricing, booking management, flexible rates, etc. Besides, allow your visitors to pay through multiple payment gateways.
As a result, you can maximize your sales potential, and your bottom line will be glad you did.
Charlostin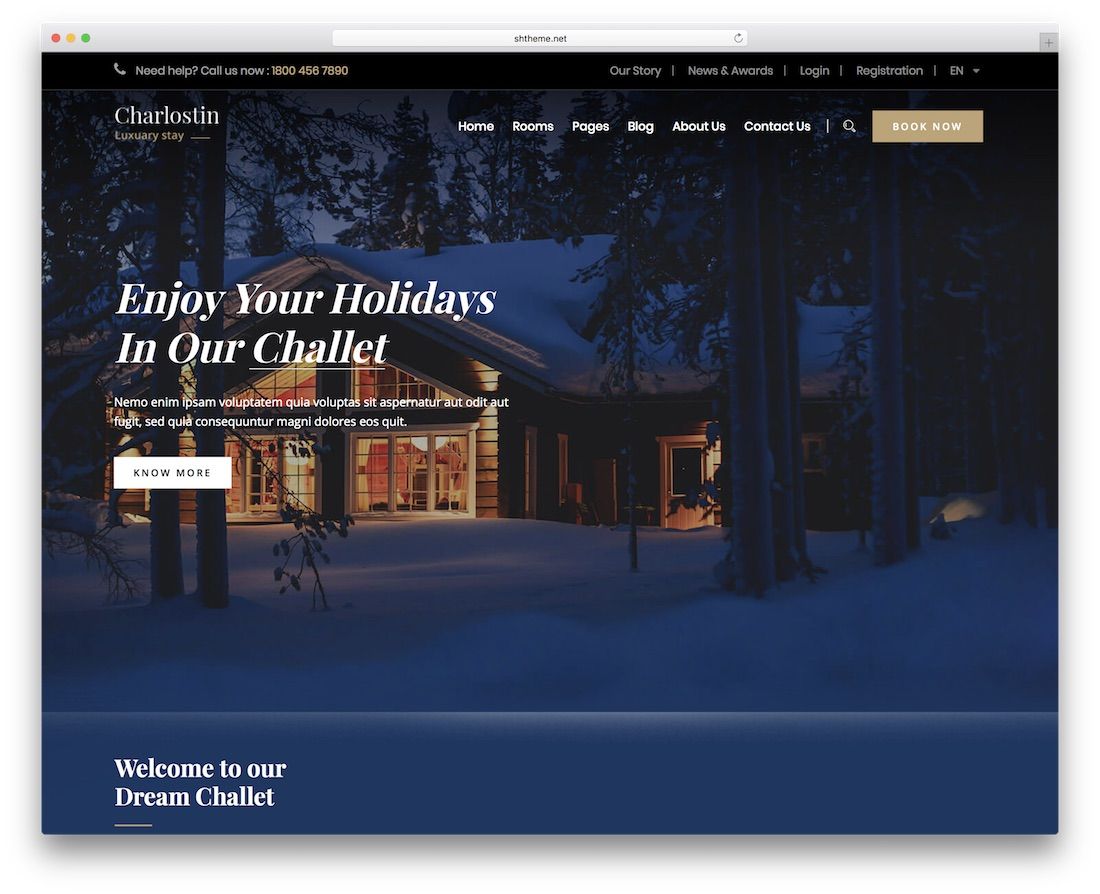 Charlostin is a highly adaptive WordPress theme that you can use for various accommodation businesses. Your imagination is the only limitation you have.
Approach web design with an open mind once using Charlostin and you will unlock even more possibilities. And the end product is a guaranteed masterpiece when working with Charlostin.
From 5 home demos and a full hotel booking system to 5 headers, mobile-friendliness, multiple inner pages & elements, and translation-ready, Charlostin delivers many features and functions.
What's super cool about Charlostin is that you can test it out for 30 days straight and only then decide whether or not to keep it. (No risk involved with Charlostin!)
I hope this article helped you to find the best hotel WordPress theme for your website. Additionally, you might want to check the best booking WordPress plugins that will go well with your hotel website.