You can save time and organize your business easily with these WordPress themes with appointment booking.
An online appointment system helps replace the hard work of your secretary who has to deal with calls all day.
Instead, users can place their proposals digitally, like sending an email or using a contact form.
When it comes to WordPress and appointment forms, you have two options.
The first is to use an appointments plugin; the second is a WordPress business theme with built-in appointment forms.
The following themes are generally business-oriented — mostly niche-specific — and incorporate a way for your clients to schedule meetings or book appointments directly from your website.
Plus, they are easily customizable, so you can use one theme for multiple businesses. So. Simple!
Best WordPress Themes With Appointment Booking
Brikk
You need Brikk when building a directory or listing website with integrated booking. Restaurants, Airbnb-type businesses, classifieds – yeah, it's all possible with Brikk.
This tool is ready-made for you to enjoy fast and easy web platform development.
Brikk also works with Elementor page builder, so you know that coding is not necessary.
Unlimited listings, a user-friendly dashboard, notifications, and a chat messaging system are just a few of Brikk's specialties.
Moreover, Brikk brings many monetization techniques to earn money with listings and customer earnings.
Brikk is about quality (extreme optimization) and quantity (many. features)!
More info / Download
Demo
OnSchedule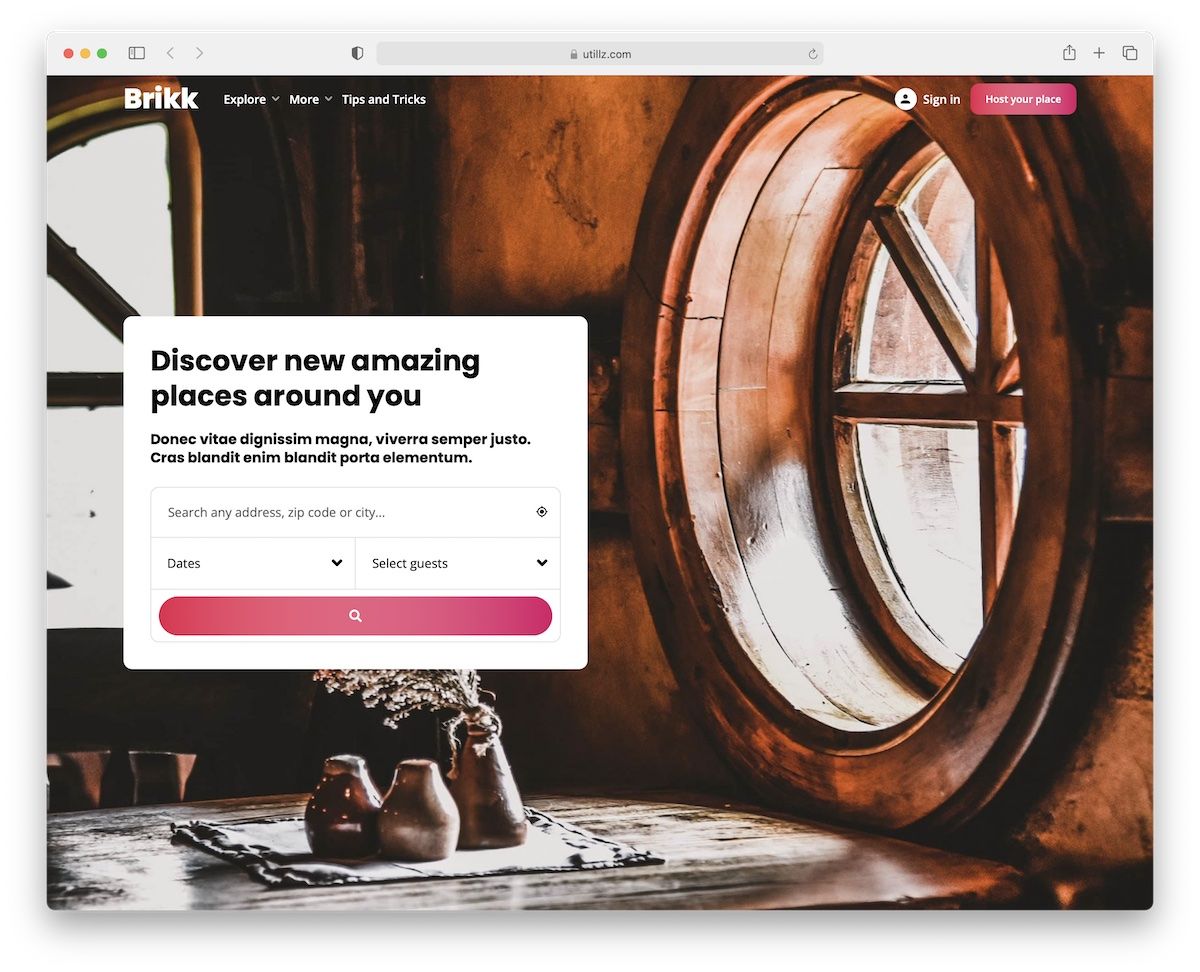 OnSchedule is a business and retail theme with 12 homepages, 6 premium plugins, 55 shortcodes, and virtually endless possibilities!
For example, the three main plugins are Booked (Appointment Management), WPBakery page builder (for building sweet layouts), and Slider Revolution (a fantastic tool for creating high-quality slideshows).
We are impressed with how much work has been put into developing OnSchedule.
Currently, OnSchedule provides homepage demos for teachers, fitness studios, agencies, and travel websites. And each demo is prepared for client management and booking schedule.
So, dive into the demo presentation and see how you feel about OnSchedule being your next website theme!
More info / Download
Demo
Entrepreneur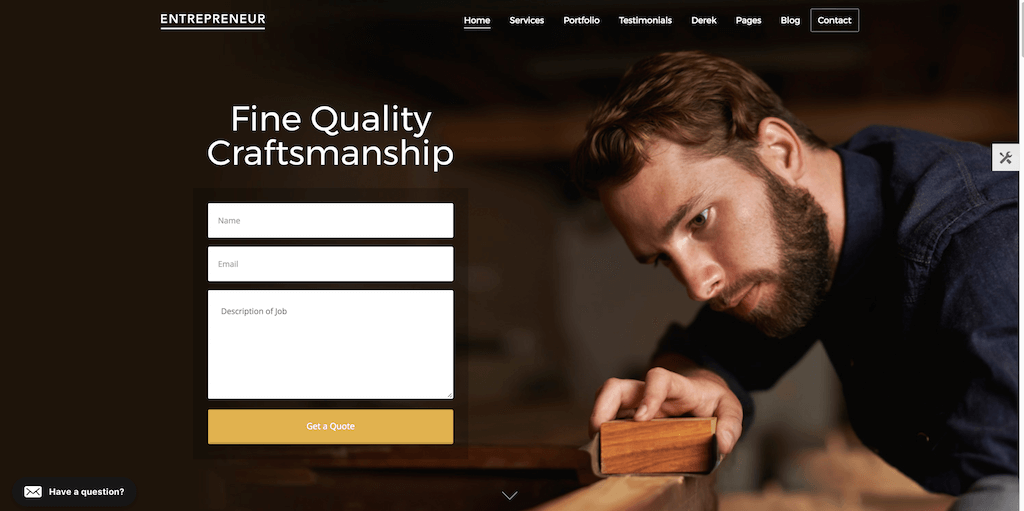 Entrepreneur calls itself an essential theme for small business owners. And we can see why.
With an automated booking and scheduling system, you will never need to worry about managing paperwork again.
The demo themes available are as follows: Physician, Contractor, Stylist, Consultant, Coach, Trainer, Entrepreneur, and Barber.
Payments and deposits are managed solely with the WooCommerce plugin.
You can take things a step further and synchronize your schedule with Google Calendar — a popular app amongst small businesses who use Google for business management.
Additionally, the Entrepreneur theme uses Master Slider and FlexSlider for content presentation.
More info / Download
Demo
Miller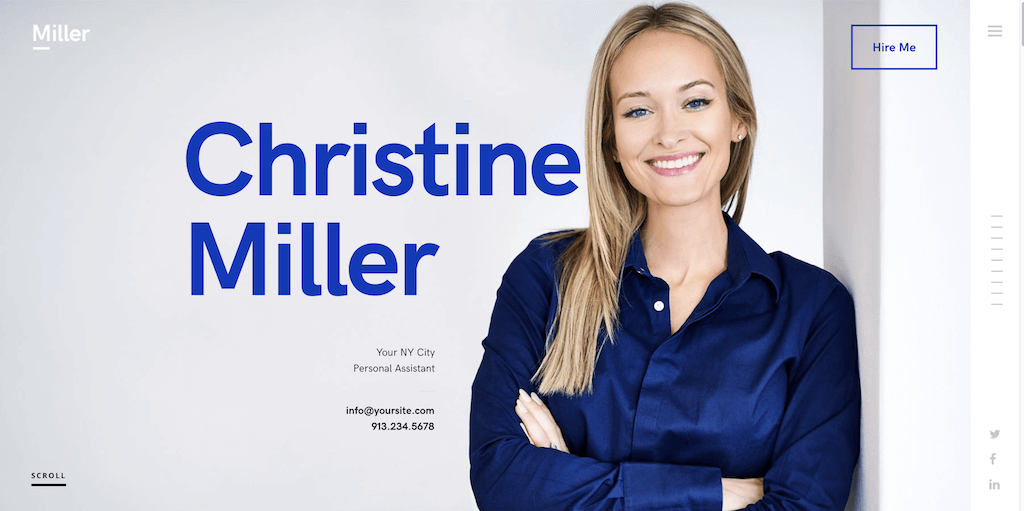 As a business theme, Miller is perfect for advisors, managers, personal assistants, and anyone else who provides aid-related services.
The business design of Miller is rock solid and can be configured to go into great depths about you as a person and someone who can be trusted for the right job.
Once people learn more about you, they can book an appointment in a few clicks. This premium plugin is already part of the Miller theme, and you only have to insert your available time slots.
More info / Download
Demo
KiviCare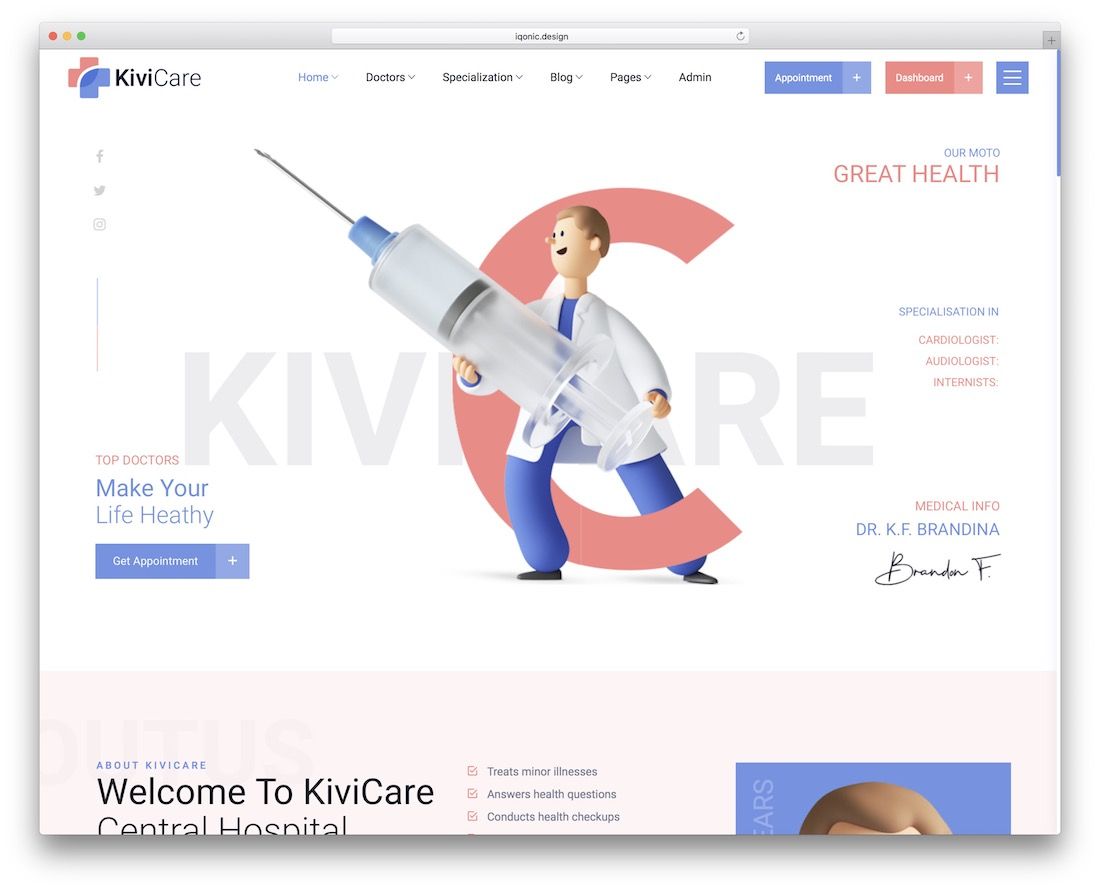 When building a medical website, it is essential to offer your clients online appointments. With KiviCare, you will take care of that easily.
KiviCare has this clean and catchy design that calls for a very engaging experience. It is a very versatile solution with a collection of 6 homes to choose from.
Presenting your services, medical departments, pricing and everything else you would like to share is easy.
You can even work with the default version of KiviCare, but stepping it up and customizing the design is also an option. See the live demo preview first and enjoy the smooth process.
More info / Download
Demo
Clinika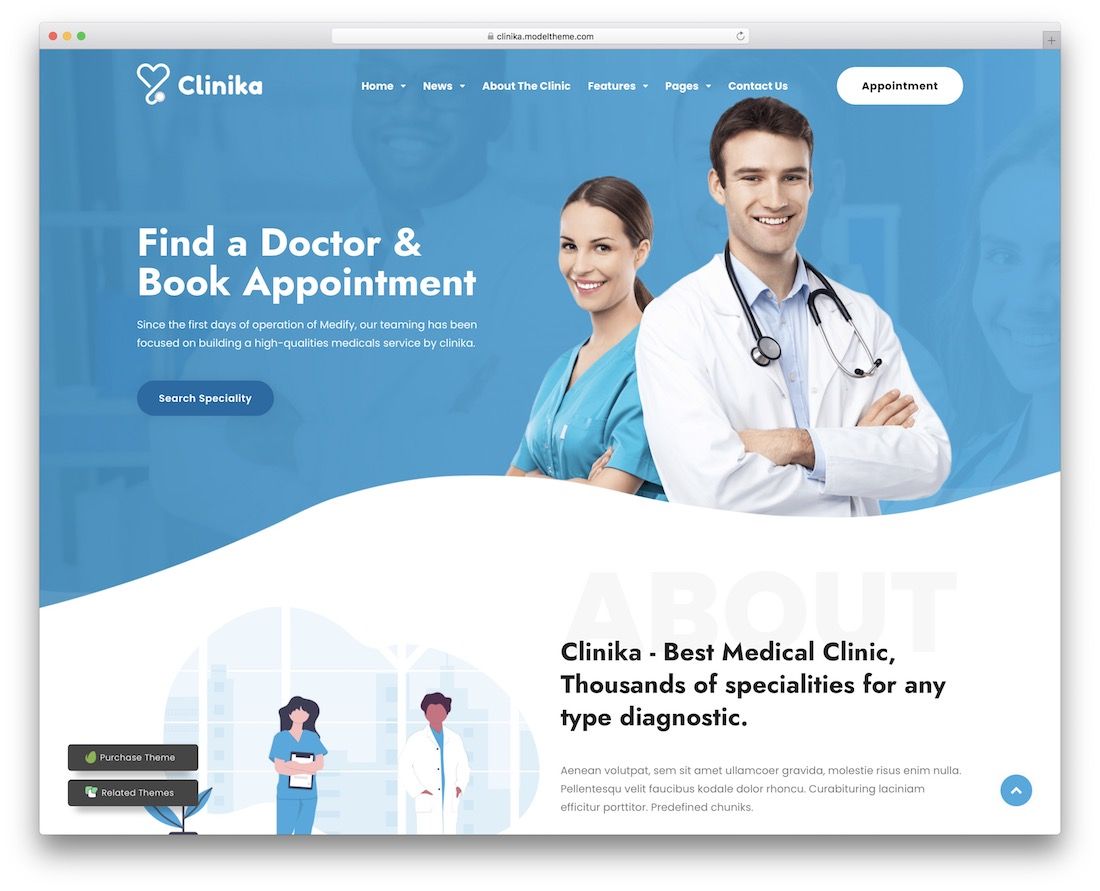 Clinika is a special WordPress theme for the medical field that comes with integrable appointment booking.
After your potential patients find the doctor and the service they need, they pick the available dates and make the appointment. This allows you to keep your business even more organized and saves you time.
There will be no coding necessary when working with Clinika.
Doctor pages, custom shortcodes, social media integration, progress bar, and contact form are only a few of the extras you get. With this, you know already that Clinika fits both beginners and professionals alike.
More info / Download
Demo
MindCare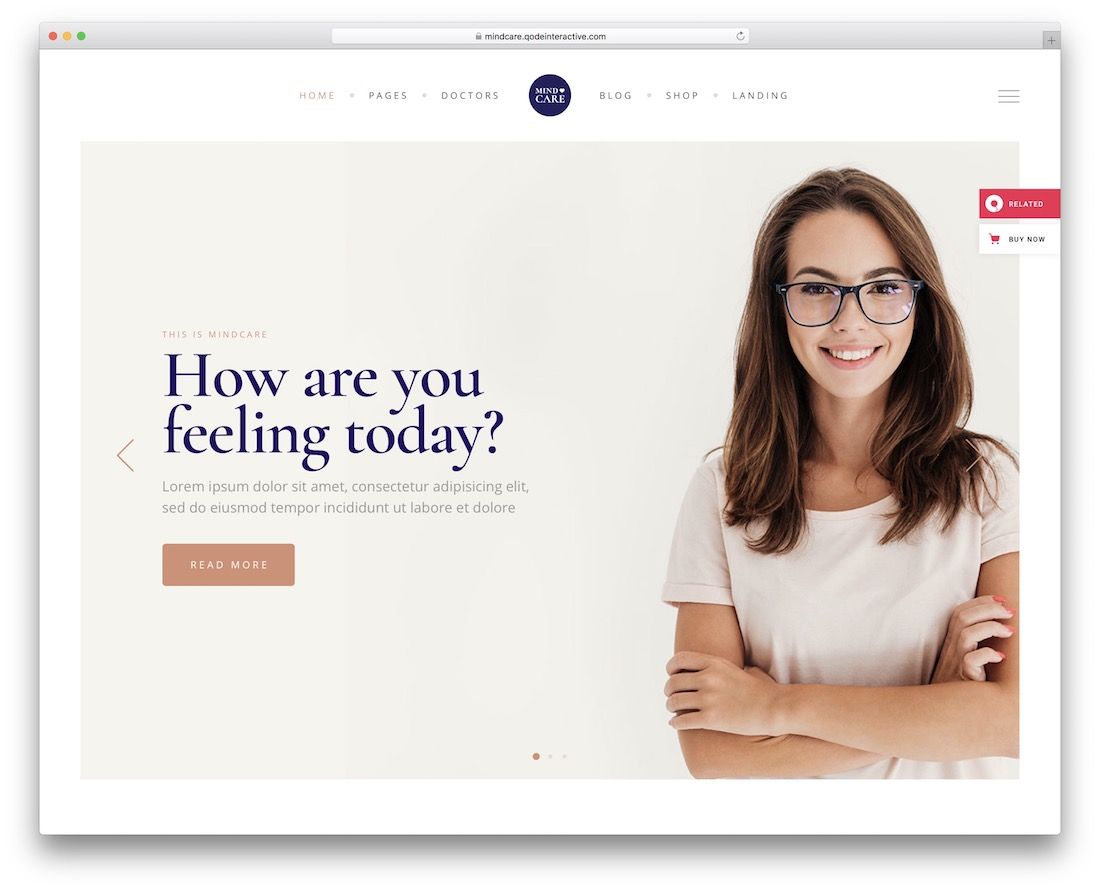 Psychologists and medical counseling, MindCare is a neat theme with appointment booking that will do you well. Everyone can now create a powerful, impactful, yet mindful online presence for their services.
You do not need to have experience in coding or design — MindCare takes care of all the heavy lifting for you.
Nothing is missing in the kit, allowing you to create an outcome that will immediately raise your potential. Out of the box, you can choose from various stunning home samples to adjust further.
Additionally, MindCare also includes other internal templates for you to bring to fruition a full-blown business presentation.
More info / Download
Demo
N7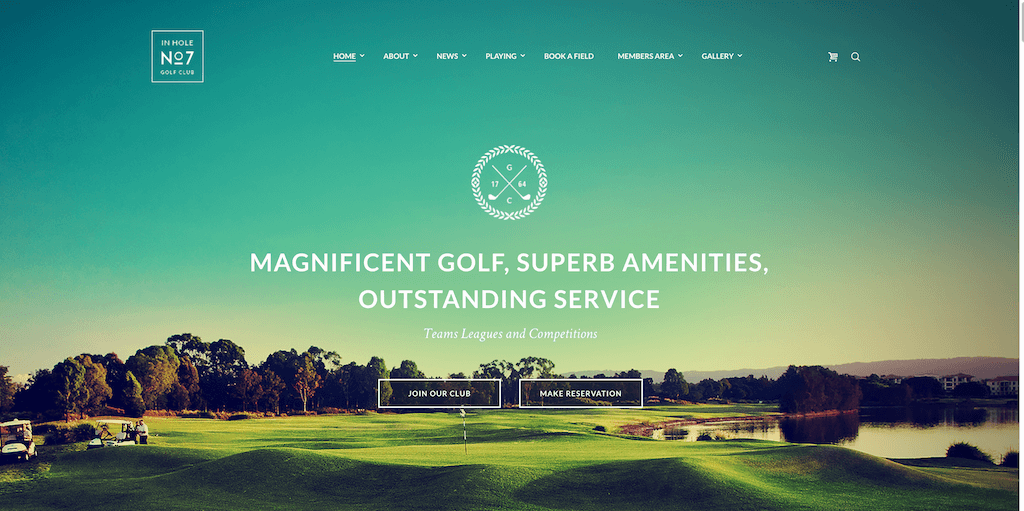 Golfing is a dynamic sport that requires precision, patience, and swing style. And the N7 theme follows the rules of golf religiously.
N7 is a modern, professional, and stylish premium theme for tennis clubs, personal trainers, golf clubs, and other sports-related businesses.
Sports themes can be a challenge to build because of their unique requirements. A good sporting website needs to display the latest match results or show which matches are coming up.
Since the booking system is universal, you can offer anything from personal lessons to renting out a golf field.
ThemeREX has thought their theme process through and included both of the mentioned widgets.
More info / Download
Demo
Service Finder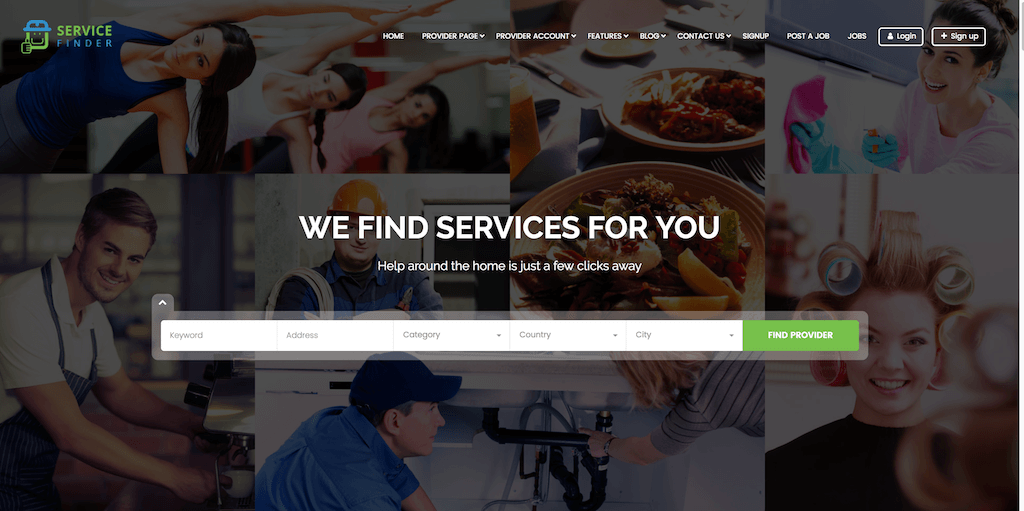 Plumbers, electricians, programmers, gardeners, landscapers, pretty much any job can be considered a service job. And Service Finder is for people like you, to help you promote your services using a website.
If there is any theme that can inspire you to start your Services Directory business, Service Finder is it. A stellar combination of high-quality design and impeccable plugins makes for the serving finding experience.
For example, your visitors can find their local dentists in the area and directly book an appointment.
Under the hood, you get a powerful theme settings panel, beautiful customer account pages, and even a custom verification system to prevent fraudulent bookings.
And if people aren't happy with their experience, the reviews system is where clients can voice their concerns.
More info / Download
Demo
Nixe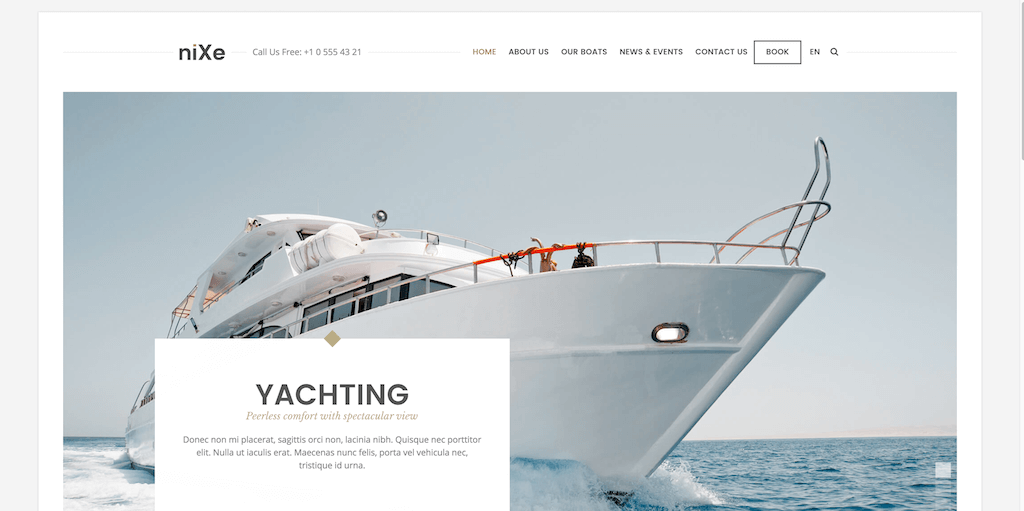 Nixe is perfectly suitable for hotels, resorts, restaurants, and other service businesses. The multi-concept status of Nixe is based on its powerful tools for proper content management.
Beyond the basics that you find in WordPress, with Nixe you can add custom portfolios, create posts for rooms, and utilize countless content shortcodes.
Hotels and leisure, in general, are industries that carry a specific style. When you wish to book a resort for your holiday or honeymoon, the first impression you get from a resort website plays a significant role in your decision-making.
For those of you with some spectacular beauty to offer, the Nixe theme is more than capable of bridging the design requirements.
More info / Download
Demo
Estate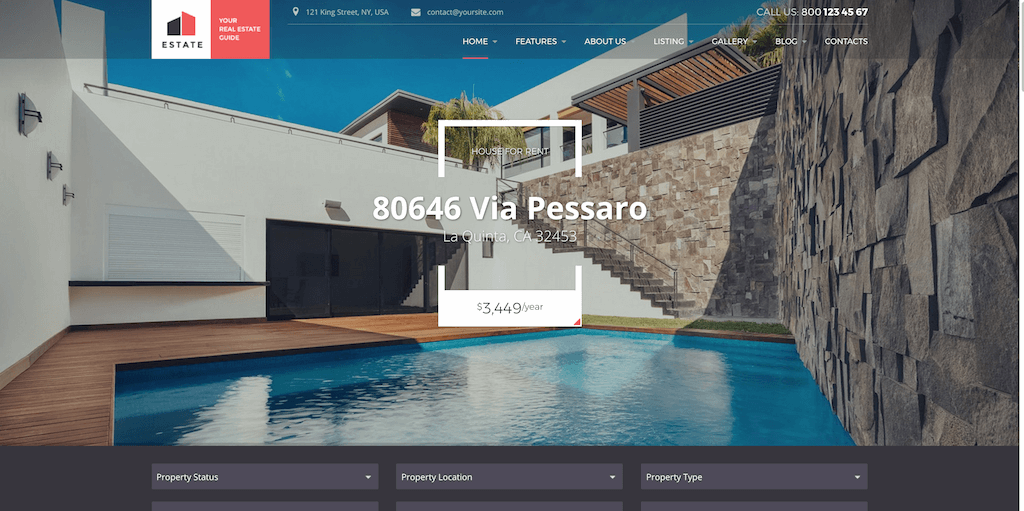 Are you in the property business, or provide rental opportunities? You need to check out Estate — a stylish and premium theme for brokers, real estate agencies, and rental agents.
Pages for properties themselves are world-class, with detailed attention to your listings and property offers.
Since real estate is a business where people only consider a place after they see it, your website should include scheduling a viewing.
In the Estate theme, the process is accomplished by Booked — probably the best bookings plugin you can buy. But, because it is already inside the theme, you do not have to buy it.
The Estate theme supports WPBakery for quick customizations. Some of the extra features are sticky menus, Google Fonts, one-page design, video sliders, and awesome font icons.
More info / Download
Demo
MediDove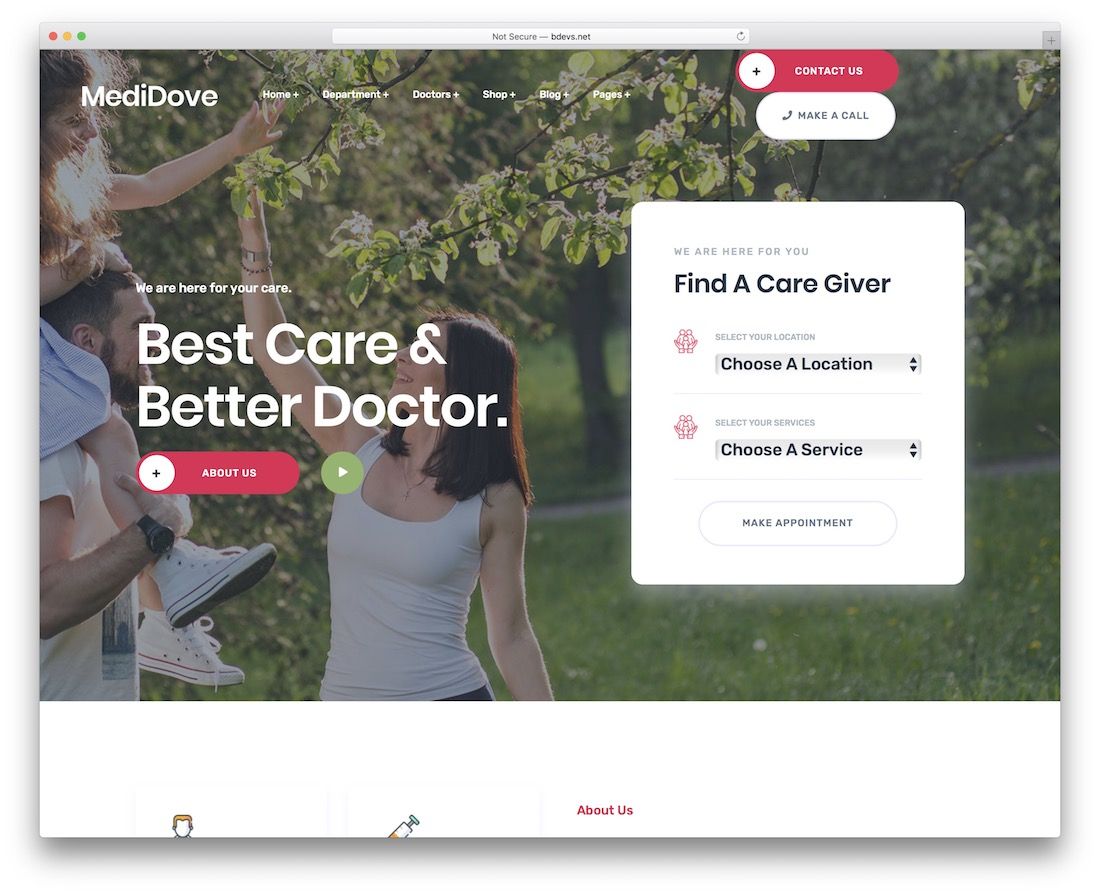 MediDove is a WordPress theme with an appointment form for health and medical-related websites.
All the layouts are super clean, minimal, and very appealing to the eye. Moreover, MediDove contains several inner pages, so you do not need to create anything from scratch.
However, this theme is bundled with Elementor page builder, saving you from coding. MediDove is a fantastic solution for beginners!
Besides, MediDove has all sorts of other goodies in store for you, like different footers and headers, RTL layout, animations, Contact Form 7, and PSD files.
More info / Download
Demo
Heaven11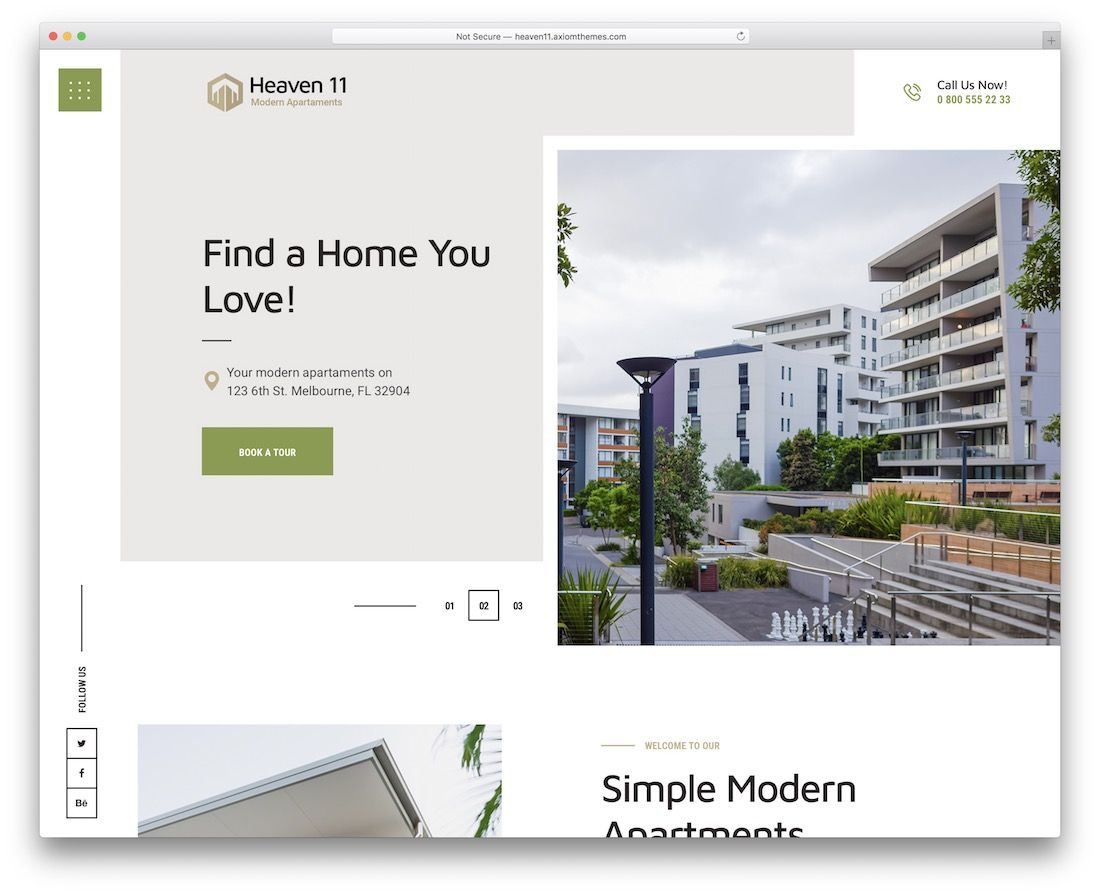 Heaven11 is for everyone who is in the real estate space. You can utilize this nifty theme with appointment booking for different intentions. From single property pages to websites for agents and agencies, Heaven11 is down for any challenge.
3 modern demos await every Heaven11 user for the fast launch of a striking online presence. Of course, the tool treats you to many more inner page layouts, elements, and components for quick integration.
You can have the exact setup ready for the launch in just a few clicks as you see in the live preview.
Extra Heaven11 specialties include social sharing, events calendar, blog, header and footer builder, unlimited colors, and 7 different widgets areas.
Push real estate on the internet like an expert from the very beginning.
More info / Download
Demo
Pearson Specter

With this collection of the best WordPress themes with appointment booking forms, we ensure you various options. If law and legal practices are your cup of tea, we have a special web design.
Pearson Specter is a banging solution for your website, where you can share more about your services and use them to gain new business deals.
A website is a valuable medium that can take your law firm to an entirely new degree.
You get 3 home and multiple more inner pages, Elementor drag and drop page builder, header and footer styles, SEO optimization, fast loading, and several widget areas to include different extensions.
Pearson Specter contains everything for a magnificent page to push your legal services over and beyond.
More info / Download
Demo
Nelson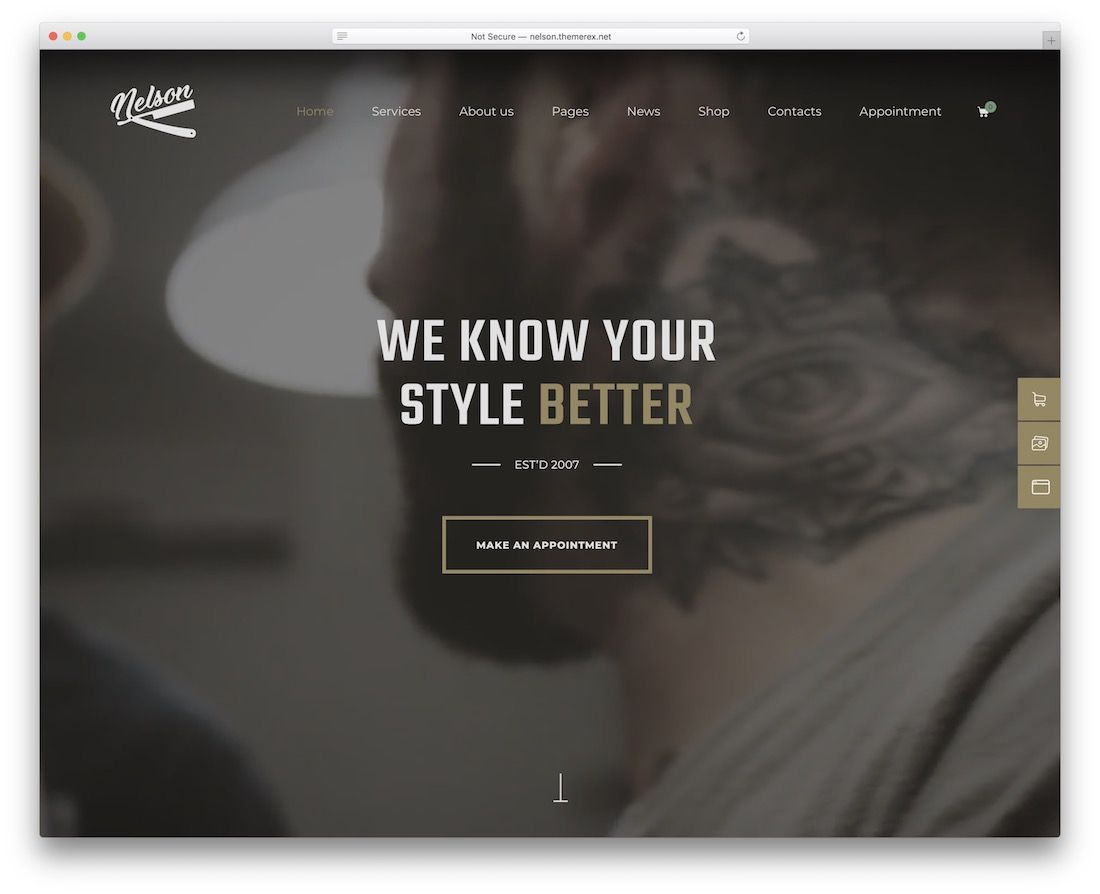 Nelson is a special theme with appointment booking for barbershops and tattoo studios. You will establish a strong and lasting first impression with the dark and impactful web design.
With the various pre-defined demos, you can now start pushing the boundaries on the web sooner rather than later. Nelson has Elementor page builder, too, ensuring you total creative freedom without coding.
Along with index page designs, you will also discover various inner layouts, an online booking system, Slider Revolution, and an entire blog section.
Instead of lacking an online presence, master it with Nelson and make a difference right from the get-go. Managing and maintaining a page will be a breeze with Nelson.
More info / Download
Demo
LongLife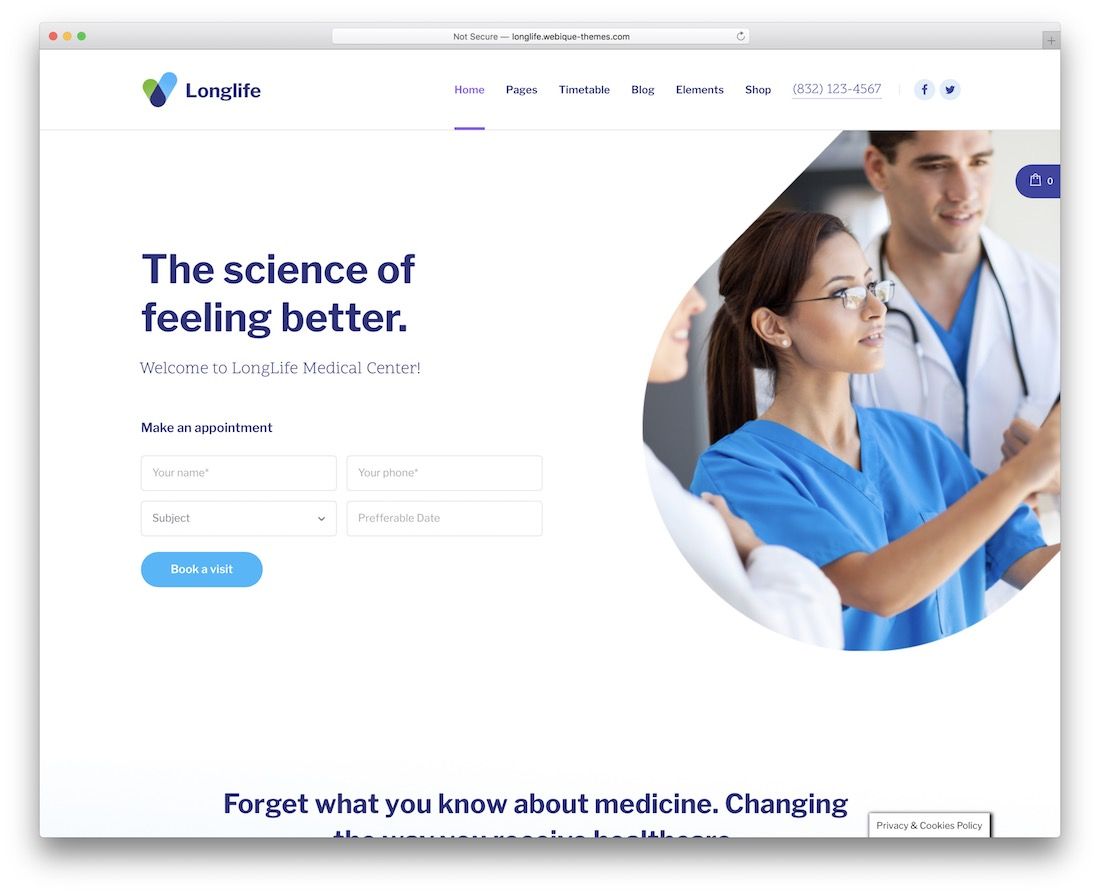 LongLife is a flexible WordPress theme for everything medical-related. Indeed, it is a theme with an online appointment booking system integrated into its lovely design.
LongLife has you sorted out with 5 amazing demos to date to get the gist of it.
In short, LongLife is constantly improving, making sure your page operates butter smoothly for years to come. You can also expect regular updates and a friendly support team.
More info / Download
Demo
FixKar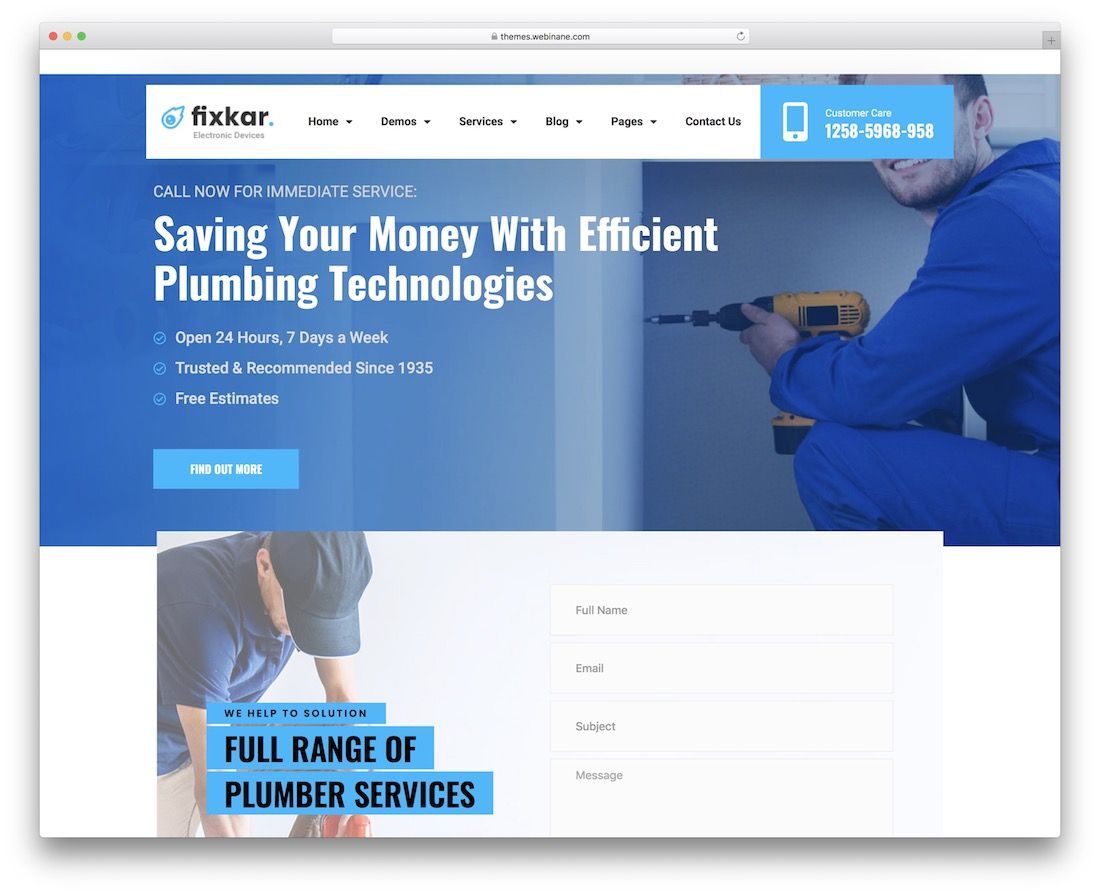 If you are looking to build a website for repairing and handyman services, FixKar is the one solution that will do the trick. It is a WordPress theme with appointment booking for quick building.
It is not only that you get tons of pre-defined front and internal page layouts, but FixKar also comes with a broad collection of practical features and functions. One tool for all sorts of different services that you offer.
You never run out of options and possibilities, thanks to the Elementor. You can edit and modify FixKar exactly how you desire.
Plus, build custom headers and footers and enrich FixKar with your creative touch to the very last detail. Make it your way and shine online.
More info / Download
Demo
Parkivia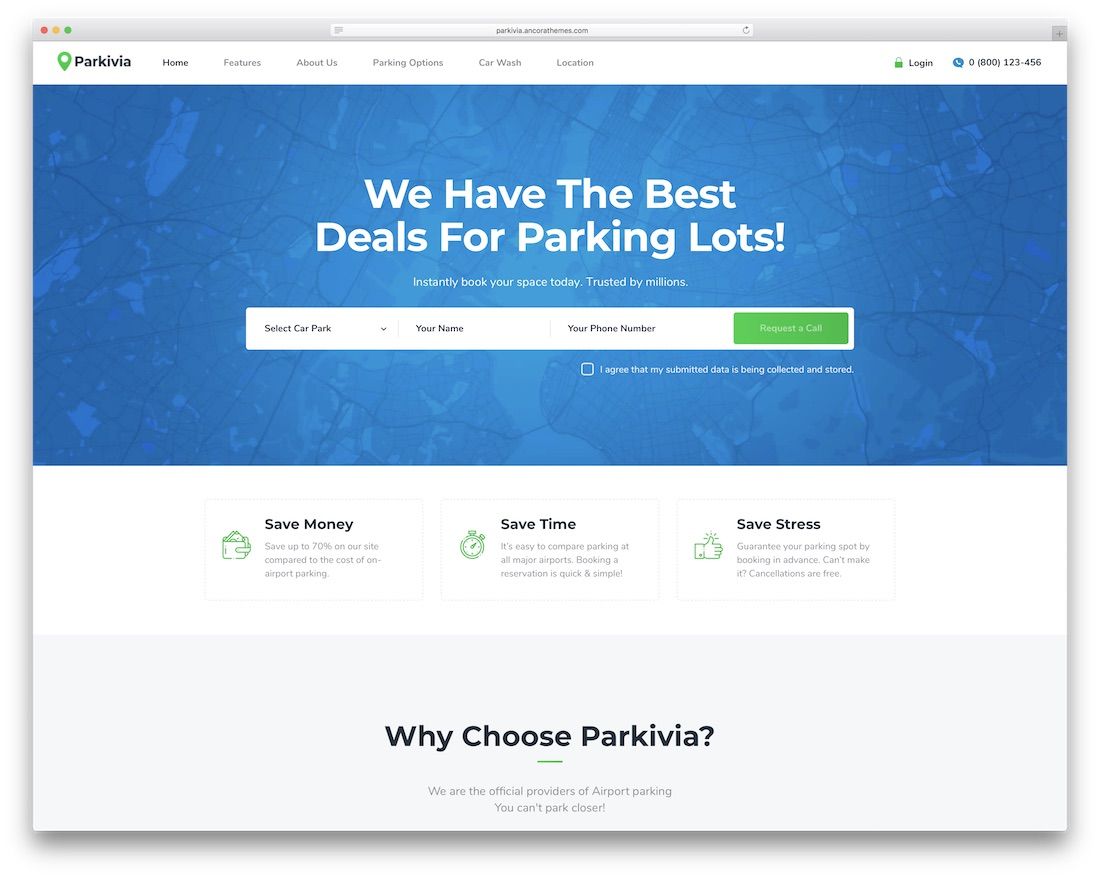 Parkivia is a niche theme with an appointment booking system integrated into its web design. As the name suggests, Parkivia is for anyone who runs a parking lot or other car maintenance business.
Although Parkivia might be a more exclusive theme, you can still employ it for other auto and car projects that you run or plan to start.
No need to hold yourself back, use your imagination and create a page that will elevate your business.
You can import the demo content and start adjusting it immediately with a single click.
More info / Download
Demo
Search & Go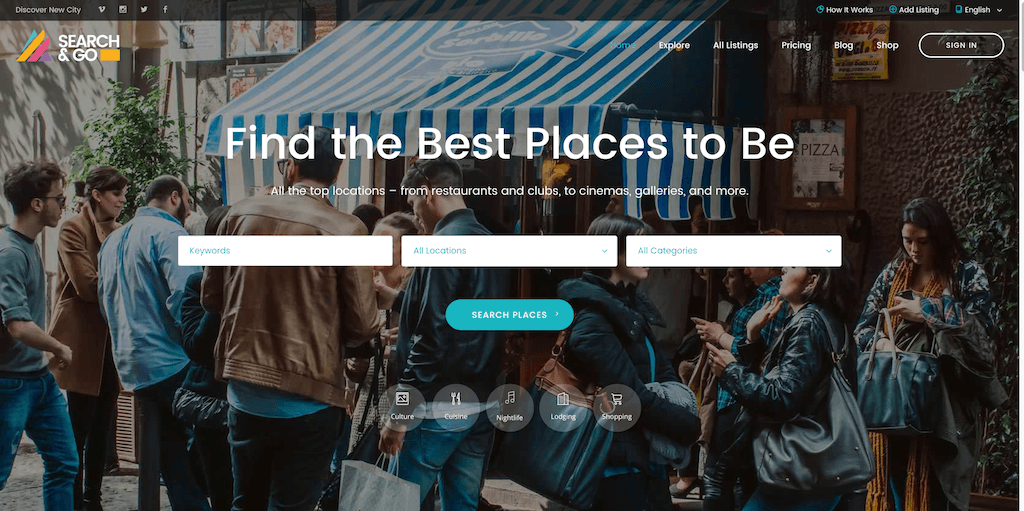 Listings and Directories platforms have exploded in their numbers.
As a result, WordPress developers follow the trend and have begun publishing themes like Search & Go. This theme is a universal listings theme for restaurants, clubs, bars, galleries, events, and virtually anything else.
Themes like Search & Go are amazing for finding new things to do.
We love how smooth it feels to browse the homepage of Search & Go, but also actual listings pages.
In the case of Search & Go, the design of the impressive listing doesn't scare you away, rather, it welcomes your attention to find out more.
The theme features include responsive design, shortcodes, user accounts, PayPal payments, great widgets, and a Direct Booking functionality!
And once the number of listings on your website increases, your visitors can begin utilizing Advanced Search.
More info / Download
Demo
Meetup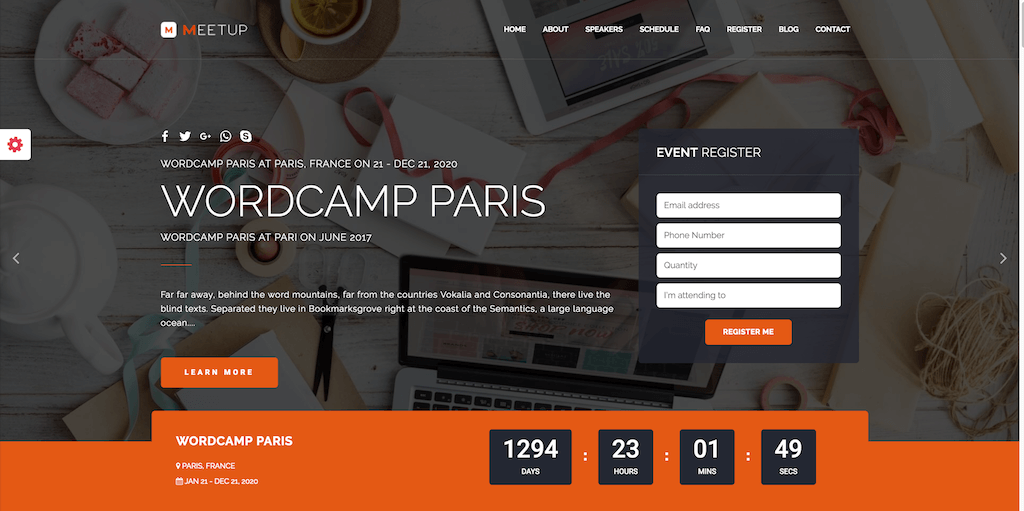 Conferences and meetups have grown in popularity immensely, and thanks to the endless possibilities of digital marketing, attracting a crowd to a conference is easier than ever.
But first, you have to get straight about the platform you will use to promote your conference.
The Meetup theme in this regard is perfect. Not only have the designers thought of things like countdowns, but also separate pages for your speakers and their schedule.
It is a massive theme with 100s of users, and they have nothing but nice things to say. Meetup comes with some excellent features, including Bootstrap Grid System, WPBakery, WPML, TZ Plus Gallery, WooCommerce, and more!
This theme supports child themes if you want to take charge of how your design will unfold in the future.
More info / Download
Demo
Yoga Fit
Yoga Fit defines what industries like Yoga and Fitness are all about: style!
As a yoga teacher, you need a website to attract new clients and use it as a hub for sharing your life experience.
The extensive collection of shortcodes is perhaps the biggest you can find in any premium theme. Shortcodes help you design better content better pages and deliver a much more meaningful user experience.
Furthermore, the Yoga Fit theme is packed with custom charts, elements, and content relatable to yoga. Depending on your needs, you can add Class Timetables and even sell wellness-related products using your online store.
And to manage appointments or bookings, there is a unique form builder tool built by the CMSMasters dev team, ideal for creating any form type imaginable.
More info / Download
Demo
Doctor
The Doctor's excellent mobile responsive WordPress theme is ideal for general practitioners and health clinics. The design utilizes warm and inviting blue colors, the most popular color associated with health.
And things like typography, and element size are visible enough even for the older generator. You can't ignore the fact that often the people seeking medical help are well into their 50s and 60s, and their perception of the web might be different from that of a millennial.
The developers of Doctor are also kind enough to provide an offer of free theme installation.
Though, if you feel up to the task, you can install the theme yourself and then tinker around with WPBakery Page Builder to refine the design layout that you are after.
More info / Download
Demo
Solaz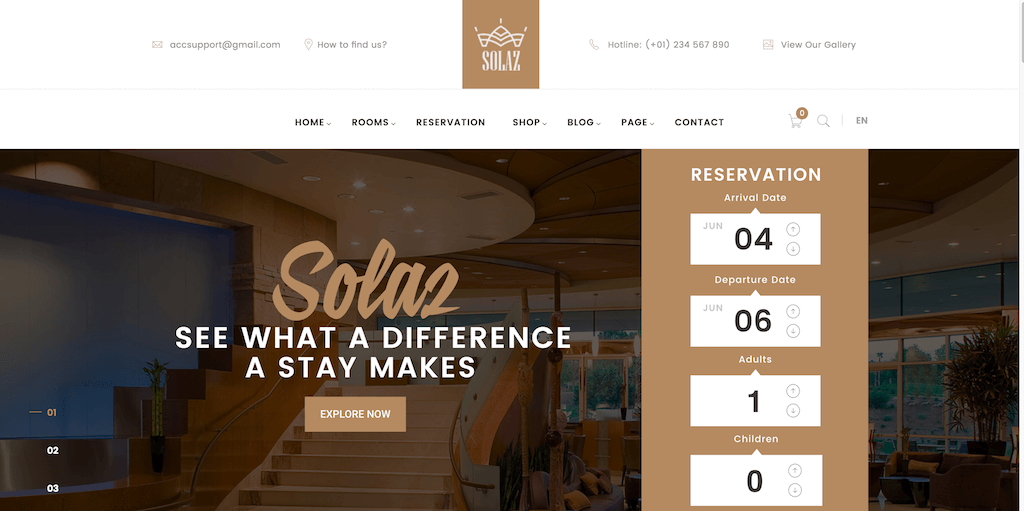 Solaz is a corporate theme for hotels, lodges, and other businesses that provide housing services.
The Solaz template provides you with 4 homepages to choose from.
Each homepage has different elements, particularly the displays of rooms/places you have put on the table. The detailed accommodation pages do more than explain your rooms.
The spectacular visual imagery you can add makes visitors feel like they've been to the place already.
And that's how a theme needs to be.
Furthermore, whatever demo website you see on the Solaz demo page, you can activate with a single click.
eCommerce is taken care of through WooCommerce, and instantly makes bookings. In short, your job is to add rooms/places and market your business to the right market of clients.
More info / Download
Demo