We bring you the best free construction website templates you can use to make a professional-looking business site. These are flexible and extensible enough to work for any intention.
This list comprises both WordPress and HTML construction website templates. Keep in mind, for more advanced options and features, it is better to get a premium construction WordPress theme.
WordPress themes are especially welcome because they offer an entirely codeless website establishment process. Pro on no pro, building a construction website will be a little breeze.
Note: Kick-start your project right away with a free template.
On the other hand, all the HTML templates also offer a great set of page layouts and features that will do you well. However, to activate these successfully, you need at least the basics of coding and web development.
Moreover, whether you go with a theme or a template, all use only the latest technologies. Meaning, they will instantly adapt to all devices and web browsers for an always impressive performance.
Put your construction firm on display online and boost your potential sky-high. A website is a great marketing tool that will help promote your business and win over new clients.
Stornoway (Premium)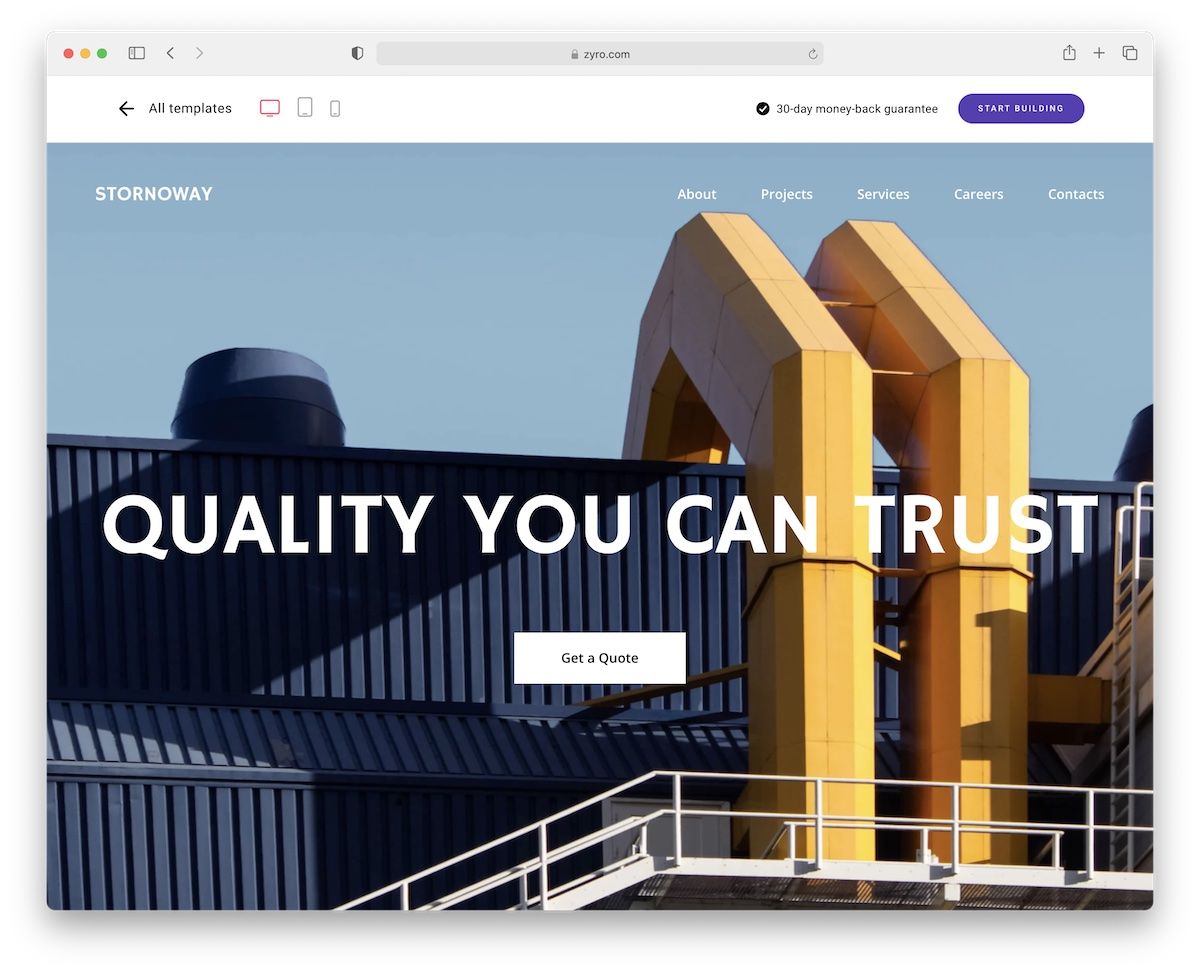 Stornoway is a construction website template by default. It's a tool of endless features and functions that will benefit your greatly.
While you can work with the out-of-the-box version as is, you can also customize it and enrich it with your creative touches.
Working with Stornoway is easy and quick, ideal for beginners but equally superb for pros.
Google Analytics, Facebook pixel, blog, AI technology and hosting are just a few of Stornoway's specialties. Grow your construction company to the extreme with a top-notch website.
Divi (WordPress)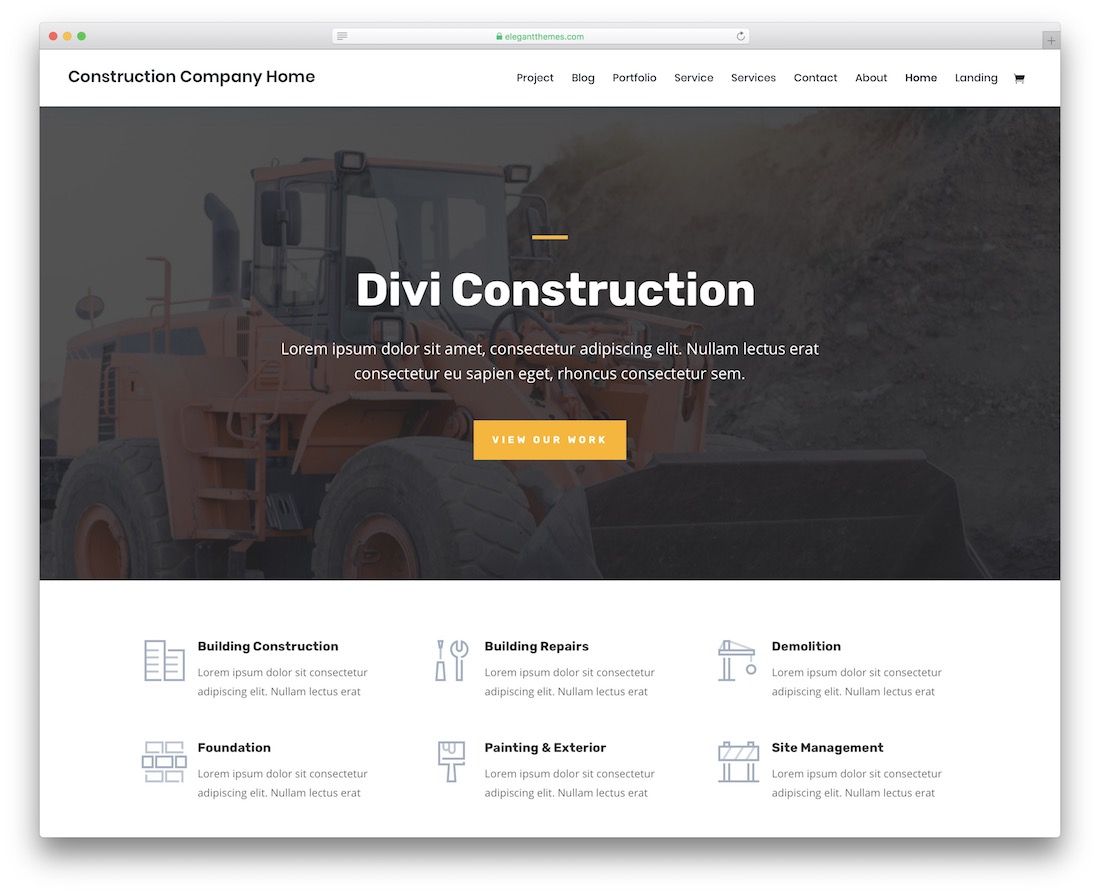 Thanks to the versatility and adaptability of Divi, you can employ this web design for any purpose you want. Of course, with this in mind, you can also use Divi to build a construction website. You will find all the necessary demo material in the kit, which will save you a ton of time and energy. You can, of course, use sample content out of the box, too, and completely avoid doing any of the customization work. After all, the style and look are modern and sophisticated anyway.
Divi sports nifty scrolling animations, sticky header, testimonials, contact form, social media icons, portfolio section and a blog. You can use the latter strategically for content marketing to bring in even more business deals. You have it all at the tip of your fingers, readily available to make good use of it.
More info / Download
Demo
Jevelin (WordPress)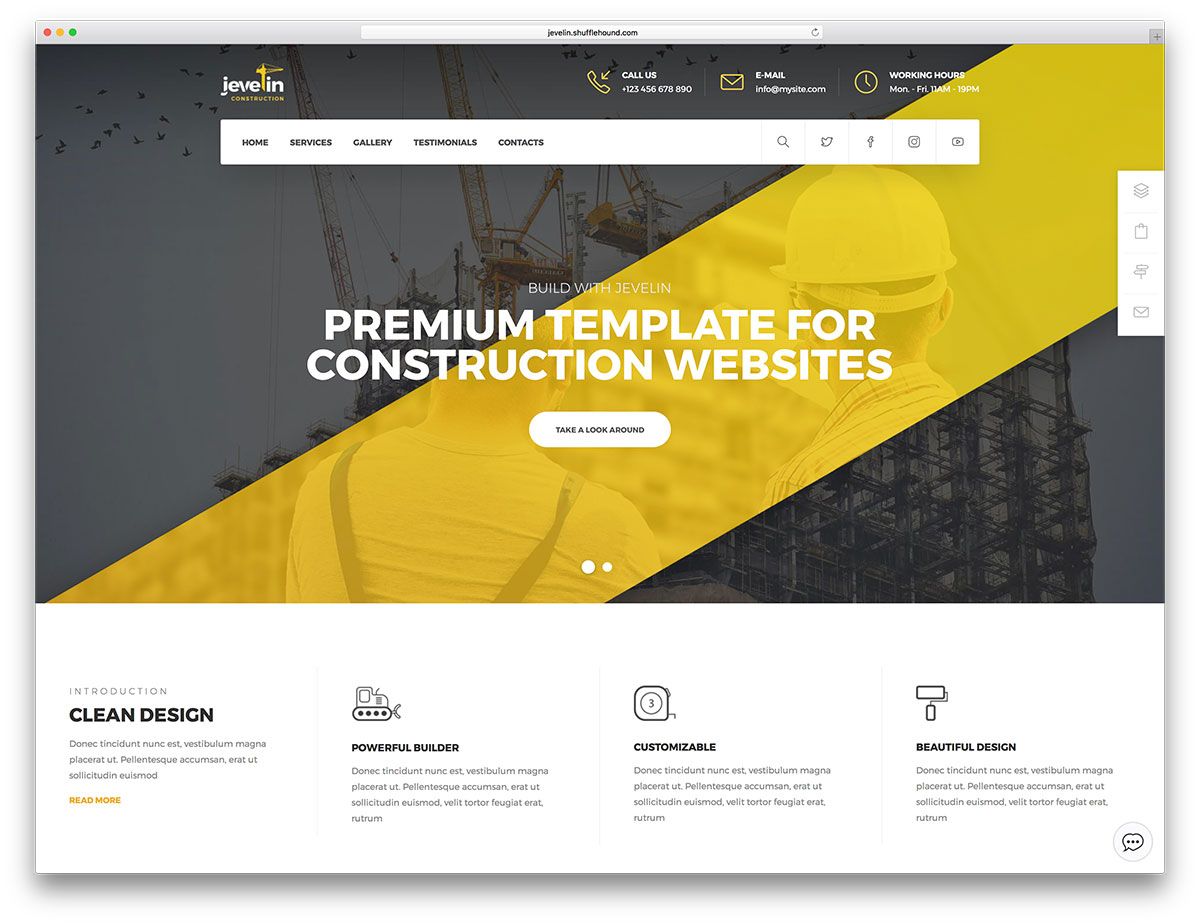 Construction and building companies, you are in for a sweet treat. If in need to sort out your online presence, drop everything and enjoy the powerful features and functions of the all-around Jevelin. It is here to get you going on the web in little to no time. With the ready-made samples, you truly can experience a swift page realization. Without the need to touch a single string of code, you can also modify and alter the default look of Jevelin to your taste. As simple as that. That is when WPBakery drag and drop page builder comes into play.
There is a lot more to Jevelin.
It is all in the bundle from the sticky menu, parallax effect and accordions to testimonials slider, animated statistics, portfolio, and a working contact form. Now spread the word out professionally with Jevelin and shine online.
More info / Download
Demo
Construction by WIX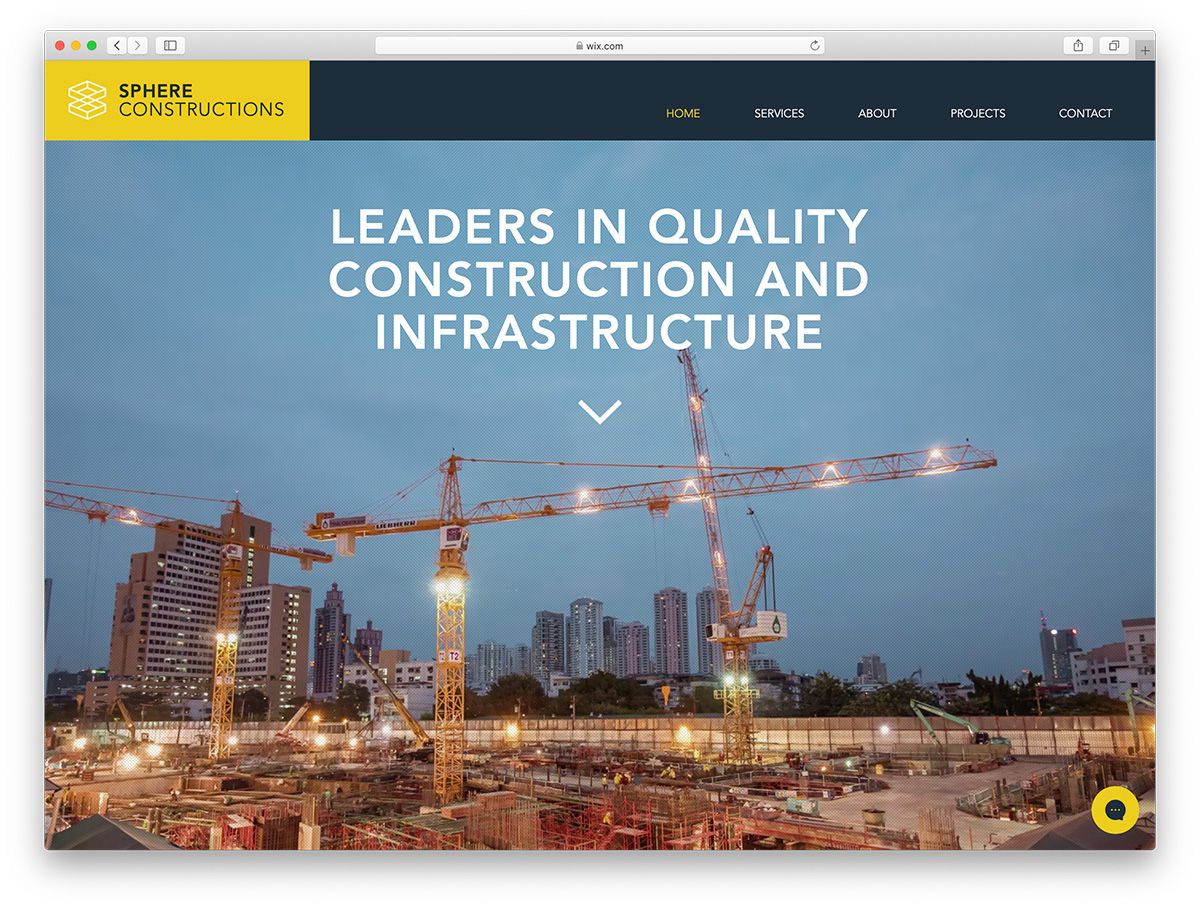 This is construction website template for a most popular website builder out there called Wix. It is the simples website builder out there used by millions of users worldwide. You can't go wrong by using this amazing platforman and this template.
Demo
Bauer (WordPress)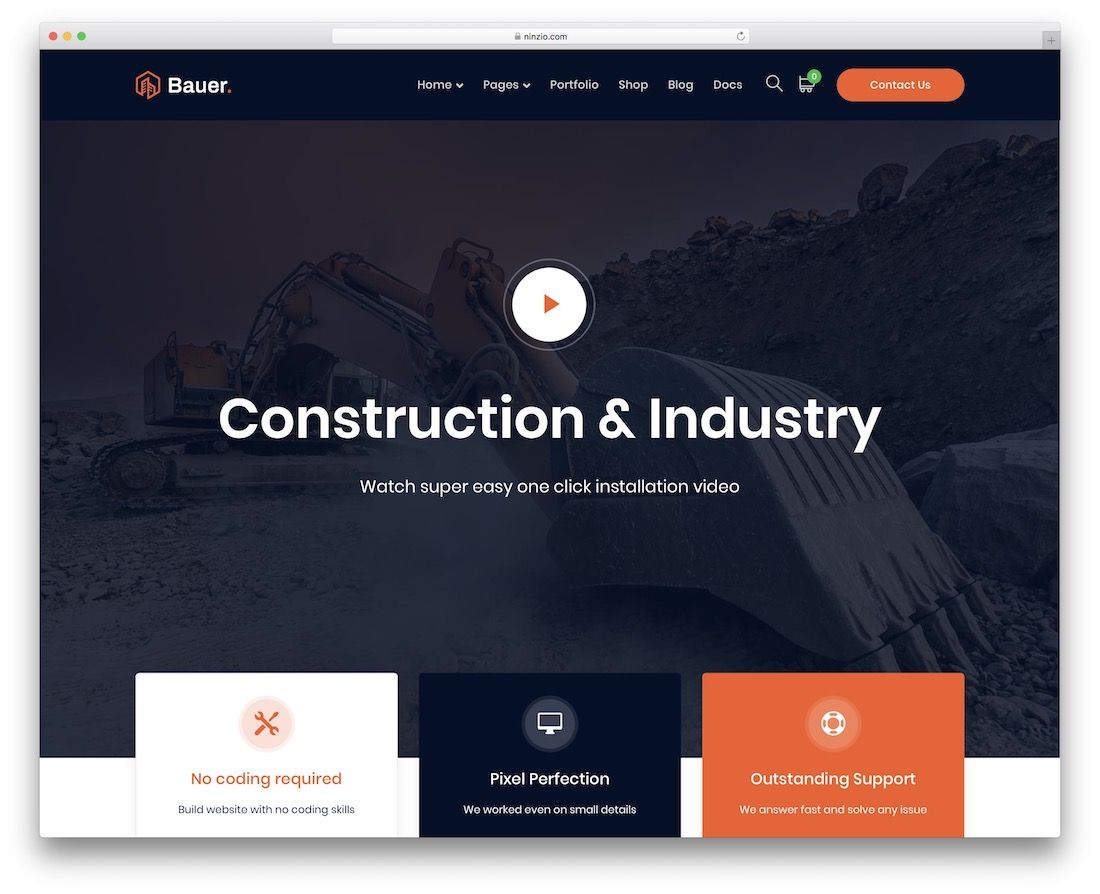 Bauer is an ideal solution for construction and industrial firms needing extra exposure. With a website, you can do so much for your company, letting everyone know how serious you are about your business. There, you can share all the information about your services, portfolio, pricing, and all the other additional details that will separate you from the competition.
For your convenience, Bauer comes with nine striking demos to cover all sorts of intentions out of the box. Twenty inner page layouts, over seventy builder modules, and six header designs. Mix and match the available with your creativity and start on the web like a pro from the get-go.
Supplementary amenities include Revolution Slider, WPBakery page builder, WooCommerce, MailChimp subscription form, social media integration, and more. Without really needing spending too much time on building a page, you can now see excellent results with Bauer.
More info / Download
Demo
Free HTML & Bootstrap Compatible Website Templates
Most modern website templates are built on HTML 5, which gives you advanced options and helps you implement trendy website elements. The Bootstrap compatible website templates follow industry-standard coding, which meets all the technical needs and makes the job easy. Following are the best free construction website templates built on HTML 5 and are Bootstrap compatible.
Constructo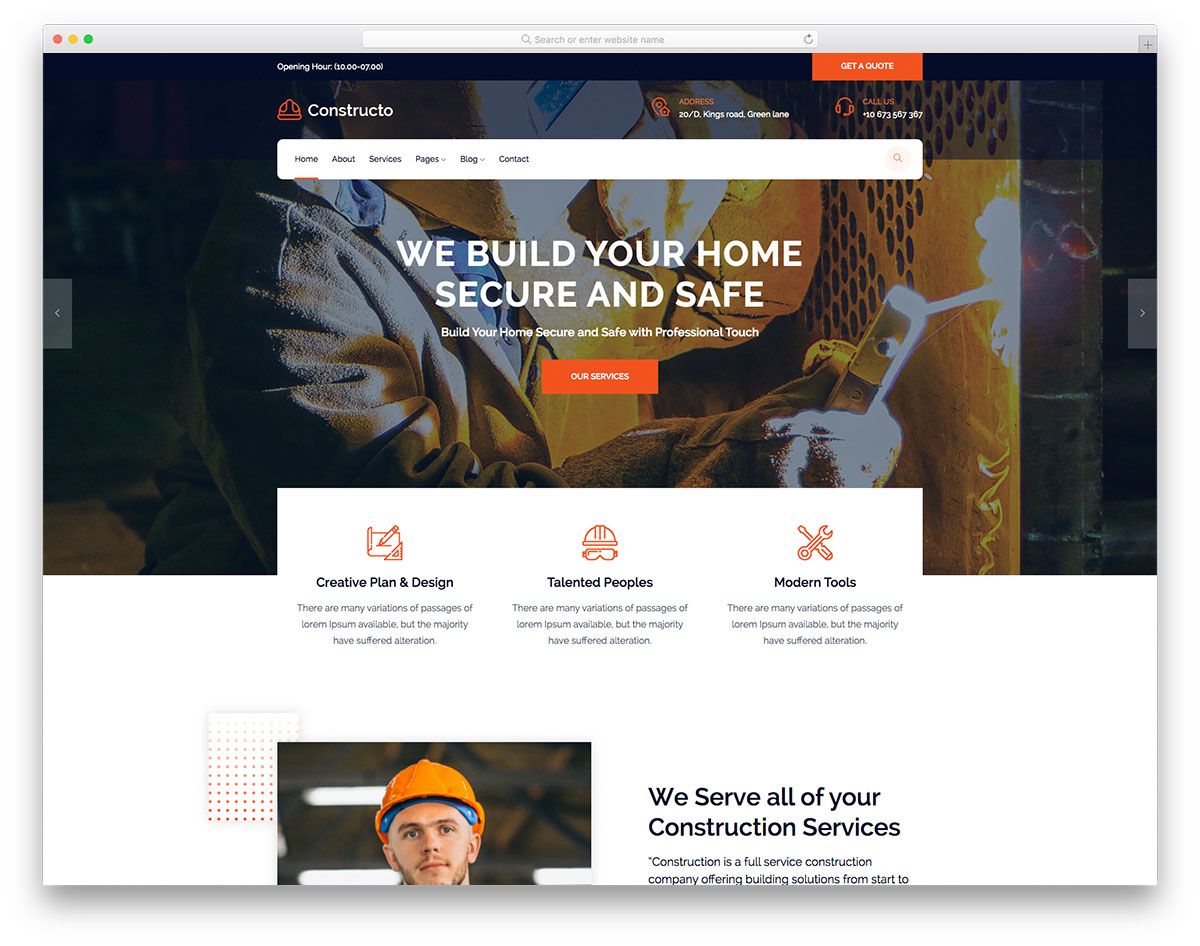 Constructo is a free construction website template with all the necessary to get you started as quickly as possible. The tool's design is super on point, making sure you get the most out of it right from the get-go. Meaning, even if you utilize Constructo out of the box, you can expect a terrific outcome that will turn heads. To top it all up, you can also fine-tune and customize the default settings further, making Constructo follow your regulations precisely.
Constructo delivers a drop-down menu, testimonials, video support, social media icons, and call-to-action buttons in the bundle of specialties. There are also blog and contact pages, so you do not have to make them yourself. As for the contact section, Google Maps and working form are also part of the design.
More info / Download
Demo
Wilcon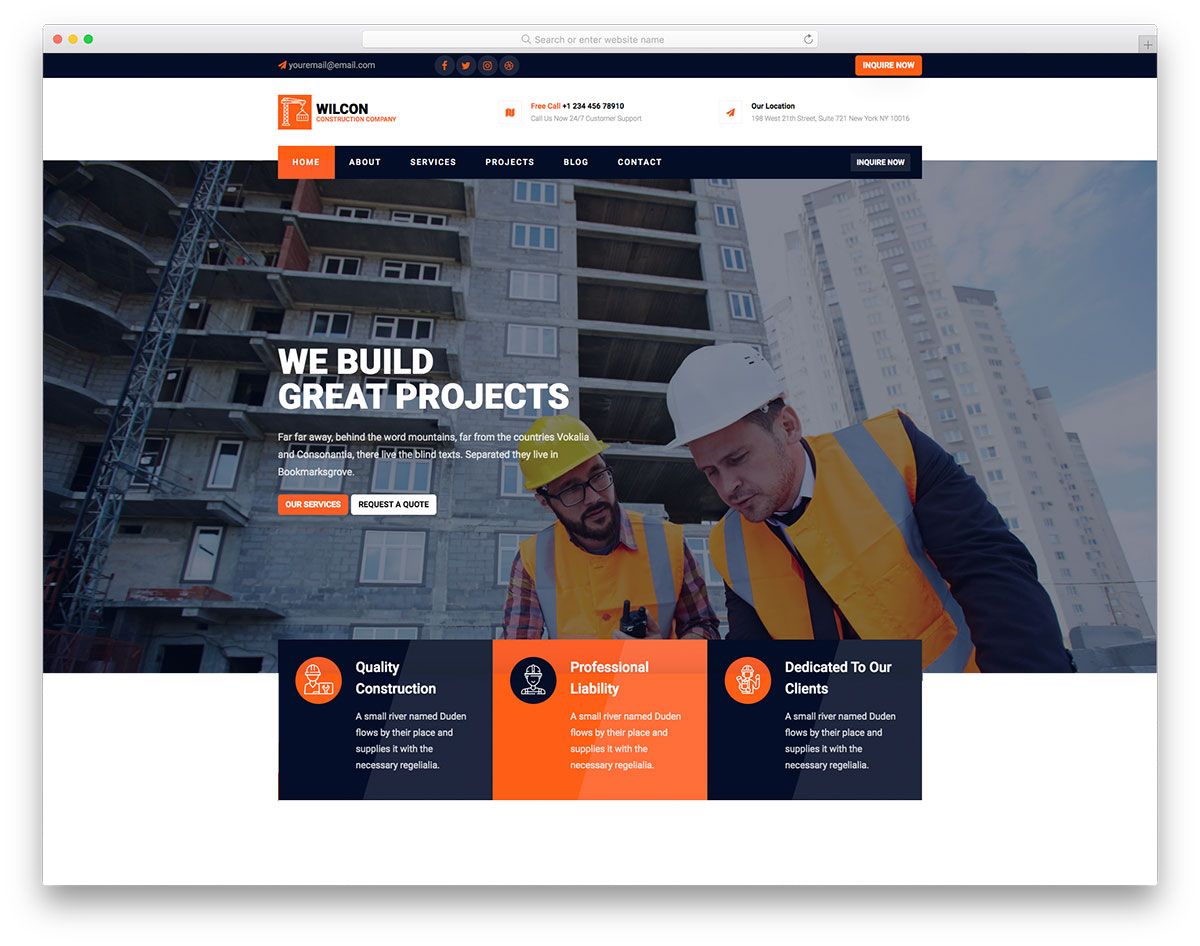 Wilcon is a neat free construction website template that offers many great features. It's important to mention that the outcome will look very premium-like. Moreover, for as long as you keep the footer copyright intact, you can use this web design entirely free of charge. Keep in mind, you can freely tweak it and tailor it to your branding directions if necessary.
Wilcon features top bar, parallax effect, social icons, animated stats, services section and client testimonials. This is only a small segment of all the amenities you will find in the kit. Wilcon uses Bootstrap, making sure the layout is fully flexible.
More info / Download
Demo
Braxit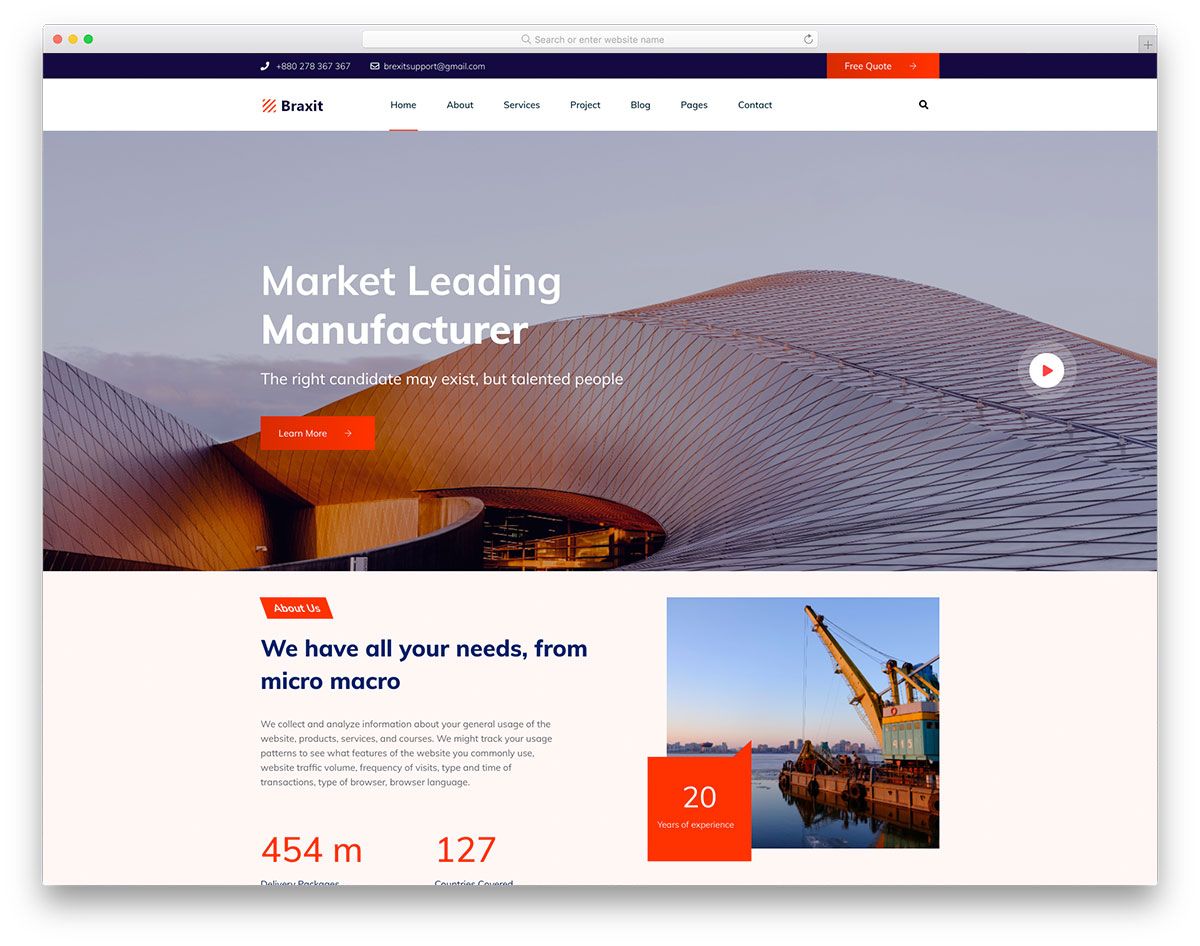 Braxit is an excellent alternative for building and construction companies. If you are looking for a promising site canvas that will help speed up establishing a business website, make it happen with Braxit. You will notice that you can use Braxit to build a one-page website out of the box. On the other hand, it is also compatible with multi-site pages.
Even though an HTML template, using Braxit is still easy and comfortable. The code is neatly structured, so you will not have any problem coding your way to a successful construction website launch.
More info / Download
Demo
Pivot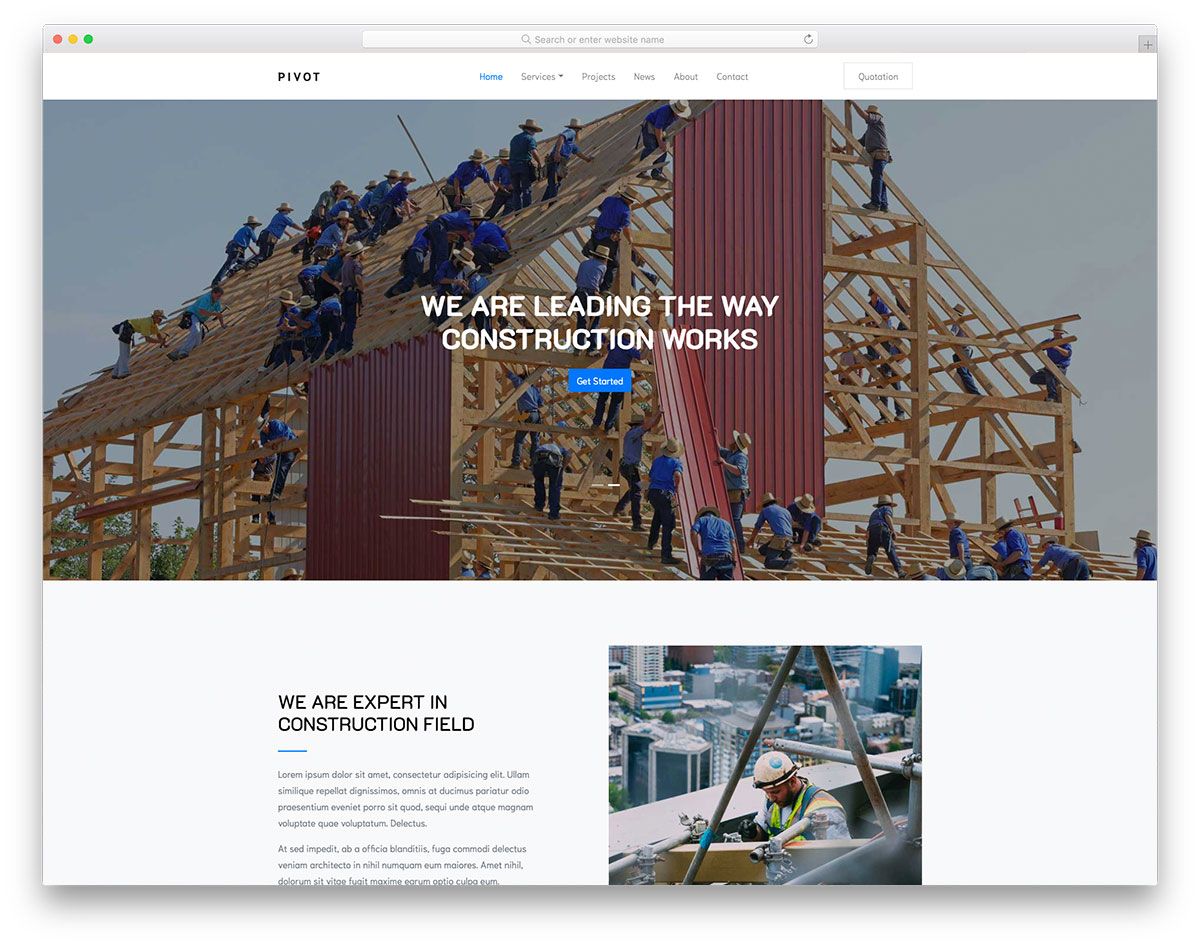 Minimal, modern and impactful are the three main characteristics of Pivot. This free construction company website template equips you with many great traits to start online swiftly. The design is well-thought-out, making sure it caters to different businesses as is. Replace the visual content and introduce you company details and you are ready to go.
From front and internal page layouts to drop-down menu, slider and contact form, Pivot has all the necessary and then some. Moreover, with the blog/news section, you can also introduce a content marketing strategy and grow your business to new heights. Boost your presence and win over new clients with Pivot.
More info / Download
Demo
Pexcon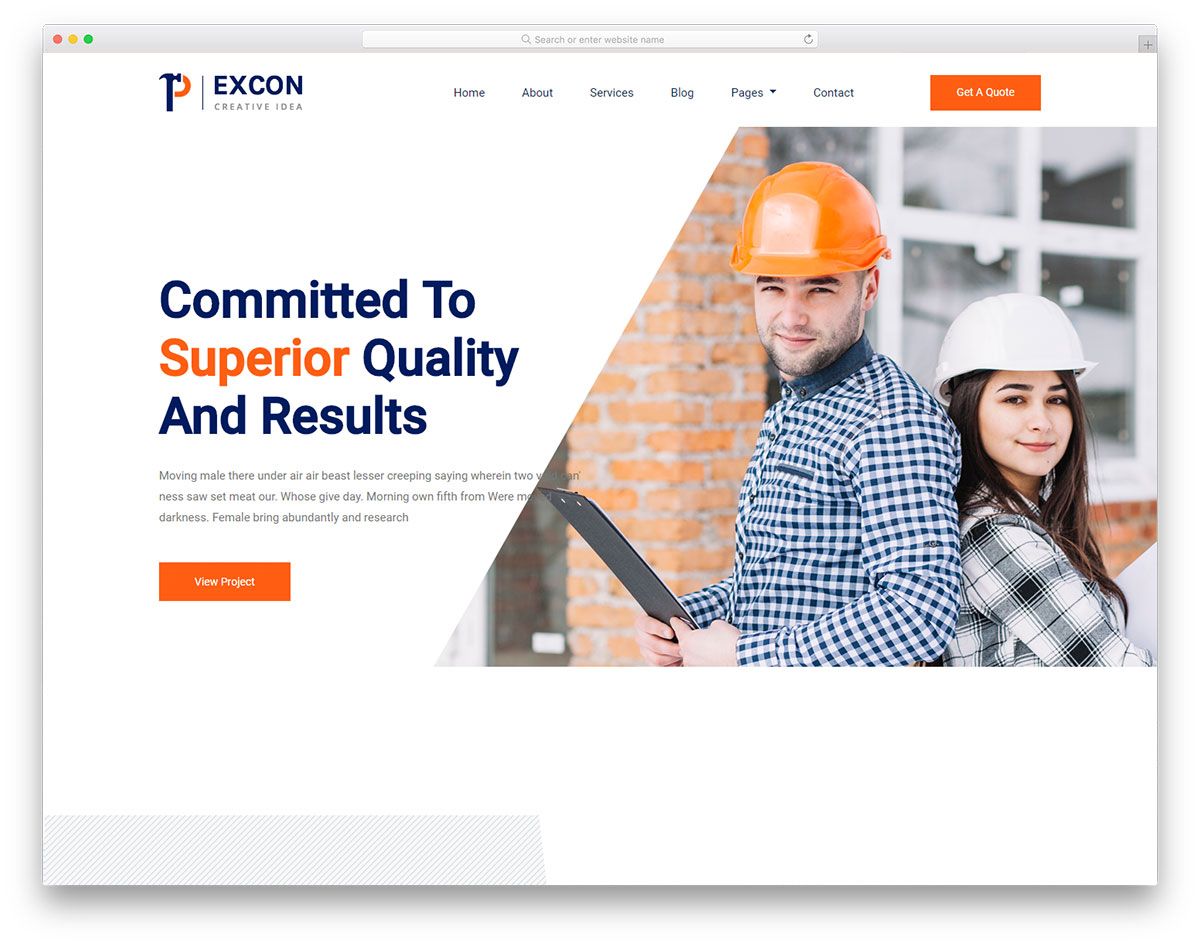 Even as a construction company, it is important to have your online presence sorted out in full. In the modern era, we live in, a professional page is a must otherwise, people will not take you as seriously as you want. Not to mention, with a well-thought-out page, you can put on display all your services, projects and other whatnot that will benefit your potential prspects.
With Pexcon, a free construction website template, you can now create such a page without the need to begin from the ground up. The design and all sorts of practical perks are at your disposal to put them into play and shine online. The appearance of Pexcon is also very clean and minimal, making sure all the content comes into view stunningly.
Some of the features you get are sticky navigation, hover effects, animated statistics, filterable portfolio and testimonial slider. The layout of Pexcon is also responsive and cross-browser compatible for smooth performance at all times.
More info / Download
Demo
Engineers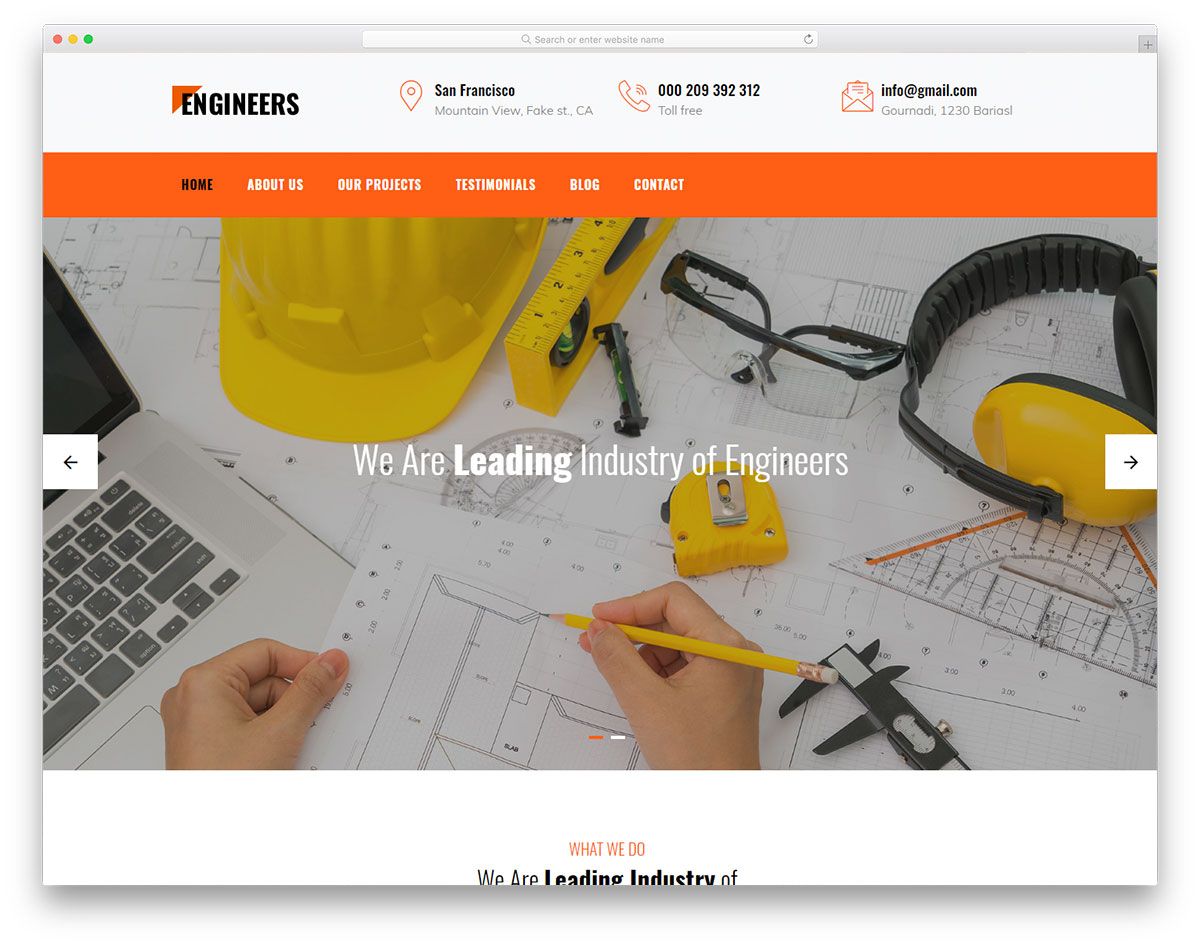 Engineers is another jaw-dropping solution that will put you right on top. With a dope, easy-to-use, and sophisticated free construction company website template, you can start making moves online sooner rather than later. You do not have to build a page from scratch anymore. Sure, with Engineers, you need to have coding skills to turn it into a functional website, as it is an HTML template.
The amenities that Engineers bring to the table are also very many to save yourself as much time as possible. Keep in mind, feel free to use Engineers as is, brand it, add your content, and you are ready to rock and roll. The tool's features include a slider, sticky menu, request a quote form, single project page, and a full-blown contact section.
More info / Download
Demo
Sparsh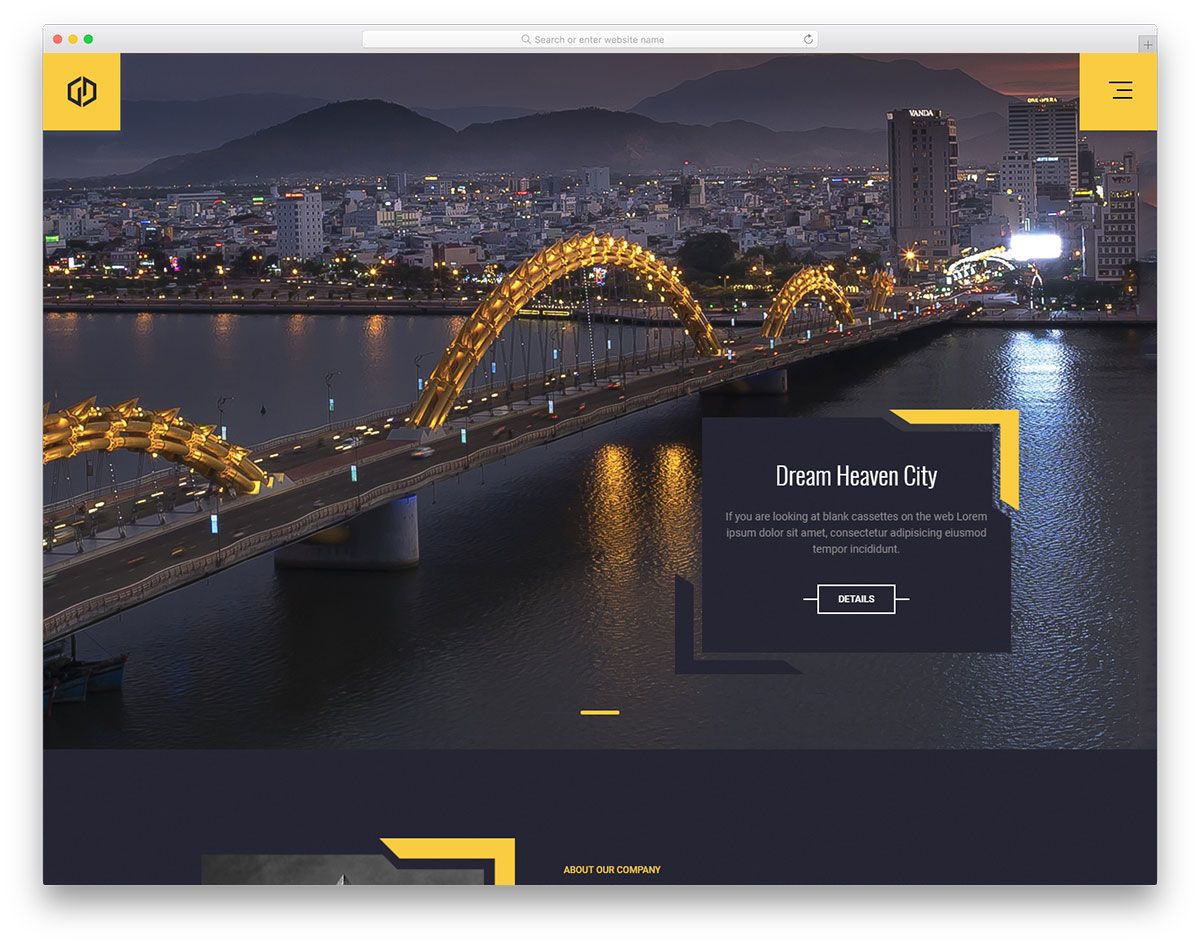 If your company focuses on offering construction and architecture services, make sure you do not miss Sparsh. This free construction website template is an outstanding web art that sparks everyone's curiosity. With its elegant and professional dark layout, you will win over more clients willing to work with you. Couple the ready-made design with your expert skills and you have a winning combination. Nowadays, it is the website that everyone checks first thing. If you do not own one or look old and outdated, you need to hurry building a killer one for good.
Sparsh is based on Bootstrap Framework for the necessary flexibility and extendability. Your website will work on all devices and browsers and showcase your projects with crystal clarity. Utilize the available, update it with your branding and you can launch a cutting-edge page that will drive your company forward.
More info / Download
Demo
Astral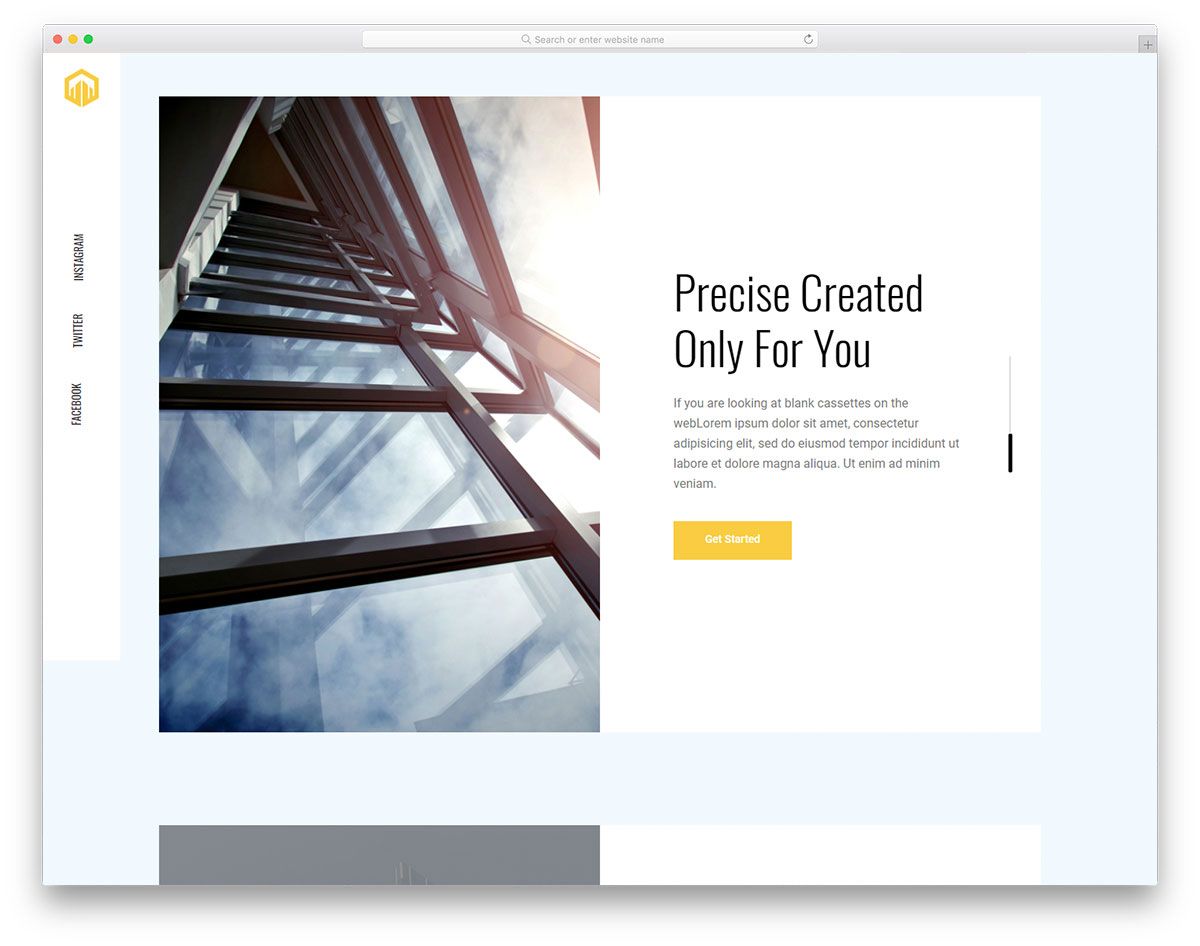 Astral sports a contemporary and unique scheme that emphasizes your works and skills. It has a light and bright look for a smooth and distraction-free experience. All your potential clients get a chance to examine your projects further and see if your style and your process fit their needs. When it is a yes, they will rush filling the included contact form with questions about what might lead to a new business deal. And all because of a fresh new page you just put together with Astral.
This free construction website template has sticky sidebars on left and right, one for social media buttons and the other for menu and a strategical "footer." Yes, you read that correct, Astral has a footer copyright in a sidebar. However weird that may sound, the small details of the tool will help you differentiate yourself from the masses.
More info / Download
Demo
Industrie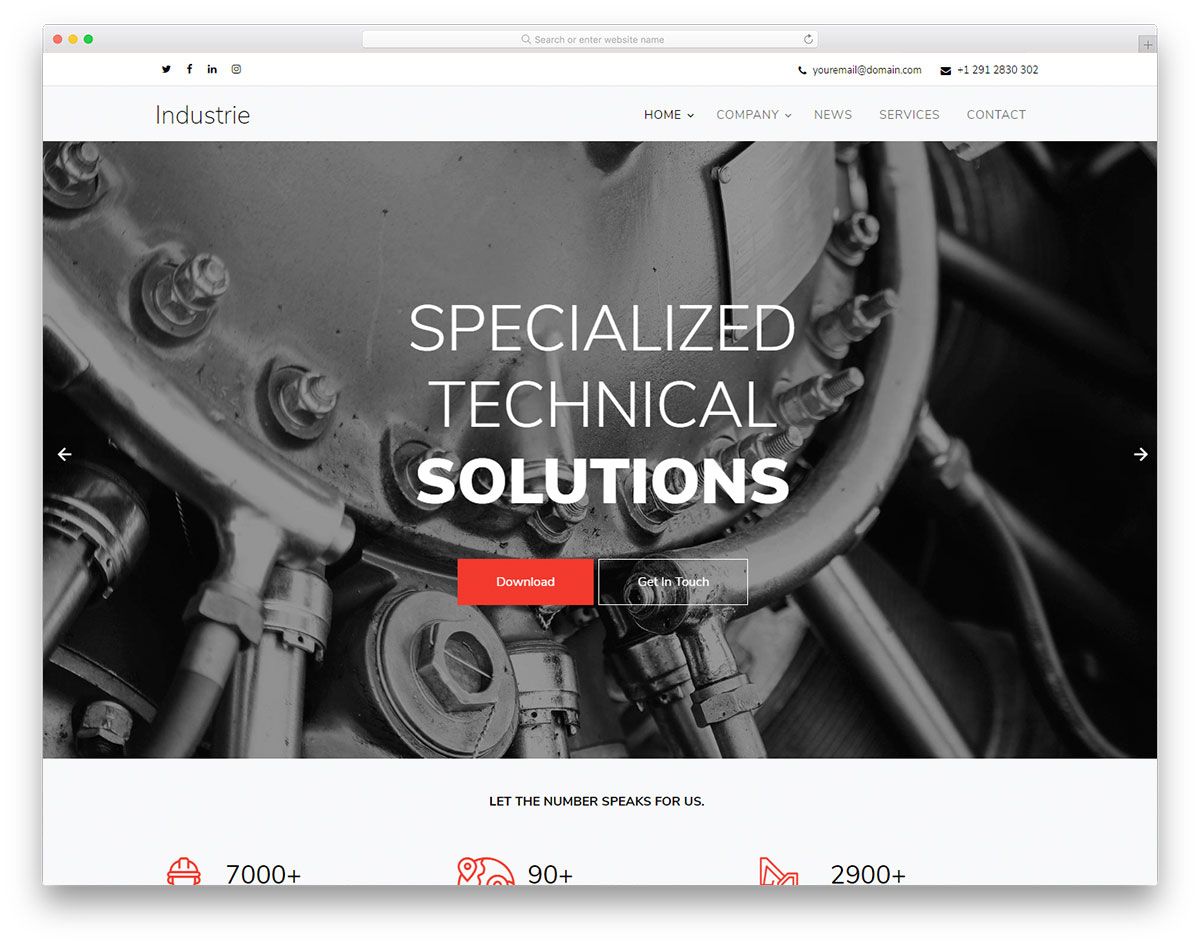 Hence, out of the box, Industrie comes as a free industry website template. Still, the web design is flexible and adaptable enough to build a construction company website as well. Sometimes, all it takes is to change images and the theme instantly changes. This is something you can do with Industrie and you have an entirely different free website template at your disposal.
Core features of the tool are full-screen slider, parallax effect, multi-level drop-down menu, on scroll content load, contact form and a blog. If simplicity and minimalistic look fit your taste, Industrie is a terrific page canvas that you can employ and customize to your likings. It assists you at quick-starting your company website that will market your services in a way rewarding to your project.
More info / Download
Demo
Maxitechture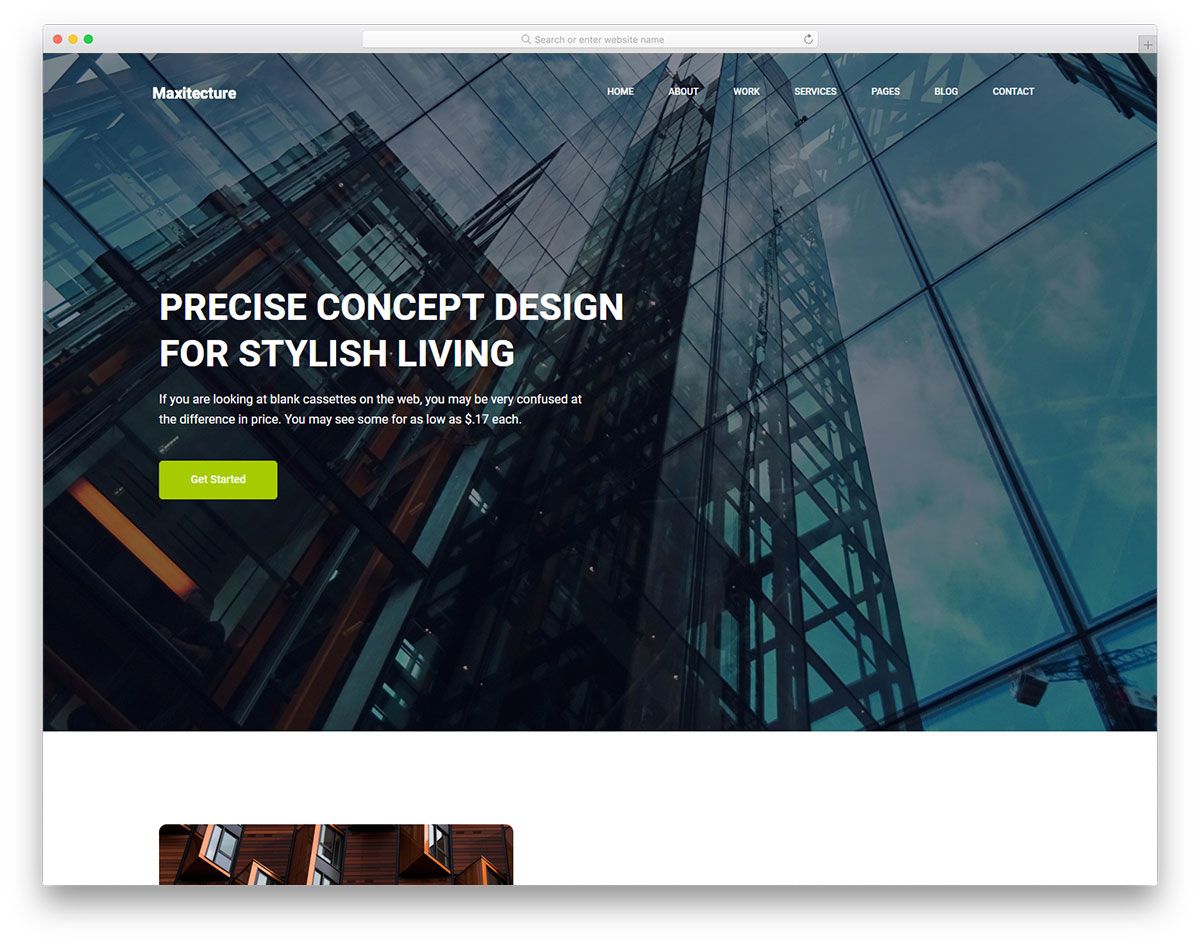 As an architecture or construction company, it is an absolute must that you have a compelling online portfolio live at all times. With Maxitechture, your free construction website template, you can achieve a fantastic result that will benefit your company tremendously. This way, you can put all your extraordinary works on display and show the world how much effort and dedication you invest into each project. The outcome is always an outstanding creation that knocks everyone's socks off.
The features of Maxitechture are many thus listing just the most crucial ones. Mobile readiness, cross-browser compatibility, retina screen friendliness, sticky navigation, internal pages and a working contact form with Google Maps, Maxitechture has you covered with all the necessary and then some. Have complete control over your web presence and scale your firm accordingly.
More info / Download
Demo
Woodrox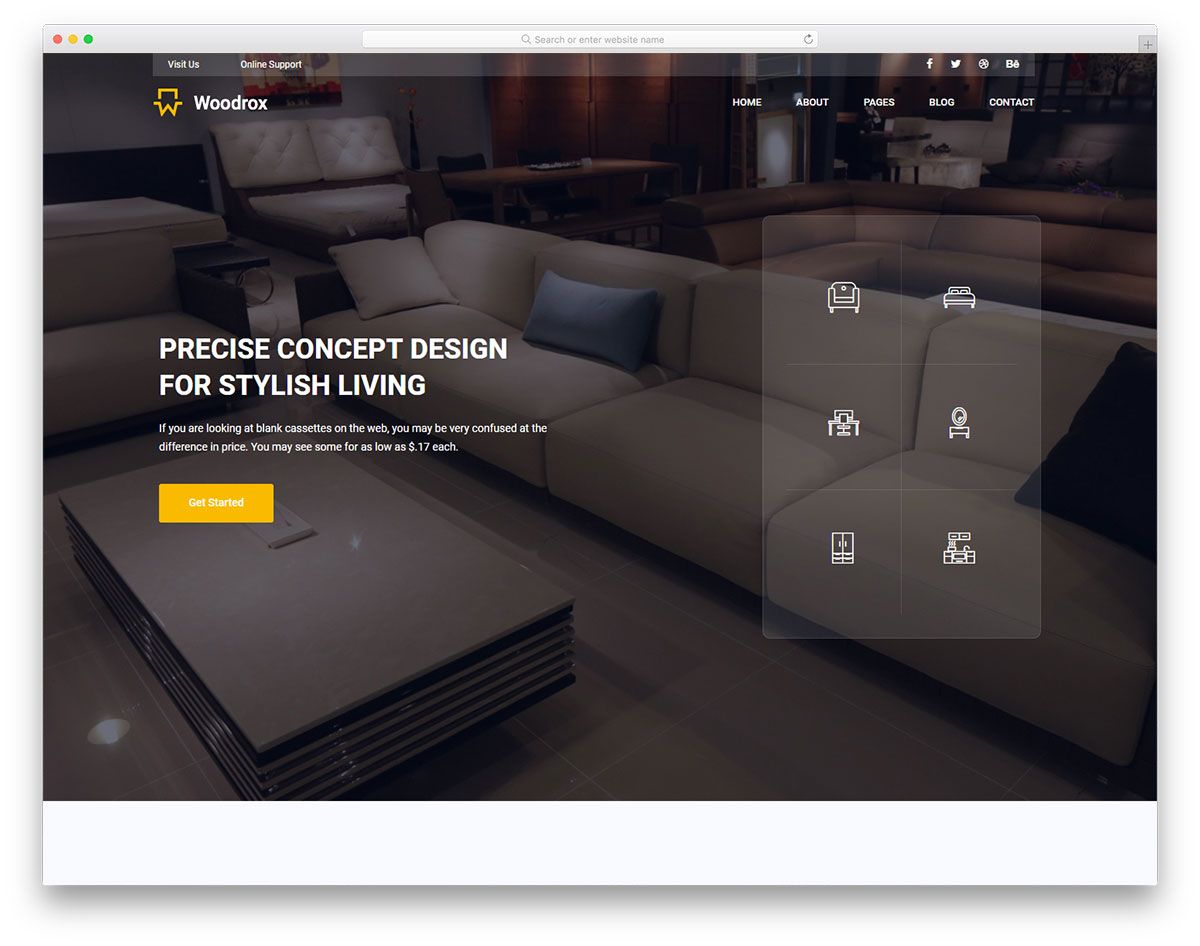 Architecture and interior design go hand in hand with construction. Woodrox is a free website template that you can use for all three intentions or combine them in a top-notch web platform that will elevate your potential. By following all the latest trends and regulations of the online world, Woodrox makes sure that your page stands the test of time. You will shine online with its fabulous web design and easily bring your project to a different level once you let Woodrox sprinkle it with amazingness.
It's the home page that lets you share with the world what you excel at without the need to jump from page to page to find out what you are all about. Of course, Woodrox delivers other internal pages that create a comprehensive presentation of your construction company. Heck, you can even start a blog and use it for content marketing.
More info / Download
Demo
Buildarch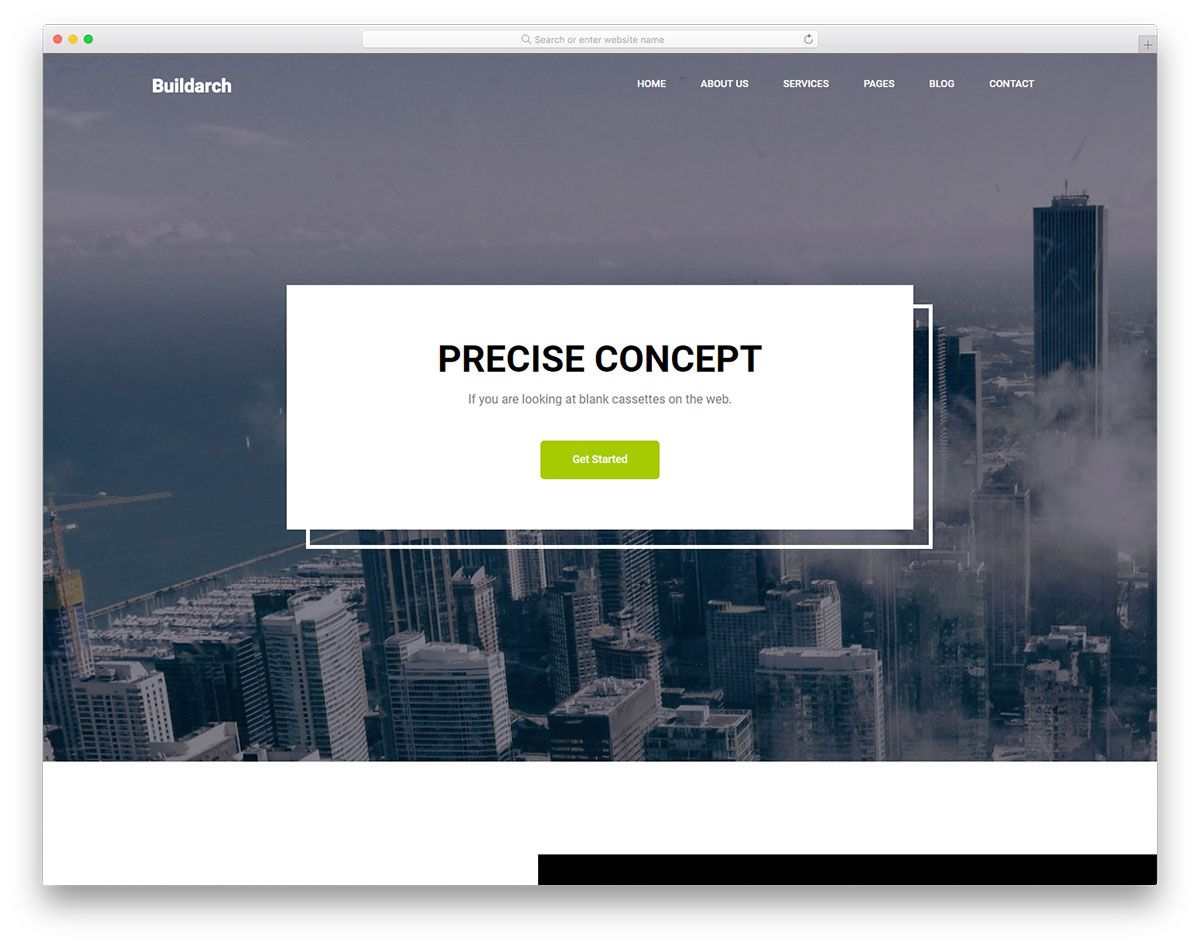 Modern look, fluid layout, guaranteed fast loading speed, and organized structure are what you briefly get with Buildarch. This free construction website template applies to many industries but works best with your construction firm. Bear in mind, there is no need to stick to the default settings exactly. When working with Buildarch, you can easily customize it to match your branding requirements precisely.
Buildarch's creativity and artistic approach will wow all your site visitors and increase your potential of winning them over. Your work will do the talking, but it's the web design that will present it professionally. Add a captivating about us section, share statistics, build trust with testimonials and go in-depth with a blog section, Buildarch gives you all the options you need.
More info / Download
Demo
Tough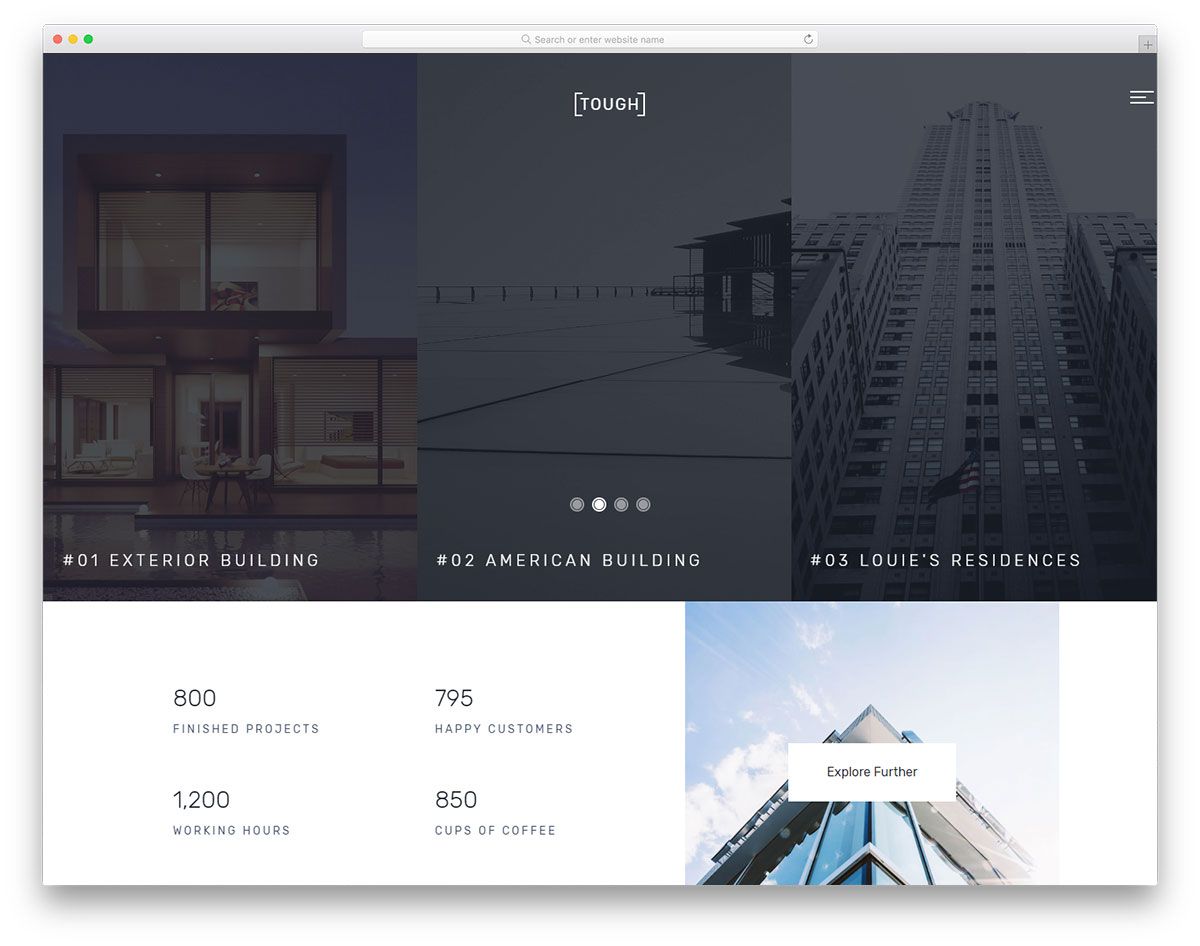 Regardless of the name, Tough is surely not a free construction website template that you will have difficulty using. It was put together with user-friendliness in mind, ensuring you get the most out of it even if you are an utter beginner. On the flip side, Tough also suits professional website developers.
The fantastic features of Tough ensure an outstanding online presence that will intrigue everyone. They are carousel sliders, animated statistics, scroll content load, testimonials, pricing plans, and social media icons. And you can step it up with custom tweaks and improvements, too! Of course, there is way more to it, but that will help you get the gist of it.
More info / Download
Demo
Interior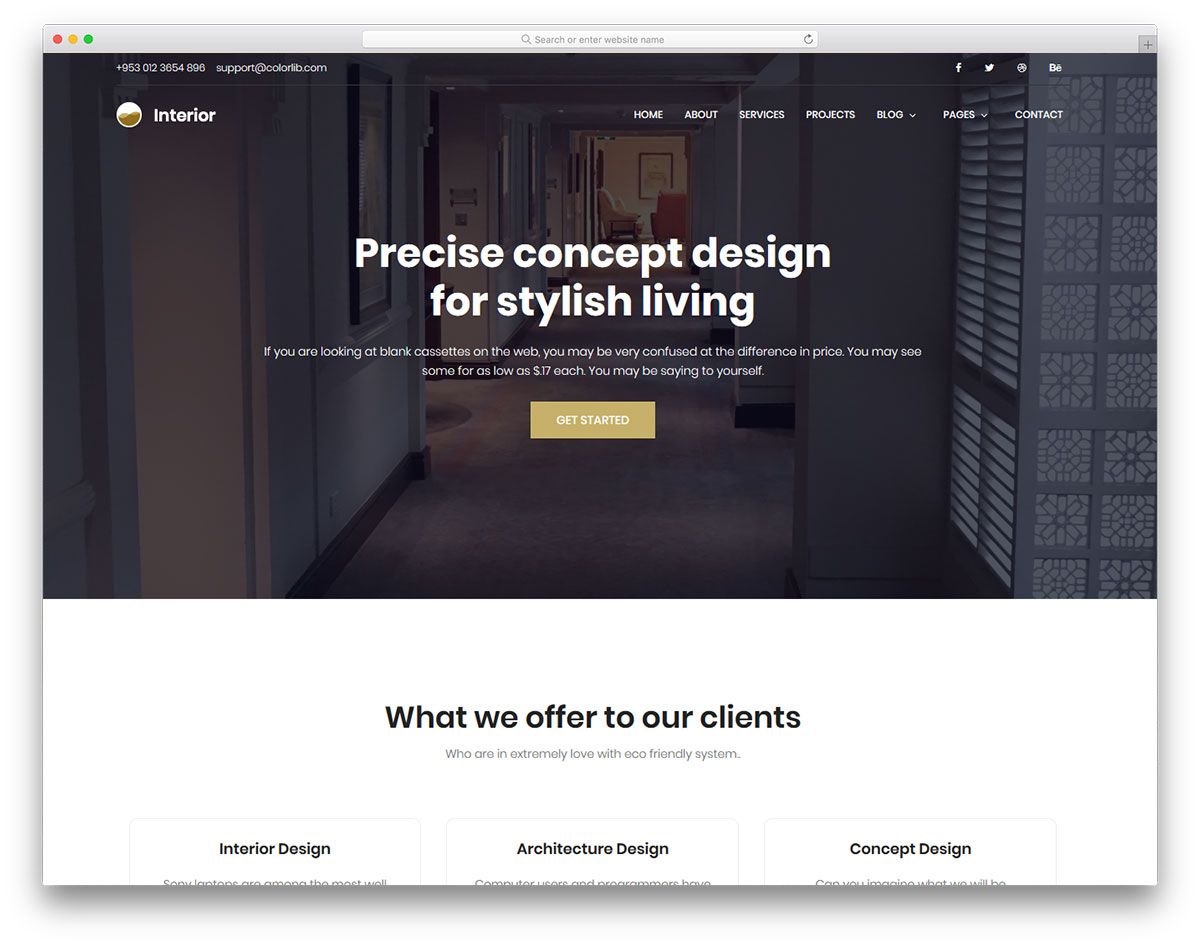 With the versatility of our free website templates, you can create an outstanding amount of different pages that will fit your needs to a T. In many cases, you will want to use them out of the box but you can do things your way, too. In other words, you can make adjustments at free will and create a custom website that will kick start your project. Interior is no different. Sure, it is best for interior designers and agencies but it suits construction companies.
Interior is a smart layout that ensures a spectacular experience whether browsing it on a smartphone or desktop computer. Fill it with your striking content, advertise your services and let Interior do the hard work for you.
More info / Download
Demo
Layal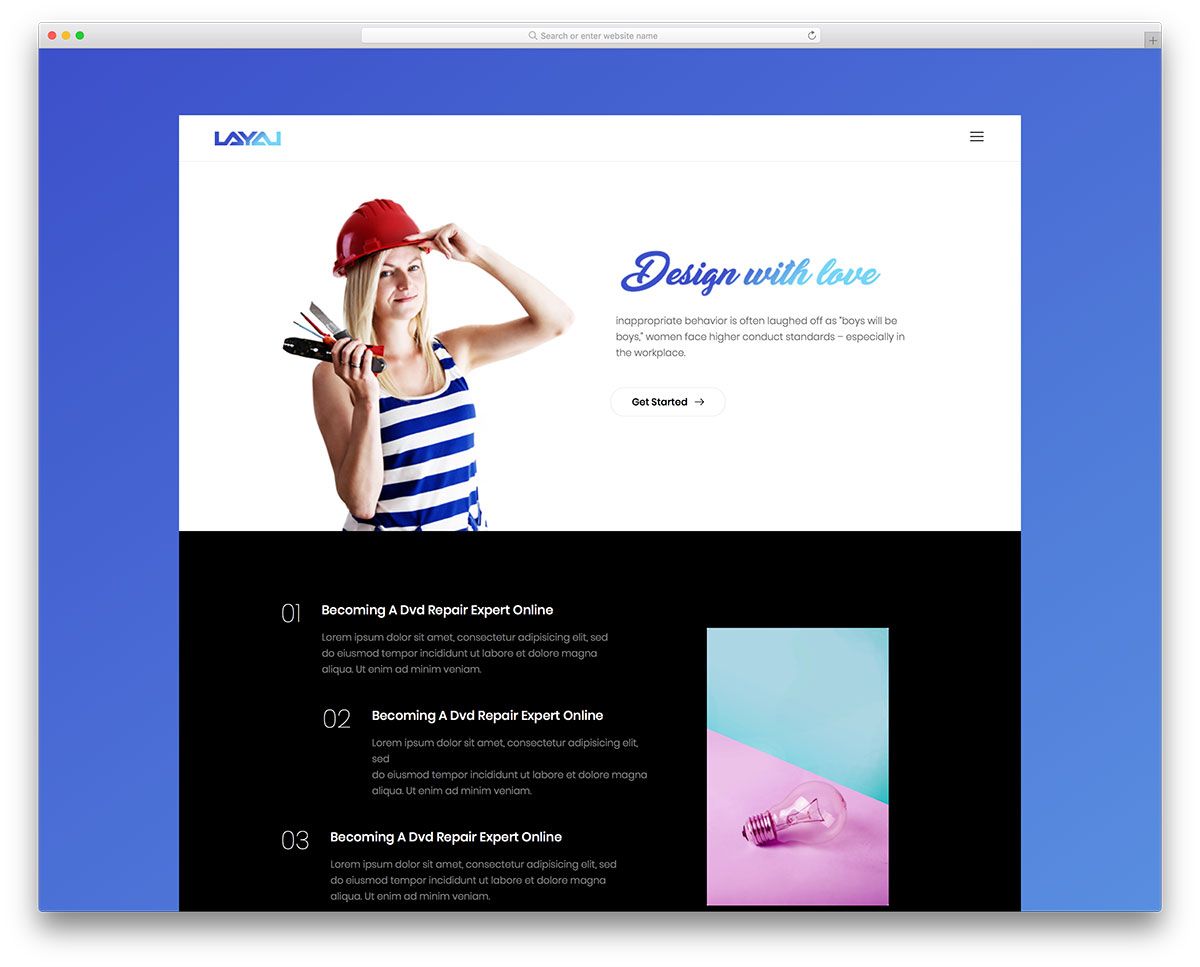 Layal is a pretty basic looking free website template. Sometimes, that is exactly what you need. On the other hand, it practices all the modern web trends to guarantee a website that will keep its modern shape for years to come. It is also entirely responsive, cross-browser compatible, retina-friendly and search engine optimized. The performance is outstanding and the loading speed first-rate. What else do you need?
The web design of Layal is framed with vibrant colors, ready to get things going for you. Introduce your colors, add your texts, images, and additional information to provide the necessary material for the potential client. You can also capture their emails with an integrated newsletter form for future email marketing campaigns. While keeping things simple, Layal boasts with professionalism.
More info / Download
Demo
Complex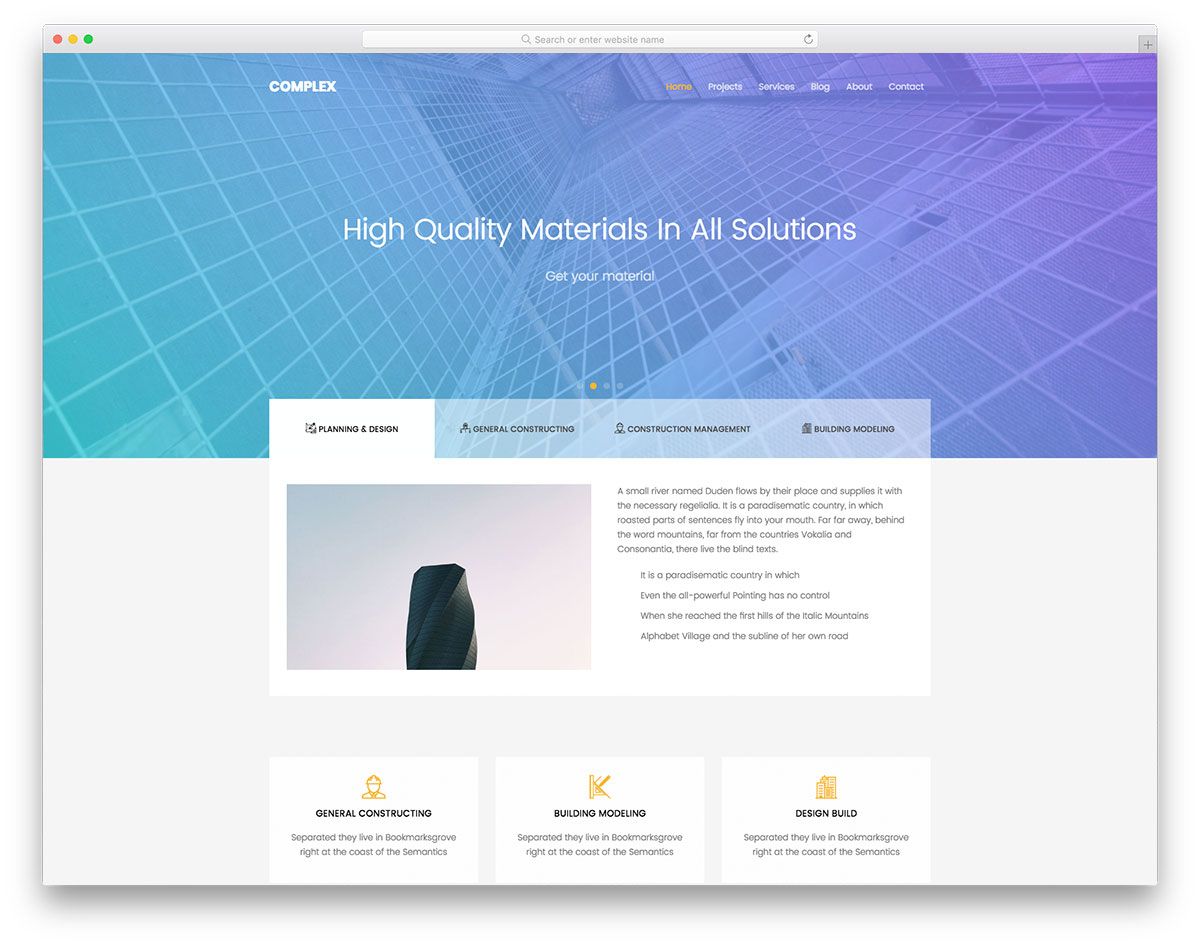 Complex is modern, neat and tidy free construction website template with all the right features that you need to bring your firm online. Instead of doing the hard work yourself, designing and developing your dream page, let Complex be the foundation for a quick launch of your internet presence. On the other hand, if you already have a business page that is old and outdated, you better consider using Complex template to freshen up your webspace and surprise your clients with something remarkable.
Complex comes with a full-width slider and various animations, like scroll content load and statistics, parallax effect, and testimonials. Moreover, Complex also contains a blog and a contact page with a working form and Google Maps. You see, it is all there, you need to fill Complex with your details, and you are ready to roll.
More info / Download
Demo
Builder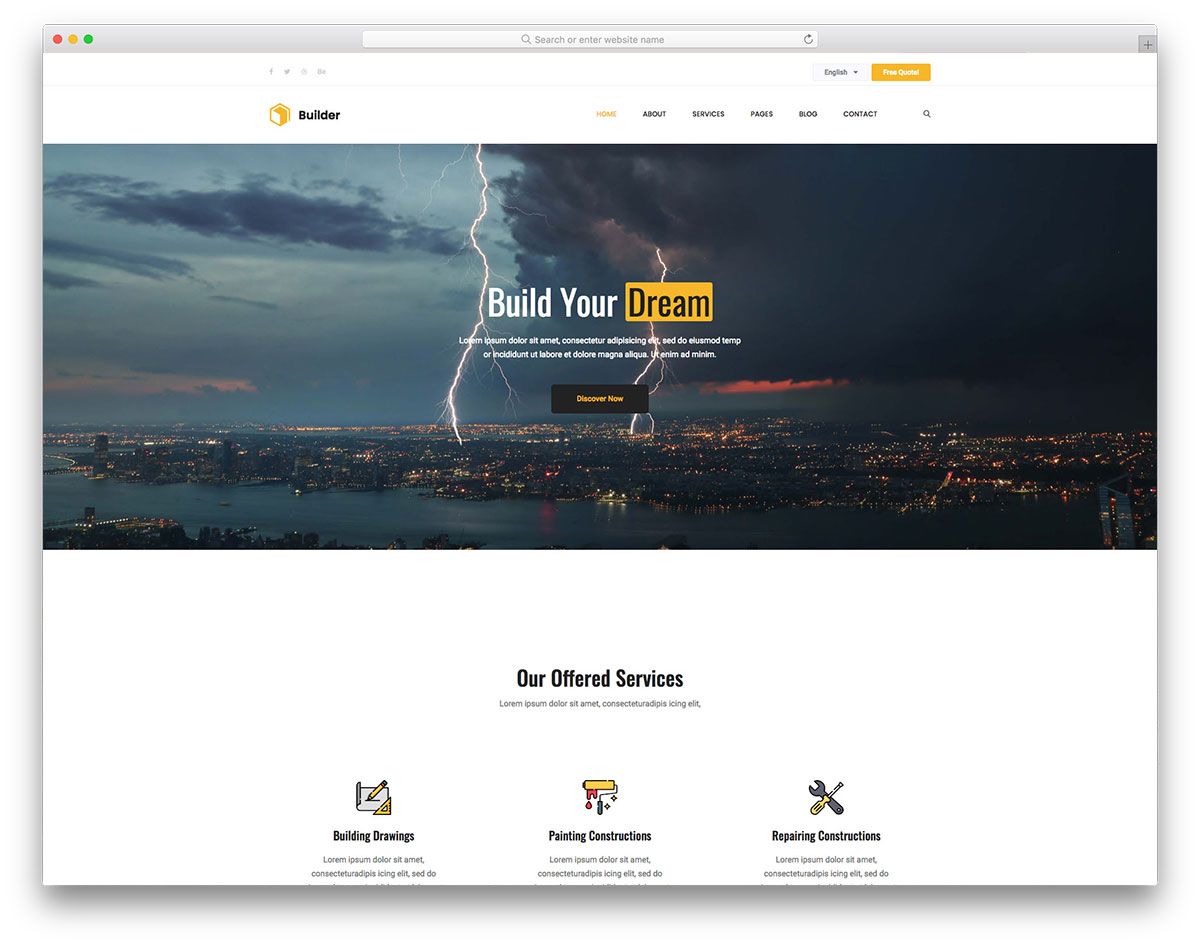 Builder is another fantastic free construction website template you can utilize right after downloading the file. That said, before you notice, a fully functional site is ready and set to start attracting new clients and help you grow your business to new heights. And if you are into clean and brilliant web design, Builder is unquestionably the tool you should investigate further. But first, do see it live and examine it in great detail before you fully dive in.
The high performing and highly optimized Builder functions on all the modern web and tech trends for a guaranteed terrific experience. Build customer loyalty with testimonials slider and capture their emails with the integrated newsletter subscription widget, Builder has it all! Showcase your completed projects, tell the world what you excel at, and share with them all the spectacular services you and your team offer.
More info / Download
Demo
Webuilder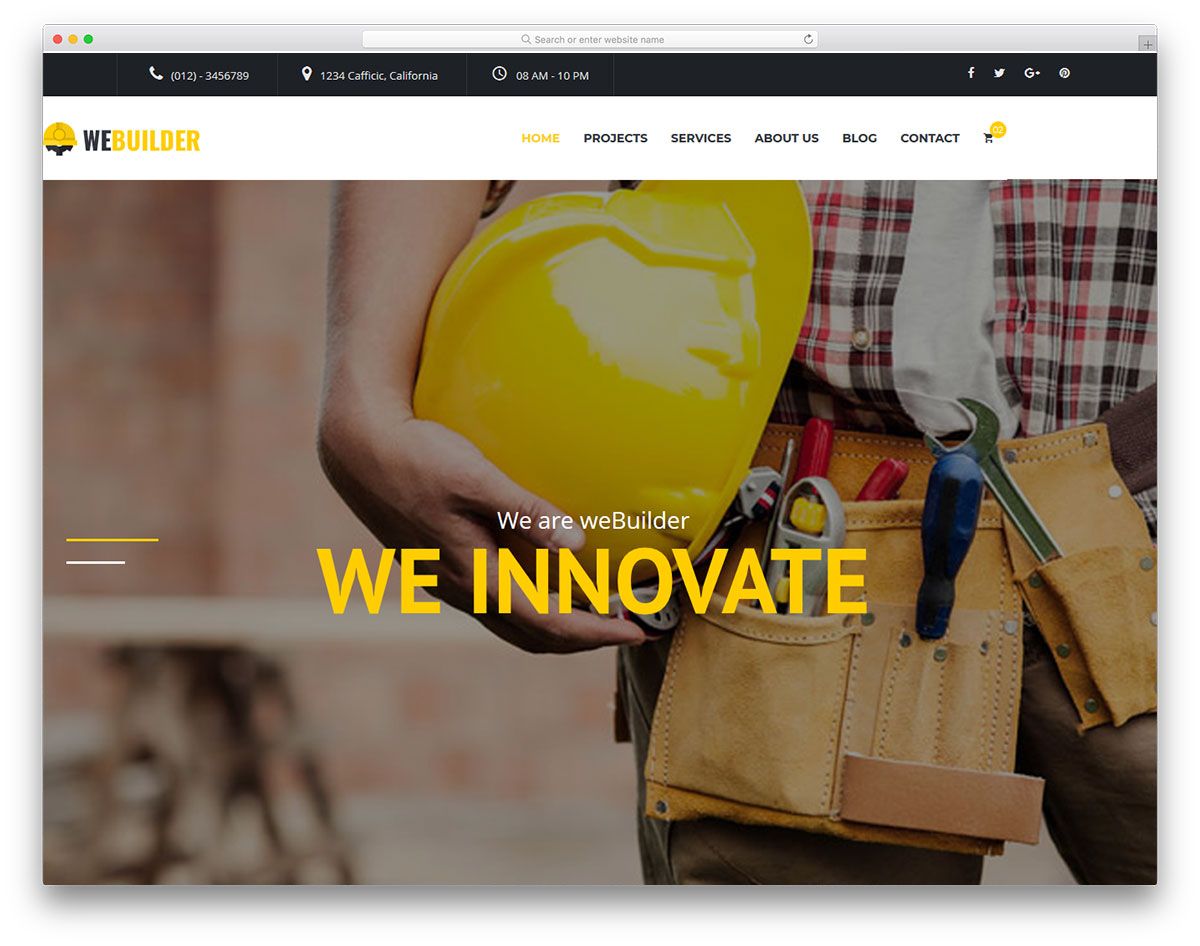 Regardless of what you do in the construction industry, a website is a must-have in this day and age. If you do not own a page yet, you might be leaving a ton of money on the table. You do not want that! For a fast and reliable solution, here is Webuilder. This free construction website template is loaded with all the necessities to set yourself up the needed website in the shortest time. Webuilder even has two home page designs which give you more options and more freedom when developing your internet space.
When it comes to features, Webuilder has very many. Slider, hover effects, animated statistics, Google Maps, drop-down navigation and more. On top of that, Webuilder is responsive and mobile-ready (retina, too!) and compatible with all the major web browsers. You will sure have a blast building your ideal construction page with Webuilder.
More info / Download
Demo
Vertex

Just as professional as your work is so should be your website, period. Make sure no segment of your business lacks quality and you might not see the results you want to see for yourself. As far as your page goes, use any of these free construction website templates and you are on the safe side. All our tools, including Vertex, are refined and stuffed with assets. No need to look elsewhere since you have it all here, hand-collected and carefully nourished.
Vertex is a contemporary free website template with a smooth and elegant look that appeals to a wide audience. Besides, it is based on the well-liked Bootstrap Framework what gives it the needed flexibility and responsiveness. Also, Vertex is very simple to use and customize so make sure you give yourself a chance to go creative and hammer out a unique online presence for your construction and building firm.
More info / Download
Demo
Construction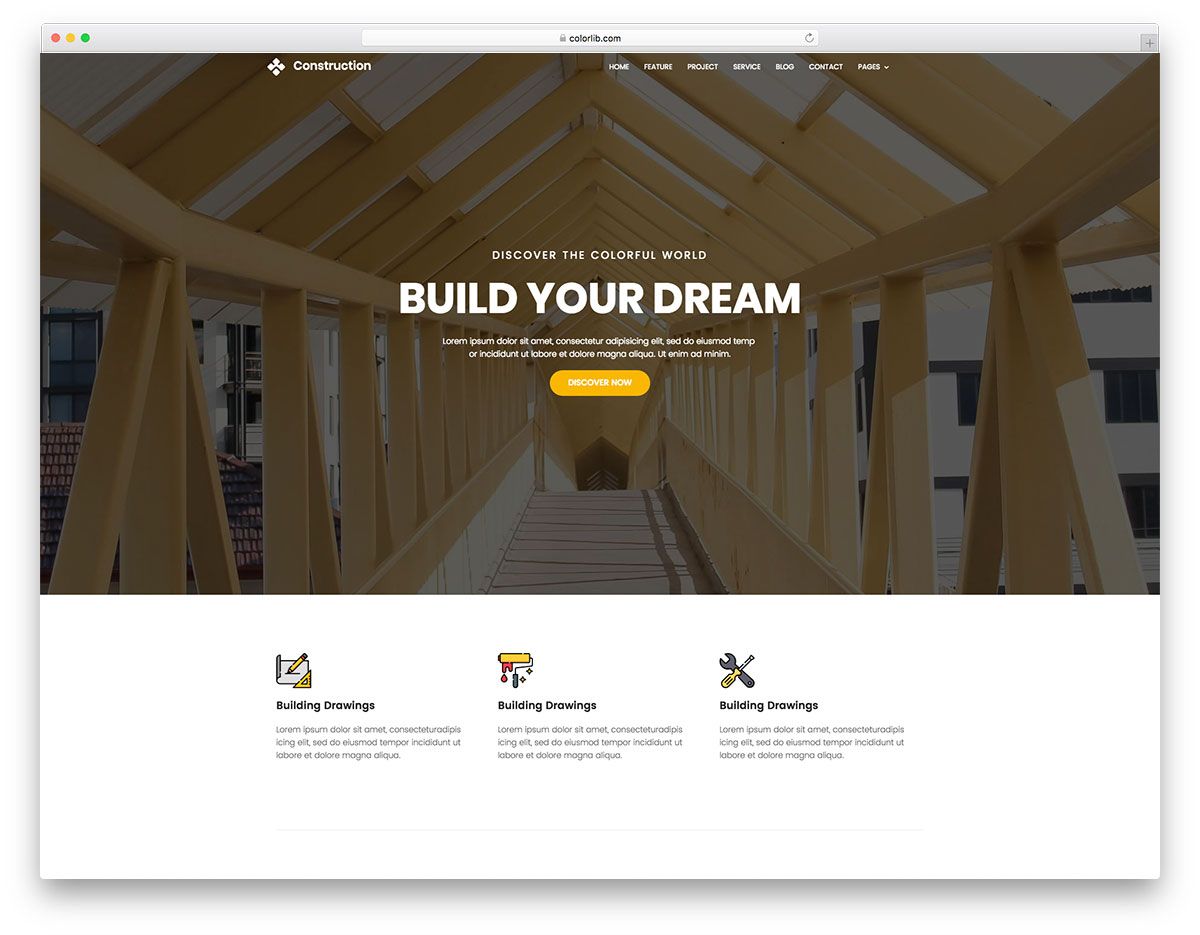 Construction is a Bootstrap based construction website template. It is a clean looking simple website template with multi-page. This website becomes an obvious choice for professional websites with subtle animations and mild colors.
The homepage is designed intuitively so that the visitor can easily get an idea about your construction service and your team. The project page is created like a gallery page in a grid layout.
This website template has all the features and segments you need in a professional website. It is built over HTML5, CSS3 and Bootstrap framework, by default this template is mobile responsive.
More info / Download
Demo
Arcade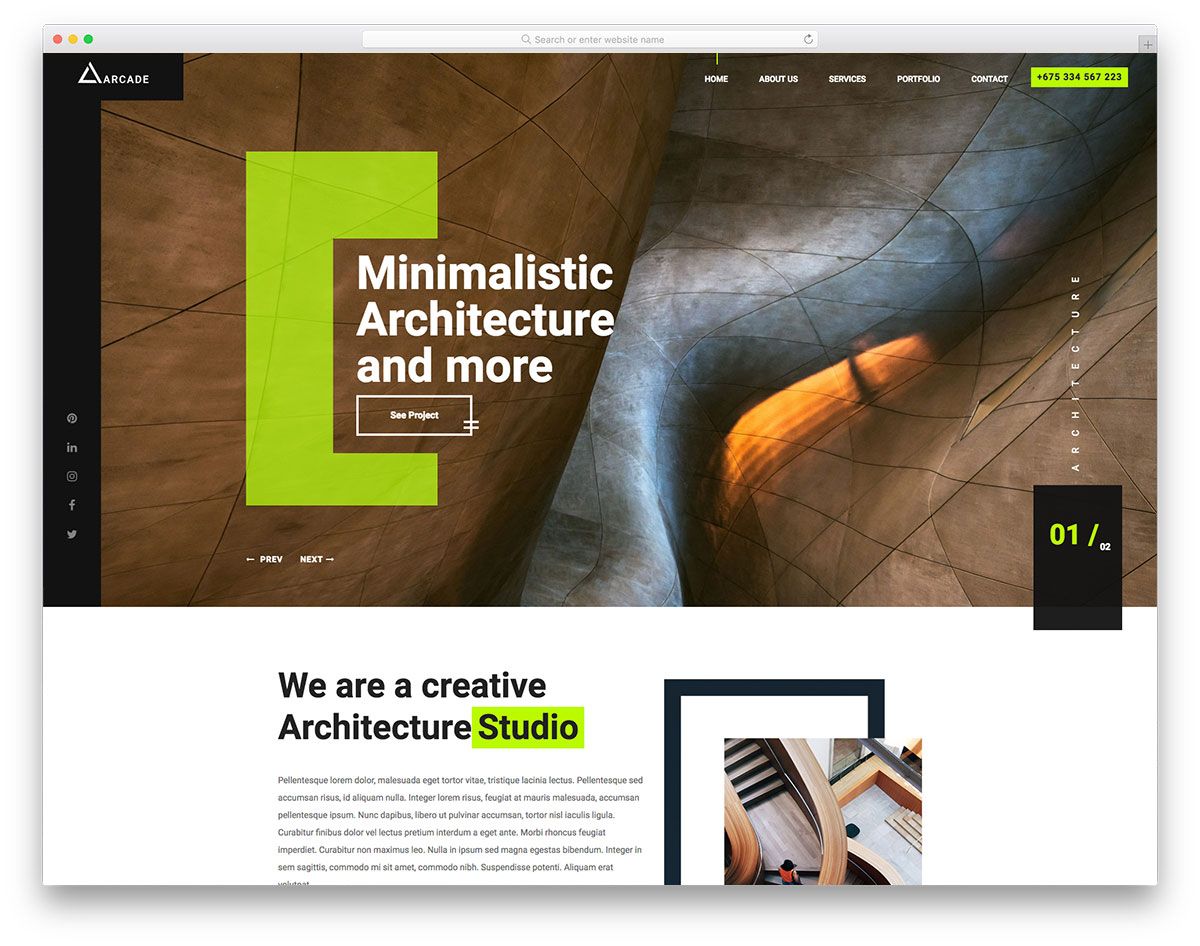 Construction companies, building firms and architecture agencies, you can all take Arcade to your advantage for a page like none out there. Minimalism mixed with creativity and innovation give you a web design that Arcade sports. And now, this very layout can be yours with just a click of a mouse. Download this free construction website template this very moment and start editing it with your material. For your information, working with Arcade is very effortless what comes helpful to both beginners and professionals.
Big slideshow with pagination, cool hover effects, portfolio slider with filters and additional about, services, portfolio and contact pages. Arcade calls for a full solution and a comprehensive answer to your web design question. Get your hands on Arcade and amaze everyone in the industry with a stunning and jaw-dropping website.
More info / Download
Demo
Architect
Architect is a flat style designed construction website template. It is the best website template for construction news and blog site. It has all the elements you need to run a construction magazine or blog site.
This multi-page website template gives more preference for content and content sharing. The single blog page is also neat with all the necessary blog elements. This website template is also developed on HTML5, CSS3 and Bootstrap framework.
More info / Download
Demo
Construct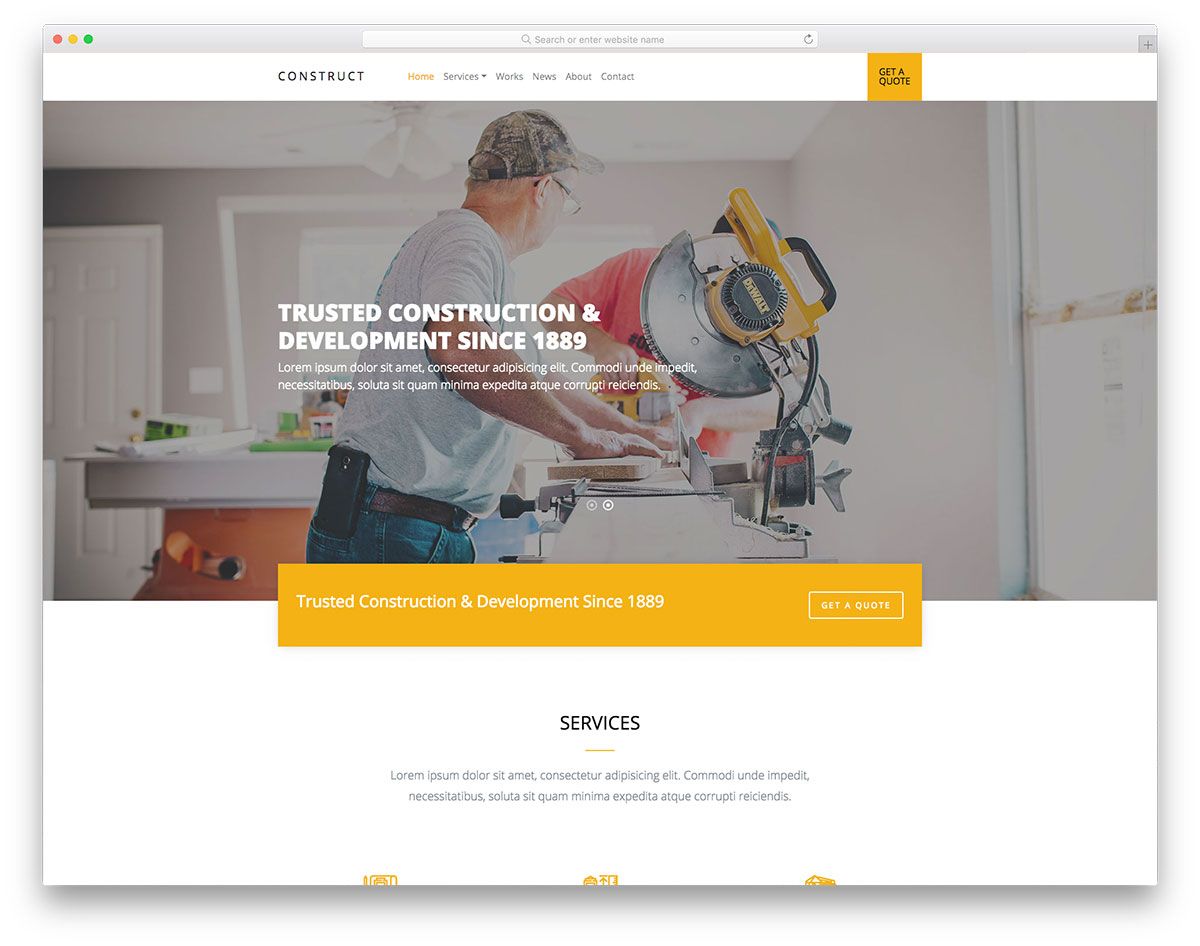 With the name itself, Construct already gives you pretty much whatever you need to know about it. Indeed, it is a free construction website template, professionally crafted for your convenience. Construct has the sample material and numerous features at your disposal, ready for you to put them to use.
Now, employ Construct exactly as is or step things up and customize the layout if you feel like so. Speaking of modifying the site canvas, there is nothing intimidated about that. We always make sure the code is structured in a newbie-friendly way for everyone to get the most out of it.
Construct is responsive, retina-ready, in tune with web browsers, and stocked with assets. You are in for a treat from sophisticated home and internal pages to many features and components. Download Construct now and rock the industry.
More info / Download
Demo
Celt
Celt is a fresh-looking construction website template. It is a free website template with a premium quality design. Best-in-class design features are added to this template to give a premium template feel.
The Celt construction website template is a neat website template with all the necessary web elements and features you need in a professional construction site. The color combination of dark blue and yellow in the website template gives a royal touch.
It was created for the latest HTML5 and CSS3 framework, which makes this website template easy to customize, and it is also a mobile responsive website template.
More info / Download
Demo
TOPBuilder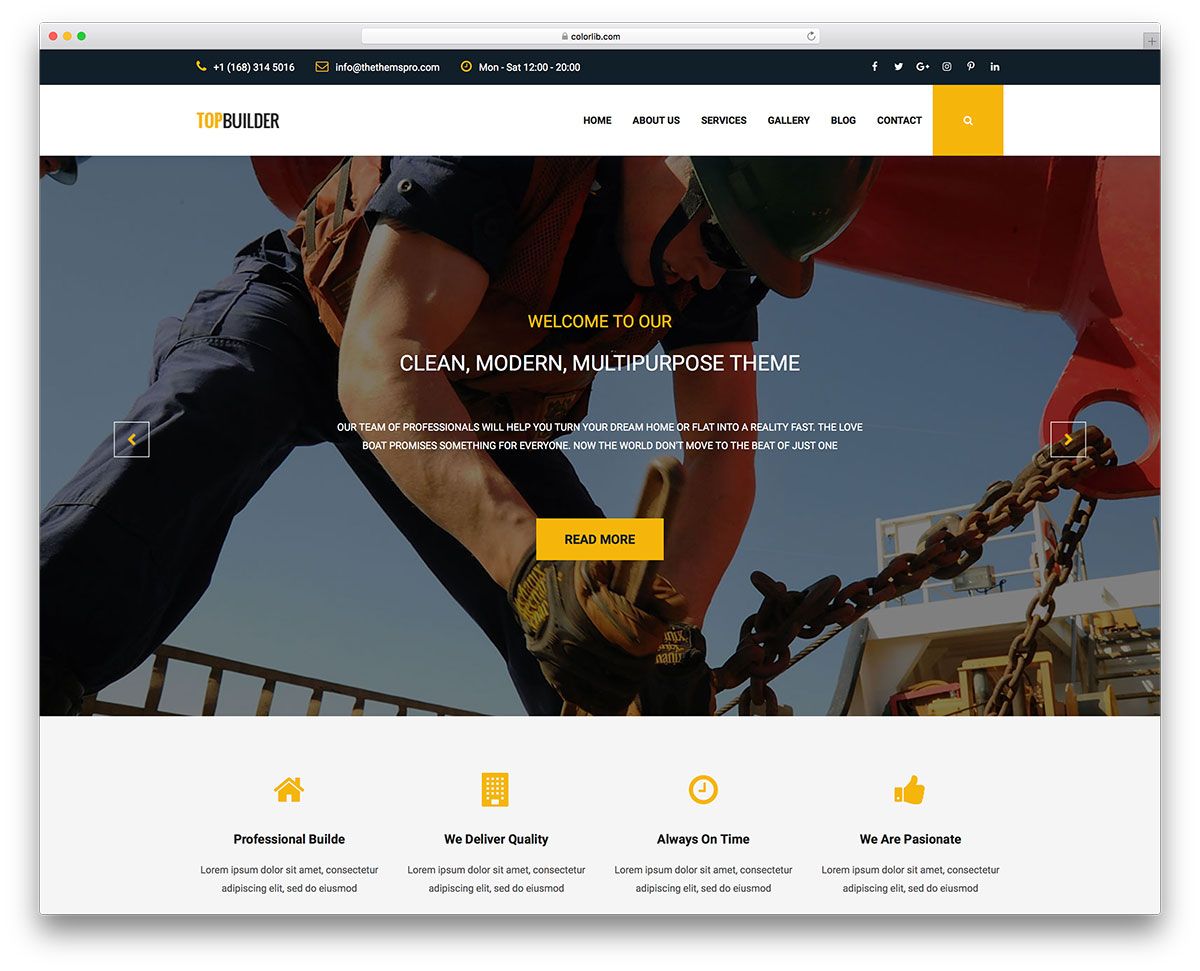 Get animated by a large, full-width slider upon landing on the index page of the free TOPBuilder template. Your crisp clean pictures will amaze every new and returning guest and (potential) client. Tease them with a short excerpt and make them clicking with a strategically placed call-to-action button. Use it to promote your services which a user simply will not resist but check more info.
While TOPBuilder's big slideshow is the first thing a visitor notices, there are other cool features this free construction website template sports. From the top info bar and full drop-down menu section to different portfolios and partners slider. As for the latter, showcase the companies and brands you already worked with to let everyone know that you are a real deal.
Although TOPBuilder is an entirely free website building tool, it has a premium look. Along with the fully functional home page, you also get the about us, services, blog, and contact us pages. Notice: contact form and Google Maps come integrated into the contact us page. Let guests get in touch with you and find your exact location all in one place.
More info / Download
Demo
Fontanero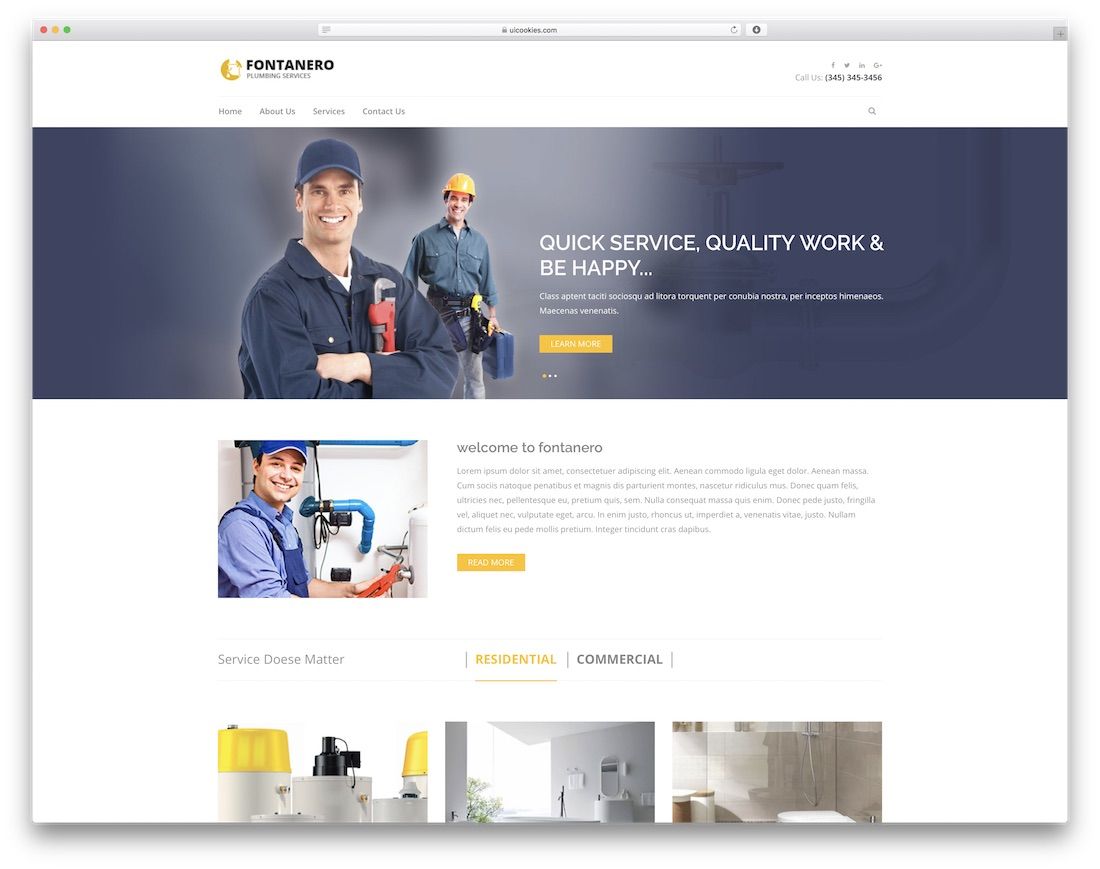 Fontanero is a professional-looking website template. With lots of white space and bright yellow color buttons, this website template quickly catches user attention.
With the full stretched carousel header section, this website can describe your business in an interactive way to the user. Below the header section, you will get about section and service section. The service section is designed cleanly, and the user can see different types of your services in the tabbed interface.
The CSS work and the animation are done proportionately and look very professional on this construction website template. The service page appears like a portfolio page. When the user hovers over a project, a short note shows in a bright yellow color hover effect.
This website template is the best choice for construction and repair service providers.
More info / Download
Demo
What's Your Choice
These are the best free construction website templates you can use for your construction site. It is the HTML5 framework that powers all the WordPress themes; you get extra features and more customization options on the WordPress website template.
In the HTML5 website template, you are limited to the options to update and customize your construction website template. The options are open, and the choice is yours.