Your tech business needs to have a powerful website that is great in UI and modern looking, and that's when these best software company website templates come into play.
Software changes how we interact and feel with the devices. No matter how great the hardware is, the device is a waste silicon chip without proper software optimization. Users are also constantly searching for better apps to improve their day-to-day tasks.
With a professional and sophisticated online software presentation, you immediately raise your potential. Instead of doing all the heavy lifting from the ground up, pick a predefined web design and go from there. It will save you a lot of time and energy, which you can instead invest in marketing your business.
Post navigation
People are always searching for the best new app and software to improve their day-to-day tasks. It is important to have a fresh-looking website template for your company with an up-to-the-minute design and web elements.
Luckily, that's what any of the best themes and templates in the list below take care of out of the box. But you should not feel any limitations, as you can easily modify and improve the default appearance and tailor it to your spectacular software specifically.
Best software company WordPress themes
Metz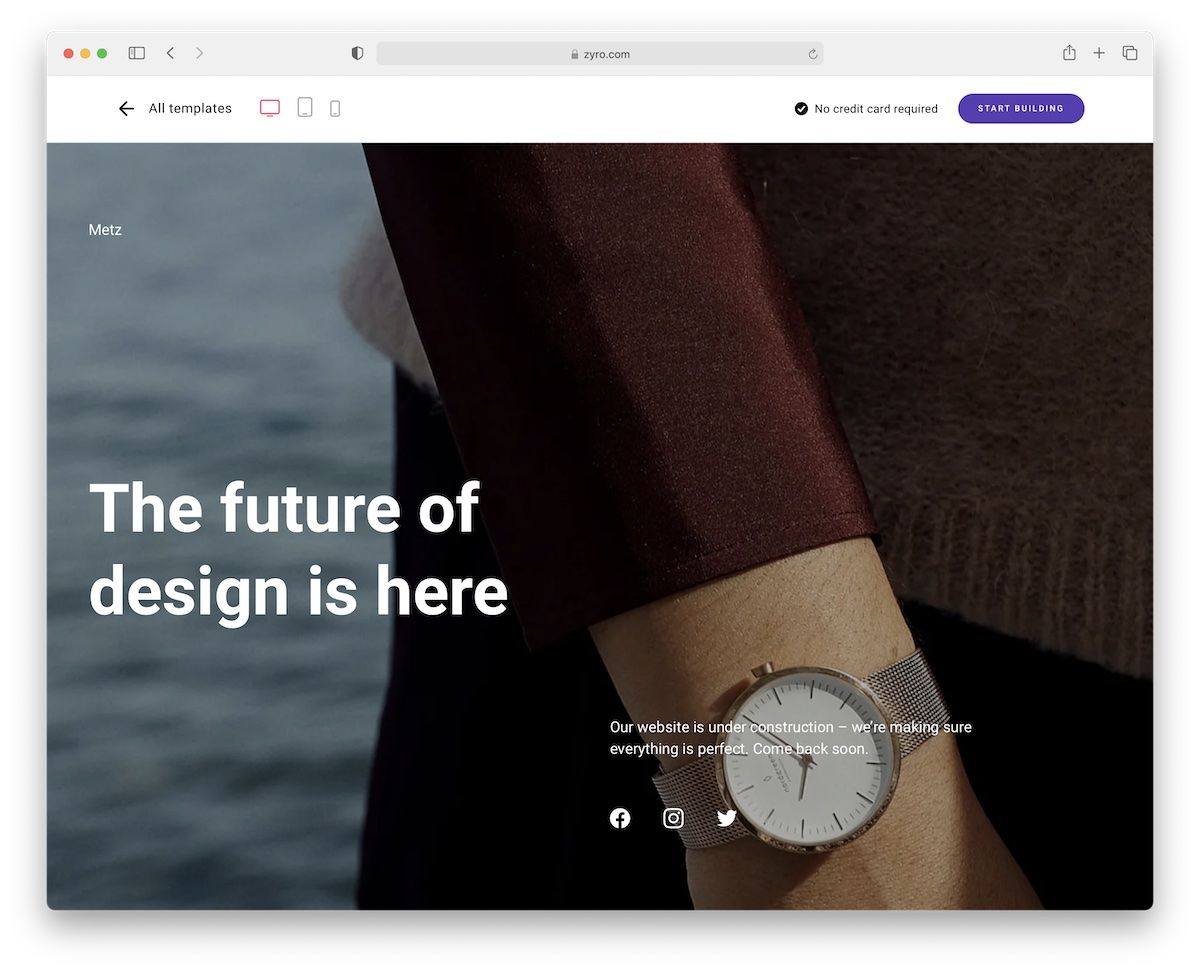 If you're launching a new software company website but would like to start the hype early with a coming soon page, don't miss Metz.
Even if your page is under construction, use Metz. It's a template that anyone can use and create the final product in little to no time.
You're in complete control to make the outcome that's precise to your liking. Yes, customize it however you want, so it follows your branding regulations to a tee.
Blick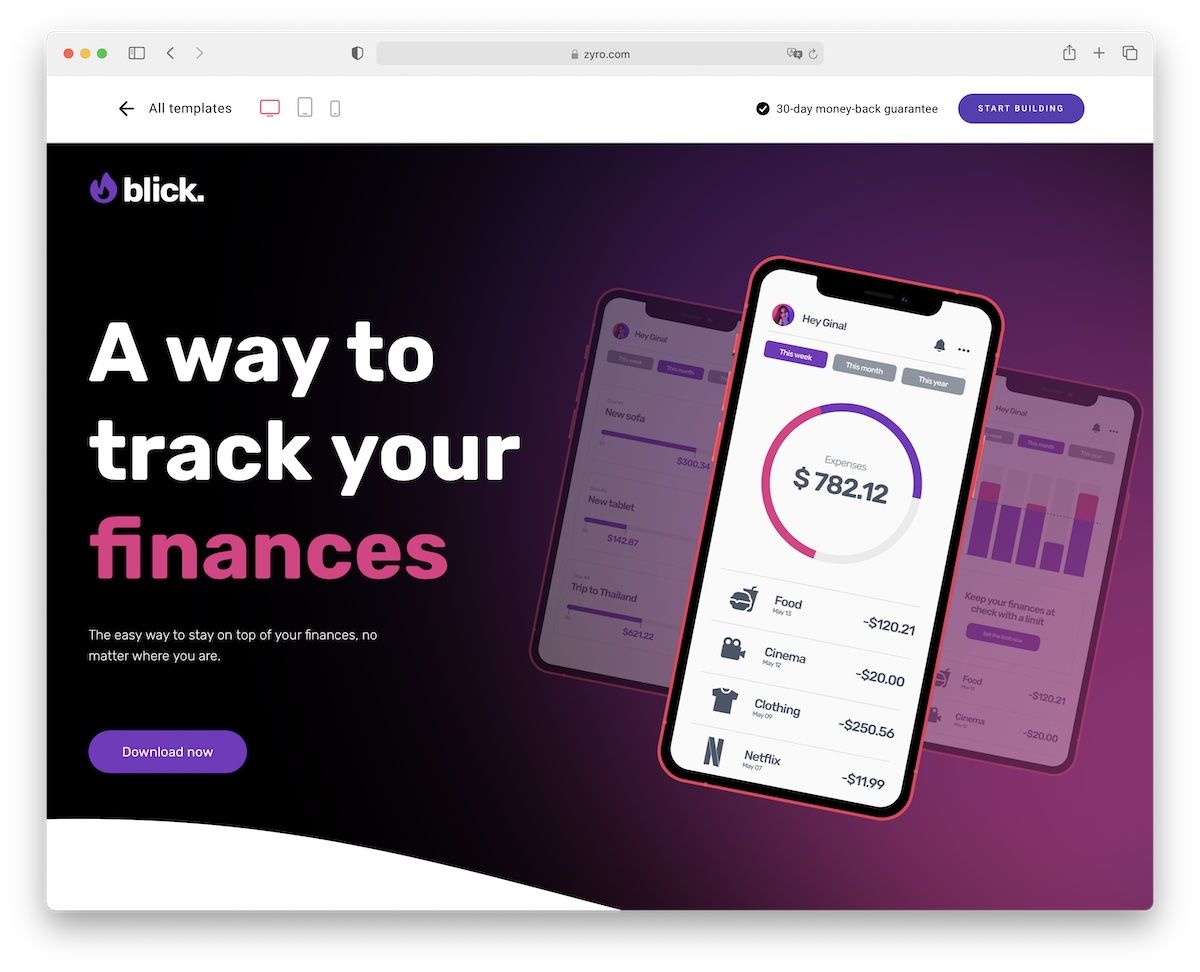 Blick is a template that fits software companies like a champ. While you can use the template as is, you also have the freedom to perform customization tweaks at free will.
And all the editing and improving that you do happens in just a few clicks. Of course, without touching a single string of code.
You also don't have to worry about speed, SEO and mobile optimization – Blick thought of everything for your convenience! Promote software or startup with a website that will WOW everyone, thanks to Blick!
Divi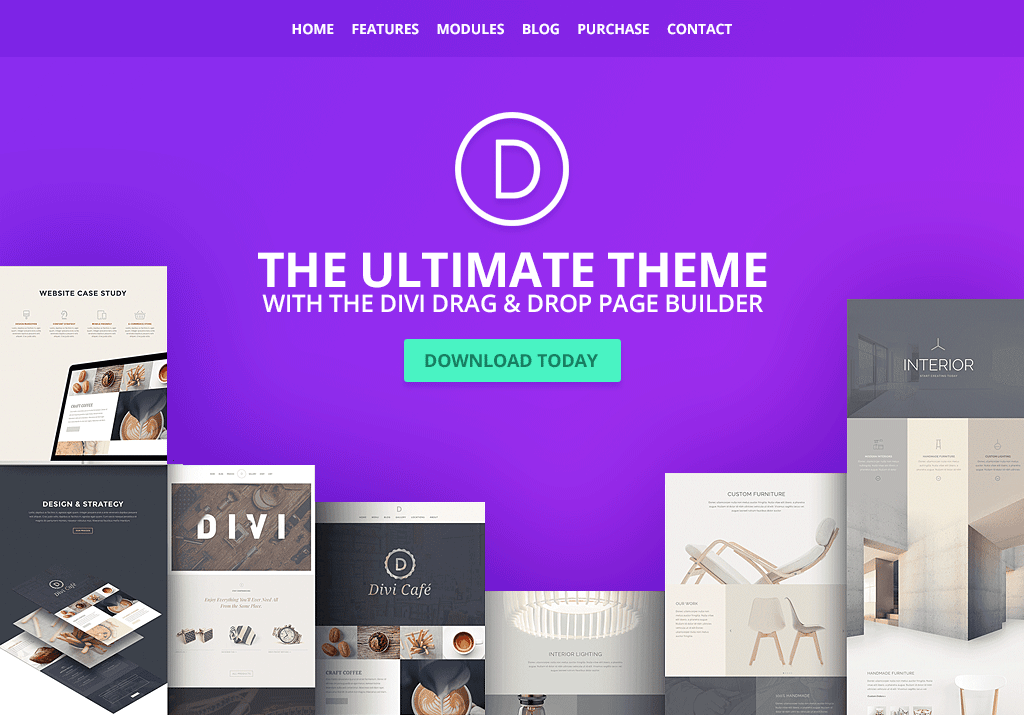 If you have been cruising around the web, the chances are high that you have already stumbled across Divi. It is a majestic tool for establishing just about any website you can think of. And if you need to make a page for a software company, you can do that effortlessly with Divi. Not only does the web design come with a horde of sample material, but the modification options are also impressive. And if you are new to the game, support, documentation and video tutorials will be of tremendous help.
To sum up, you are in good hands with Divi. Drag and drop page building ensures everyone to get the most out of it without the need to go behind the scenes, editing the dull code. With Divi, you are always ready for a new project, regardless of its objective.
More info / Download
Demo
Uncode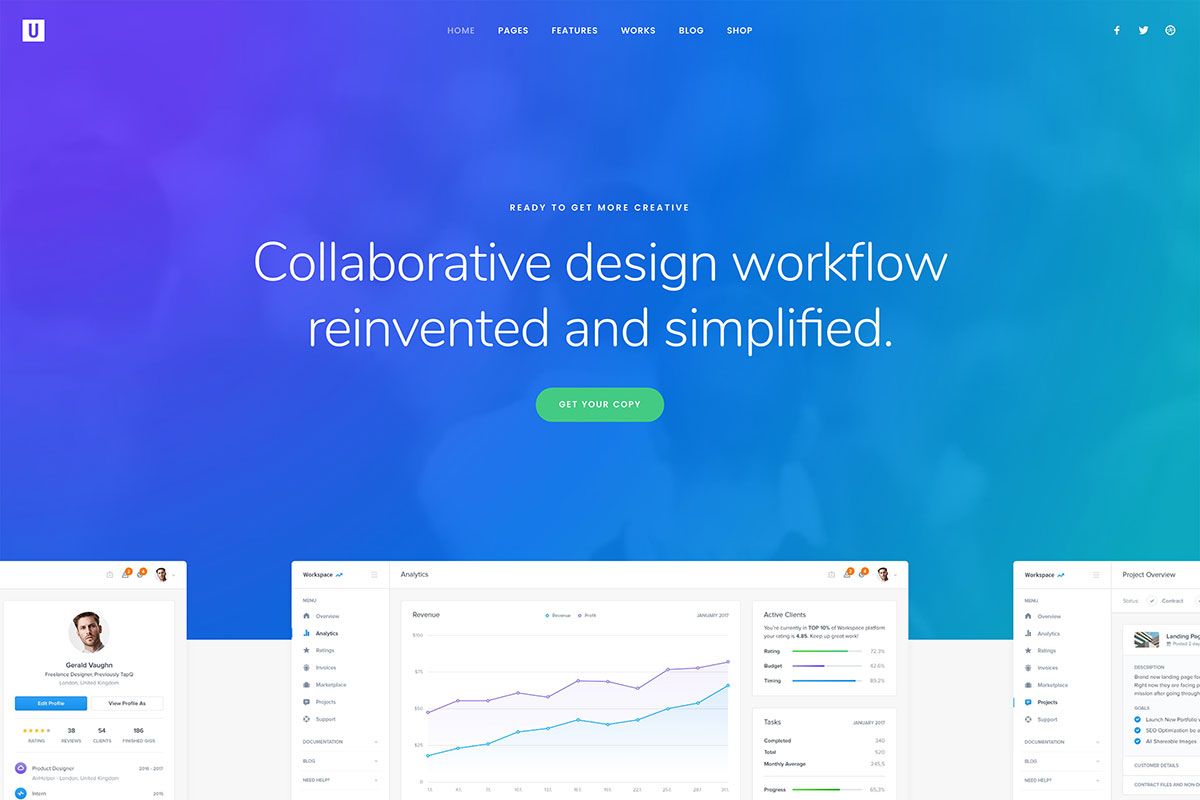 Uncode is another jaw-dropping multipurpose with creativity and sophistication being its main characteristics. A ton of demos are ready-made for your convenience both index and internal. But that is just a small fracture of all the amazingness Uncode has in store for all its users. No wonder why Uncode is one of the most popular web design tools out there. It is practical and resourceful enough to establish challenging software company websites quickly, too. In short, whatever your heart desires, you can realize it with the killer Uncode.
Nope, this is still not all. A page that is based on Uncode will quickly establish a solid first impression on all its users. It also comes packed with a simple page builder, Slider Revolution, WooCommerce, Content Block, and more than seventy layout variations. Indeed, Uncode is a serious deal for web templates that are user- and beginner-friendly, yet powerful enough for the most advanced coders, too.
More info / Download
Demo
Jevelin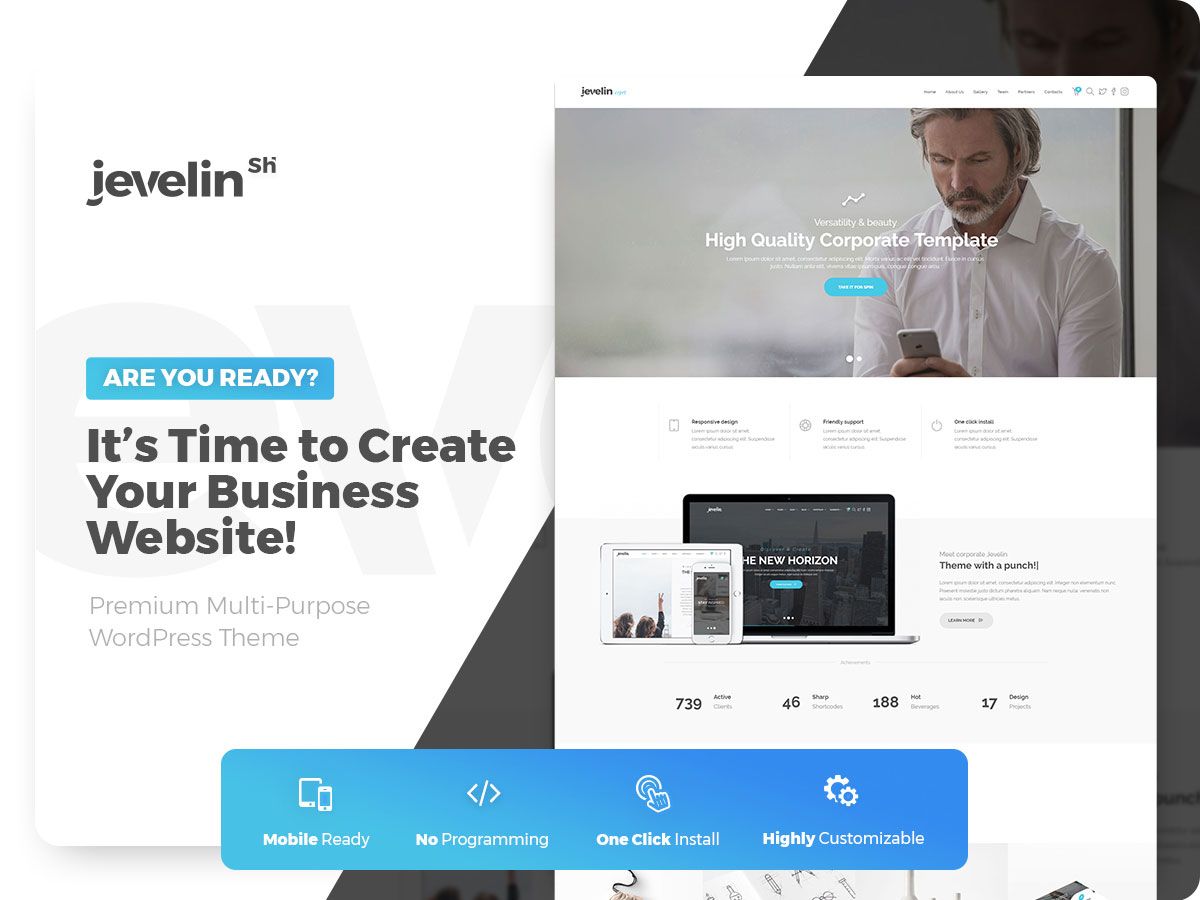 With more than twenty demos and more layouts and modules, you can effortlessly utilize Jevelin as a software company website template. Upon the download of Jevelin, you import the desired samples with a quick one click and are ready to move forward. Now, you can freely utilize the demo that fits your needs. Still, you can also completely customize it and make it follow your branding regulations to a T. Whatever suits your taste, Jevelin is here to realize it.
The integration of WPBakery page editor ensures drag and drop page building technique. No more coding! Editing, correcting, and improving content is as easy as pie. Jevelin is also compatible with all the popular plugins and even includes many premium ones at no additional cost. Get involved now and shine on the internet with a dope software page thanks to Jevelin.
More info / Download
Demo
Webify

Webify is a nifty, modern and exceptionally simple software company website template. It includes a ton of material, from layouts to all the mandatory features and functions. On top of that, Webify allows you to modify all the sample content to the very last detail. With this in mind, it will be a breeze to create a branded website that will follow all your software regulations. Do not hesitate and go as creative as you want with Webify, you have all the options and solutions at your fingertips.
Other goodies contain testimonials, pricing plans, sliders, various header and footer designs, full video support, and a practical page builder, to name a few. As soon as you download Webify, you are almost ready for the launch – that's how quick the process is.
More info / Download
Demo
TheGem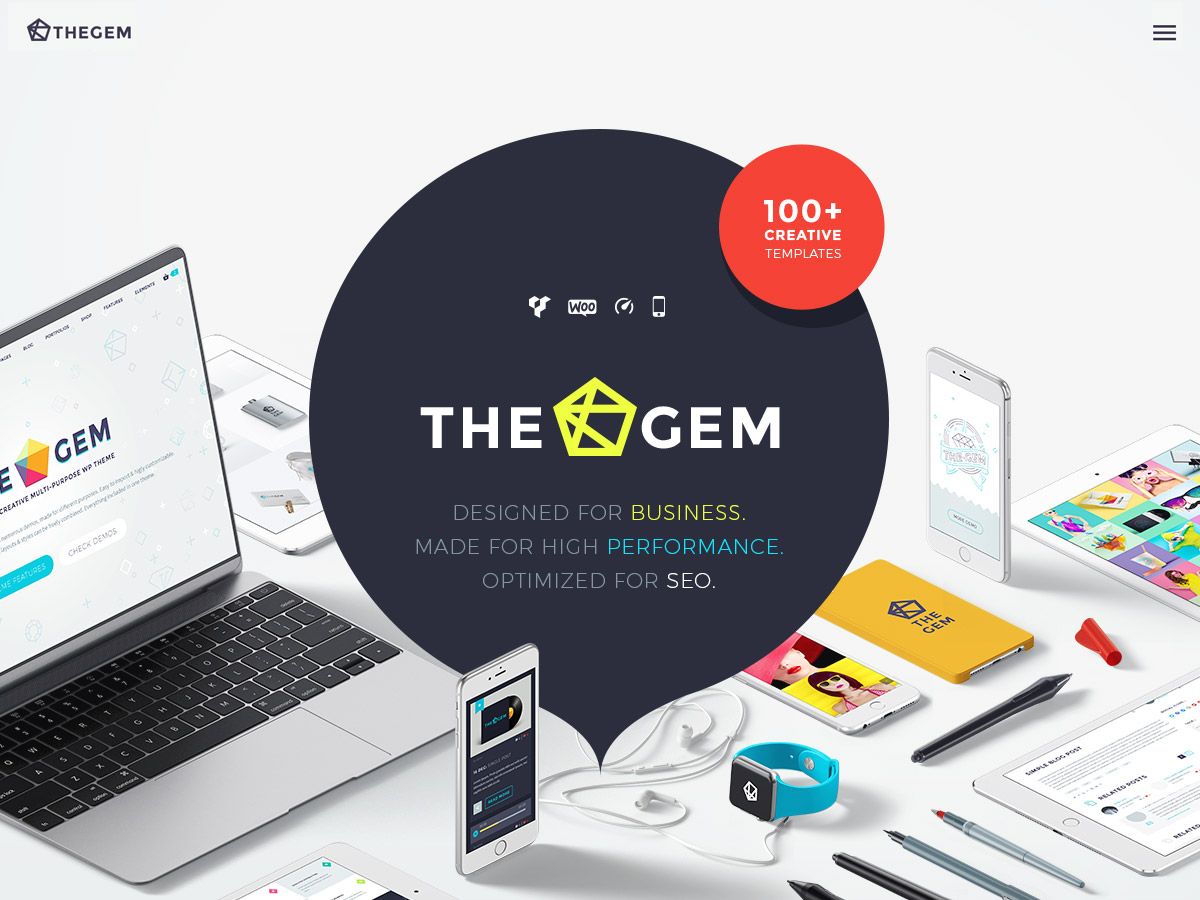 TheGem is the ultimate tool with an enormous collection of templates, sections, and features. There is something for everyone. Even if you create a website for a software company, you can make one without effort by taking TheGem to your full advantage. Anyone can enjoy all the benefits and perks this tool has available. TheGem is packed with a whopping collection of more than seventy full website concepts – can you imagine? You can now craft a page and have it live quicker than ever.
TheGem also has an insanely high performance, a layout that instantly adapts to any device, and a search engine-friendly structure and design that stunningly displays on all retina screens. The creative options are unlimited with TheGem; do not hold yourself back and unleash your artistic animal today and see exceptional results shortly after.
More info / Download
Demo
Ekko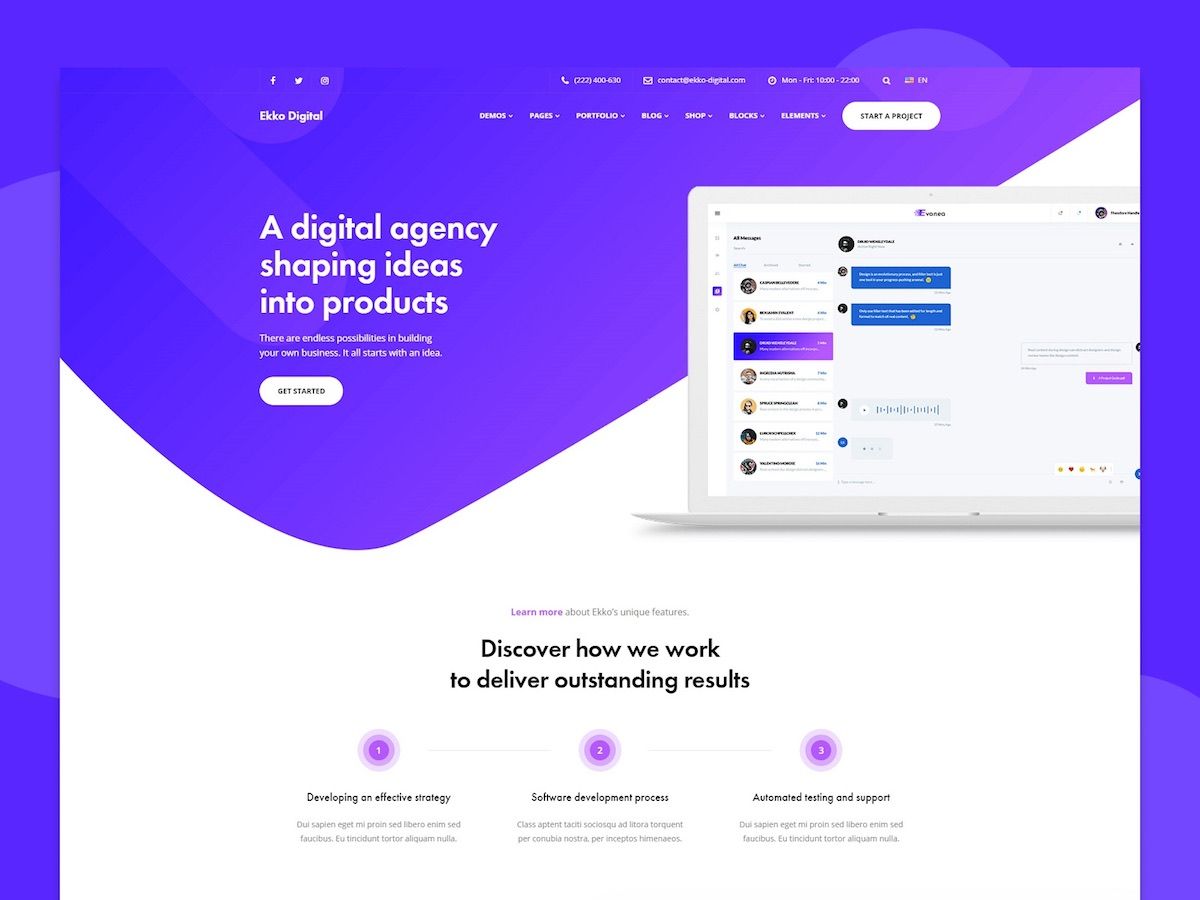 Thanks to the insane flexibility of Ekko, it works very well as a software company theme, too. With the vast collection of demos and other features and functions that you get outside the box, anyone and everyone will succeed at building a page greatly.
Ekko includes a drag and drop page builder, WPBakery, which unlocks an entirely codeless editing process. In other words, even if you do not have coding knowledge, you can still make some noise online with Ekko. Not just that, but you can build a fully active and business-driven page sooner rather than later.
Ekko contains more than 250 blocks, more than 40 elements, Slider Revolution, one-click demo data install, child theme, and sticky header to get the hype going strong. The layout is also optimized for fast loading speed, SEO, compatibility with mobile devices, and in tune with modern web browsers. You will find nothing missing in the Ekko kit, only the good stuff!
More info / Download
Demo
Techland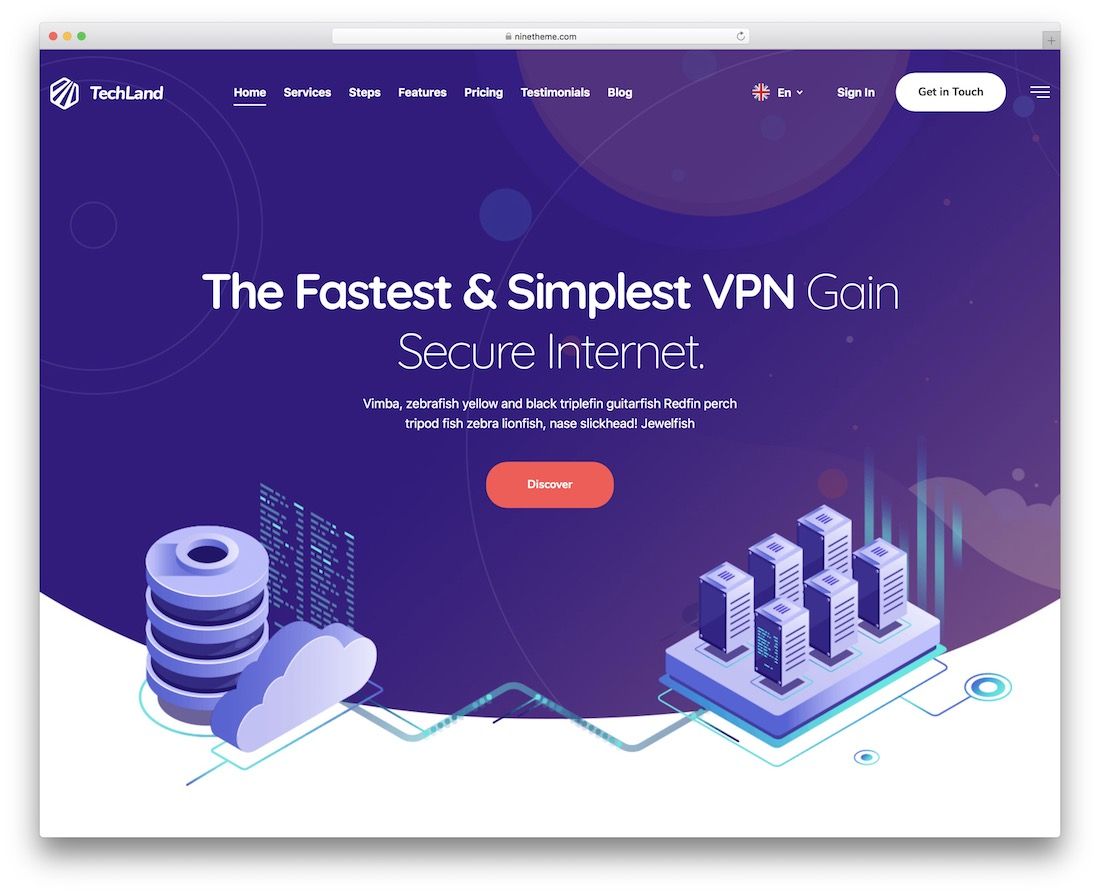 Nothing starts from scratch when you gain access to the powerful Techland. Techland – hence the name – is a dope software company website template with all the needed to build you a page. You can now have a complete page set up and ready to go with little effort and time. Keep in mind that Techland brings to the table eight landing page styles and tons more additional material for you to put into play. The predefined layouts are already beautiful and flexible, easily catering to your business needs even out of the box.
What's more? To make Techland truly yours, personalize it with the use of WPBakery drag and drop builder. Other nifty features include Revolution Slider, parallax effect, animations, testimonials, client logos, accordions, and unlimited colors. Without spending too much time on the design, you can now establish the must-have page quickly with Techland.
More info / Download
Demo
Milu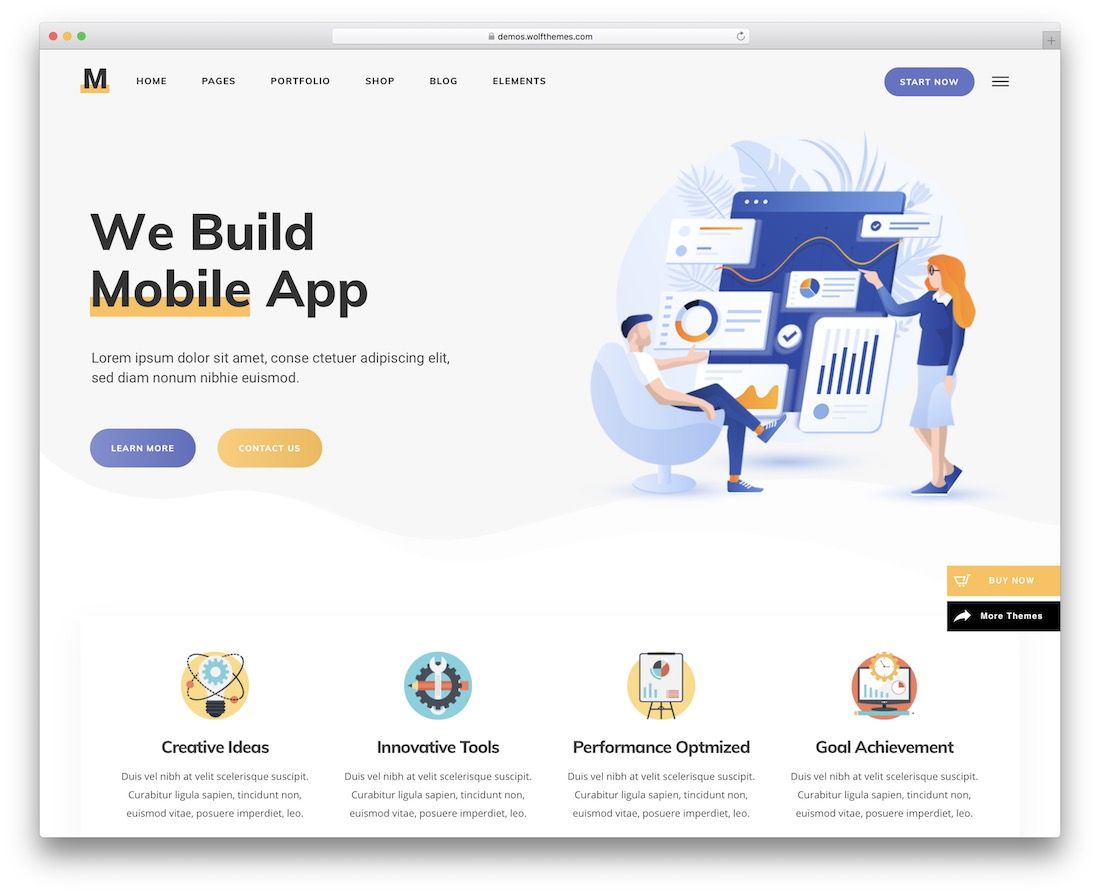 Milu is an exclusive web design for tech and app-focused landing pages. Take a peek at the ready-made demos first and go from there to get things rocking. Each layout is modern and original, perfect for sparking their interest right off the bat. Of course, you need to know that all the samples are easily editable and customizable with dragging and dropping. This also lets all the beginners know that they can achieve great results with Milu. In short, even if building your first page, you will succeed at it with Milu.
Other amenities include Slider Revolution, multiple inner pages, a blog, a portfolio, and even an online store. Milu is also responsive and cross-browser compatible and enhanced with outstanding performance. The experience of browsing your content will always be top-notch. Without investing a hefty fee or spending countless hours behind the code, you can now build a page using Milu.
More info / Download
Demo
Engitech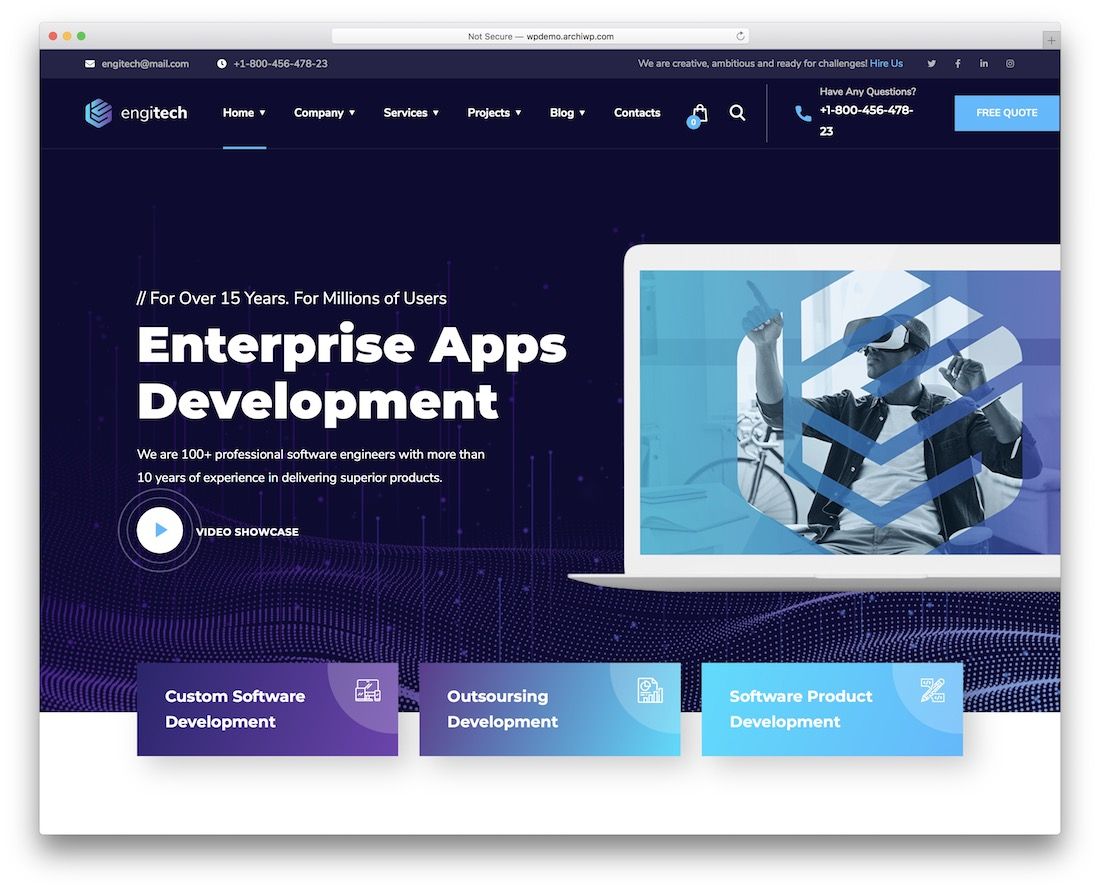 Instead of undergoing the heavy lifting yourself, treat yourself to Engitech. Engitech is a well-thought-out software company WordPress theme for IT solutions and services. This allows you to speed up the process of building your website rapidly. Go live on the internet as quickly as possible and expand your reach over and beyond. With Engitech, it is a guarantee that the outcome will be nothing short of remarkable.
There are five different home page concepts that you can put into play along with more than thirty additional sections and page layouts. For some, you will only do some mixing and matching and have it all set already. You can activate the drag and drop page builder and perform any modification you want for all the others. The options are endless with Engitech.
Some more specialties of Engitech include header and footer styles, blog modules, search engine optimization, and Slider Revolution. Make it yours and enjoy an outcome that will raise your potential to new heights.
More info / Download
Demo
Digeco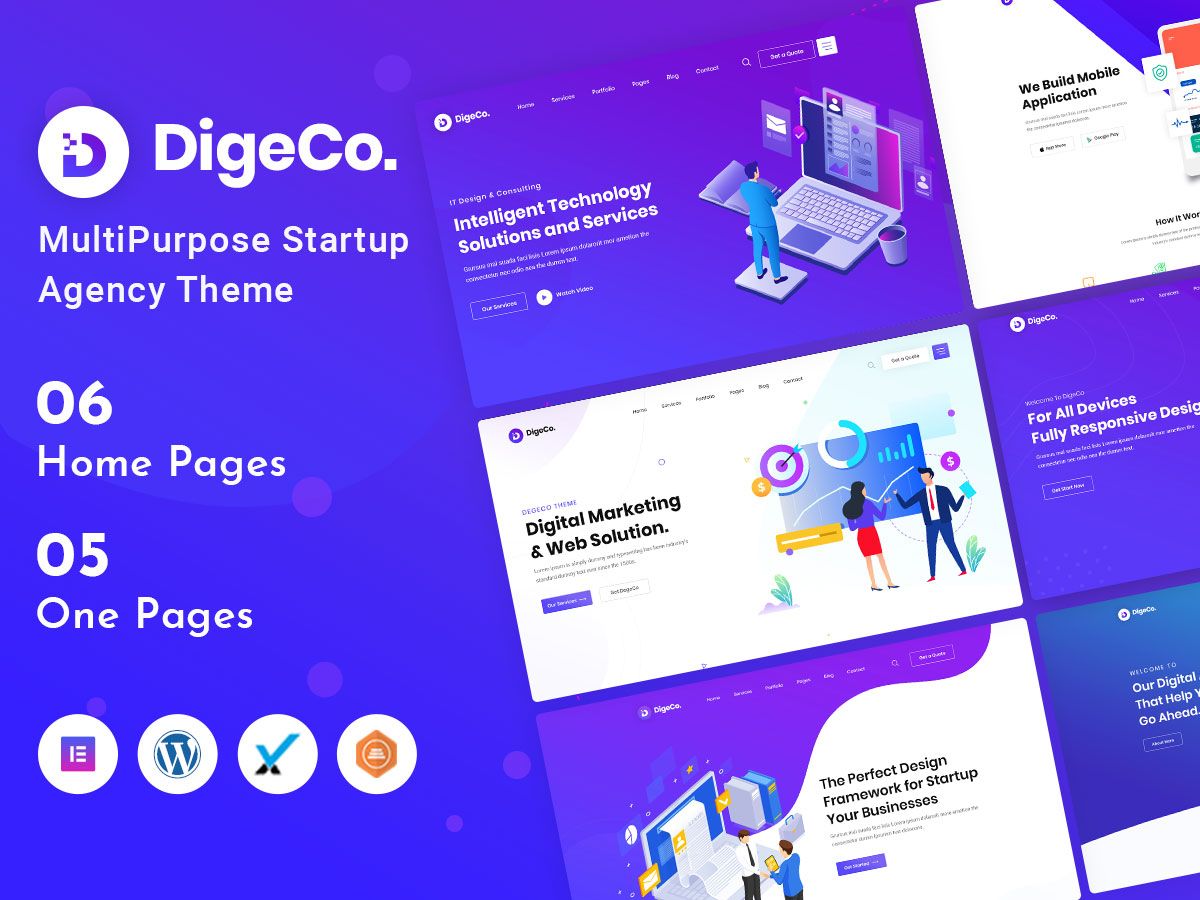 If you are ready to sort out an impactful website, Agencies and startups do it with Digeco. Another exceptional alternative helps you create a dedicated online presence for your business. With a broad collection of 21 samples, more than 100 blocks and more than 30 add-ons, Digeco treats you right out of the box. What's more? With effortless customization, you can unlock all the possibilities you require to make a website that fits your needs precisely.
No coding knowledge is necessary.
Do I even need to start with the rest of the features? Digeco is a serious competition that will easily take things to the next level. With its modern design, everything will come into view stunningly, which will help impress and inspire everyone. Couple it with your amazing software and services, and you have a winning combo.
More info / Download
Demo
Sassico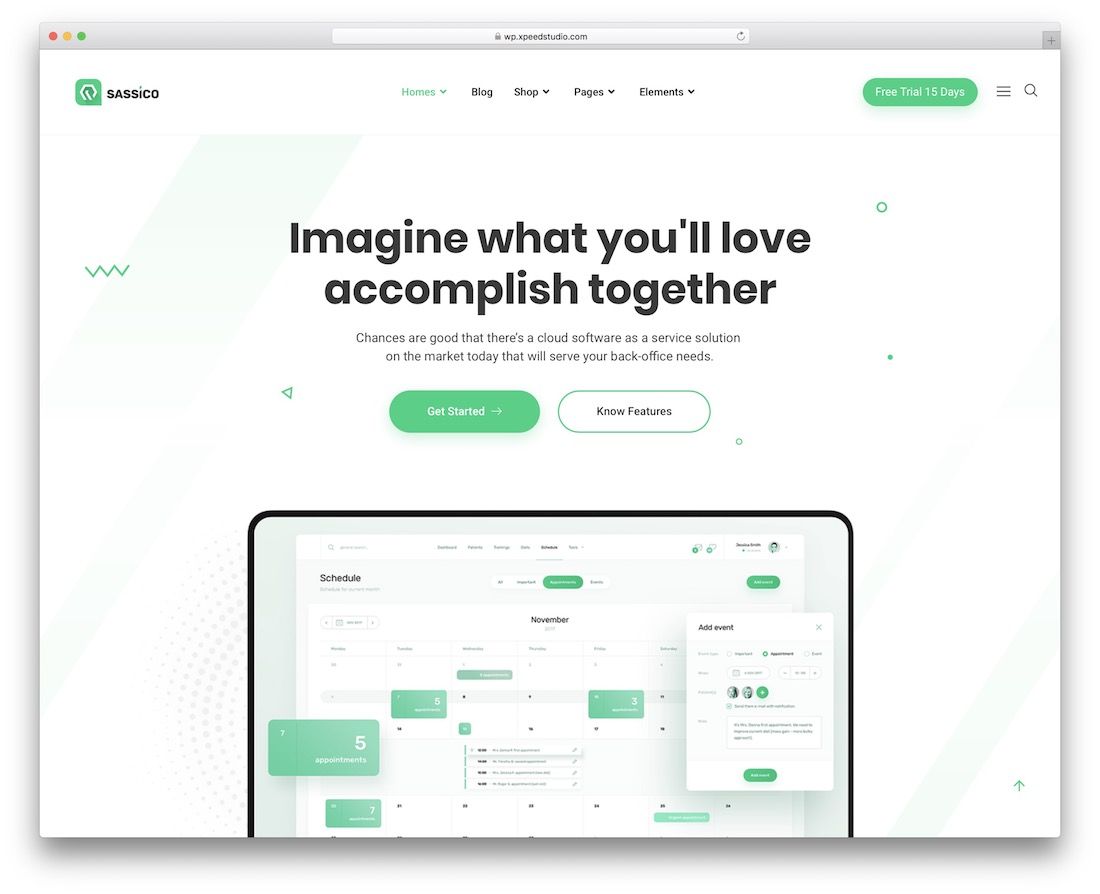 Sassico works great for both one- and multi-page websites. There are all the necessary templates and other components for you to start immediately. But you can even investigate the live demo first and go from there. As soon as you begin enjoying Sassico first-hand, there is no turning back.
But that's a good sign.
The bundle of greatness is full of handy and practical amenities for you to work with. From full demos and Elementor page builder to headers, footers, Slider Revolution and Unyson Framework, Sassico rocks everything your heart desires. It also follows all the latest optimization regulations for the site performance you and your site visitors deserve.
More info / Download
Demo
Saasland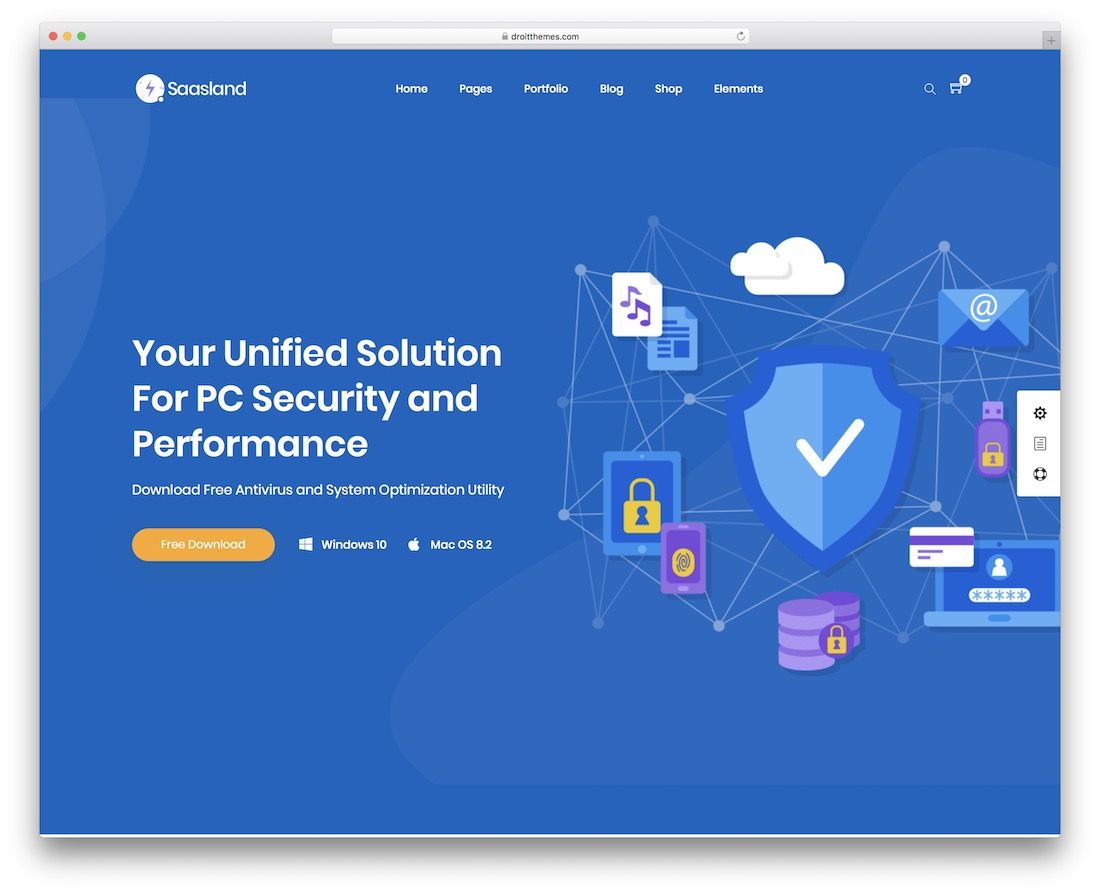 Saasland is a truly multi-concept software company website template that will get your WordPress site going. With a list of more than 30 demos and more than 250 elements, you know you can mix and match the available in a little breeze. On top of that, you can always add your two cents by activating the practicality of the Elementor drag and drop page builder. Agencies, businesses, startups, well, anyone can take Saasland to their benefit and make a page that is to their liking.
The collection of features is also vast, so we will not go fully into detail here. One thing is for sure, once you study Saasland further yourself, there is no turning back. After all, why ruin all the fun for you, right?
You get smoothly integrated chat and help desk, portfolio layouts, different headers and mega menus, PSD files, Instagram and MailChimp, etc.
More info / Download
Demo
Softlab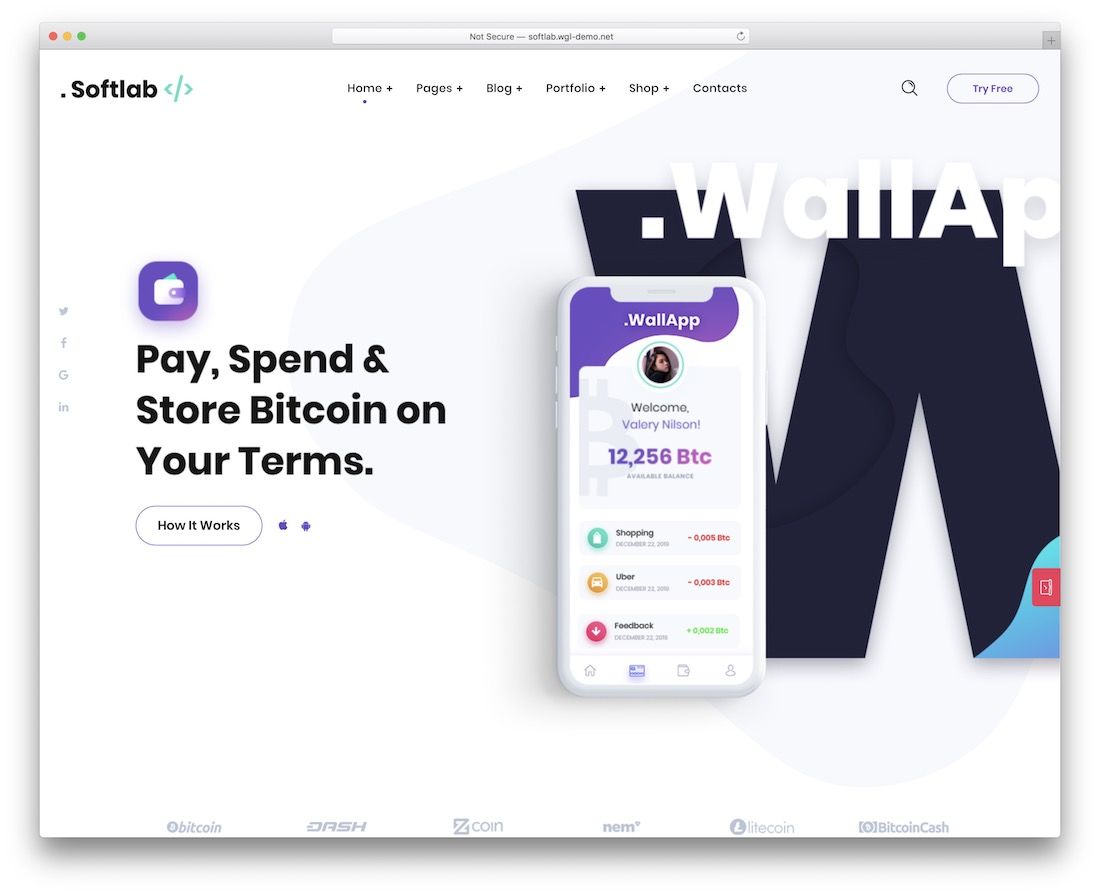 Softlab is a banging web design that will strike everyone with a positive and memorable first impression. The cleanness and uniqueness of the Softlab will do the trick and help you raise your business to new heights. Softlab includes three different homes and numerous inner page layouts for you to mix and match according to your preference. Tons of predefined elements are also part of the package for you never to need to create anything from the square one.
Moreover, Softlab also sports WPBakery drag and drop page builder for effortless and quick customization. Even as an individual who is not a fan of code, you can still make it happen with the employment of WPBakery. Along with displaying everything about your company, you can also start a blog and implement strategic content marketing.
More info / Download
Demo
Jumpstart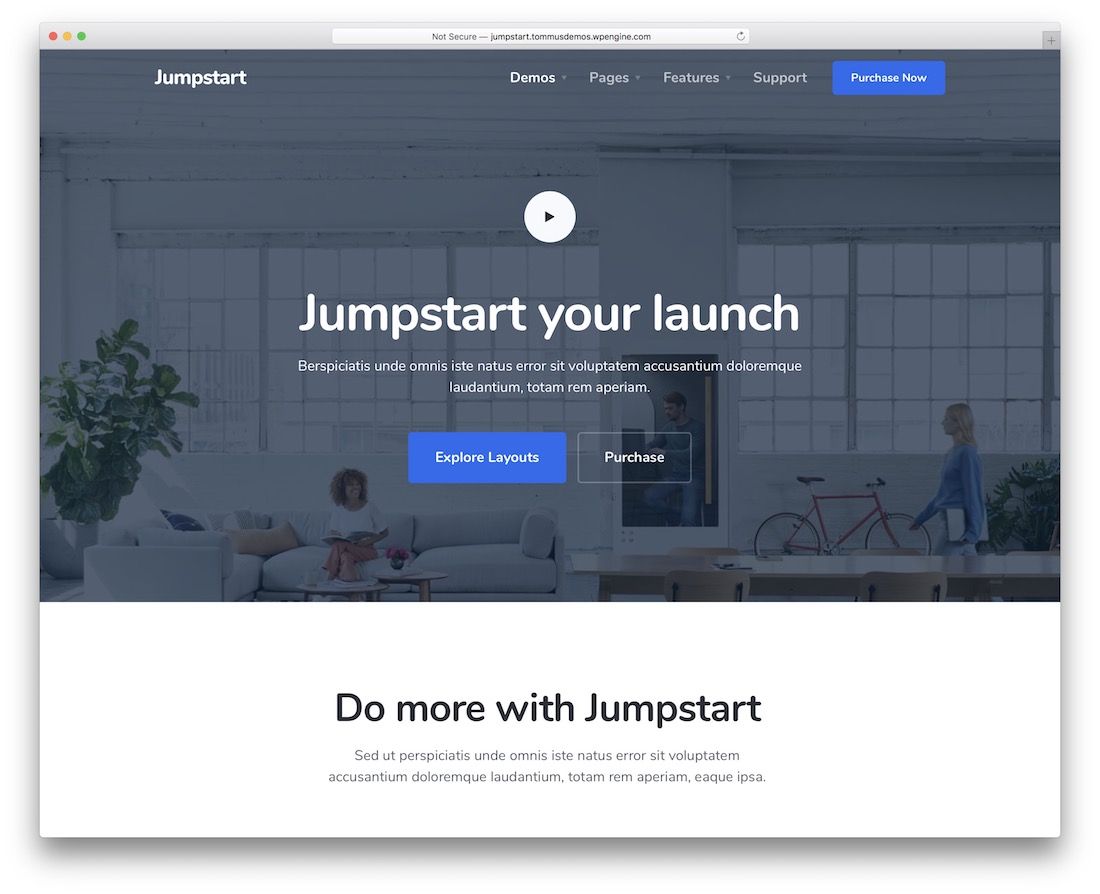 For creating a landing page for an app or software, all you need to get yourself is Jumpstart. As simple as that. This modern, creative, sophisticated, and professional WordPress theme gets the ball rolling in the snap of a finger. You can select from different home page designs and multiple other fully predefined sections and are ready to use out of the box. Once you see that Jumpstart has in store all the material, you will immediately know that you can go live with a new page sooner rather than later. sections
The collection of additional features only spice things up for you, making Jumpstart a truly remarkable solution. Scrolling animations, parallax effect, countdown timers, functional email forms, pricing, social media icons, and utility pages are just a small fracture of all the amazingness in the Jumpstart package.
More info / Download
Demo
Best software company website templates
Lateral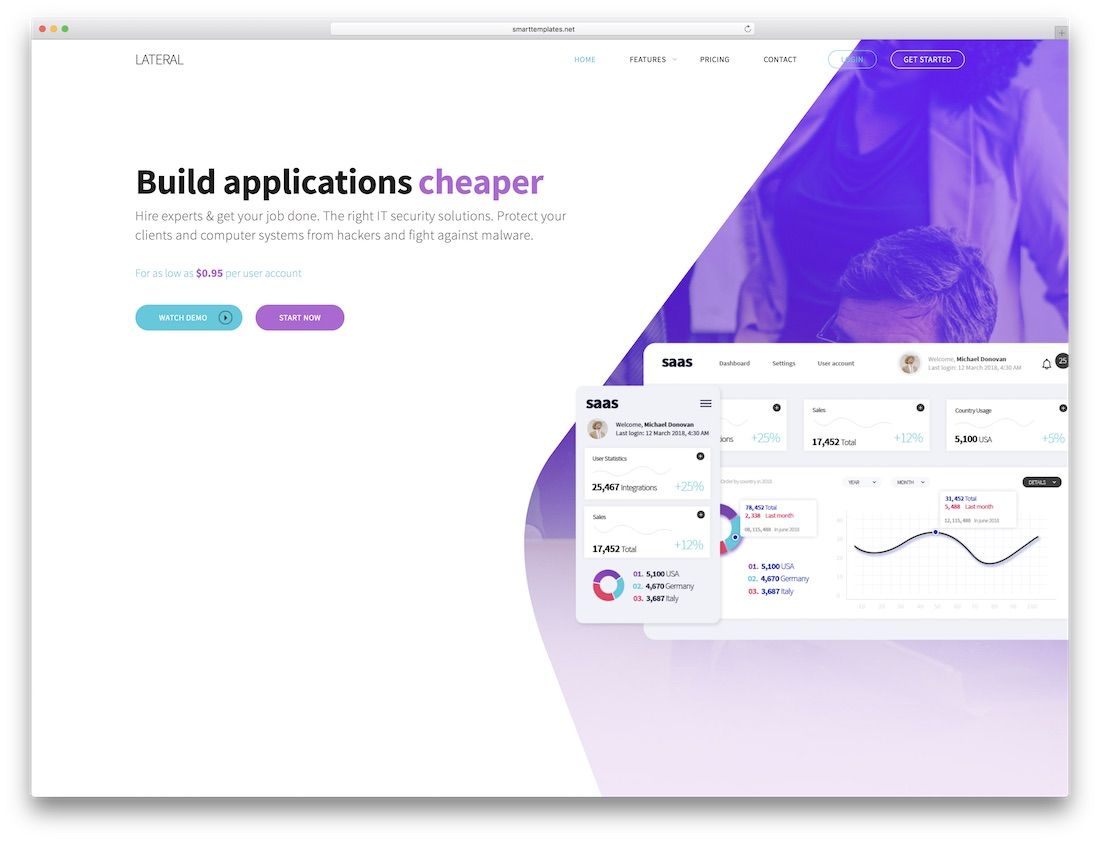 Lateral is a great, smart and simple software company website template suitable for SaaS firms. It is a landing page-style site template that gives you a chance to push all your products and services using one single page. This is becoming common practice amongst companies since it comes super convenient. There is no need to be moving from page to page anymore, clicking the back button, to find all the information you need. However, you can also use Lateral for other intentions with a few tweaks due to its great adaptability.
In the superb Lateral kit, you will get thirteen contemporary home demos. But when it comes to the technical part and performance, all the content and feature Lateral brings to the table are of the highest standards. You can always feel safe and secure that your users are treated right regardless of the device and platform to surf the internet.
More info / Download
Demo
Bufet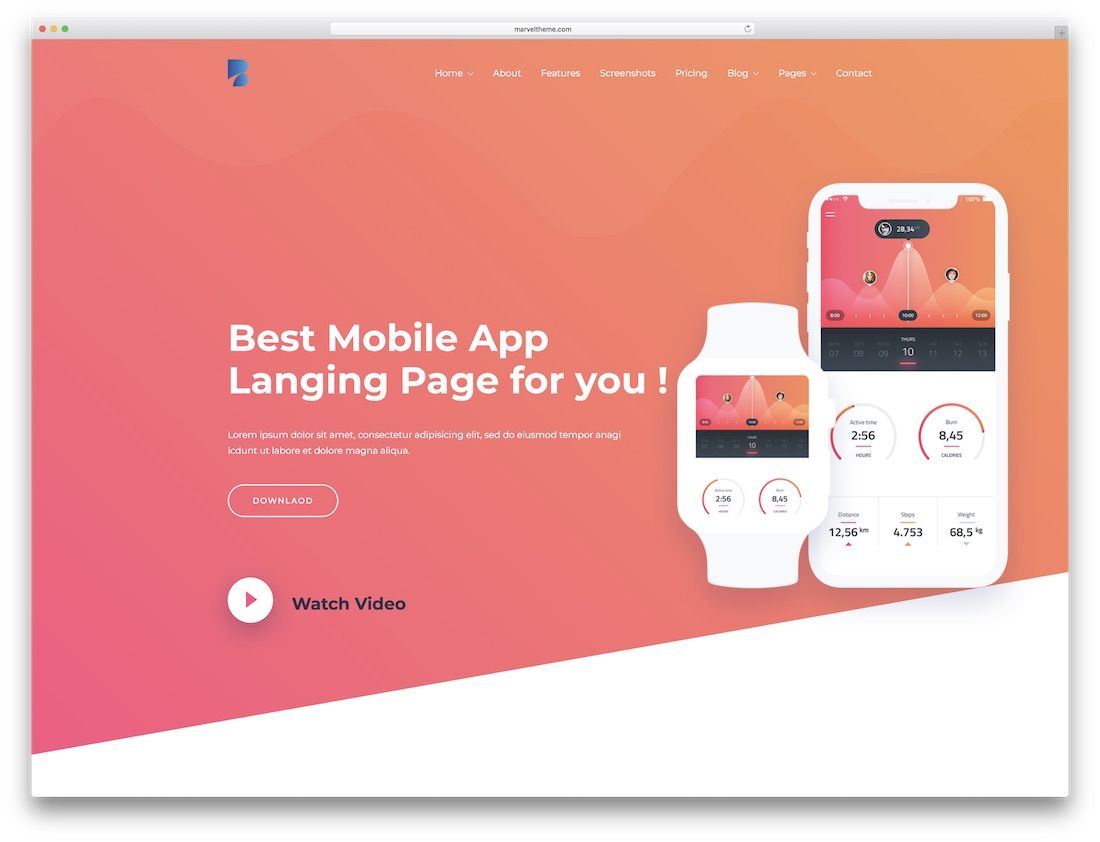 When speaking of Bufet, we could talk about many different topics since the template is so versatile. It is a multi-concept software company website template with many possibilities to craft your ideal internet space for your thriving business. It also includes four gradient color presets and eight stunning home page demos for you to quickly find the right style that best resonates with your product or service. There are other predesigned pages included for you to utilize, too.
While all out-of-the-box looks appear very appealing to the eye, you can still improve and enhance them to follow your branding to the T. Not only is Bufet well-documented, but you are also treated to friendly support that works all day, every day. If you cannot solve something yourself, you know who to contact to get things going.
More info / Download
Demo
Vizion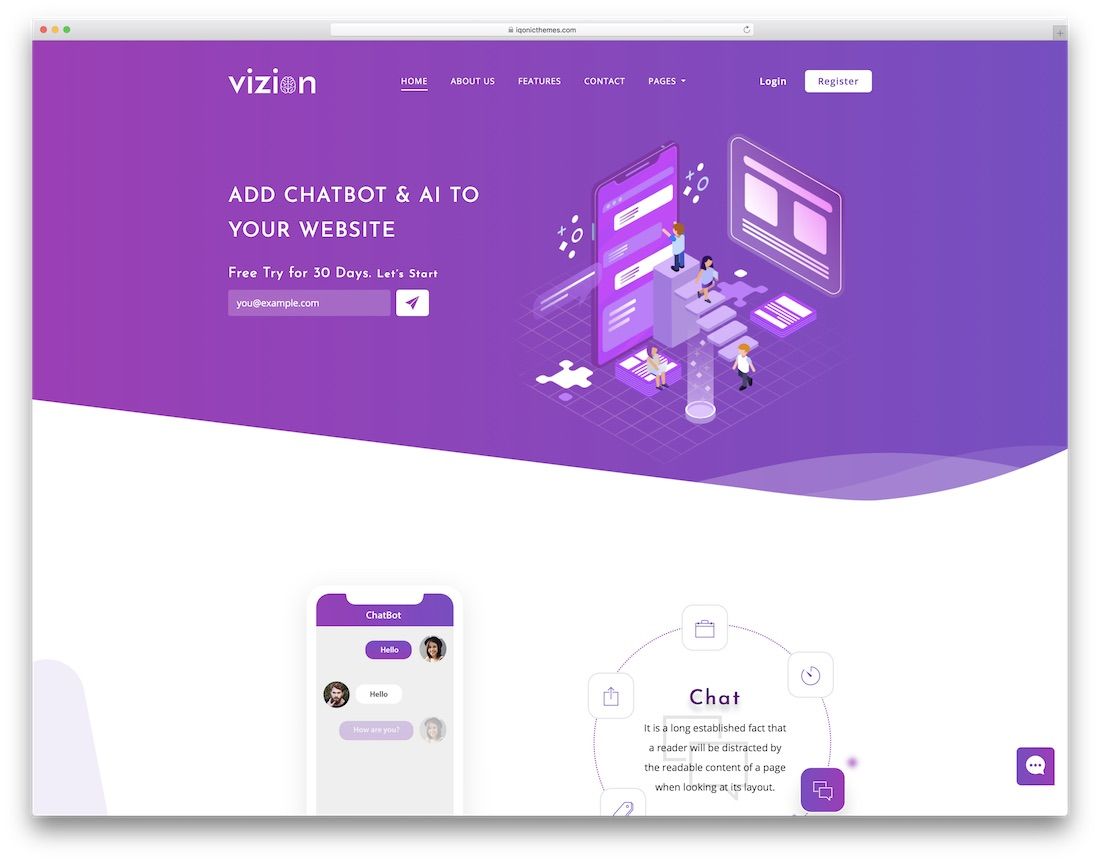 If you are looking for an advanced template you could use long-term, then Vizion should be your pick. Being one of the best software company website templates is quite an overstatement. But with the available content, professional approach, and sophisticated look, such recognition quite matches. Everyone wants an easy-to-use, convenient and simple tool that saves time and effort. With Vizion, you can achieve this goal effortlessly.
Publishing your website is just the first step to launching your software. Consistency is vital to obtain success, and Vizion can lend a hand when you need assistance. Market your products or services the right way with the stylish, modern, and passionate Vizion. The site canvas has it all in-store when it comes to coming up with the ideal design for your top-notch website.
More info / Download
Demo
Spring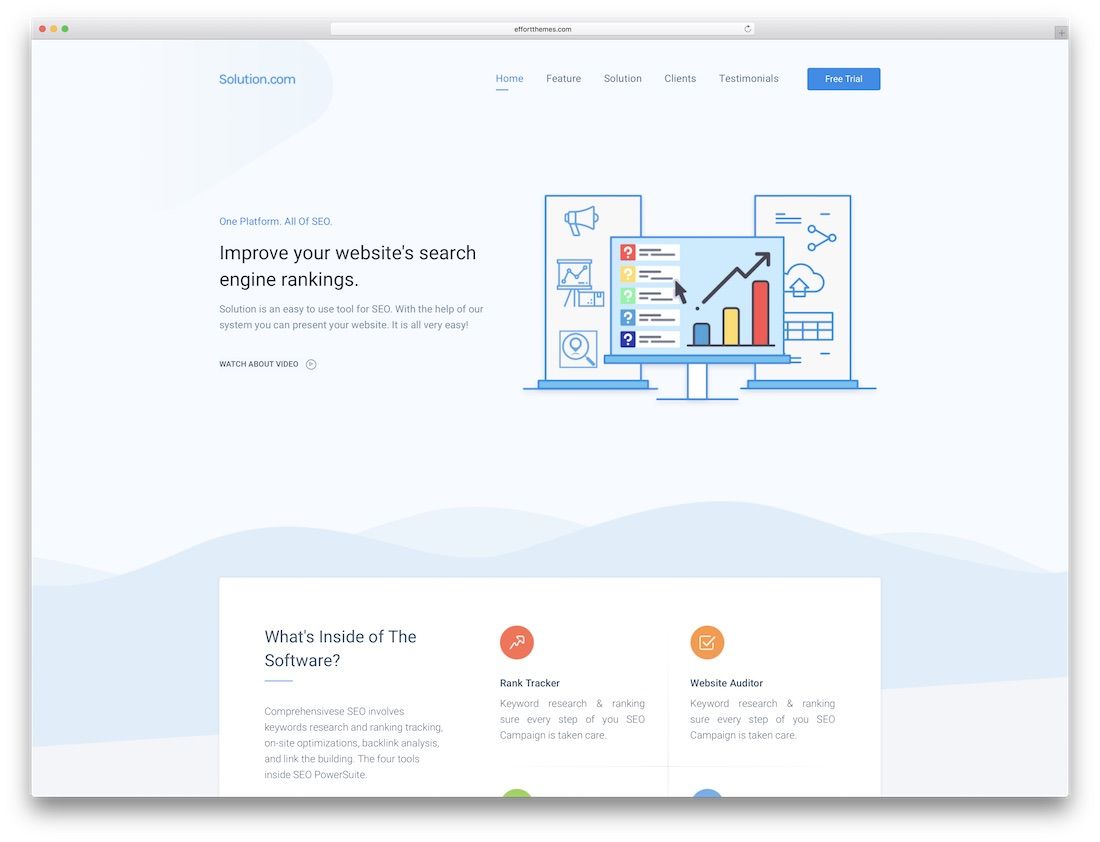 Spring is a first-class software company website template with a fantastic design that will spark their curiosity and make them hungry for more. With its simplistic and minimal approach, the experience of skimming through your content will always be a fun and noteworthy adventure. Not only that, those interested in your services will swiftly find all the needed details before they sign up for more.
While the customization capabilities of Spring are top-notch, you might need nothing else than one of the ready-to-use index pages. That said, you can either use the one you fancy as is, or you can move things forward and tweak it as requested. Whatever you do, Spring makes sure it is easy, but it also assures that the end product will be of the highest quality.
More info / Download
Demo
Bulkit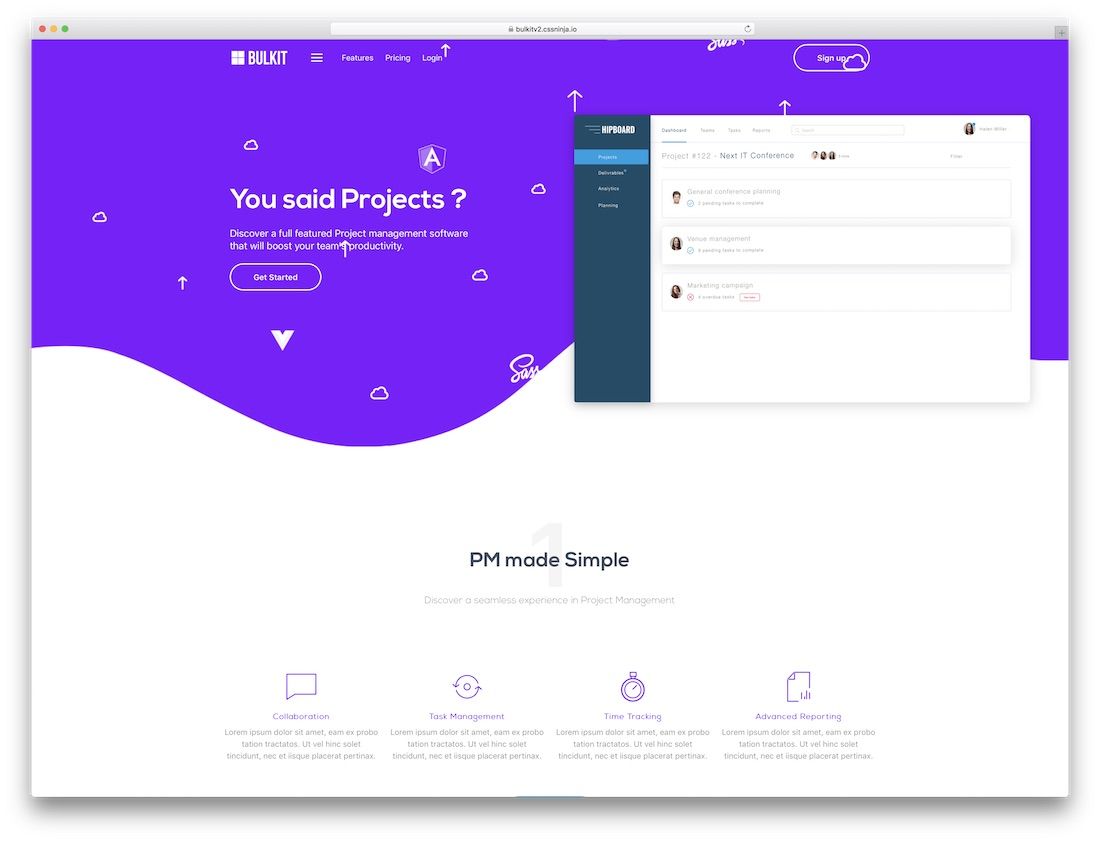 As an alternative to all the Bootstrap Framework-based templates, here is Bulkit. A software company website template powered by the Bulma Framework and Sass and Gulp. The code is clean and organized so both beginners and pros will find good use of it. That said, editing Bulkit with your content or doing all sorts of needed adjustments becomes a simple task with Bulkit. Moreover, Bulkit is an all-in-one template with front- and back-end layouts.
Bulkit provides 39 demo pages, 45 components, more than 50 SCSS files and 20 js files, and 3rd party add-ons and libraries in the bundle. Awesome graphics, five different landing kits, and three niche demos for startups, agencies and admin dashboards. By accessing Bulkit's live preview pages, you can further investigate the web design and see what is possible with this supreme tool.
More info / Download
Demo
Protech SaaS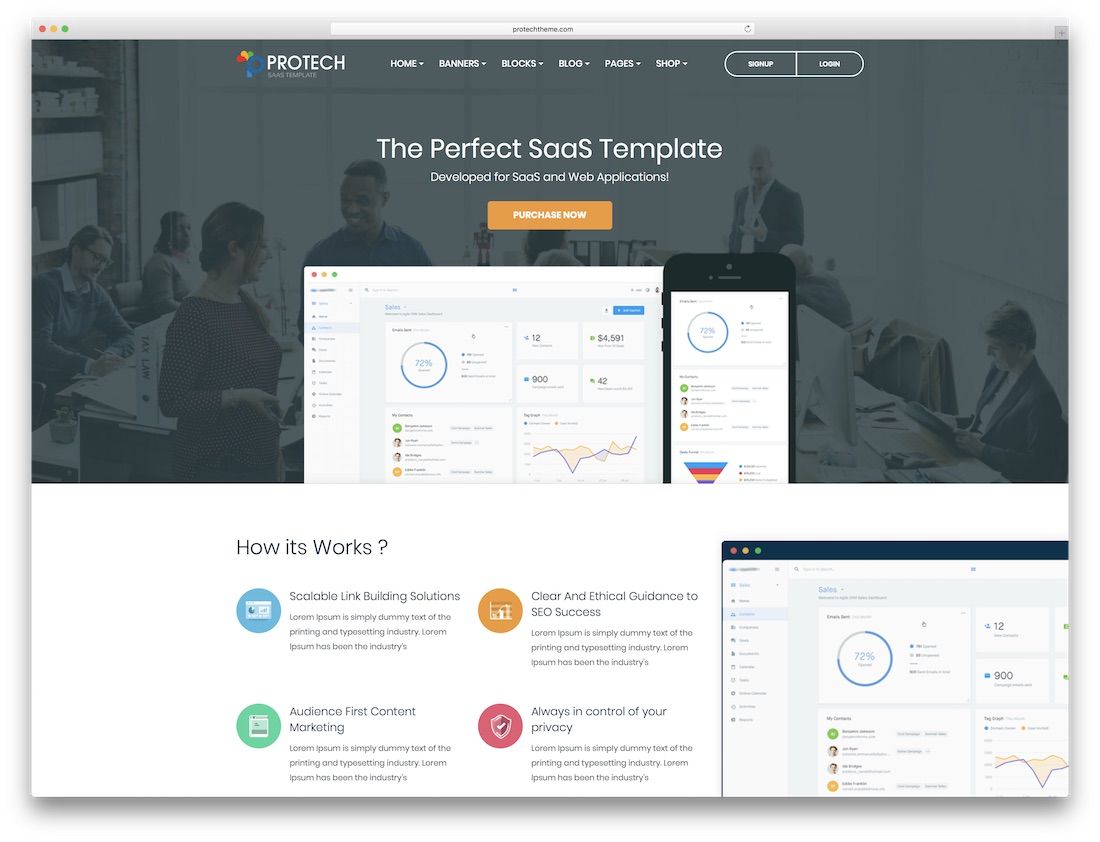 If you are in the market for a flexible tool to help you start your fresh business, Protech SaaS is the tool you should check. Again, for a grand launching, the Protech SaaS software company website template is all you need. Whether you are running and building SaaS, applications, startups, and other projects, you now know what the site canvas that will take care of your online presence is. Exactly!
With the elements and assets present in this template, you will create a Protech SaaS website. You gain instant access to six unique index page variations, fifty inner pages, six header menus, and four different testimonial options when you download it. There is a ton of content at your disposal, ready for you to take to your advantage. Go with Protech SaaS and kick things off in style.
More info / Download
Demo
Faulkner

Get things sorted out online with Faulkner software company website template. This professional pack of fantastic features and elements is fully furnished to help you craft the exact page you need for your company. It could be SaaS, mobile or web app, tech agencies or other startups, Faulkner is ready for them all. What's best is Faulkner modifications-ready, but it comes with sixteen professional demos that go from niche to niche. Besides, it also offers four coming soon pages to start the hype early.
Faulkner has a modular design that makes it easy and quick to design the ideal look for your projects. Moreover, it comes with ten premium plugins at no additional cost, stunning portfolio layouts, more than 150 section blocks, and an active MailChimp newsletter subscription form.
More info / Download
Demo
Sigma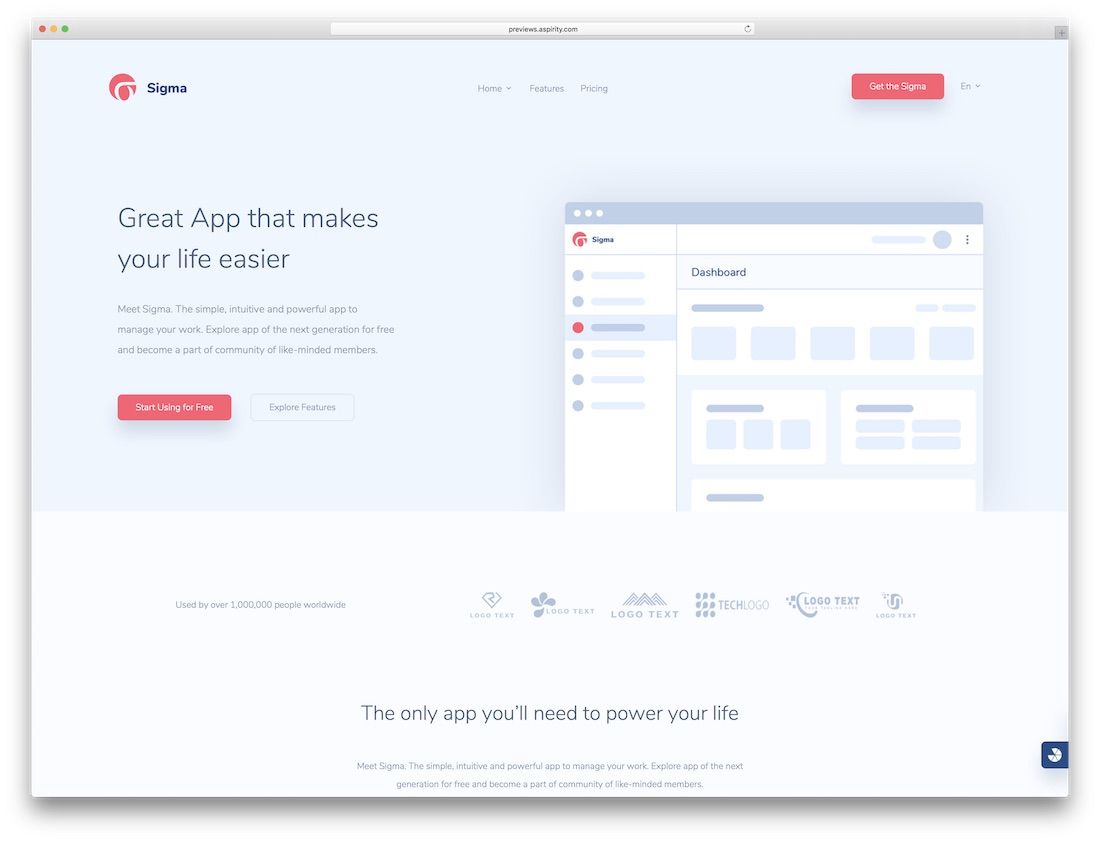 With a very stylish and minimal look, Sigma is one fine software company website template. With four exclusive and original home demos and other inner pages, you can almost instantly find the right combination to push yourself and your product above and beyond. Everyone visiting your page based on Sigma will immediately be intrigued to learn more.
Sigma has a mobile and retina-ready design that acclimatizes to all modern web browsers instantly. Moreover, it enhances the experience with animations, has integrated pricing tables and contact forms, and features valuable and in-depth help documentation. Sigma even comes with editable PSD mockups, so that's something you do not have to find and implement yourself as well.
More info / Download
Demo
Utouch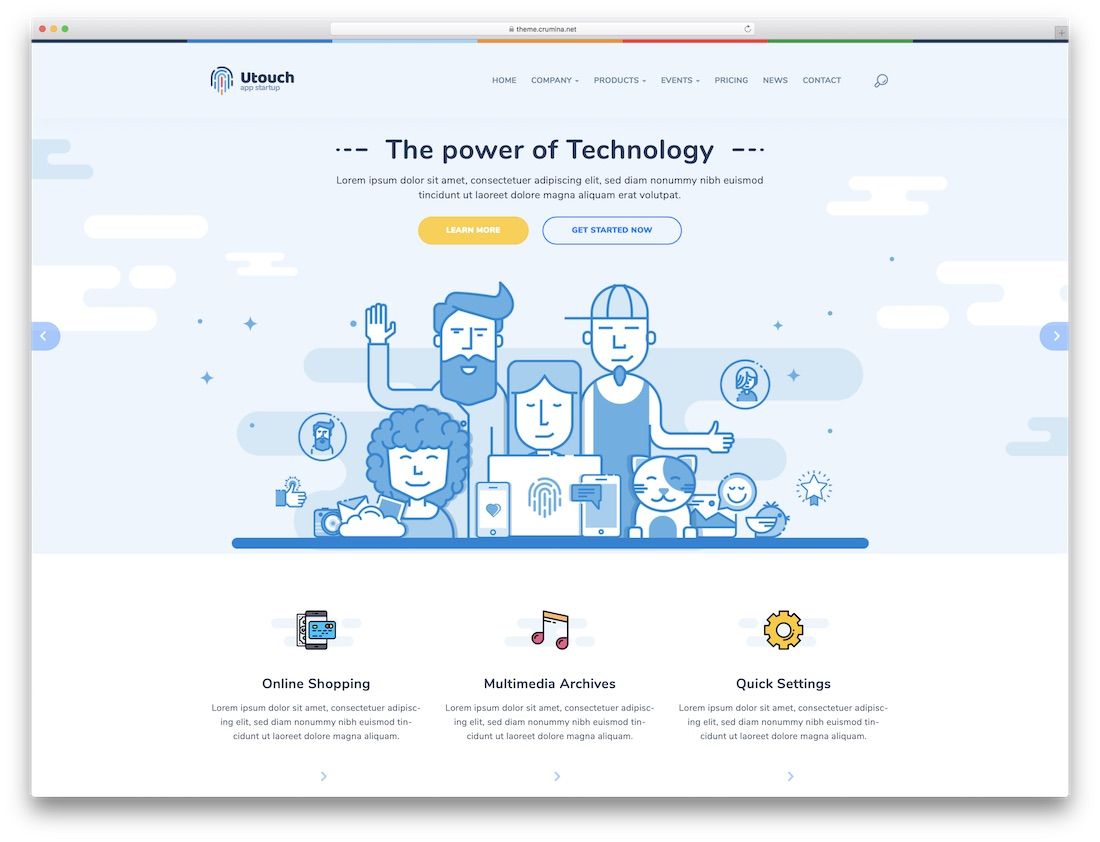 Utouch is a creative modern looking website template. Every creative company would prefer this type of template. This template is full of vibrant colors and trendy vectors. All the patterns and the web elements used in this template are unique.
With the full-width website template, you have plenty of space to make exciting content. You get carousels, a colorful pricing table, and animated counters with this template. The visual effects and the animation effects used on the web elements are also made to match the overall trendy look of the template. Utouch includes multiple pages predesigned to start your website as soon as you add content to the site.
More info / Download
Demo
The Saas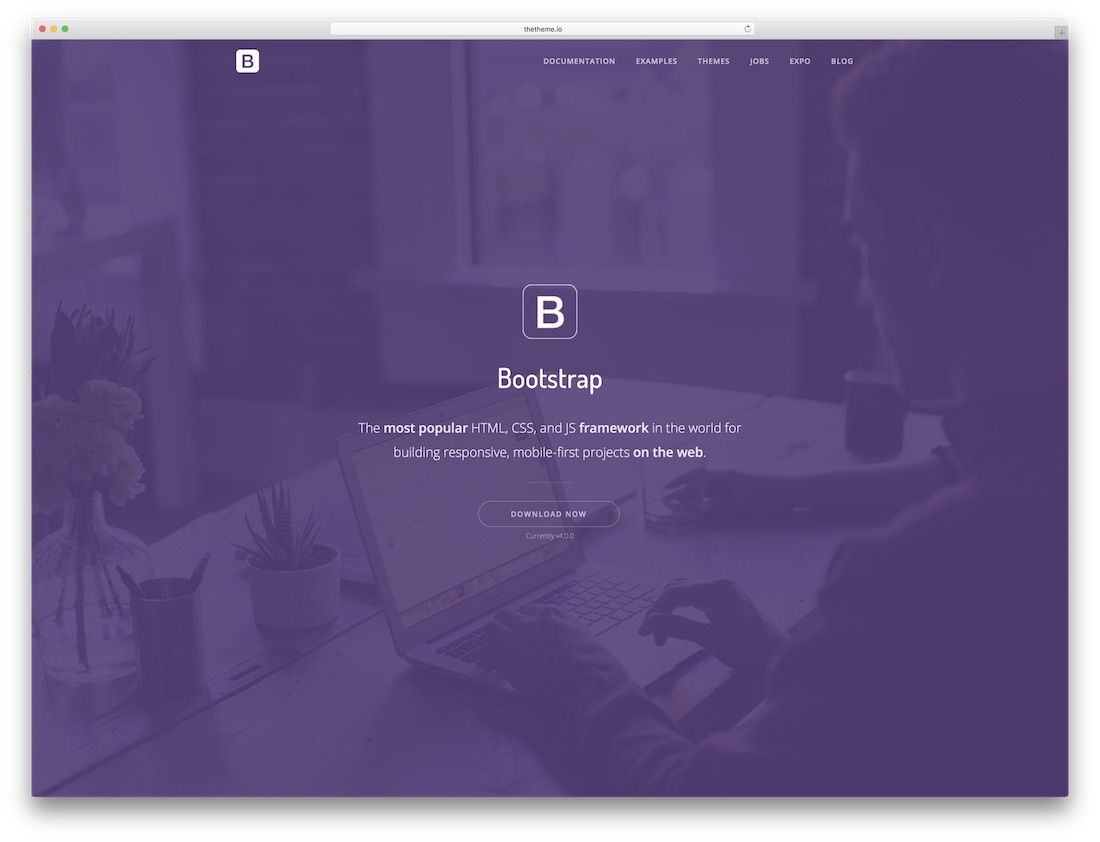 The Saas is one of the best and famous software company website templates. With this template, you have both a minimalist and colorful header section. But the main body of the template follows the clean white background in all eight demo variations. The demo variations are designed based on famous software like Skype, Trello, and Slack to cover almost all the popular features. So you get all the necessary sections and pages you usually need in a software company website template.
More info / Download
Demo
Canvas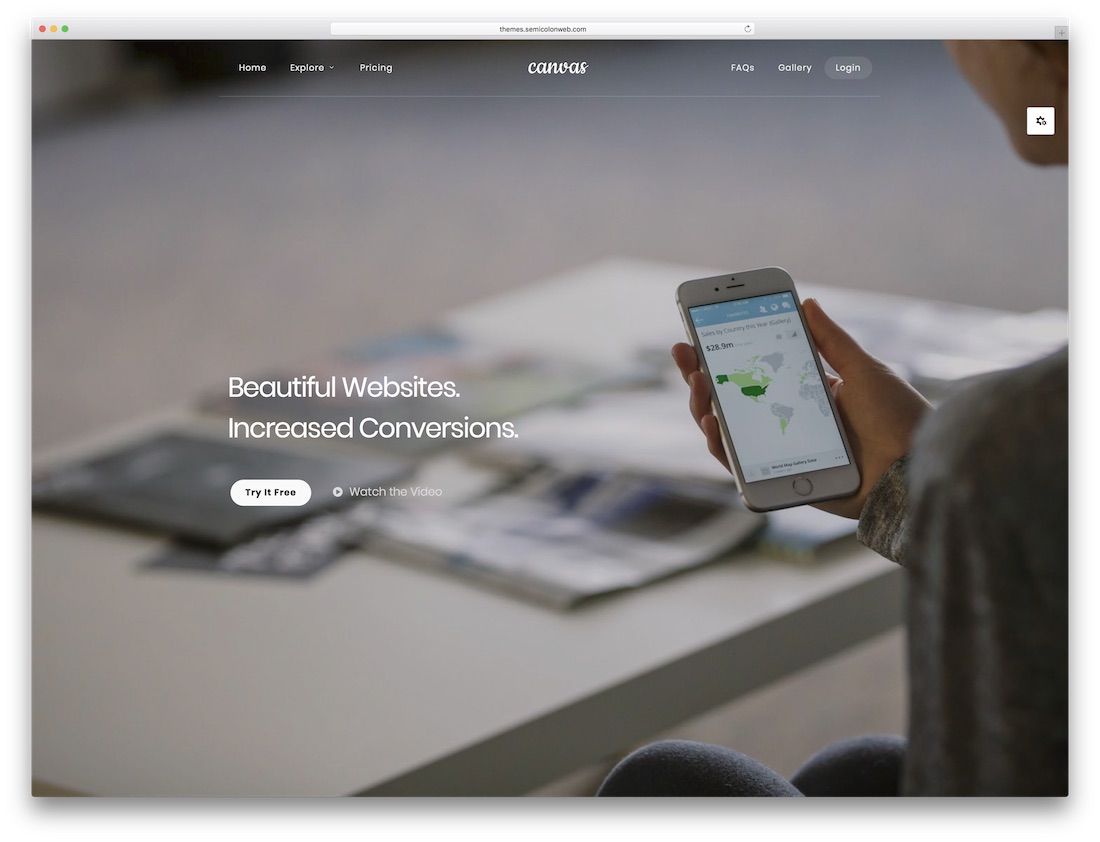 Canvas is another value for money multipurpose website template. This template provides you more than 100 website template demos. It has separate demos for each niche, Canvas covers niches like photography website templates, restaurant templates, construction templates, medical templates and many more. You also get different template variations for software companies and corporates.
This template gives you both multiple-page layouts and one-page website templates. It is a user-friendly website template that you can easily add and remove web elements with the help of the provided 50+ shortcodes. All the templates follow clean and modern design layouts, but you can do small tweaks to the templates if you need.
More info / Download
Demo
Sofbox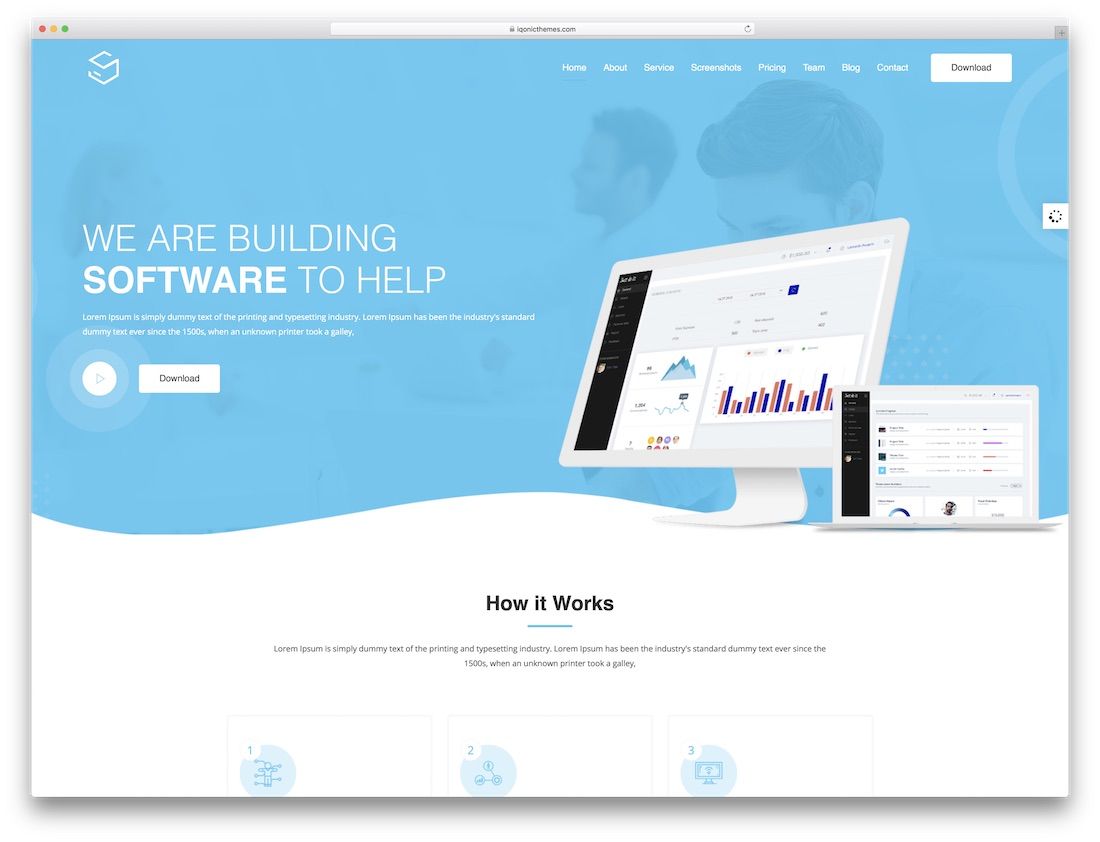 Sofbox is a trendy-looking software company website template. Primarily this template is designed for the software website landing page. But the design layout and segmentation of the template make this an obvious choice for the software and other corporate website templates.
This template provides you three layout options and four header variations. You can use static images, video backgrounds, and canvas backgrounds in the header. This template uses both solid colors and trendy gradients as the color scheme. But you also have the option to customize the theme color by yourself. It's a fully responsive website template, so you don't need to worry about your site performance on small screen devices.
More info / Download
Demo
Porto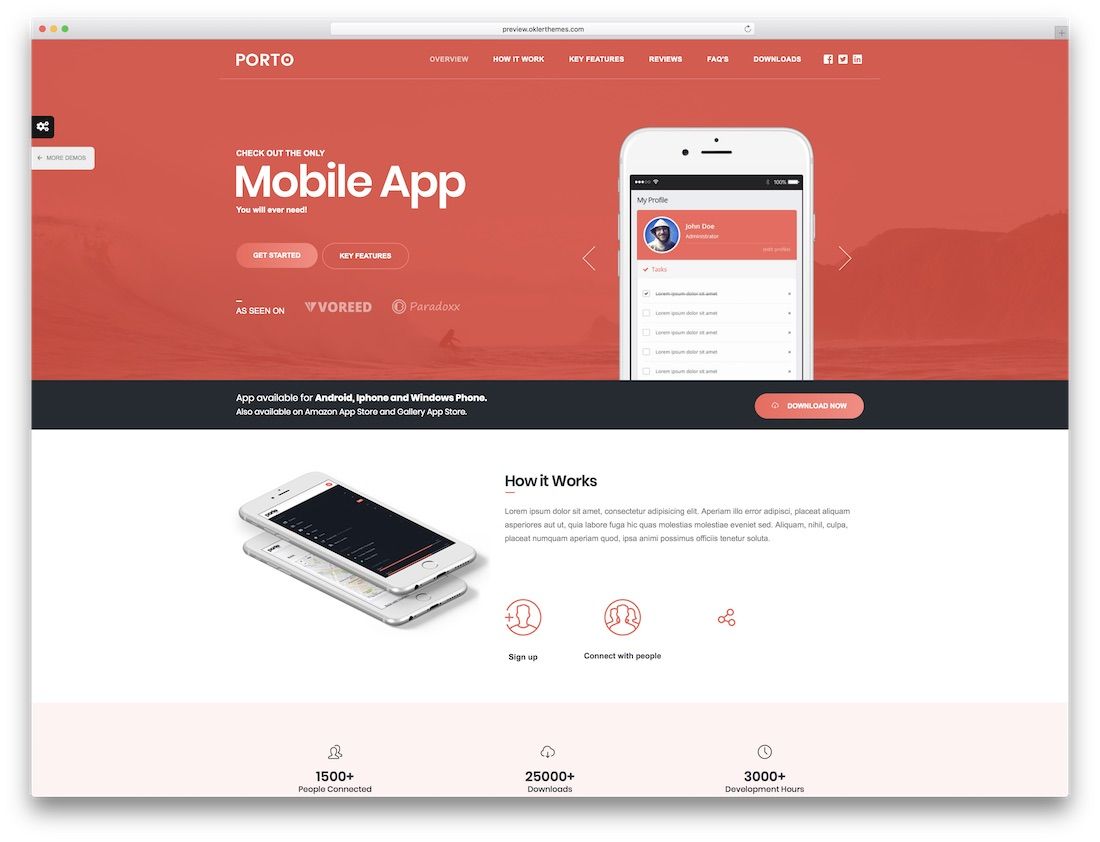 Porto is one of the best and famous multipurpose website templates. This template does not include any fancy kinds of stuff or colorful elements. If you are looking for a high-quality simple website template for your software company, you can try the Porto template.
This template also now includes construction website templates, medical website templates, hotel website templates and real estate website templates. So the Porto template is value for your money. Speaking about the software company website template, all the template variations follow a clean design layout with a warm color scheme.
More info / Download
Demo
Digital Agency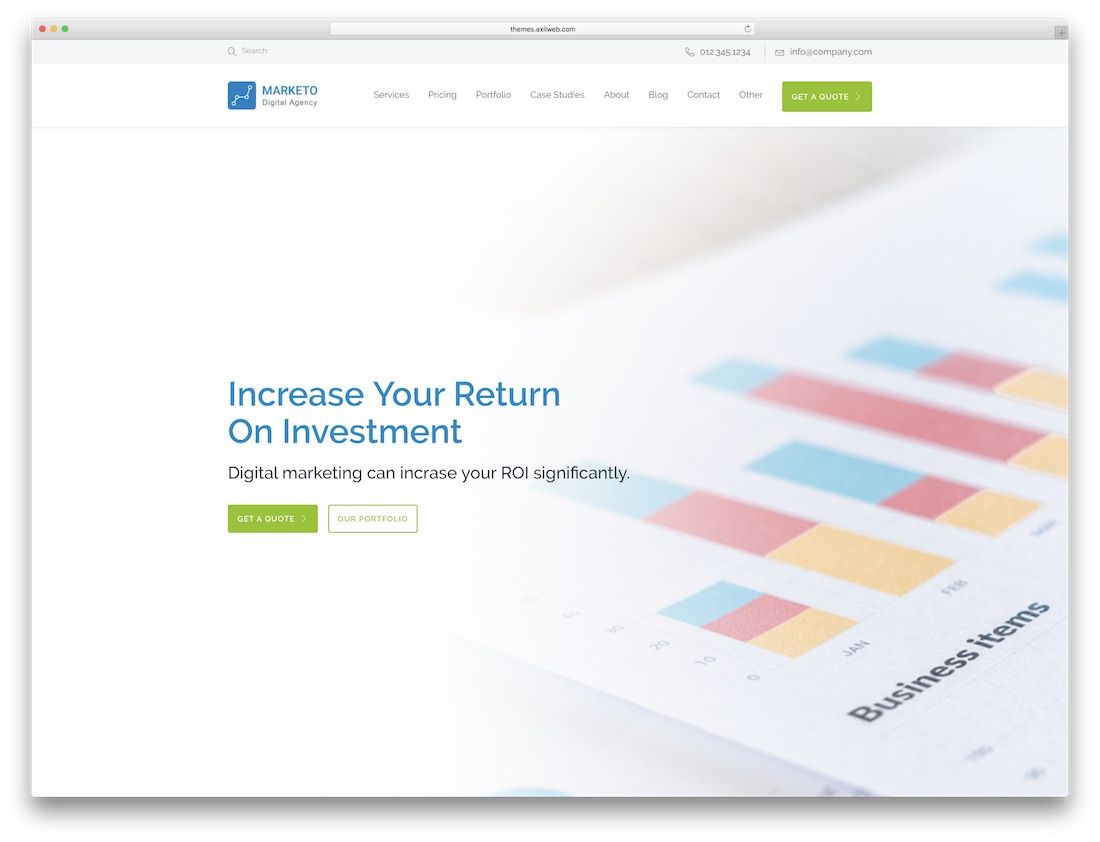 The Digital Agency is a modern website template that includes design layouts for small companies and big enterprises. This template gives you three homepage variations and consists of single-page and multi-page layouts.
With the full-width website template layout, you have ample space to present your images and texts neatly to the user. In the header section, you have a background image. You also get bold texts and a colorful call to action button in the header section. This template gives you custom icons, neat hover effects, and carousels.
More info / Download
Demo
Which Template Suits You Best?
These are some of the best software website templates you can use for your site. Some of the templates are designed specifically for software and app development companies. In comparison, some of the templates are multipurpose templates that fit all types of websites. With different combinations of web elements and web layouts, you can easily make awesome software website templates on your own.